Eine Scorecard zur Beendigung des kurzfristigen Denkens
GENF – Die Angst vor einer weltweiten Rezession, der Handelskrieg zwischen den USA und China, die Auswirkungen des Brexit und ein gefährlicher Schuldenüberhang sorgen für eine der stressreichsten Phasen seit einem Jahrzehnt. Gleichzeitig stehen langfristige Ziele, wie die Umsetzung der Nachhaltigkeitszielen bis 2020, die Umsetzung des Pariser Klimaabkommens bis 2050 und der Umbau des Wirtschaftssystems für die nächsten 50 Jahre, an.
Um ein langristiges Denken anzuregen, braucht es eine Neuorientierung. Dazu drei Vorschläge:
Zunächst müssen wir den wirtschaftlichen Bezugsrahmen ändern. 75 Jahre lang stand das Bruttoinlandsprodukts (BIP) im Zentrum und die Volkswirtschaften dienten als Werkzeug zur Mobilisierung der Produktion für den Krieg. Gegenwärtig aber ist die Maximierung von nachhatligem Wohlstand das Ziel und es braucht alternative Messgrössen.
Eine Gruppe von Ökonomen aus der Privatwirtschaft, Hochschulen und internationalen Einrichtungen, (u.a. Diane Coyle und Mariana Mazzucato) haben das "Wealth Project" (Wohlstandsprojekt), aufbauend auf Weltbank-Ansätzen, entwickelt.
Kurzfristig könnte das Medianeinkommen pro Kopf verwendet werden, um die Alltagswirklichkeit der Menschen besser abzubilden. Anspruchsvoller ist das "Naturkapital", welches u. a. die Ökosysteme, Fischbestände und Mineralvorkommen bewertet. Auch das Humankapital sollte berücksichtigt werden.
Junge Protestkundgeber wie Greta Thunberg führen uns vor Augen, dass eine kohlenstofffreie Wirtschaft und die Forderungen nach gerechteren Wirtschaftssystemen zentrale Entscheidungskriterien sein müssen. Andernfalls wird sich der Aufstand gegen die "Eliten" und die Polarisierung von Gesellschaft und Politik intensivieren.
Subscribe now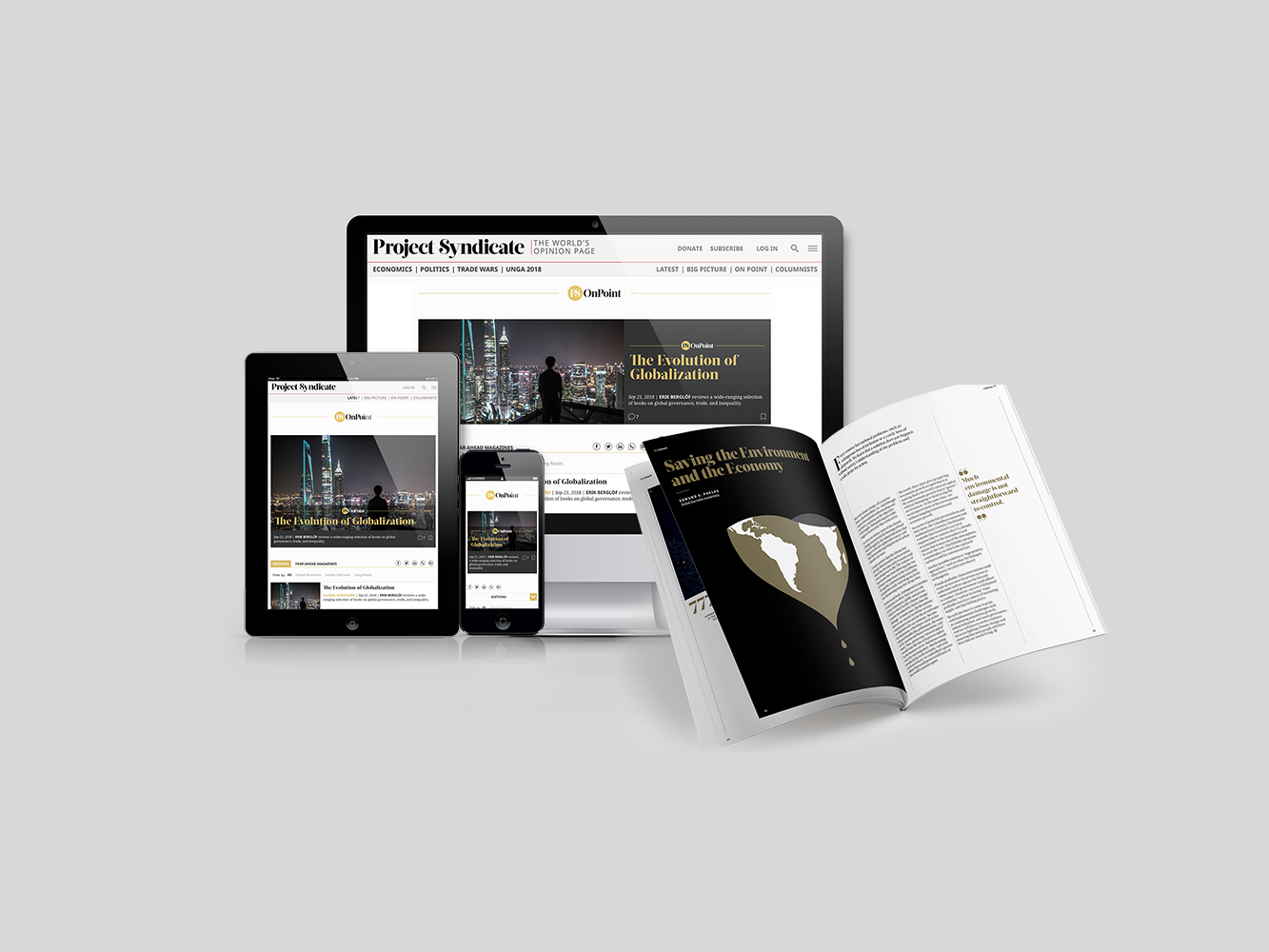 Subscribe now
Subscribe today and get unlimited access to OnPoint, the Big Picture, the PS archive of more than 14,000 commentaries, and our annual magazine, for less than $2 a week.
Ein Weg dazu ist die Einführung unabhängiger Trackingtools wie der "Climate Action Tracker", welcher  Fortschritte einzelner Länder in der Umsetzung des Klimmaabkommens misst. Regierungen und internationale Organisationen könnten diese als Scorecard verwenden und auf internationalen Tagungen die besten Verfahren besprechen.
Weiter sollten die Menschen, die derzeit ihre Stimme dem Protest leihen, in konstruktiverer Weise eingebunden werden, beispielsweise durch eine breit zugängliche Plattform für jedes nachhaltige Entwicklungsziel. Im Forum Arbeiten wir zur Zeit an diesem Projekt, das mit Schwerpunkt Ozeane in Davos Vorgestellt wird. Auf diese Weise könnten alle eine positive Rolle spielen und ihre Ideen, Fähigkeiten und konstruktiven Maßnahmen einbringen.
Die Arbeit an den SDG hindert die Staaten nicht, ihrem Land Vorrang einzuräumen. Gesundheit und Wohlbefinden, Bildung, Geschlechtergleichstellung, angemessene Arbeit, Verringerung der Ungleichheiten sowie starke Institutionen sind SDG-Aufgaben, die jedes Land einzeln in Angriff zu nehmen hat. Ein erneuerter Akzent auf eigenstaatliches Handeln kann in diesem Fall helfen, einen neuen Ausgleich zwischen globalen Zielen und maximaler einzelstaatlicher Eigenständigkeit zu schaffen.
Drittens ist es an der Zeit zu erkennen, wie sich die Rolle der Unternehmen in den letzten 50 Jahren geändert hat. Als Milton Friedman 1970 für die "Shareholder Primacy" plädierte, waren sich die Unternehmen entweder ihrer breiten gesellschaftlichen Auswirkungen nicht bewusst, oder sie waren zu klein, um das wirtschaftliche und gesellschaftliche Gleichgewicht zu ändern. Aufgrund ihrer weltweiten Lieferketten, ihrer enormen Größe oder der technologischen Vorherrschaft kann eine solche enge Sichtweise heute nicht aufrechterhalten werden.
Wir sind in das Zeitalter des "Stakeholder-Kapitalismus" eingetreten, wie die jüngste Erklärung des Business Roundtable zum Thema (oder auch das seit den 70er Jahren geltende Leitbild des Weltwirtschaftsforums zum Thema) zeigt. Unternehmensmaßstäbe müssen sich ändern, indem ergänzend zu den Bilanzen eine allgemein anerkannte "Scorecard für Umwelt, Soziales und Governance" in die Jahresberichte aufgenommen werden.
Eine solche Scorecard wird derzeit vom International Business Council entwickelt, einer vom CEO der Bank of America, Brian Moynihan, geleiteten Gruppe entwickelt. Diese u.a. von den vier größten Wirtschaftsprüfungsunternehmen (KPMG, EY, Deloitte und PwC) unterstützt, welche zuvor an ähnlichenen Initiativen gearbeitet und auf dieser Erfahrung aufbauen. Wenn alle zustimmen, sollte ihre Scorecard nicht nur Wirklichkeit werden, sondern auch ein führender Indikator für die Unternehmensleistung sein.
Die Einführung dieser drei Indikatoren wäre ein wichtiger Schritt zur Bewältigung der größten langfristigen Herausforderungen weltweit. Darüber hinaus wäre es ein Weg zur Entschärfung gegenwärtiger und zur Vermeidung zukünftiger Wirtschaftskrisen. Und es würde der aufgebrachten Weltöffentlichkeit zeigen, dass sich die Personen an der Spitze tatsächlich für den Wohlstand aller und nicht nur für ihren eigenen Wohlstand einsetzen. Ich lade alle Interessensvertreter der weltweiten Wirtschaft ein, an diesen Bemühungen teilzunehmen. Auf diese Weise können wir das Zeitalter des kurzfristigen Denkens beenden.