El hombre que no salvó al mundo
PRINCETON – El mes pasado, el "Salvator Mundi", un retrato de Jesús como salvador del mundo atribuido a Leonardo da Vinci, se subastó por 400 millones de dólares (más del doble del precio récord anterior en subastas de obras de arte). El comprador también tuvo que pagar otros 50,3 millones de dólares en comisiones y honorarios.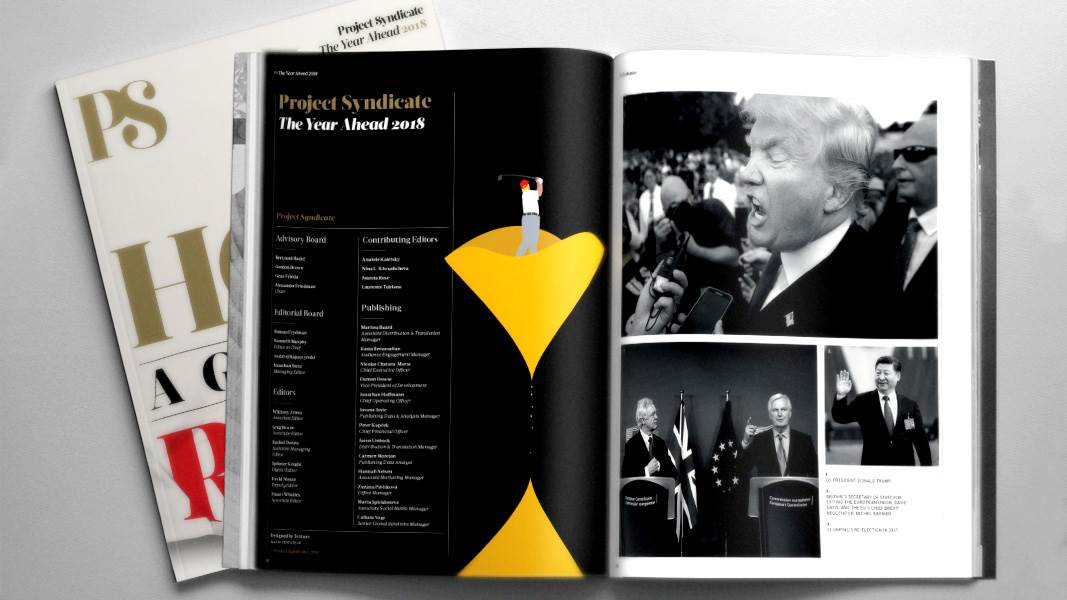 The Year Ahead 2018
The world's leading thinkers and policymakers examine what's come apart in the past year, and anticipate what will define the year ahead.
La pintura tiene muchos retoques, y algunos expertos incluso cuestionan su autenticidad. Jason Farago, crítico de arte del New York Times, la describió como un "cuadro religioso, de mano competente pero sin nada que lo destaque particularmente, de la Lombardía de inicios del siglo XVI, con un sinnúmero de restauraciones".
El comprador (muchos creen que fue el príncipe heredero saudita, Mohammed bin Salmán, a través de un primo lejano) pagó un precio muy alto por el retrato de un hombre a quien se le atribuyen estas palabras, dirigidas a otro rico: "Anda, vende lo que tienes y dalo a los pobres, y tendrás tesoro en el cielo". Lo que nos lleva a preguntarnos: ¿qué puede hacer por los pobres alguien a quien le sobren 450 millones de dólares?
The Life You Can Save, una organización sin fines de lucro que fundé hace unos años, tiene una calculadora que muestra lo que se puede lograr donando dinero a entidades benéficas con un historial comprobado de provisión eficaz de ayuda a las personas más pobres del mundo. Por 450 millones de dólares uno puede devolverles la vista a nueve millones de personas con ceguera curable o dar a trece millones de familias herramientas y técnicas para cultivar un 50% más de alimentos.
O si uno quiere seguir el mandato de Jesús de manera más literal, puede entregar el dinero a las familias más pobres del mundo para que lo usen como quieran. Una organización sin fines de lucro llamada Give Directly se encarga de buscar a las familias más necesitadas y transferirles el dinero de las donaciones, tras deducir sólo 10% por costos administrativos.
Para los que creen que los beneficiados se gastarán la ayuda en alcohol, juegos de azar o prostitución, hay una evaluación independiente que demuestra lo contrario. El efecto de las transferencias directas en efectivo de Give Directly es una mejora de la seguridad alimentaria, la salud mental y la situación material de los receptores. Por 450 millones de dólares, también se pueden comprar 180 millones de redes mosquiteras cubrecama, suficientes para proteger a 271 millones de personas de la malaria. (Las cifras reales, en todas estas intervenciones, pueden ser un poco menores, porque la calculadora no está diseñada para manejar sumas tan grandes, así que no tiene en cuenta el aumento de costos que se producirá una vez satisfechas las necesidades de los beneficiarios más fáciles de alcanzar.)
Cuando alguien elige comprar el "Salvator Mundi" en vez de devolver la vista a nueve millones de personas, ¿qué nos dice eso acerca de su escala de valores? Una cosa es segura: es alguien que no piensa mucho en los demás. Cualquiera sea el placer que él, su familia y sus amigos obtengan de contemplar la pintura, mal puede compararse con el beneficio que supone devolverle la vista a una sola persona, y mucho menos si se trata de millones.
Con razón o sin ella, la mayoría de las personas damos mucha más importancia a nuestros propios intereses y los de nuestros hijos, parientes cercanos y amigos que a los de otras personas, y en la práctica, cuanto más distantes y diferentes sean, mayor la tasa de descuento que les aplicamos.
Pero hay un punto en el que la tasa de descuento se vuelve tan grande, y tal la indiferencia ante los intereses ajenos, que hay que trazar una línea y decir no, a partir de aquí es demasiado. Podremos discutir si la mayoría de los ricos están del lado equivocado de la línea; pero lo que me parece indiscutible es que darle más importancia a poseer una pintura que a devolverles la vista a millones de personas se adentra demasiado en el territorio de lo equivocado.
En 2006, el legendario inversor Warren Buffett comprometió la mayor parte de su fortuna (unos 30 000 millones de dólares) en donaciones a la Fundación Bill y Melinda Gates, para ayudar a personas en la extrema pobreza. Con esa donación (la donación individual más grande que jamás se haya hecho para cualquier causa), los recursos de la fundación se duplicaron. Para conmemorar el décimo aniversario, hace poco Bill y Melinda Gates le contaron a Buffett lo que la fundación, junto con otras organizaciones, logró hacer por la salud mundial en esos diez años.
Bill y Melinda Gates destacan una cifra: 122 millones. Es la cantidad de vidas de niños que se salvaron desde 1990 gracias a la reducción progresiva de la tasa de mortalidad infantil. Es decir, si esa tasa no hubiera variado desde 1990, habrían muerto 122 millones de niños más que los que realmente murieron en ese período.
Tal vez la mayor contribución que hizo la Fundación Gates para lograr esa reducción fue comprometer 750 millones de dólares para la creación de la Alianza Global para las Vacunas y la Inmunización (ahora llamada Gavi, la Alianza para la Vacunación), una iniciativa público‑privada que trabaja con los gobiernos y con organismos de las Naciones Unidas para mejorar la tasa de vacunación en los países pobres y fomentar el desarrollo de nuevas vacunas. Hoy el 86% de los niños del mundo (la proporción más alta de la historia) ya reciben el calendario básico.
Los Gates afirman que cada dólar invertido en vacunación infantil produce 44 dólares en beneficios económicos (incluido el ahorro para las familias del costo que supone que un niño enferme y uno de los padres no pueda trabajar). Es posible que la contribución de Warren Buffett a la vacunación haya sido la mejor inversión de su vida.
¿Qué piensa usted que hará más feliz a una persona? ¿Poseer una pintura (aunque fuera la más fabulosa del mundo) o saber que ayudó a mantener a millones de niños sanos, que salvó sus vidas y al mismo tiempo benefició económicamente a sus familias? Tanto el sentido común cuanto la psicología indican que no es la pintura.
Traducción: Esteban Flamini