De Sahel mag niet langer achterblijven
WASHINGTON, DC – Nu we vrijwel dagelijks overspoeld worden door sombere krantenkoppen en nog somberder voorspellingen is het makkelijk om te vergeten dat de wereld in veel opzichten beter af is dan zij ooit is geweest. Sinds 1990 hebben bijna 1,1 miljard mensen zichzelf van de extreme armoede verlost. Het armoedepercentage ligt vandaag de dag onder de 10 procent – het laagste niveau in de menselijke geschiedenis. In vrijwel ieder land zijn de mensen gezonder en beter opgeleid dan ooit tevoren. Maar zoals een zojuist verschenen rapport van Goalkeepers onderstreept blijft tegenspoed wereldwijd de norm voor veel mensen, die blijven opkijken tegen hoge barrières voor het opbouwen van een gezond, productief leven.
Nergens is dit méér waar dan onder de armste inwoners van de Sahel-regio van het ten zuiden van de Sahara gelegen deel van Afrika. De landen van de Sahel behoren tot de laagst genoteerde op de Human Capital Index, die de bijdragen van de gezondheid en de opleiding aan de productiviteit van de volgende generatie werkers kwantificeert. Volgens het Goalkeepers-rapport is het 55 maal zo waarschijnlijk dat een kind in Tsjaad in zijn of haar eerste vijf levensjaren zal omkomen dan een kind in Finland. Bijna de helft van de mensen in Tsjaad leeft onder de armoedegrens, slechts 50 procent van de kinderen daar gaat naar school, en slechts 15 procent van de kinderen in de achtste groep van de basisschool is in staat om een eenvoudig verhaal te lezen. De armoede wordt nog verscherpt door de klimaatverandering, conflicten en ontheemding, waardoor het voor gezinnen zelfs nog moeilijker is om in hun menselijk kapitaal te investeren.
Om te verzekeren dat alle mensen – en niet alleen degenen die gelukkig genoeg waren om geboren te zijn in een land of gebied met betrekkelijke geografische, gender- en sociaaleconomische voordelen – hun potentieel kunnen verwezenlijken, moeten overheden meer investeren in het genereren van menselijk kapitaal. Dit betekent het versterken van de onderwijssystemen, zodat inwoners de vaardigheden kunnen verwerven die zij nodig hebben om economisch vooruit te komen. En het betekent het verzekeren van de toegang tot gezondheids- en voedingsdiensten van hoge kwaliteit.
Net zoals ondervoede of anderszins ongezonde ouderen minder productief zijn, kunnen ondervoede of anderszins ongezonde kinderen niet heel effectief leren, laat staan opgroeien tot gezonde, productieve ouderen. Maar als we het maximale uit zulke investeringen willen halen, zullen we niet alleen algemene inspanningen moeten doen, maar ook moeten zorgen voor de levering van diensten die op maat zijn gesneden voor meisjes en vrouwen, zoals gezinsplanning van de kindertijd tot de volwassenheid.
Dergelijke diensten kunnen meisjes in staat stellen langer op school te blijven, waar ze de kennis en de vaardigheden kunnen opdoen die zij nodig hebben om effectief aan de beroepsbevolking te kunnen deelnemen. Door vrouwen en meisjes te laten kiezen om zwangerschap en het opvoeden  van kinderen uit te stellen tot ze daar klaar voor zijn, kunnen dergelijke diensten niet alleen de empowerment van vrouwen steunen, maar ook hun economische vooruitgang bevorderen.
Gezondere, beter opgeleide moeders hebben gezondere, beter opgeleide gezinnen, niet in de laatste plaats omdat vrouwen vaak meer van hun inkomen in hun kinderen investeren. Via deze route kunnen op vrouwen gerichte gezondheidszorgdiensten mensen uiteindelijk helpen hun levensstandaard op te krikken en uit de armoedecyclus te breken, terwijl de bredere economische ontwikkeling wordt bevorderd.
Subscribe now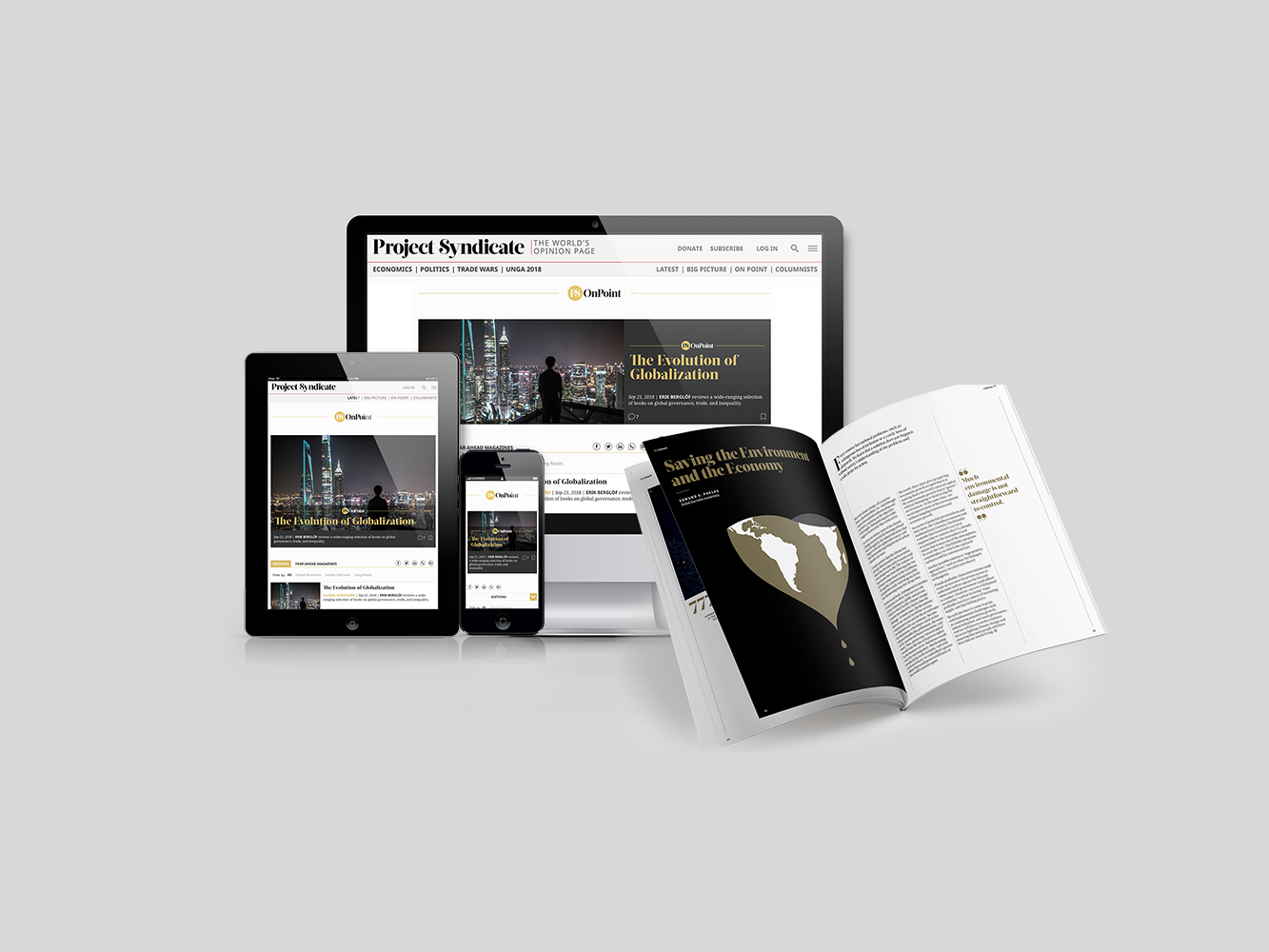 Subscribe now
Subscribe today and get unlimited access to OnPoint, the Big Picture, the PS archive of more than 14,000 commentaries, and our annual magazine, for less than $2 a week.
Om landen te helpen deze voordelen binnen te slepen heeft de Wereldbank in 2017 het Human Capital Project in het leven geroepen, dat de investeringen in gezondheidszorg en onderwijs wil opvoeren, en ervoor wil zorgen dat alle mensen gelijke kansen krijgen om tot bloei te komen. De Wereldbank werkt ook met haar partners samen om een stijging van 50 procent te verwezenlijken in de totale beschikbare middelen voor het menselijk kapitaal in Afrika tegen 2023, met de nadruk op fragiele en door conflicten geplaagde landen.
Uit onze ervaring met het werken in uitdagende omgevingen blijkt dat, om het maximale uit deze investeringen te halen, landen een geïntegreerde multisectorale aanpak moeten nastreven, interventies moeten afstemmen op de behoeften van iedere gemeenschap, en alle belanghebbenden, van religieuze leiders en gezondheidswerkers tot moeders en echtgenoten, moeten mobiliseren. Het Sahel Women's Empowerment and Demographic Dividend Project (Empowerment en Demografisch Dividend Project voor de Vrouwen van de Sahel, kortweg SWEDD) – gesteund door het United Nations Population Fund, de Bill & Melinda Gates Foundation, en andere ontwikkelingspartners – is een goed voorbeeld.
SWEDD werkt nauw samen met overheden in de Sahel om ze in staat te stellen gezondheids- en voedingssteun te geven, de gendergelijkheid te bevorderen, de onderwijskwaliteit te verbeteren, en sociale vangnetten te introduceren. Om dit proces te ondersteunen streeft SWEDD innovatieve initiatieven na in een brede reeks landen, van Benin tot Ivoorkust.
In Burkina Faso leren huidige en toekomstige echtgenoten over het belang van gezinsplanning en het eerlijker verdelen van huishoudelijk werk in een van de ruim 1600 "echtgenotenclubs." In Mauritanië werkt SWEDD met gemeenschaps- en religieuze leiders om te helpen de genderdiscriminatie, het geweld tegen vrouwen en kinderhuwelijken terug te dringen.
In Tsjaad voorzien door SWEDD gesteunde trainingsprogramma's vrouwen met vermarktbare vaardigheden, zoals het besturen van tractoren en het installeren van zonnepanelen. En in Mali distribueert SWEDD fietsen om meisjes te helpen naar school te gaan en biedt SWEDD hulp aan vroedvrouwen, zodat ze cruciale pre-natale, bevallings- en zuigelingenzorg in arme gebieden kunnen bieden, waardoor de moeder- en kindersterfte afneemt.
Als de wereld beter wil blijven worden, laat staan de Sustainable Development Goals (Duurzame Ontwikkelingsdoelstellingen) van de VN wil verwezenlijken, dan moeten arme landen zoals die in de Sahel hun menselijk kapitaal kunnen versterken. Dat zal niet makkelijk zijn, maar uit de ervaringen blijkt dat dit mogelijk is met duurzame investeringen, nauwe coördinatie en een inclusieve aanpak.
Vertaling: Menno Grootveld
,