¿Por qué Rusia resucita a Iván el Terrible?
ATLANTA – Mientras gran parte del mundo se afana en desmantelar monumentos a opresores, los rusos van en la dirección opuesta y erigen estatuas a señores de la guerra medievales, famosos por su despotismo. Comprender este renacimiento puede echar luz sobre el rumbo de la política rusa.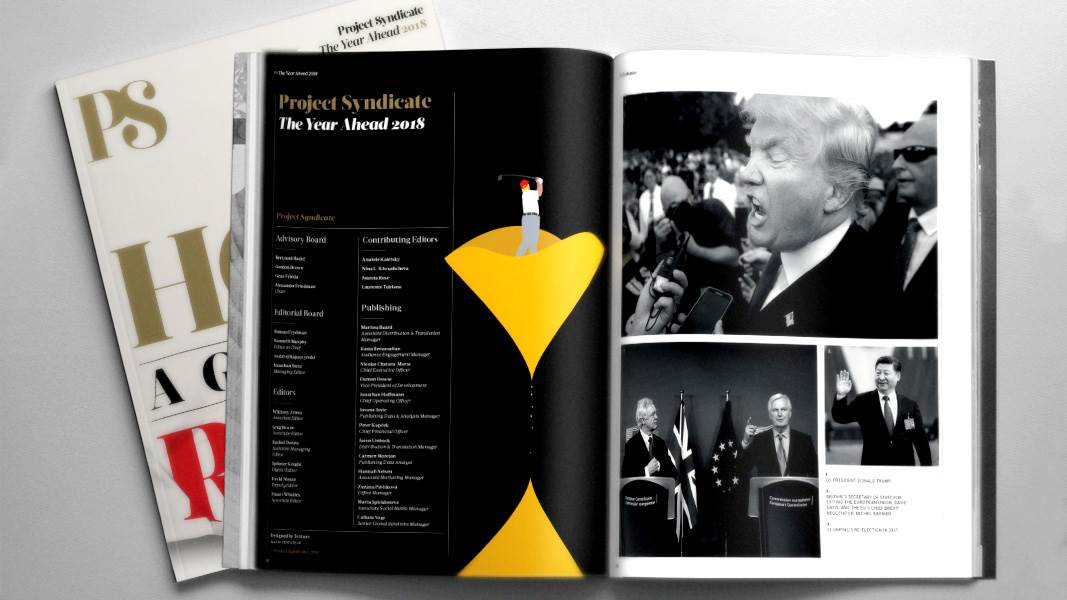 The Year Ahead 2018
The world's leading thinkers and policymakers examine what's come apart in the past year, and anticipate what will define the year ahead.
En octubre de 2016, con el aval del ministro de cultura ruso (Vladimir Medinsky), en la ciudad de Oriol se alzó el primer monumento a Iván el Terrible en la historia del país. Un mes más tarde, Vladimir Zhirinovsky, líder del ultranacionalista Partido Democrático Liberal de Rusia, pidió cambiar el nombre de la avenida Lenin de Moscú a Autopista Iván el Terrible. Y en julio de este año, el presidente Vladimir Putin inauguró en Moscú otro tributo al tirano y declaró erróneamente que "lo más probable es que Iván el Terrible nunca haya matado a nadie, ni siquiera a su hijo".
Pero la mayoría de los historiadores concuerdan en que Iván hizo honor al apodo; no sólo mató a su hijo y a otros parientes, sino que también ordenó la oprichnina, la purga que aterrorizó a Rusia entre 1565 y 1572. También fue responsable de la derrota de Rusia en la Guerra de Livonia, y su mal gobierno contribuyó al surgimiento del Período Tumultuoso (1598‑1613) y a la devastadora despoblación del país.
El culto moderno a Iván el Terrible lo inició Iósif Stalin. Pero desde mediados de la década de 2000 halló un promotor en el Partido de Eurasia (un movimiento político ruso liderado por el místico profascista Alexander Dugin), que presenta a Iván como la mejor encarnación de una "auténtica" tradición rusa: la monarquía autoritaria.
La variedad de "eurasianismo" de Dugin promueve el inicio de una "nueva Edad Media", en la que lo poco que quede de la democracia rusa sea reemplazado por una autocracia absoluta. El futuro ideal de Dugin supone regresar a un orden social medieval, restaurar el imperio y que la Iglesia Ortodoxa asuma el control de la cultura y la educación.
El eurasianismo, que en los noventa era marginal, se popularizó mucho en los últimos años con su contribución a la creación del "Club Izborsky", que reúne a la extrema derecha rusa. Putin se refirió en varias ocasiones al eurasianismo como parte importante de la ideología rusa; incluso lo invocó como principio fundacional de la "Unión Económica Eurasiática", un área de libre comercio en formación integrada por ex estados soviéticos.
El eurasianismo generó puntos de coincidencia para las facciones ultranacionalistas, y nuevas legiones de simpatizantes para símbolos del totalitarismo como Iván el Terrible y Stalin.
Se destacan en ellas los miembros del Partido de Eurasia, que consideran que el terror político es la herramienta de gobierno más eficaz, y piden una "nueva oprichnina": una revolución conservadora eurasiática firmemente antioccidental. Según Mikhail Yuriev, integrante del consejo político del Partido de Eurasia y autor de la novela utópica El tercer imperio, no debe haber más clase política que los oprichniks, y estos deben gobernar por la vía del miedo.
Iván el Terrible no es el único vestigio medieval al que se está reviviendo en Rusia. También se ve una regresión del vocabulario cultural, por ejemplo, con la reaparición en el habla coloquial de la palabra jolop ("siervo"). Este retroceso lingüístico va de la mano de un preocupante aumento de la esclavitud moderna en Rusia; según datos del Índice Global de Esclavitud, hay más de un millón de rusos esclavizados en la industria de la construcción, el ejército, la agricultura y el comercio sexual. Además, los "dueños" de los siervos no tienen empacho en identificarse como modernos "señores" (en ruso, barin).
Hasta las autoridades rusas se refieren a la esclavitud moderna con encomio. Valery Zorkin, presidente del Tribunal Constitucional, escribió en Rossiyskaya Gazeta (periódico oficial del gobierno) que la servidumbre siempre fue un "pegamento social" para Rusia. Y otro término medieval (lydi gosudarevy, "sirvientes de su majestad") ha vuelto a popularizarse entre burócratas de alto rango.
La nostalgia de la servidumbre se complementa con el deseo de volver a la autocracia. Destacados intelectuales rusos (entre ellos el cineasta Nikita Mikhalkov, el periodista Maksim Sokolov y Vsevolod Chaplin, un clérigo ortodoxo ruso) han llamado a que Putin sea coronado, y petitorios de apoyo a la propuesta reúnen firmas en Internet. Es interesante que las manifestaciones de 2012 contra el régimen de Putin hayan sido interpretadas luego como una protesta no contra Putin, sino contra el orden social al que aspira el eurasianismo.
El apoyo tácito de Putin a la idea eurasiática de una Rusia neomedieval invoca la memoria histórica del estalinismo. Según Dugin, "Stalin creó el Imperio Soviético", y como Iván el Terrible, expresa "el espíritu de la sociedad soviética y del pueblo soviético". No es de extrañar que en las ciudades rusas también se multipliquen los monumentos a Stalin.
El neomedievalismo hunde sus raíces en la nostalgia de un orden social basado en la desigualdad, la casta y el clan, impuesto por el terror. La exaltación de déspotas históricos es reflejo de la adopción contemporánea de esos valores premodernos, radicalmente antidemocráticos e injustos. Para los simpatizantes contemporáneos de Iván, el pasado es prólogo.
Traducción: Esteban Flamini