Reverter a morte de Veneza
VENEZA – As últimas cheias, entre as piores na história de Veneza, submergiram alguns conceituados pontos de referência cultural da cidade, como a Basílica de S. Marcos, na Piazza San Marco. Esta foi apenas a sexta vez em 1200 anos que a basílica foi inundada, mas a quarta nas últimas duas décadas, e a segunda vez em menos de 400 dias. A este ritmo, o frágil bordado de calli, campi e palazzi de Veneza, tecido sobre sedimentos que se afundam, poderá nas próximas décadas ser arrastado pelas águas. Mas que dizer das pessoas que o habitam?
Os romanos da Antiguidade usavam duas palavras para descrever as cidades: a urbs, referente aos edifícios e às infra-estruturas, e a civitas, ou a cidadania activa e envolvida. Hoje, o mundo inquieta-se com a urbs inundada e danificada de Veneza, que é reconhecidamente muito vulnerável até a pequenas subidas do nível do mar, como as que são provocadas pelas alterações climáticas. Mas fracassou nitidamente no reconhecimento da medida em que a civitas veneziana se está a desagregar.
Há décadas que a população de Veneza diminui. Hoje existe apenas um terço dos venezianos de há 50 anos. Mas esse declínio é meramente um sintoma de uma doença em rápido agravamento: a imprudente promoção do turismo de massas e a falta de investimento em capital humano.
Se os responsáveis políticos de Veneza não tivessem começado por deslocar recursos do ensino superior e da inovação na década de 1980, Veneza poderia já ter emergido como uma espécie de Cambridge do Adriático. Mas o turismo foi considerado uma via muito mais rápida para o crescimento. Assim, com a ajuda do governo, o número de visitantes subiu constantemente: em 2017, a cidade de 260 000 habitantes recebeu mais de 36 milhões de turistas estrangeiros.
À medida que os venezianos fugiam das hordas, foi-se deteriorando a sociedade civil de Veneza e foi-se consolidando o torpor político. Os responsáveis municipais preferem queixar-se das fraquezas da cidade a tomar medidas eficazes para resolvê-las. E o governo nacional de Itália tem falhado de forma consistente na aplicação construtiva da sua autoridade sobre a cidade. Estas tendências contribuíram para a desadequada vigilância ambiental que deixou tão exposta a urbs.
Sim, Veneza está envolvida num projecto de contenção de cheias, avaliado em 5,5 mil milhões de euros (6 mil milhões de dólares) e denominado Modulo Sperimentale Elettromeccanico (MOSE). Mas o projecto, apresentado em 1984 – quando Veneza já estava a afundar – e iniciado em 2003, deveria ter sido concluído em 2011. Mesmo que o MOSE seja concluído até ao actual prazo limite de 2021, este ou outro projecto de construção não serão suficientes para proteger Veneza. Embora o investimento em infra-estruturas seja obviamente fundamental – especialmente na adaptação às alterações climáticas – Veneza tem de olhar para além da urbs e restaurar a civitas para evitar o fim prognosticado por muitos.
Subscribe now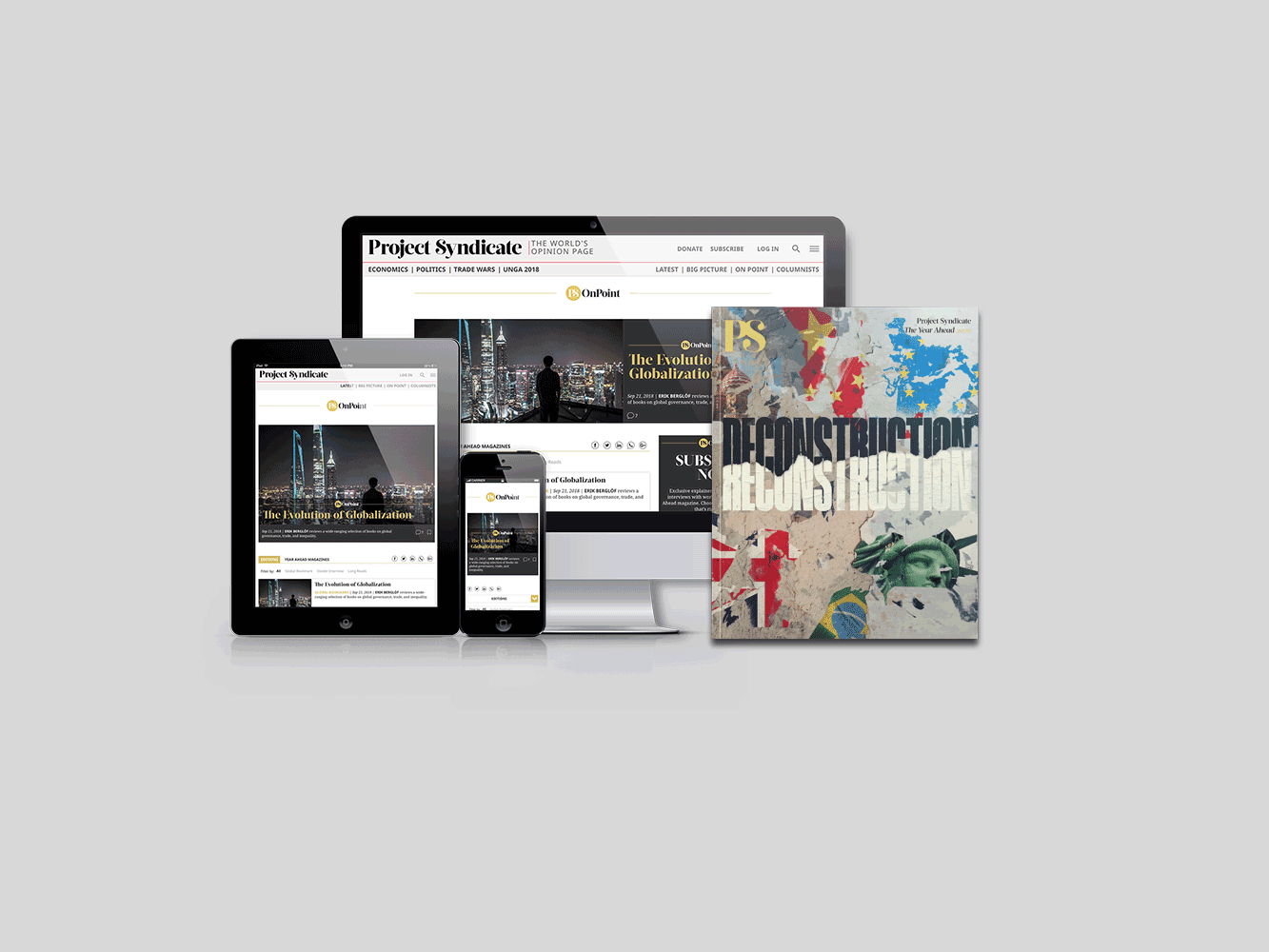 Subscribe now
Subscribe today and get unlimited access to OnPoint, the Big Picture, the PS archive of more than 14,000 commentaries, and our annual magazine, for less than $2 a week.
O primeiro passo consiste em remover Veneza da jurisdição do governo italiano, cujos erros consistentes promoveram o declínio da cidade nas últimas décadas. Isto não se trata de uma qualquer exigência provinciana para o ressurgimento da República de São Marcos. Trata-se de um apelo a um novo tipo de constructo político virado para o exterior: uma "cidade aberta" que acolha todos aqueles que pretendam genuinamente instalar-se aí como cidadãos de pleno direito, e não como participantes no que o romancista americano Don DeLillo apelidou de "marcha da estupidez" do turismo.
Esta nova e aberta Serenissima (como se denominava a República Veneziana medieval) funcionaria especificamente para atrair uma civitas capaz e empenhada, que esteja preparada para ajudar a proteger e reconstruir a urbs. Isto incluiria inovadores com planos empresariais credíveis (e os seus financiadores), engenheiros investigadores das adaptações às alterações climáticas, profissionais liberais como médicos e advogados, e estudantes dispostos a dedicar alguns anos no apoio à restauração dos magníficos palazzi da Lagoa de Veneza. Veneza tornar-se-ia desta forma um campo de ensaio para um modelo urbano inovador, baseado num novo contrato social, ajustado ao que o sociólogo Manuel Castells denominou de "espaço de fluxos" global.
Esta proposta pode parecer radical, mas tem precedentes. Em meados do século XIV, a população de Veneza decresceu 60%, devido aos surtos de peste bubónica. A cidade abriu-se aos estrangeiros, oferecendo a cidadania a quem planeasse permanecer no longo prazo. Os recém-chegados só precisavam de adoptar as principais características da "Venezidade", que incluíam a vontade de trabalhar. Não existem motivos para que uma estratégia semelhante não funcione na actualidade.
Com efeito, graças às ferramentas digitais, seria mais simples do que nunca medir o envolvimento cívico, desde o tempo passado na cidade – muitas propriedades de Veneza são de não-residentes e são usadas apenas alguns dias por ano – até às contribuições tangíveis, o que poderia tornar-se um motivo de orgulho nas redes sociais. Uma tributação avultada sobre os proprietários não-residentes – que são na sua generalidade extremamente abastados – também ajudaria a apoiar a comunidade local.
À medida que o nível do mar sobe e que Veneza se afunda, a cidade tem de tomar medidas resolutas no sentido do restauro e da protecção da sua urbs. Mas estes esforços de pouco servirão sem uma civitas próspera e empenhada. Para salvarmos Veneza, temos primeiro de salvar os venezianos – e acima de tudo, deles próprios.