Davos neu gestalten
NEW YORK – Ich nehme an dem jährlich stattfindenden Weltwirtschaftsforum in Davos nicht teil. Aber ich habe das Gefühl, dass die Teilnehmer heuer - und auch in den vergangenen Jahren – ihre Schlüsse für die Zukunft eher aufgrund jüngster Ereignisse zogen als sich wirklich auf die Suche nach zukünftigen Schwerpunkten und Trendwenden zu machen. Das galt sowohl für die Makroebene als auch im Hinblick auf die wichtigsten Einzelthemen, die laut zahlreichen Medienberichten die meiste Aufmerksamkeit auf sich zogen (und die Medien sind bei dieser Veranstaltung überaus stark vertreten). Somit scheint diese weltbekannte Zusammenkunft einflussreicher Führungspersönlichkeiten aus Politik und Wirtschaft wieder einmal eine Chance verpasst zu haben, ihr erhebliches Potenzial zur Gänze auszuschöpfen.
Es gibt einen Grund, warum sich Davos tendenziell rückwärtsgewandt präsentiert. Die führenden Persönlichkeiten treffen dort natürlich unter dem Eindruck des jüngst Erlebten ein.  Haben alle anderen die gleichen Erfahrungen gemacht, werden diese Ideen in der Echokammer Davos derart verstärkt, dass sie die Gespräche sowohl über jüngste Entwicklungen als auch über Zukunftsaussichten beherrschen.
So waren die zwei Treffen vor der Finanzkrise des Jahres 2008 von Optimismus geprägt und die Warnungen der wenigen, die das bevorstehende schmerzvolle Ende der "großen Mäßigung" und des Zeitalters der ungezügelten Finanzwirtschaft spürten, schlug man in den Wind. Das Treffen im Januar 2009 fand unter genau umgekehrten Vorzeichen statt -  man prognostizierte bis weit in die Zukunft Krisen und eine weltweite Rezession.
Derartige Fehldeutungen zukünftiger Ereignisse sind aber nicht auf die Phasen rund um Krisenzeiten beschränkt. Man bedenke nur, was auf dem letzten Treffen im Januar 2018 geschah und vergleiche die Prognosen mit den Entwicklungen dieses Jahres.
Vor einem Jahr hatten die meisten Führungskräfte aus Politik und Wirtschaft gerade das seit Jahren stärkste Quartal globalen Wachstums hinter sich. Außerdem nahm die wirtschaftliche Aktivität in praktisch jedem Land weltweit an Fahrt auf. Als die Davos-Teilnehmer von den Erfahrungen der jeweils anderen erfuhren, hatten sie den Eindruck, die Welt sei in eine Phase des synchronisierten Wachstums eingetreten und positive Rückkopplungsschleifen würden den Prozess beschleunigen. Wenig Beachtung schenkte man der Tatsache, dass die meisten Länder - mit Ausnahme der Vereinigten Staaten -  von weitgehend einmaligen Wachstumstreibern profitierten.
Auf der diesjährigen Konferenz in Davos soll die Stimmung hinsichtlich makroökonomischer Aspekte viel düsterer gewesen. Man war sich einig, dass wir uns in Richtung einer synchronisierten Verlangsamung des globalen Wachstums mit einem erhöhten Risiko sich selbst erneuernder Teufelskreise bewegen. Aber auch in diesem Fall wird nicht zwischen einmaligen Ereignissen mit vorübergehenden und größtenteils reversiblen Folgen – wie etwa dem teilweisen Shutdown der US-amerikanischen Regierung und einer Fehlkommunikation durch die Notenbank Federal Reserve – und jener Art säkularer Schwäche unterschieden, wie sie Europa derzeit erlebt.
Subscribe now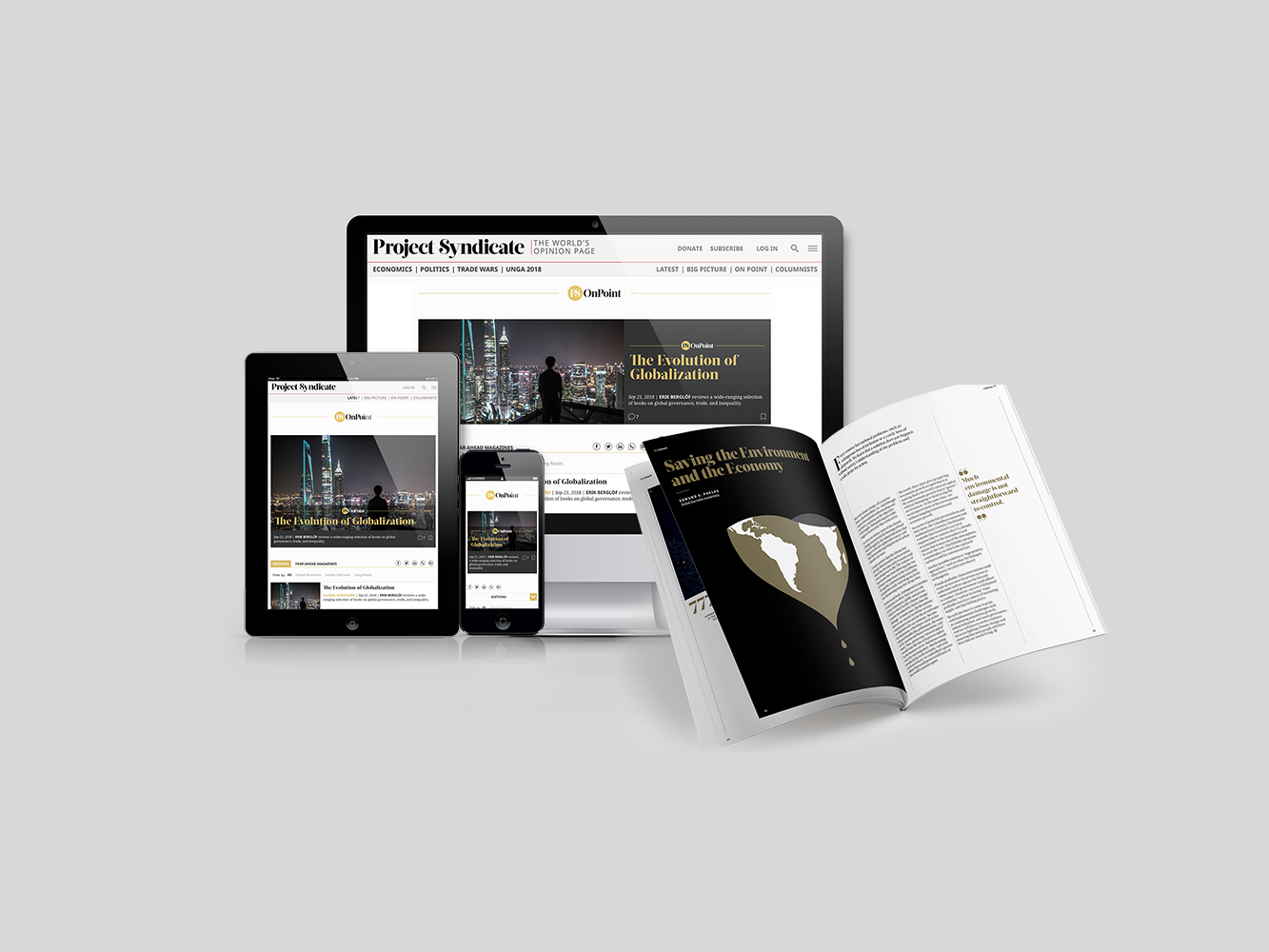 Subscribe now
Get unlimited access to OnPoint, the Big Picture, and the entire PS archive of more than 14,000 commentaries, plus our annual magazine, for less than $2 a week.
Heuer drehten sich meisten themenspezifischen Diskussionen hauptsächlich um die Spannungen zwischen China und den USA sowie um den Brexit. Wieder war man versucht, zu sehr auf Basis jüngster Ereignisse auf künftige Entwicklungen zu schließen.
Der Davos-Konsens schien zu sein, dass sich die Handelskonflikte zwischen China und den USA im Jahr 2019 intensivieren würden. Wahrscheinlicher ist jedoch, dass die Spannungen nachlassen, da China erkennt, was Südkorea, Mexiko und Kanada im Umgang mit der US-Regierung bereits feststellten: statt den Streit um die Zölle durch Retourkutschen eskalieren zu lassen, besteht der beste Ansatz für das kurzfristige Wachstum und die längerfristige Entwicklung eines Landes darin, den USA Zugeständnisse im Bereich echter Missstände zu machen. Dazu zählen Bestimmungen, die zu Technologietransfers zwingen – wie etwa Anforderungen für Joint Ventures – und der Diebstahl geistigen Eigentums.
Hinsichtlich des Brexits lag der Schwerpunkt der in Davos skizzierten wahrscheinlichen Szenarien entweder auf der Fortsetzung des derzeit ungeklärten Prozesses oder auf einem ungeregelten Austritt Großbritanniens aus der Europäischen Union. Da sich dieser Ausstieg jedoch bereits als ein überaus "langsamer Brexit"-Prozess erwiesen hat, im Rahmen dessen sich das britische Parlament wiederholt nicht auf eine Nachfolgeregelung der derzeitigen Beziehungen zwischen EU und Großbritannien einigen konnte, steigt die Wahrscheinlichkeit für einen weichen Brexit erheblich, ebenso wie die - wenn auch geringere - Wahrscheinlichkeit eines zweiten Referendums, das man einst für unwahrscheinlich, wenn nicht gar undenkbar hielt.
Einfach nur von den Ereignissen der jüngsten Vergangenheit auf die Zukunft zu schließen führt die Delegierten in Davos üblicherweise auf die falsche Fährte. Davos - sowohl Organisatoren als auch Teilnehmer – wäre erfolgreicher, würde man drei Änderungen an der Art und Weise vornehmen, wie die Veranstaltung durchgeführt wird.
Erstens sollte man aktiv alternative Szenarien als Diskussionsgrundlage vorschlagen. Man hätte etwa eine mögliche Rückkehr zu divergierendem Wachstum im Jahr 2019 mit den damit verbundenen Risiken und Chancen auf die diesjährige Agenda setzen sollen. Darüber hinaus sollte man in Davos die besten Strategien im Umgang mit der üblichen Unsicherheit in Wirtschaft und Regierungspolitik erheben und diskutieren. Schließlich muss die Veranstaltung, wenn es um kurzfristige Perspektiven geht, viel mehr Zeit für andere Themen aufwenden, von denen ich annehme, dass sie sich in nächster Zeit als wichtiger herausstellen werden als der Brexit oder die Spannungen zwischen China und den USA. Dazu zählen eine veränderte Haltung gegenüber dem Regionalismus, Herausforderungen für die Politik der Zentralbanken und der Spielraum für eine stärkere regierungspolitische Koordination unter den Industrieländern.
Die sich bietende Chance dieses alljährlichen Treffens in Davos ist einfach zu groß, um nicht umfassend genutzt zu werden. Jahr für Jahr richtet sich der Fokus jedoch eher auf die Vergangenheit als auf die Zukunft und die gerade abgeschlossene Veranstaltung scheint dabei keine Ausnahme gewesen zu sein. Eine Neugestaltung des Treffens wäre von großer Bedeutung, um das erklärte Ziel der Konferenz in Davos zu erreichen, nämlich "die wichtigsten Führungspersönlichkeiten aus Politik, Wirtschaft und anderen Teilen der Gesellschaft"  damit zu befassen, "globale, regionale und wirtschaftliche Agenden zu gestalten."  Damit würde man auch sicherstellen, dass sich mehr Teilnehmer um umsetzbare, substanzielle Inhalte bemühen, anstatt in erster Linie dort anwesend zu sein, um zu sehen und gesehen zu werden.
Aus dem Englischen von Helga Klinger-Groier