The Return of Global Inflation
Today's inflationary surge is being felt not just by the advanced economies but also by the majority of emerging markets and developing economies. And though its causes vary across countries, the task of resolving the problem ultimately will fall to the world's major central banks.
WASHINGTON, DC – Inflation has come back faster, spiked more markedly, and proved to be more stubborn and persistent than major central banks initially thought possible. After initially dominating headlines in the United States, the problem has become a centerpiece of policy discussions in many other advanced economies. In 15 of the 34 countries classified as AEs by the International Monetary Fund's World Economic Outlook, 12-month inflation through December 2021 was running above 5%. Such a sudden, shared jump in high inflation (by modern standards) has not been seen in more than 20 years.
Nor is this inflationary surge limited to wealthy countries. Emerging markets and developing economies have been hit by a similar wave, with 78 out of 109 EMDEs also confronting annual inflation rates above 5%. That share of EMDEs (71%) is about twice as large as it was at the end of 2020. Inflation thus has become a global problem – or nearly so, with Asia so far immune.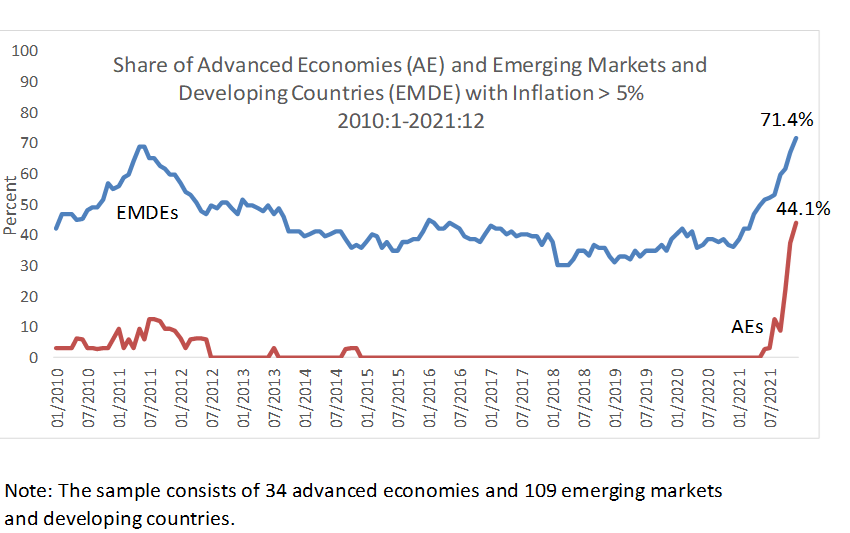 The primary drivers of the inflation spike are not uniform across countries, particularly when comparing AEs and EMDEs. Diagnoses of "overheating," prevalent in the US discourse, do not apply to many EMDEs, where fiscal and monetary stimulus in response to COVID-19 was limited, and where economic recovery in 2021 lagged well behind the AE rebound.
To continue reading, register now.
Already have an account? Log in