Zdrowie na Świecie to Najlepsza Inwestycja
SAN FRANCISCO - Europa stoi w obliczu zakłóceń w dostawach energii. Bliski Wschód i Afryka zmagają się z niedoborem zboża. Praktycznie każdy ma problemy z pozyskaniem półprzewodników. Ponieważ zakłócenia w przepływie ważnych produktów stają się coraz częstsze, gospodarki i firmy muszą dokonać ważnych wyborów. Najbardziej podstawowym wydaje się być pytanie, czy wycofać się z globalnej integracji, czy też wyobrazić ją sobie na nowo.
Dla wielu osób pokusa wycofania się może być silna. Od wojny Rosji z Ukrainą po rywalizację chińsko-amerykańską, porządek świata jest coraz bardziej kwestionowany, a gdy łańcuchy wartości są globalne, pojedyncze zakłócenie może odbić się echem na całej planecie. Jednak - jak pokazujemy w nowym artykule badawczym - wycofanie się z tych łańcuchów wartości nie byłoby tak łatwe, jak można by przypuszczać.
Przez dziesięciolecia świat dążył do szybkiej i wszechstronnej integracji gospodarczej - i nie bez powodu. Umożliwiając większą specjalizację i korzyści skali, globalne łańcuchy wartości zwiększyły wydajność, obniżyły ceny oraz zwiększyły zakres i jakość dostępnych towarów i usług. Wspierając wzrost gospodarczy, przyczyniły się one do zwiększenia dochodów i zatrudnienia - choć nie dla wszystkich - pomagając w wyciągnięciu ludzi z ubóstwa.
Wraz z integracją przyszła współzależność. Jak pokazujemy w naszym artykule, żaden region nie jest obecnie bliski samowystarczalności. Każdy z głównych regionów świata importuje ponad 25% przynajmniej jednego ważnego zasobu lub towaru.
W wielu przypadkach liczby te są znacznie wyższe. Ameryka Łacińska, Afryka Subsaharyjska, Europa Wschodnia i Azja Środkowa importują ponad 50% potrzebnej im elektroniki. Unia Europejska importuje ponad 50% swoich zasobów energetycznych. Region Azji i Pacyfiku importuje ponad 25% swoich zasobów energetycznych. Nawet Ameryka Północna, która ma mniej obszarów o bardzo wysokim stopniu zależności, polega na imporcie zasobów i towarów przemysłowych.
To niewątpliwie rodzi ryzyko, zwłaszcza w przypadku towarów, których produkcja jest wysoce skoncentrowana. Na przykład większość światowego litu i grafitu, które są wykorzystywane w akumulatorach pojazdów elektrycznych, jest wydobywana w większości w zaledwie trzech krajach. Grafit naturalny jest wysoce skoncentrowany nie z powodu rezerw, ale dlatego, że ponad 80% jest rafinowane w Chinach.
Subscribe to PS Digital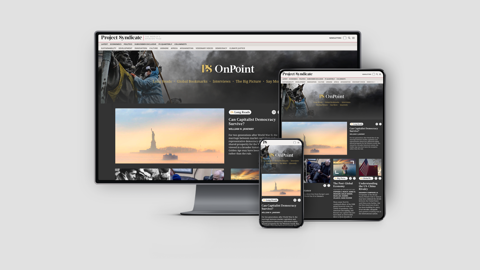 Subscribe to PS Digital
Access every new PS commentary, our entire On Point suite of subscriber-exclusive content – including Longer Reads, Insider Interviews, Big Picture/Big Question, and Say More – and the full PS archive.

Podobnie, Demokratyczna Republika Konga wydobywa 69% światowego kobaltu, Indonezja odpowiada za 32% światowego niklu, a Chile produkuje 28% światowej miedzi. Zakłócenie dostaw z któregokolwiek z tych źródeł miałoby daleko idące konsekwencje.

Pytanie brzmi, czy kraje - i przedsiębiorstwa - mogą złagodzić to ryzyko bez rezygnacji z niezliczonych korzyści płynących z globalnego handlu. Niektóre z nich już podjęły się dywersyfikacji. Wiele firm z branży elektroniki użytkowej rozszerzyło swoją produkcję w Indiach i Wietnamie, aby zmniejszyć zależność od Chin i wejść na rynki wschodzące. Podobnie Stany Zjednoczone, UE, Korea Południowa, Chiny i Japonia ogłosiły działania mające na celu zwiększenie krajowej produkcji półprzewodników. Chociaż półprzewodniki stanowią mniej niż 10% całkowitego handlu, produkty, które bezpośrednio lub pośrednio od nich zależą, stanowią około 65% całego eksportu towarów.

Ale dywersyfikacja może być czasochłonna i często wymaga znacznych inwestycji wstępnych. Przykładem są minerały - jedne z najbardziej skoncentrowanych produktów w systemie globalnym. Jak zauważyła Międzynarodowa Agencja Energii, eksploatacja nowych złóż kluczowych minerałów trwała w przeszłości średnio ponad 16 lat.

Nie chodzi tu tylko o rozwój nowych kopalń; kraje muszą również budować swoje zdolności przetwórcze i zapewnić pracowników o odpowiednich kwalifikacjach. A wszystko to należy zrobić w sposób łagodzący znaczny wpływ wydobycia i przetwarzania na środowisko.

Innowacje mogą umożliwić podmiotom ominięcie tych przeszkód. Już teraz podejmuje się wysiłki na rzecz opracowania technologii, które w mniejszym stopniu opierają się na naturalnym graficie, a producenci pojazdów elektrycznych eksperymentują z metodami, w których wykorzystuje się mniej kobaltu (lub nie wykorzystuje się go wcale). W obliczu rosnących cen palladu międzynarodowa firma chemiczna BASF opracowała nową technologię katalizatorów, która pozwala na częściowe zastąpienie go platyną.

Kolejnym sposobem na zwiększenie odporności może być zmiana naszego podejścia do zaopatrzenia. Firmy mogą współpracować ze sobą i z rządami poprzez partnerstwa publiczno-prywatne, aby wykorzystać swoją wspólną siłę nabywczą, wzmocnić dostawy niezbędnych towarów i pomóc w budowaniu bardziej zrównoważonych gospodarek.

Modele takiej współpracy już się pojawiają. Celem Canada Growth Fund jest wykorzystanie funduszy publicznych do przyciągnięcia kapitału prywatnego w celu przyspieszenia wdrażania technologii niezbędnych do dekarbonizacji gospodarki, w tym poprzez zwiększenie krajowej produkcji materiałów krytycznych, takich jak cynk, kobalt i pierwiastki ziem rzadkich. Natomiast koalicja First Movers - obejmująca ponad 50 prywatnych firm z całego świata - zobowiązała się do wykorzystania swojej zbiorowej siły nabywczej w celu stworzenia rynków dla innowacyjnych czystych technologii w ośmiu trudnych do utrzymania sektorach.

Takie strategie pokazują, że możemy ograniczyć ryzyko i zbudować odporność gospodarczą bez rezygnacji z wzajemnych powiązań, które w ostatnich dziesięcioleciach pozwoliły ponad miliardowi ludzi uniknąć ubóstwa. Zamiast próbować wycofać się z globalnej gospodarki, musimy ją na nowo wykreować.
Z angielskiego przetłumaczyła Marz McNamer