Cesta k rozvoji přes výzkum a vývoj
KODAŇ – Když vypukne hladomor, vlády a mezinárodní dárci přispěchají s pomocí, která zachraňuje životy. A bohaté země věnují více než 130 miliard dolarů ročně nejen na nasycení hladovějících, ale i na vybudování klíčové infrastruktury a zacelení propastí v přístupu ke vzdělání, zdravotní péči, čisté vodě a kanalizaci všude na světě.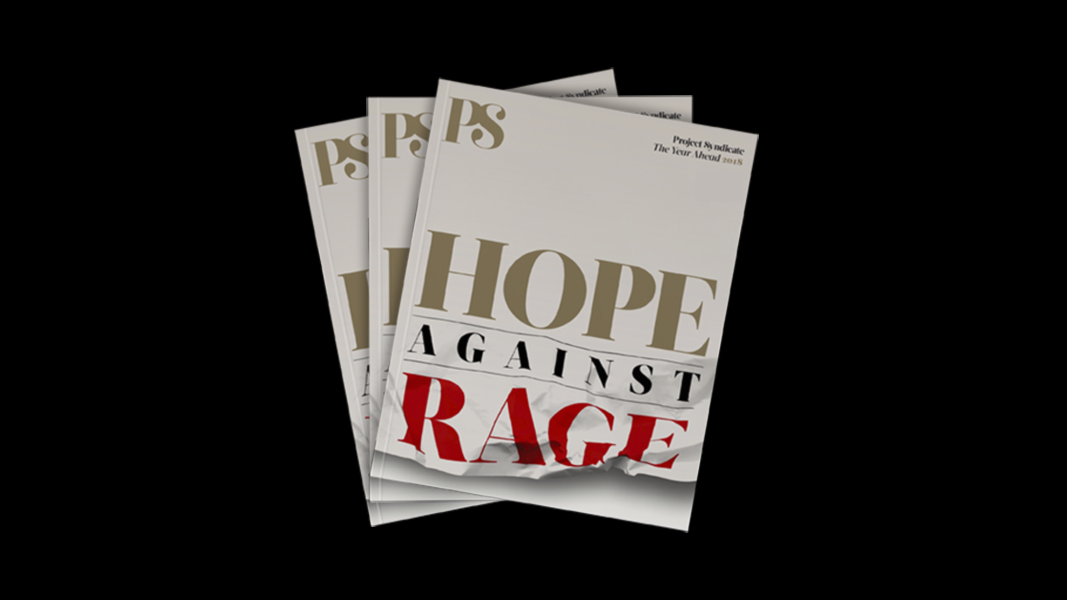 The Year Ahead 2018
The world's leading thinkers and policymakers examine what's come apart in the past year, and anticipate what will define the year ahead.
Toto vše je životně důležité. Jednou z nejúčinnějších investic, které by rozvojová komunita mohla realizovat, však není investice do dnešních problémů, nýbrž investice do výzkumu, jenž bude řešit problémy zítřka.
Opakovaně se potvrzuje, že každý dolar vynaložený na výzkum a vývoj vykazuje jeden z nejvyšších společenských přínosů ze všech forem politické intervence. Zajištěním vyšších výdajů na výzkum a vývoj by se předešlo mnoha typickým obavám dárcovských zemí z "financování korupce". A ve znalostní základně existují velké mezery, které by výzkum mohl zaplnit. To si vyžádá vytyčení nových oblastí, jež budou figurovat vedle oblíbených výzkumných témat, jako jsou alternativní energie nebo vakcíny.
Vezměme si hlad. Není pochyb o tom, že dárci musí i nadále zajišťovat záchrannou síť pro křehké země. Potřebujeme však i dlouhodobější výhled, který se bude dívat dál než jen na dnešní krize či zítřejší titulky.
Výzkum provedený pro mozkový trust Kodaňský konsensus, v jehož čele stojím, ukazuje, že investice nižší než 88 miliard dolarů do světového zemědělského výzkumu ode dneška do roku 2050 by všude zvýšila výnosy o dalších 0,4 procentního bodu ročně. Rekordní úrody a z toho vyplývající nižší ceny potravin by uchránily 79 milionů lidí před hladem. Všechny tyto přínosy by po sečtení měly hodnotu 3 biliony dolarů. Každý dolar vynaložený na výzkum by tedy generoval přínos v hodnotě 34 dolarů.
Existují i další oblasti, v nichž by významní dárci mohli iniciovat obrovské změny. Kodaňský konsensus zkoumal nejlepší příležitosti k výzkumu a vývoji a výsledky nedávno publikoval britský mozkový trust Policy Exchange. Získané údaje jsou důležité nejen pro Velkou Británii, která od roku 1995 vynaložila na výzkum a vývoj pouze 0,9% své celkové pomoci, ale pro všechny dárcovské země.
Ve spolupráci s 32 špičkovými světovými akademiky a experty na toto téma jsme identifikovali téměř 100 výzkumných oblastí, které by urychlily plnění cílů trvale udržitelného rozvoje OSN, a také 40 projektů, u nichž se dal vypočítat řádový odhad potenciálních přínosů a nákladů. Domníváme se, že deset z těchto projektů si zaslouží být v popředí rozvojové agendy.
Jednou z možností je výzkum čistších kuchyňských sporáků. Znečištění interiéru v důsledku vaření a topení patří k největším světovým environmentálním zabijákům: v roce 2015 zemřelo následkem znečištění vzduchu v domácnosti 2,9 milionu osob a náklady spojené se zdravotními důsledky se odhadují zhruba na 333 miliard dolarů ročně. Pokud bychom vynaložili pouhých 25 milionů dolarů ročně na vývoj sporáků, které budou lépe vyhovovat potřebám domácností při vaření, a identifikovali způsoby, jak maximalizovat přechod na čistší řešení na úrovni celé komunity, pravděpodobně bychom tím zvýšili používání čistých sporáků o 10-20%, což znamená, že by se každý rok dalo tímto způsobem zachránit přibližně 60 000 až 120 000 životů. Přínosy by 250-500násobně převyšovaly náklady.
Další oblastí, která vyžaduje značné výdaje na výzkum a vývoj, je intimní partnerské násilí. Jeho obětí se stane více než 300 milionů žen ročně a sociální náklady spojené s tímto problémem dosahují ohromujících 4,4 bilionu dolarů.
Zejména je potřeba zaměřit se na africké země, kde je prevalence násilí nejvyšší a kde mají vlády nejméně prostředků na řešení tohoto problému. Náklady na výzkum se odhadují přibližně na 100 milionů dolarů ročně – je to značná částka, avšak složitost i samotná velikost tohoto problému ji plně odůvodňují.
Objevují se důkazy, že při snižování zátěže spojené s intimním partnerským násilím by mohly být účinné osvětové programy pro teenagery, a je zapotřebí odzkoušet tento i jiné přístupy v různých kontextech. Naši výzkumní experti odhadují, že za každý vynaložený dolar by se tímto způsobem mohl generovat přínos v hodnotě 45-450 dolarů.
Třetím námětem k výzkumu je dostupnější léčba astmatu. V rozvinutých zemích je astma do značné míry pod kontrolou, avšak inhalátory jsou stále drahé a pro chudé lidi obecně nedostupné. Relativně malý výdaj ve výši 10 milionů dolarů by mohl iniciovat průlomy, které pomohou milionům lidí a jejichž přínos by mohl dosáhnout plných 600 dolarů za každý investovaný dolar.
V případě HIV se hlavní pozornost zaměřuje na profylaxi před nákazou a na vývoj vakcíny. Nedostatečně prozkoumanou oblastí je však vývoj levnějšího domácího monitoringu a aplikace léků u osob, které s tímto virem žijí. Snížila by se tím potřeba pravidelných návštěv u lékaře a opakovaných receptů, což by zvýšilo soběstačnost a zlepšilo léčebnou disciplínu pacientů. Každoroční výdaj ve výši jen asi 10 milionů dolarů by generoval přínosy s více než dvacetinásobnou hodnotou.
Týchž 10 milionů dolarů ročně vynaložených na výzkum dlouhodobě účinné netrvalé antikoncepce by mohlo proměnit životy milionů lidí, poněvadž by umožnilo lepší plánování rodičovství, rozšířilo rozhodovací pravomoc žen, zvýšilo jejich zapojení do trhu práce a zlepšilo jejich zdraví. V ekonomickém vyjádření by mohly přínosy přesáhnout částku tří miliard dolarů ročně.
V desítce nejlepších nápadů našich výzkumníků dále figurují rozšíření potenciálu pro zavlažování v subsaharské Africe, vývoj tržně dostupného "polyléku" na vysoký tlak a kardiovaskulární onemocnění, výzkum možností, jak v rozvojových zemích úspěšně zavést daně na tabák, provádění akčního výzkumu – určitého konkrétního přístupu a typu výzkumu, který předpokládá vysokou angažovanost na straně výzkumníků i aktérů výzkumu – a zvýšení schopnosti celních úřadů odhalovat nezákonné transakce.
Předchozí výzkum Kodaňského konsensu provedený na globální i národní úrovni jednoznačně ukázal, že výzkum a vývoj mohou být pro dárce mimořádně dobrou investicí. Argumenty pro to, abychom dali takovým investicím prioritu, nejsou o nic méně přesvědčivé.
Z angličtiny přeložil Jiří Kobělka.