La estafa ofertista a Estados Unidos
NEW HAVEN – El mejor modo de describir la esencia de la última apuesta política de Washington es "rebaja impositiva disfrazada de reforma tributaria". Es en gran medida una cuestión política: en concreto, un Congreso republicano urgido de entregar una victoria legislativa a un presidente republicano. Pero las consecuencias serán finalmente económicas; y, obviamente, es probable que sean mucho peores que lo que los políticos están dispuestos a admitir.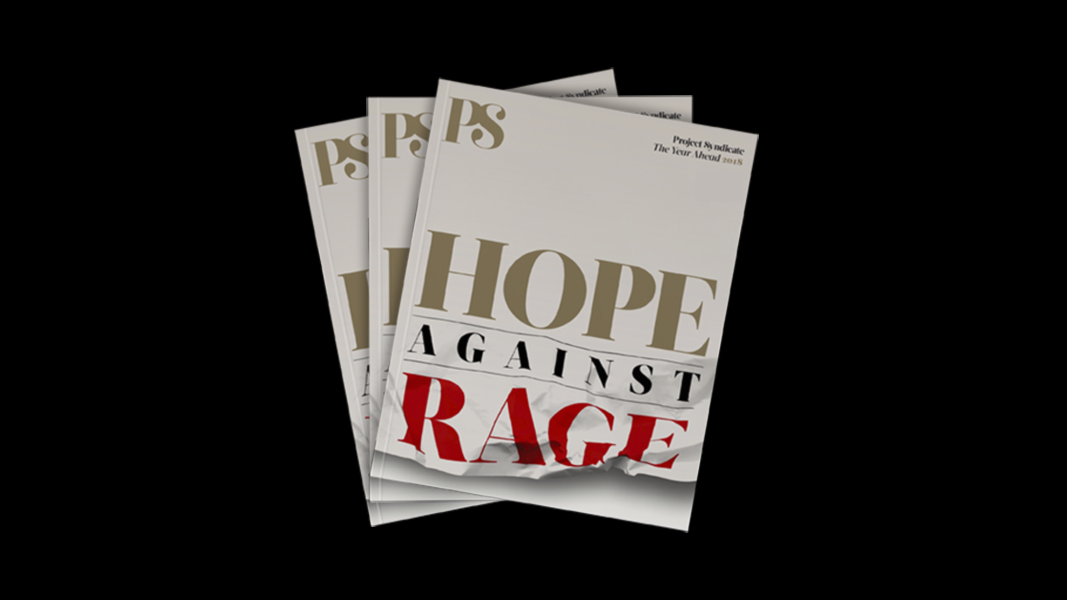 The Year Ahead 2018
The world's leading thinkers and policymakers examine what's come apart in the past year, and anticipate what will define the year ahead.
Adelantándonos al presidente Donald Trump, la justificación política de las rebajas de impuestos sería que son esenciales para "hacer a Estados Unidos grande otra vez". Según el argumento, Estados Unidos ha sido sobrecargado de impuestos y engañado por malos tratados comerciales, así que necesita un alivio impositivo para revivir su competitividad extraordinaria.
Pero pese al discurso político de que la medida beneficiará a las sobreexigidas familias estadounidenses de clase media, el destinatario evidente de esta iniciativa son las corporaciones; la propuesta legislativa busca reducir el tipo impositivo que pagan, de 35% a 20%. No importa que las empresas estadounidenses estén pagando un impuesto de sociedades efectivo sorprendentemente bajo (apenas el 22%) en comparación con cifras del período posterior a la Segunda Guerra Mundial.
Tampoco habría que prestar atención al último informe de competitividad internacional del Foro Económico Mundial, que sitúa a Estados Unidos otra vez en segundo lugar (en un listado de 137 países). Y por supuesto, no permitir que las altísimas cotizaciones bursátiles de la amplia constelación de las empresas estadounidenses nos infundan tranquilidad. Olvidemos todo eso, insisten los republicanos: según ellos, todos los males de Estados Unidos se terminarán bajándoles los impuestos a las empresas.
Hay momentos en que la politización de argumentos económicos se vuelve peligrosa. Este es uno de ellos. Estados Unidos no puede darse el lujo de que el Congreso apruebe las rebajas impositivas propuestas. Según la Oficina de Presupuesto del Congreso (un órgano no partidario), las rebajas provocarán un déficit acumulado de aproximadamente 1,4 billones de dólares en el próximo decenio. El problema se debe a que la falta crónica de ahorro en Estados Unidos ya llegó a niveles alarmantes, de modo que hoy, en comparación con otras rebajas de impuestos anteriores, es mucho más difícil financiar un déficit plurianual.
Las rebajas impositivas de Kennedy en 1964 y Reagan en 1981 son ejemplos muy pertinentes. La tasa neta de ahorro nacional promedio (la medida de ahorro interno más amplia, que incluye el ahorro de los hogares, las empresas y el sector público ajustado por depreciación) fue 10,1% en esos dos años (1964 y 1981). Es decir, en aquel tiempo Estados Unidos podía permitirse aprobar grandes rebajas impositivas.
Pero no es la situación ahora, cuando la tasa neta de ahorro interno sólo llega al 1,8% del producto nacional. Incluso durante las dos rebajas impositivas que siguieron (el segundo tramo del programa fiscal de Reagan en 1986 y las iniciativas de George Bush hijo en 2001) la tasa neta de ahorro nacional promedio era 4,2%, más del doble del nivel actual.
La experiencia y la teoría macroeconómica permiten predecir lo que sucederá. Las economías que ahorran poco no pueden permitirse grandes déficits sin un excedente de ahorro venido de otro lugar. Lo que trae la balanza de pagos y el déficit comercial directamente al debate sobre política fiscal.
Cabe señalar que durante las grandes rebajas impositivas de 1964 y 1981, Estados Unidos tenía un ligero superávit de cuenta corriente, totalmente distinto al déficit actual, que es 2,6% del PIB. Puesto que es probable que el déficit fiscal reduzca todavía más la tasa de ahorro nacional, que ya es baja (incluso podría regresarla a territorio negativo, como sucedió entre 2008 y 2011), hay mucho riesgo de un gran aumento del déficit de cuenta corriente. Y un mayor déficit de cuenta corriente implica que el déficit comercial, que ya es grande, seguirá creciendo, en abierta oposición a uno de los dogmas principales de la Trumponomics: que para hacer a Estados Unidos grande otra vez hay que reducir el desequilibrio comercial.
Es aquí donde la historia pasa de los hechos a la ficción. Trump y la mayoría republicana en el Congreso insisten en que las rebajas impositivas propuestas se financiarán solas, porque alentarán el crecimiento económico y con él, un aumento de la recaudación. Este argumento "ofertista" se presentó por primera vez en respaldo de las rebajas impositivas de tiempos de Reagan y desde entonces no ha dejado de ser un punto de controversia en los debates sobre política fiscal en Estados Unidos.
La realidad resultó muy diferente a lo que imaginaban los ofertistas. Es verdad que la economía tuvo una recuperación espectacular desde una recesión profunda en 1981-1982. Pero eso se debió en gran medida a una agresiva flexibilización de la política monetaria tras el exitoso ataque de la Reserva Federal a la inflación estadounidense, que había llegado a dos dígitos.
En cambio, la utopía fiscal que tanto prometieron los ofertistas nunca se materializó. En vez de desaparecer como por arte de magia, el déficit federal se infló al 3,8% del PIB en los ochenta, y llevó la deuda pública desde el 25% del PIB en 1980 hasta el 41% en 1990.
No sólo ocurrió que las promesas ofertistas de autofinanciación de las rebajas no se cumplieron; también fue el comienzo del fin del equilibrio de la balanza de pagos estadounidense. De 1960 a 1982, la cuenta corriente estuvo básicamente equilibrada, con un superávit promedio del 0,2% del PIB. Pisándole los talones al déficit presupuestario de la Reaganomics y al consiguiente derrumbe del ahorro nacional, la cuenta corriente pasó en poco tiempo a ser deficitaria, con un promedio de -2,4% del PIB entre 1983 y 1989. Y nunca dejó de serlo (con la excepción de un alivio temporal en los dos primeros trimestres de 1991 debido a la financiación externa de la Guerra del Golfo).
Más que una receta de grandeza, la apuesta fiscal de Trump es sinónimo de problemas graves. La suma de falta de ahorro y déficit desmesurado apunta a un marcado deterioro de las balanzas de pagos y comercial de Estados Unidos. Y esto no va a cambiar por mucha contabilidad creativa que usen los ofertistas. Una "puntuación dinámica" elaborada por el Centro de Política Impositiva (no partidario) sugiere que como mucho, las eventuales mejoras en materia de crecimiento disminuirán el déficit plurianual de 1,4 billones de dólares a 1,3 billones en los próximos diez años, demasiado poco para eludir el intratable problema de financiación de Estados Unidos.
Nadie lo dijo tan bien como George Bush (padre) durante su campaña para ser el candidato presidencial republicano, en abril de 1980, cuando criticó, con razón, la "política económica vudú" de su adversario, Ronald Reagan. En la economía estadounidense actual, con su insuficiente ahorro, decir déjà vu no acierta a expresar la gravedad de lo que se viene.
Traducción: Esteban Flamini