Die Republikaner sind eine Bedrohung für die Republik
NEW YORK – Nero spielte angeblich Geige, während Rom niederbrannte. US-Präsident Donald Trump spielt bekanntlich angesichts der Brände in Kalifornien und mehr als 200.000 an COVID-19 (wofür er jetzt selbst positiv getestet wurde) verstorbener Amerikaner lieber Golf auf seinen verlustbringenden Golfplätzen. Wie an Nero wird man sich an Trump zweifellos als ungewöhnlich grausame, inhumane und womöglich geisteskranke politische Gestalt erinnern.
Bis vor kurzem haben die meisten Menschen auf der Welt die amerikanische Tragödie nur häppchenweise mitbekommen: durch kurze Filmclips in den Abendnachrichten oder den sozialen Medien, in denen Trump Lügen und Unsinn verbreitete. Ende September durchlitten etliche zehn Millionen Menschen ein 90-minütiges Spektakel, das als "Präsidentschaftsdebatte" angekündigt worden war und bei dem Trump unmissverständlich unter Beweis stellte, dass er nicht das Zeug zum Präsidenten hat – und das zeigte, warum so viele Menschen seine Zurechnungsfähigkeit in Frage stellen.
Während der letzten vier Jahre hat die Welt zugesehen, wie dieser pathologische Lügner neue Rekorde aufstellte und – nach Zählung der Washington Post – bis Mitte Juli rund 20.000 Unwahrheiten oder irreführende Behauptungen verbreitete. Was für eine Art von Debatte kann es geben, wenn einer der beiden Kandidaten über keinerlei Glaubwürdigkeit verfügt und nicht einmal gekommen ist, um zu debattieren?
Befragt zum jüngsten Exposé in der New York Times, das zeigte, dass Trump 2016 und 2017 jeweils bloß 750 Dollar US-Bundeseinkommensteuer gezahlt hat – und davor etliche Jahre überhaupt nichts –, zögerte Trump zunächst und behauptete dann ohne auch nur den Hauch eines Belegs, dass er "Millionen" bezahlt habe. Er gab offensichtlich die Antwort, von der er dachte, dass sie zu einem für ihn bequemeren Thema überleiten würde, und es gibt keinen vernünftigen Grund, warum irgendwer ihm glauben sollte.
Noch verstörender war seine Weigerung, sich von weißen Rassisten und gewalttätigen extremistischen Gruppen wie den Proud Boys zu distanzieren, die er aufforderte, "sich zurückzuhalten und bereitzuhalten". Im Verbund mit seiner Weigerung, sich zu einer friedlichen Machtübergabe zu verpflichten, und anhaltenden Bemühungen, dem Wahlverfahren die Legitimität abzusprechen, stellt Trumps Verhalten im Vorfeld der Wahlen zunehmend eine direkte Bedrohung für die amerikanische Demokratie dar.
Während meiner Kindheit in Gary (Indiana) bekamen wir in der Schule die Vorzüge der US-Verfassung vermittelt – von einer unabhängigen Justiz und der Gewaltenteilung bis hin zur Bedeutung ordnungsgemäß funktionierender wechselseitiger Kontrollmechanismen ("Checks & Balances"). Unsere Vorfahren schienen ein Konstrukt großartiger Institutionen geschaffen zu haben (obwohl es von Scheinheiligkeit zeugte, dass sie erklärten, alle Menschen seien "gleich geschaffen", solange sie keine Frauen oder Farbigen seien). In meiner Zeit als Chefökonom der Weltbank Ende der 1990er Jahre bereisten wir die Welt und hielten den Menschen anderswo Vorträge über gute Regierungsführung und gute Institutionen, und die USA wurden häufig als Musterbeispiel für diese Konzepte herausgestellt.
Subscribe to Project Syndicate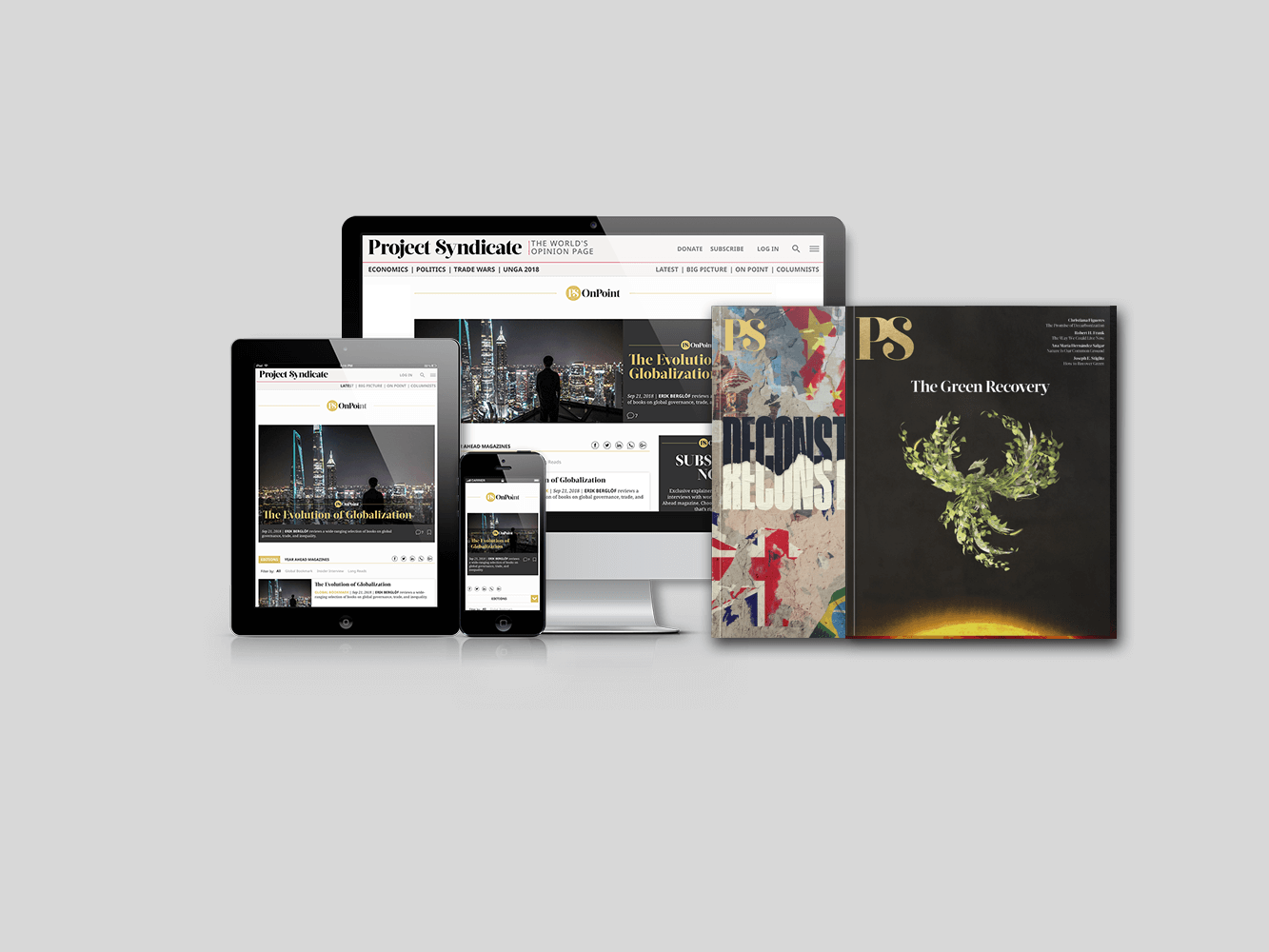 Subscribe to Project Syndicate
Enjoy unlimited access to the ideas and opinions of the world's leading thinkers, including weekly long reads, book reviews, and interviews; The Year Ahead annual print magazine; The Green Recovery special-edition print magazine; the complete PS archive; and more – All for less than $9 a month.
Das war einmal. Trump und seine republikanischen Parteigenossen haben einen Schatten auf das amerikanische Projekt geworfen, der uns erinnert, wie fragil – manche würden sagen: fehlerbehaftet – unsere Institutionen und Verfassungsordnung sind. Wir sind ein Land der Gesetze, doch sind es die politischen Normen, die das System zum Funktionieren bringen. Normen sind flexibel, aber sie sind auch fragil. Amerikas erster Präsident George Washington entschied, dass er nur zwei Amtszeiten lang regieren würde, und dies schuf eine Norm, die bis zur Präsidentschaft von D. Roosevelt nicht durchbrochen wurde. Danach schrieb eine Verfassungsänderung die Begrenzung auf zwei Amtszeiten fest.
Während der letzten vier Jahre haben Trump und die Republikaner die Erschütterung bestehender Normen auf ein neues Niveau gehoben, sich dabei mit Schande bedeckt und die Institutionen, die sie eigentlich verteidigen sollten, untergraben. Als Kandidat weigerte sich Trump 2016, seine Steuererklärungen zu veröffentlichen. Und als er dann im Amt war, entließ er mehrere Generalinspekteure – hohe Kontrollbeamte innerhalb der Regierung –, weil sie ihre Arbeit taten, ignorierte wiederholt Interessenkonflikte und profitierte von seinem Amt, untergrub unabhängige Wissenschaftler und kritische Behörden, versuchte unumwunden, Wähler an der Stimmabgabe zu hindern, und erpresste in dem Versuch, seine politischen Gegner zu verleumden, ausländische Regierungen.
Aus gutem Grund fragen wir Amerikaner uns inzwischen, ob unsere Demokratie überleben kann. Eine der größten Sorgen der Gründer war schließlich, dass ein Demagoge auftauchen und das System von innen heraus zerstören könnte. Dies war einer der Gründe, warum sie sich für die Struktur der indirekten Demokratie entschieden, mit einem Wahlkollegium und einem System von, ihrer Vorstellung nach, robusten wechselseitigen Kontrollmechanismen. Doch nach 233 Jahren ist diese institutionelle Struktur nicht länger robust genug. Die Republikaner, insbesondere die republikanischen Senatoren, sind ihrer Verantwortung, einem gefährlichen und erratischen Regierungschef Grenzen zu setzen, der offen Krieg gegen die verfassungsmäßige Ordnung der USA und ihren Wahlprozess führt, in keiner Weise gerecht geworden.
Vor uns liegt eine furchteinflößende Aufgabe. Neben der Bekämpfung einer außer Kontrolle geratenen Pandemie, steigender Ungleichheit und der Klimakrise besteht zudem eine dringende Notwendigkeit, die amerikanische Demokratie zu retten. Da die Republikaner ihre Amtseide seit langem vernachlässigen, wird man demokratische Normen durch Gesetze ersetzen müssen. Aber das wird nicht leicht. Solange sie beachtet werden, sind Normen Gesetzen häufig vorzuziehen, weil sie sich leichter an künftige Umstände anpassen lassen. Insbesondere in Amerikas prozesswütiger Gesellschaft wird es immer Kreise geben, die bereit sind, die Gesetze zu umgehen, indem sie die Buchstaben des Gesetzes respektieren, aber gegen seinen Geist verstoßen.
Doch wenn sich eine Seite nicht länger an die Regeln hält, müssen stärkere Schutzbegrenzungen her. Die gute Nachricht ist, dass wir hierfür bereits einen Fahrplan haben. Der For the People Act von 2019, ein vom US-Repräsentantenhaus Anfang letzten Jahres verabschiedetes Gesetz, umfasst ein Programm zur Ausweitung des Wahlrechts, zur Begrenzung von Wahlkreismanipulationen, zur Stärkung der Ethikregeln und zur Begrenzung des Einflusses privater Geldgeber auf die Politik. Die schlechte Nachricht ist, dass die Republikaner wissen, dass sie in Bezug auf die meisten wichtigen politischen Themen inzwischen zunehmend in der Minderheit sind. Die Amerikaner wünschen sich eine stärkere Schusswaffenkontrolle, einen höheren Mindestlohn, eine vernünftige Umwelt- und Finanzregulierung, eine bezahlbare Krankenversicherung, eine Ausweitung der Finanzierung der Vorschulbildung, einen verbesserten Hochschulzugang und stärkere Beschränkungen finanzieller Einflussnahme auf die Politik.
Der klar zu Ausdruck gebrachte Wille der Mehrheit bringt die Republikaner in eine unmögliche Lage: Die Partei kann nicht gleichzeitig ihre unpopuläre Agenda weiterverfolgen und eine ehrliche, transparente, demokratische Regierungsführung unterstützen. Daher führt sie nun offen Krieg gegen die amerikanische Demokratie und verstärkt ihre Bemühungen zur Entrechtung der Wähler, zur Politisierung von Justiz und Bundesbehörden und zur Etablierung einer dauerhaften Minderheitsherrschaft durch Taktiken wie die parteipolitische Wahlkreismanipulation.
Da die Republikaner bereits ihren Pakt mit dem Teufel geschlossen haben, gibt es keinen Grund, zu erwarten, dass ihre Mitglieder irgendwelche Bemühungen zur Erneuerung und zum Schutz der amerikanischen Demokratie unterstützen werden. Den Amerikanern bleibt keine andere Option, als den Demokraten bei den Wahlen im nächsten Monat auf allen Ebenen einen Erdrutschsieg zu bescheren. Amerikas Demokratie steht auf dem Spiel. Wenn sie fällt, werden die Feinde der Demokratie überall auf der Welt siegen.
Aus dem Englischen von Jan Doolan