Zur Entwicklung ist Versöhnung nötig
PARIS – In einer Welt, die grundlegend von Wandel und Spaltung geprägt ist, kann die Versuchung sehr groß sein, einen scheinbar beruhigenden Weg des Rückzugs oder der Isolation einzuschlagen. In der Tat scheint es nur natürlich zu sein, mögliche Gefahren zu vermeiden. Mangels besserer Alternativen könnten wir instinktiv dazu neigen, nach innen zu schauen, um die Risiken einer Welt, die wie das Ende aller Zeiten wirkt und in der uns die Kinder die Wahrheit sagen, zu umgehen oder zumindest abzumildern.
Viele von uns haben sich bereits entschieden, diesem Weg zu folgen. Aber die Brände, die kürzlich im Amazonas wüteten, erinnern uns auf massive – und tragische – Weise daran, dass dieses Denken zwar verständlich, aber irreführend ist. Tatsächlich müssen wir in die umgekehrte Richtung gehen. Wir leben in einer gemeinschaftlichen Welt, was bedeutet, dass wir ökologischen, sozialen oder politischen Gefahren ausgesetzt sind, die keine Grenzen kennen. Da die direkten oder indirekten Folgen dieser Bedrohungen überall spürbar sind, sollten wir uns nicht nach Isolation sehnen, sondern nach Versöhnung.
Diese gegensätzlichen Sichtweisen auf die vielen Probleme einer miteinander verbundenen Welt – wie Klimawandel, Verlust an Biodiversität, soziale Fragmentierung, Unsicherheit, Schmuggel aller Art und unkontrollierte Migration – führen zu unterschiedlichen Strategien: Einerseits suchen die Befürworter von Offenheit und stärkerem gemeinsamem Handeln die Zusammenarbeit mit anderen Ländern im Rahmen internationaler Solidarität. Andererseits veröffentlichen die Fürsprecher strenger nationaler Einzellösungen Programme mit subtilen Theorien des Rückzugs, und dies auch im grundlegend großzügigen Bereich der Entwicklungspolitik.
Der allgemeine Trend ist eindeutig: Von Russland über Brasilien bis in die USA folgen immer mehr Politiker einer nationalistischen Agenda und wehren sich gegen die Bemühungen um eine gemeinsame globale Verwaltung. Nehmen wir beispielsweise das vom US-Büro für Internationale Entwicklung (USAID) vertretene Konzept der "Reise zur Eigenständigkeit". Dieser Ausdruck soll den positiven Eindruck vermitteln, die Länder, die internationale Hilfe bekommen, sollten davon nicht mehr abhängig sein, sondern ermutigt werden, ihre Entwicklungsprobleme durch mehr Autonomie selbst zu lösen. Und immerhin gebührt USAID der Verdienst, mit dem unrealistischen Idealismus gebrochen zu haben, der die globalen Bemühungen häufig durchdringt.
Trotzdem nimmt dieser Ansatz der Eigenständigkeit – gemeinsam mit der aggressiven Handelspolitik der US-Regierung – die bestehenden weltweiten Spaltungen kritiklos hin und verstärkt sie möglicherweise noch. Insbesondere fördert er nach innen gewandte Perspektiven. Er lehnt die Idee einer möglichen (geschweige denn effektiven) kollektiven Antwort auf die Entwicklungsprobleme ab und rechtfertigt Hilfsleistungen nicht anhand internationaler Solidarität, sondern im Namen der nationalen Sicherheit der USA.
Ein solcher Ansatz kann nicht die Grundlage unserer Entwicklungsbemühungen sein. Entwicklungspolitik muss offen und kooperativ gestaltet werden. Sie darf nicht von ihrem raison d'être getrennt werden und einen verdeckten Isolationismus fördern. Aber diese Gefahr besteht, wenn sie es nicht schafft, sich selbst neu zu erfinden und lediglich ein edles, aber ineffektives Instrument des globalen Zusammenhalts bleibt. Soll eine immer stärker gespaltene Welt die Ziele Nachhaltiger Entwicklung (ZNE) der Vereinten Nationen für 2030 erfüllen, braucht die Entwicklungspolitik eine neue Art von Ehrgeiz. Andernfalls wird sie den Argumenten der Isolationsverfechter noch in die Hände spielen.
Subscribe now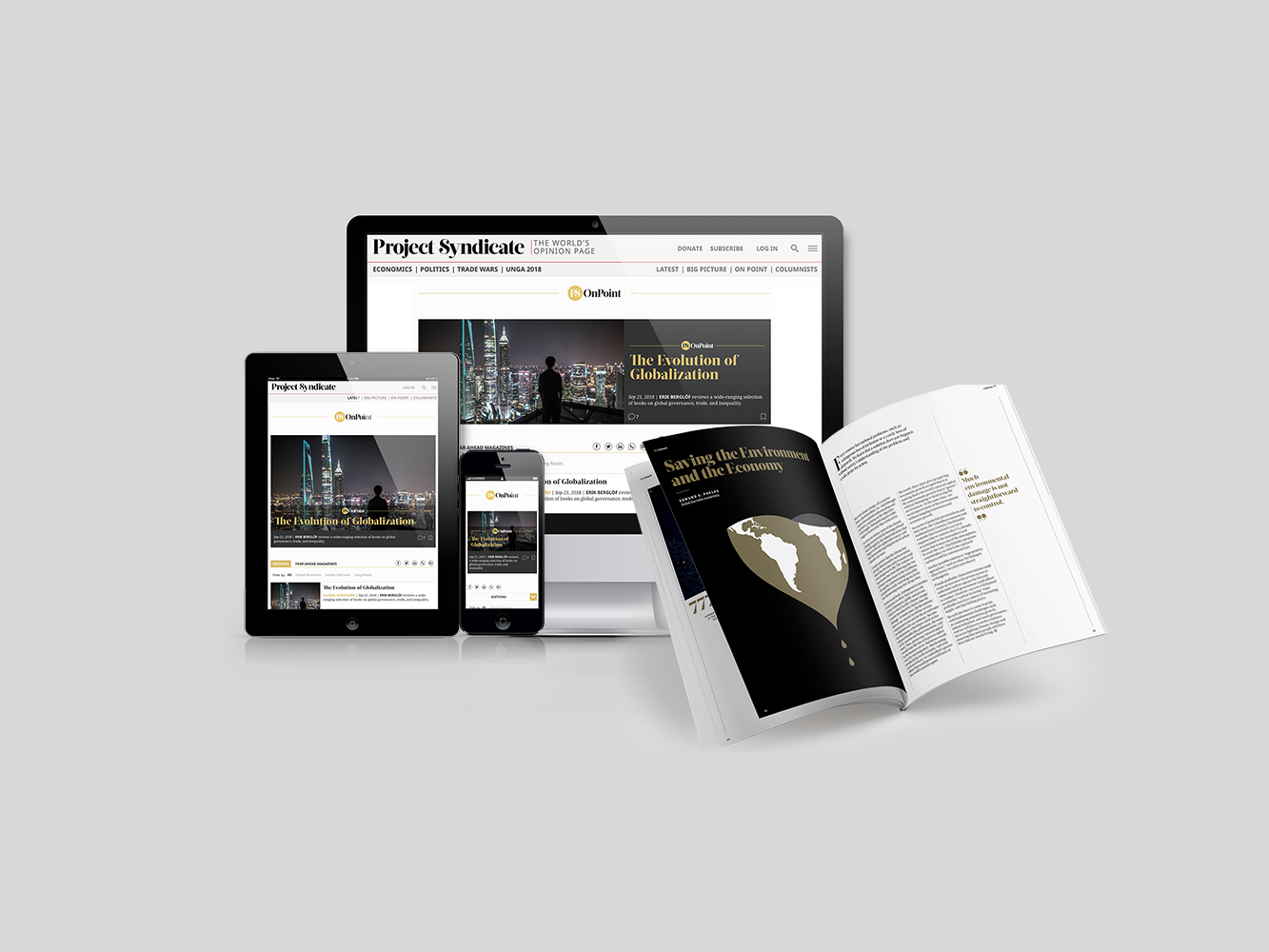 Subscribe now
Subscribe today and get unlimited access to OnPoint, the Big Picture, the PS archive of more than 14,000 commentaries, and our annual magazine, for less than $2 a week.
Also brauchen wir einen Plan, um eine neue Grundlage für gemeinsames Handeln zu definieren. Ich glaube, die Idee und Methode der Versöhnung kann uns dabei helfen. "Versöhnung" ist vielleicht eine einfachere und dynamischere Art, die gemeinsamen globalen Ziele auszudrücken, die sich in den ZNE widerspiegeln. Sie könnte zu einem neuen modus operandi werden, der uns hilft, die stark vereinfachende, duale Teilung zwischen lokal und global zu überwinden.
Eine Versöhnungspolitik würde dazu beitragen, die Ressourcen und Akteure aller Länder umfassend zu mobilisieren – einschließlich der zivilgesellschaftlichen Organisationen, multinationalen Unternehmen, großen Städte und Entwicklungsbanken – und sie auf konkrete Zusammenarbeit und gegenseitige internationale Hilfe auszurichten. Dies würde zu etwas führen, was ich eine "polypolare" Welt nenne.
Um diese Politik erfolgreich einzuführen, müssen wir das traditionelle Hilfsparadigma erneuern und uns für das Konzept der "nachhaltigen Entwicklungsinvestitionen" einsetzen, um so viele weltweite Investitionen auf die Erfüllung der ZNE zu richten wie möglich. Solche Investitionen wären kein Ersatz für offizielle Entwicklungshilfe, sondern würden sie insofern ergänzen, dass sie letztlich nicht auf kurzfristige finanzielle Rendite ausgerichtet sind, sondern auf die Bereitstellung öffentlicher Versorgungsgüter.
Um uns diesen Herausforderungen zu stellen und die ZNE zu erreichen, dürfen wir dem Sirenengesang der Eigenständigkeit nicht nachgeben. Begeben wir uns statt dessen auf die Reise der Versöhnung. Entscheiden wir uns für die Hoffnung.
Aus dem Englischen von Harald Eckhoff