Ғаламның экономикасы нағыз қауіп қайдан?
ВАШИНГТОН – Әлем нарықтарының қазіргі ең үлкен құпиясы – айнала төңіректің бәрі хаос пен қираудың алдында тұрса да олардың көзсіз энтузиазмды жоғалтпауы. Десе де, саяси тәуекелдерге келгенде инвесторлар әдеттегіден біршама рационалды әрекет етеді. Инвестиция дегеннің өзі болашақта ақша ағынынан пайда көру болса, демек бұл болжамға ненің әсер ететініне және әсер етпейтініне басты назар аудару керек. Бір қызығы – нарық ең жеңіл уақытты бастан кешіріп жатқан кезеңде ең ауыр да сұрапыл дағдарыстар болады.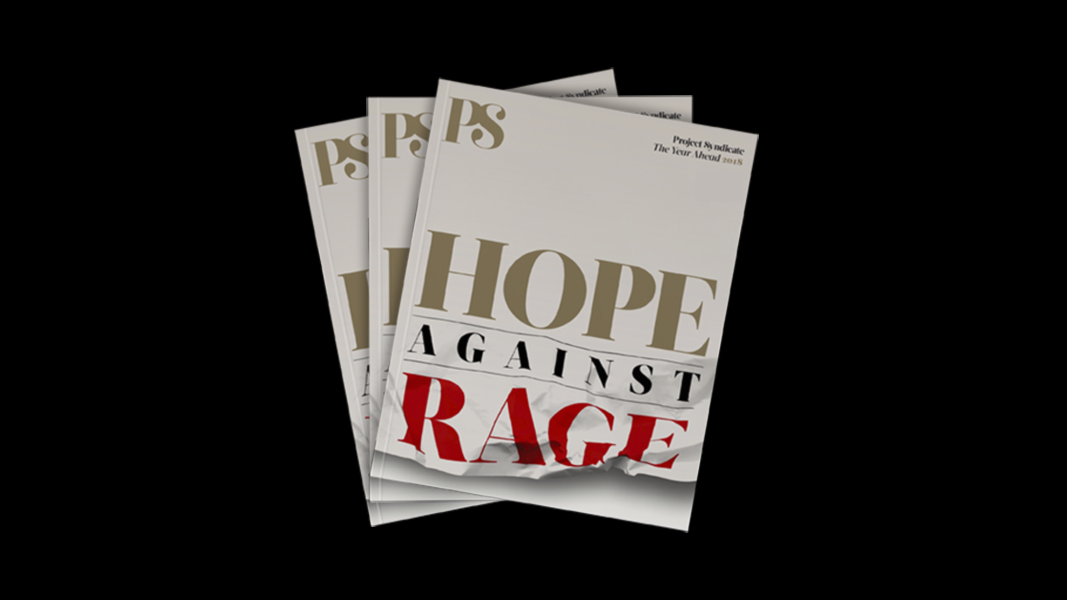 The Year Ahead 2018
The world's leading thinkers and policymakers examine what's come apart in the past year, and anticipate what will define the year ahead.
Халықаралық ғаламдық институттардың біртіндеп өзгеруі бұдан әлдеқайда қауіпті, себебі бұл негізгі ойыншылардың қалай әрекет ететінін болжауға мүмкіндік бермейді. Мұндай өзгерістер баяу жүруі мүмкін, дегенмен олар тәуекелдер мен қайтарымдардың бағасын есептеуде түбегейлі бетбұрысқа апаруы ықтимал.
Бүгінгі нарықты фундаменталды факторлар бойынша түсіндіру оңай: табыс артып жпатыр, инфляция төмен деңгейде тұр, ал ғаламдық экономика баппен қанатын жайып келеді. Қазан айында Халықаралық валюта қоры жаңартылған ғаламдық болжамын жариялады, ол бойынша келер жылы тек бірнеше шағын ел ғана рецессияға ұшырайды. Негізгі елдердегі орталық банктер ақша-несие саясатын қатаңдатып жатыр, ал пайыздық мөлшерлеме төмен күйінде қалып отыр.
Қанша сенсациялық болса да, саяси дағдарыстар инвесторлардың экономикалық есептерін өзгерте алмайтын сыңайлы. Тіпті ХХ ғасырдың ең ірі апаттарынан кейін де нарықтар тез арада қалпына келген. Жапония Перл-Харборға шабуыл жасағанда АҚШ қор нарықтары 10 пайызға құлдырап, алты аптадан соң бұрынғы деңгейіне оралған. Дәл сол сияқты 2001 жылғы 11 қыркүйектегі террорлық шабуылдан соң АҚШ-тың құнды қағаздары шамамен 12 пайызға арзандап, бір айдан соң қалпына келген. Президент Джон Кеннедиге қастандық жасалғанда құнды қағаздардың бағасы 3 пайызға түсіп, ертесінде қайта көтерілген.   
Әрине, әр саяси дағдарыс өзінше бөлек. Бірақ, дамушы елдердің бұрыннан келе жатқан инвесторы Йенс Найстедттың айтуынша, нарықтың қатысушылары саясаткерлердің араласуынан үміт ете алады. Орталық банктер мен қаржы министрлері көп жағдайда қатердің алдын алу үшін пайыздық мөлшерлеме мен ақша-несие саясатын өзгертеді, ал инвесторлар активтерін дағдарысқа дейінгі мөлшерге дейін азайтады.
Бүгінде болуы мүмкін деген дағдарыстардың қатарында алдымен Солтүстік Кореяның атом және зымыран бағдарламасы төңірегіндегі конфликт аталады. Корей түбегіндегі ашық соғыс не ядролық оқиға гуманитарлық дағдарыс тудырып, әлемнің 13-ші ірі экономикасы саналатын Оңтүстік Кореямен саудаға кедергі келтіріп, мұның саяси толқындары бүкіл әлемге таралуы ықтимал. Десе де, мұндай апаттың мерзімі қысқа, ал салдары әу бастан-ақ түсінікті болмақ. Әлемнің негізгі державалары белгілі бір деңгейде тепе-теңдікті сақтап қалады, соның арқасында көпшілік жағдайда инвестицияларға бәлендей нұқсан келмейді.
Сауд Арабиясы туралы да дәл осыны айтуға болады. Онда кронпринц Мұхаммед бин Салман өз билігін нығайту үшін үкімет пен қауіпсіздік аппаратын бір тазартып алды. Тіпті корольдіктегі тосын тербелістер Таяу Шығыстағы күштер арасалмағын өзгерткен күннің өзінде бұл ел мұнайын әрі қарай экспорттай беруге мүдделі болмақ. Әлемдік мұнай нарығында іркілістер болған күннің өзінде бәсекелес өндірушілер мен жаңа технологиялар бұл олқылықтың орнын толтыра алады.
Сол сияқты, Венесуэладағы кең ауқымды саяси және экономикалық дағдарыс аймаққа үлкен зардабын тигізіп, онда гуманитарлық дағдарыс тудыруы мүмкін. Бірақ  ол бұдан әрі жайылмайды, әрі жүйелі болмағандықтан оның энергетика және қаржы нарықтарына ықпалы аз болады.
Басты жаңалықтарда мұндай сценарийлер жиі талқыланатындықтан, олар онша таңданыс тудырмасы анық. Дегенмен, кибершабуыл, эпидемия сияқты тосыннан келген апаттардан болған дағдарыстар инвесторлар есептік ставкалары мен болашақ табыстарын қайта есептегенге дейін ғана созылады.
Ал керісінше, жалпы экономикалық болжамдардың өзгеруі жаппай сатуға мәжбүрлеп, инвесторларды болашақта түсетін табыстарының көлемін қайта есептеуге мәжбүр етеді. Инвесторлар экономика өсімі қарқынының баяулағанын, орталық банктердің инфляция өсімін тағы да байқамай қалғанын сезіп қоюы мүмкін. Немесе мұндай өзгерістер кенеттен болуы ықтимал. Мәселен, күтпеген жерден үлкен көлемдегі сапасыз несие портфельдері табылса әрі оларды төлеу мүмкін болмаса. 
Дамушы елдердің инвесторлары жақсы біледі, саяси өзгерістер экономикалық болжамдарға да әсер етеді. Дегенмен, тосыннан келген апаттардан гөрі алмағайып әлемді болжауға мүмкіндік беретін институттардың біртіндеп мүжілуі көбірек қауіп-қатер әкеледі.
Мәселен, демократияға жонын берген соң Түркия Еуропадан алыстап, мұның болашақта болатын қайтарымдарға қатер төндіргенін инвесторлар біледі. Екінші жағынан, Бразилияда жемқорлық төңірегіндегі дау-дамай  бір президентті тақтан тайдырып, екіншісін де кетірейін деп жатқанына қарамастан, инвесторлар елдегі институттардың өздігінен жұмыс істеп тұрғанын көріп, тәуекелдерін соған сәйкес бағалап отыр.
Демек, инвесторлардың болжамдарын қалыптастырып отырған басты ойыншылардың түбегейлі өзгеріске ұшырауы – қазіргі ғаламдық нарықтар үшін басты саяси қатер. Мұнда ең алдымен президент Дональд Трамптың басшылығымен өзінің ғаламдағы жаңа рөлін іздеп жатқан АҚШ-ты атауға болады.
Халықаралық келісімдерден шығып, қазіргі бар сауда келісім-шарттарын қайта қарауды талап ету арқылы АҚШ қазірдің өзінде болжап білмейтін елге айналды. Келешекке болжам жасасақ, егер Трамп та, АҚШ-тың болашақтағы басшылары да басқа елдермен ынтымақтаса отырып институт құруға ұмтылудың орнына өз қамын ғана ойлайтын болса, онда дүние жүзінің  келесі болатын ғаламдық нарық дағдарысына бірлесе қарсы тұруы неғайбыл.
Оның үстіне, АҚШ-тың әрекетін болжау мүмкін емес болғандықтан, бұл бүкіл әлемдегі есептік ставканы жоғарылатады. Инвесторлар болжамдарын өзгерткенге дейін басқа экономикалық циклдар келіп килікпесе, онда нарықтағы бүгінгі өсім де тоқтайды деген сөз.