Das wahre Risiko für die Weltwirtschaft
WASHINGTON, DC – Eines der größten Rätsel der heutigen globalen Märkte ist ihr unverwüstlicher Enthusiasmus, selbst wenn die Welt um sie herum am Rand des Chaos zu stehen scheint. Und dennoch, Investoren sind möglicherweise rationaler als es den Anschein hat, wenn es um die Berechnung politischer Risiken geht. Wenn es bei den Investitionen hauptsächlich um die Diskontierung zukünftiger Cashflows geht, ist es wichtig, sich genau auf das zu konzentrieren, was diese Kalkulierungen beeinflussen wird und was nicht. Die dramatischsten oder grausamsten potenziellen Krisen sind ironischerweise die, die vom Markt am einfachsten durchschaut werden.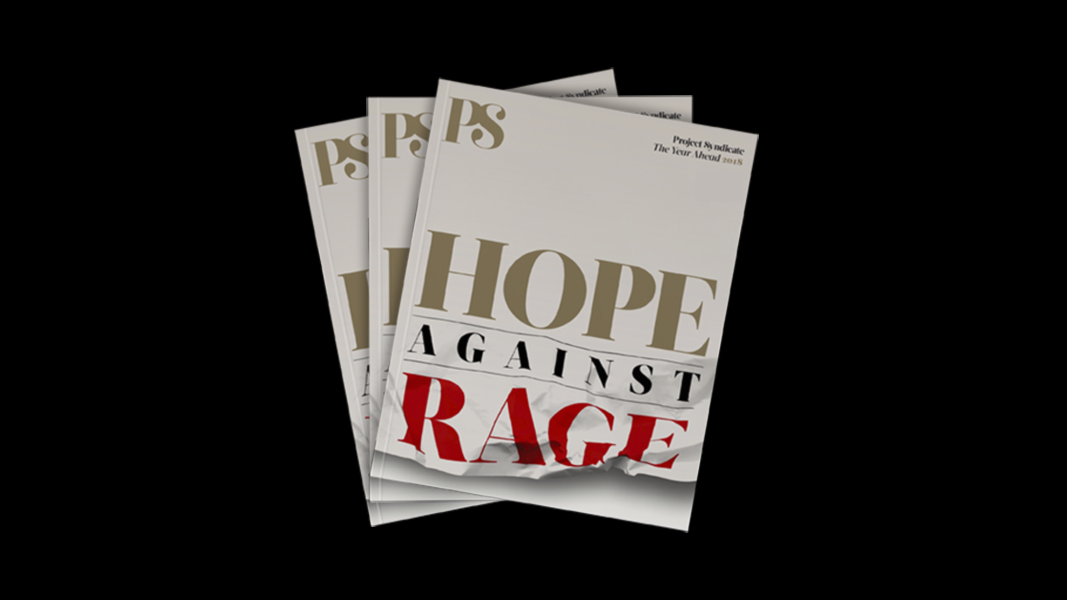 The Year Ahead 2018
The world's leading thinkers and policymakers examine what's come apart in the past year, and anticipate what will define the year ahead.
Viel gefährlicher sind allmähliche Veränderungen der internationalen globalen Institutionen, die die Erwartungen über das zukünftige Verhalten von wichtigen Akteuren auf den Kopf stellen. Diese Veränderungen machen sich nur langsam bemerkbar, aber sie können die Kalkulationen von Risiken und mögliche Renditen grundsätzlich ändern.
Der heutige Markt lässt sich hinsichtlich grundsätzlicher Faktoren einfach erklären: die Gewinne wachsen, die Inflation ist in Schach gehalten und die Weltwirtschaft scheint sich in einer breiten, synchronisierten Expansion zu befinden. Im Oktober hat der Internationale Währungsfonds seinen globalen Ausblick aktualisiert und vorhergesagt, dass nur einige kleinere Länder im nächsten Jahr in eine Rezession rutschen werden. Und während die größten Zentralbanken ihre Geldpolitik straffen werden, einige haben bereits damit angefangen, werden die Zinssätze vorerst niedrig bleiben.
Politische Krisen, so sensationell sie auch sein mögen, werden das ökonomische Kalkül der Investoren wahrscheinlich nicht ändern. Sogar nach den größten Katastrophen des zwanzigsten Jahrhunderts erholten sich die Märkte relativ schnell. Nach dem Angriff Japans auf Pearl Harbour fielen die US-amerikanischen Aktienmärkte um 10 Prozent, erholten sich aber nach sechs Wochen. Ähnlich fielen die US-Aktienmärkte nach dem 11. September 2001 um fast 12 Prozent, zogen aber nach einem Monat wieder an. Nach der Ermordung von Präsident John F. Kennedy fielen die Aktienmärkte um weniger als 3 Prozent und erholten sich am nächsten Tag wieder.
Natürlich ist jede politische Krise anders. Aber in den meisten Fällen könnten die Marktteilnehmer auf eine Reaktion der Politik rechnen, so notiert Jens Nystedt, langjähriger Investor in Schwellenländern. Zentralbanken und Finanzministerien beeilen sich meistens, steigende Risikoprämien durch entsprechende Zinssatzanpassungen oder Steuerpolitik auszugleichen, so dass die Anlagen für die Investoren auf die Werte vor der jeweiligen Krise zurückgehen.
Heute steht ein möglicher Konflikt mit Nordkorea in Bezug auf seine Atom- und Raketenprogramme ganz oben auf der Liste der potenziellen Krisen. Offener Krieg oder gar ein nukleares Ereignis auf der koreanischen Halbinsel würde eine humanitäre Katastrophe auslösen, den Handel mit Südkorea unterbrechen – der dreizehnt-größten Volkswirtschaft der Welt – und politische Schockwellen um die Welt senden. Und dennoch wäre ein solches Desaster wahrscheinlich kurz und seine Folgen fast unmittelbar klar. Die größten Mächte der Welt wären mehr oder weniger abgestimmt, und die zukünftigen Cashflows der meisten Investitionen würden ungestört fortgesetzt.
Dasselbe gilt für Saudi-Arabien, wo Kronprinz Mohammed bin Salman gerade die Regierung und den Sicherheitsapparat gesäubert hat, um seine Macht zu konsolidieren. Auch wenn ein plötzlicher Umbruch im Königreich das Machtgleichgewicht im Nahen Osten verändern würde, würde das Land sein Exportgeschäft dennoch weiterführen wollen. Und wenn es eine Unterbrechung in den globalen Ölströmen geben würde, dann könnte sie durch andere Produzenten und neue Technologien ausgeglichen werden.
Gleichermaßen hätte ein vollständiger politischer oder wirtschaftlicher Kollaps Venezuelas ernsthafte Folgen in der Region und könnte zu einer noch ernsteren humanitären Krise führen. Aber er hätte wahrscheinlich keine tiefergreifenden und schon gar nicht systemischen Folgen für die Energie- und Finanzmärkte.
Szenarien dieser Art findet man oft auf den Titelseiten, ihr tatsächliches Auftreten wäre also keine Überraschung. Aber selbst wenn eine Krise wie ein Cyberangriff oder eine Epidemie unerwartet ausbricht, dauert die darauf folgende Marktstörung nur so lange, wie die Investoren brauchen, um Diskontsätze und zukünftige Gewinnströme neu zu berechnen.
Es ist dagegen viel wahrscheinlicher, dass Veränderungen allgemein angenommener ökonomischer Annahmen einen Abverkauf auslösen, indem sie Investoren dazu bringen, die Wahrscheinlichkeit zu berechnen, mit der sich der Cashflow eines Projekts tatsächlich berechnen lässt. Vielleicht nehmen die Investoren allmählich wahr, dass sich Wachstumsraten verlangsamen oder dass Zentralbanken eine aufkommende Inflation mal wieder nicht bemerkt haben. Die Veränderung kann auch plötzlicher kommen, beispielsweise durch die Entdeckung großer Mengen toxische Kredite, deren Rückzahlung unwahrscheinlich ist.
Wie Investoren in Schwellenländer wissen, können politische Veränderungen ökonomische Annahmen beeinträchtigen. Aber auch hier geht das Risiko weniger von unvorhersehbaren Schocks aus als vielmehr von der langsamen Erosion der Institutionen, von welchen Investoren erwarten, dass sie eine ungewisse Welt vorhersehbarer machen.
Investoren in der Türkei wissen beispielsweise, dass die Abwendung des Landes von der Demokratie eine Distanz zu Europa und neue Risiken für zukünftige Renditen erzeugt hat. Andererseits erkennen Investoren in Brasilien trotz eines aktuellen Korruptionsskandals, der einen Präsidenten gestürzt hat und einen weiteren stürzen könnte, dass die Institutionen des Landes funktionieren, wenn auch in ihrer eigenen, schwerfälligen Art, und sie haben die Risiken dementsprechend kalkuliert.
Das größte politische Risiko für die globalen Märkte ist heute dementsprechend, dass die Hauptakteure, die für die Investorenerwartungen verantwortlich sind, eine Neuausrichtung durchlaufen. Am besorgniserregendsten sind dabei die USA, die jetzt unter Präsident Donald Trump eine neue globale Rolle für sich suchen. Durch den Rückzug aus internationalen Vereinbarungen und den Versuch, bereits bestehende Handelsabkommen nachzuverhandeln, haben die USA bereits an Zuverlässigkeit verloren. Wenn Trump und zukünftige US-Präsidenten sich mit anderen Ländern weiterhin über Nullsummen-Transaktionen befassen, anstatt mit einem kooperativen Institutionsaufbau, wird die Welt unfähig sein, eine gemeinsame Antwort auf die nächste Runde Turbulenzen am Weltmarkt zu finden.
Wenn die USA weniger verlässlich sind, müssen letztlich fast überall höhere Diskontsätze eingeführt werden. Das wäre dann das Ende des aktuellen Aufschwungs, es sei denn andere Wirtschaftszyklen intervenieren, bevor sich die Erwartungen der Investoren ändern.
Aus dem Englischen von Eva Göllner.