Skutečné riziko pro globální ekonomiku
WASHINGTON, DC – Jedna z velkých záhad současných globálních trhů je jejich nezkrotný entuziasmus, ačkoliv svět kolem nich se zdá být na pokraji chaosu či kolapsu. Přesto jsou možná investoři s ohledem na cenové zohlednění politických rizik racionálnější, než se zdá. Jestliže jádrem investování je v prvé řadě diskontování budoucích peněžních toků, je důležité přesně se zaměřit na to, co bude a co nebude mít na tyto propočty vliv. Od potenciálních krizí, které mohou být nejdramatičtější či nejdivočejší, je pro trh paradoxně nesnazší odhlížet.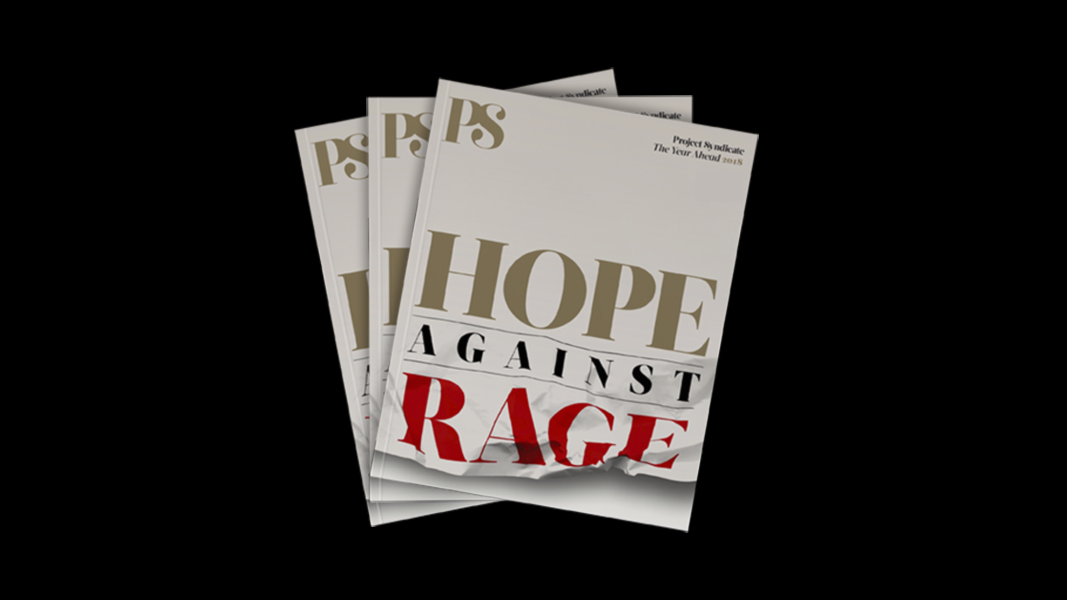 The Year Ahead 2018
The world's leading thinkers and policymakers examine what's come apart in the past year, and anticipate what will define the year ahead.
Mnohem nebezpečnější jsou postupné posuny ve světových mezinárodních institucích, které převrátí očekávání toho, jak se budou klíčoví hráči chovat. K takovým posunům může docházet jen pomalu, ale mohou zásadně měnit kalkulaci cen rizika a potenciálních výnosů.
Dnešní trh je z pohledu základních faktorů snadné vysvětlit: výdělky rostou, inflaci se daří držet na uzdě a globální ekonomika zřejmě zažívá širokou, souběžnou expanzi. Mezinárodní měnový fond v říjnu aktualizoval svůj globální výhled a předpokládá, že recese příští rok postihne jen hrstku malých zemí. A přestože významné centrální banky plánují zpřísnit měnovou politiku, případně s tím už začaly, úrokové sazby prozatím zůstanou nízké.
Politické krize sice mohou být ohromně senzační, ale ekonomické kalkulace investorů pravděpodobně nezmění. I po největších pohromách dvacátého století se trhy poměrně rychle vzpamatovaly. Po japonském útoku na Pearl Harbor americké akciové trhy klesly o 10 %, ale zotavily se během šesti týdnů. Podobně po teroristických útocích z 11. září 2001 se americké akcie propadly o téměř 12 %, ale za měsíc byly zpátky. Po atentátu na prezidenta Johna F. Kennedyho ceny akcií klesly o necelá 3 % a vzchopily se následující den.
Ano, každá politická krize je jiná. Během většiny z nich, jak poznamenává ostřílený investor do rozvíjejících se trhů Jens Nystedt, se však účastníci trhu mohou spolehnout na odpověď tvůrců politik. Centrální banky a ministři financí téměř vždy přispěchají, aby úpravou úrokových sazeb nebo fiskální politiky kompenzovali rostoucí rizikové prémie a investoři opět nabízejí aktiva za předkrizové ceny.
Na vrcholu většiny seznamů potenciálních krizí je dnes konflikt se Severní Koreou kvůli jejím jaderným a raketovým programům. Otevřený ozbrojený střet nebo jaderný incident na Korejském poloostrově by vyvolal humanitární katastrofu, přerušil obchod s Jižní Koreou – 13. největší ekonomikou světa – a spustil politické otřesy po celém světě. Přesto by taková katastrofa byla nejspíš krátká a její výsledek by byl téměř okamžitě jasný. Hlavní mocnosti světa by zůstaly víceméně sjednocené a budoucí peněžní toky by u většiny investic nerušeně pokračovaly.
Totéž lze říct o Saúdské Arábii, kde korunní princ Muhammad bin Salmán právě provedl čistku ve vládě a bezpečnostním aparátu, aby upevnil svou moc. I kdyby snad náhlý otřes v království změnil rovnováhu sil na Blízkém východě, země by stále chtěla zachovat svůj vývoz. A kdyby přece jen došlo k narušení globálních ropných toků, tlumili by jej konkurenční producenti a nové technologie.
Taktéž naprosté politické či ekonomické zhroucení ve Venezuele by mělo vážné regionální důsledky a mohlo by v zemi vyústit v ještě hlubší humanitární krizi. S největší pravděpodobností by však nemělo širší, natož systémový dopad na energetické a finanční trhy.
Takové scénáře jsou často v titulcích novin, takže je méně pravděpodobné, že by jejich nástup překvapil. I když ale nějaká krize, třeba kybernetický útok nebo epidemie, propukne neočekávaně, následné narušení trhu obvykle trvá jen do doby, než investoři stihnou přehodnotit diskontní sazby a toky budoucích zisků.
Naproti tomu u změn obecně sdílených ekonomických předpokladů je mnohem pravděpodobnější, že vyvolají výprodej, neboť pobídnou investory přehodnotit šance, že se očekávané finanční toky opravdu uskuteční. Mezi investory může začít klíčit povědomí, že zpomalují tempa růstu nebo že centrální banky opět přehlédly nástup inflace. Anebo změna může přijít rychleji, řekněme při odhalení rozsáhlých ložisek toxických úvěrů, které nejspíš nebudou splaceny.
Jak dobře vědí investoři do rozvíjejících se trhů, politické změny mohou ovlivnit ekonomické předpoklady. Opět ale platí, že riziko nepramení především z nepředvídatelných šoků, ale spíš z pomalého rozrušování institucí, jimž investoři důvěřují, že nejistému světu dodají na předvídatelnosti.
Investoři v Turecku například vědí, že odvrat země od demokracie ji vzdaluje od Evropy a vytváří nová rizika pro budoucí výnosy. Naproti tomu v Brazílii si investoři navzdory probíhajícímu korupčnímu skandálu, který sesadil jednoho prezidenta a mohl by sesadit dalšího, uvědomují, že instituce v zemi fungují – byť vlastním těžkopádným způsobem –, a podle toho promítají rizika do cen.
Největší politické riziko pro globální trhy dnes tedy tkví v tom, že klíčoví hráči formující očekávání investorů projdou zásadní změnou orientace. Největší obavy ze všech vyvolávají Spojené státy, které se teď za prezidenta Donalda Trumpa snaží vydobýt si novou globální úlohu.
Odstupováním od mezinárodních dohod a snahou změnit stávající obchodní dohody už USA tratí na předvídatelnosti. Při pohledu vpřed platí, že budou-li Trump a příští američtí lídři nadále vstupovat do vztahů s ostatními zeměmi transakcemi s nulovým součtem, namísto kooperativního budování institucí, nebude svět schopen sestavit společnou reakci na příští období globálního rozvratu na trzích.
Méně spolehlivé USA budou v posledku vyžadovat vyšší diskontní sazbu téměř všude. Nezasáhnou-li do vývoje jiné hospodářské cykly, než se posune očekávání investorů, bude to konec aktuálního tržního rozmachu.
Z angličtiny přeložil David Daduč