Een vloek die erger is dan cash
CAMBRIDGE – Ransomware – een soort kwaadaardige software die de toegang tot een computersysteem beperkt totdat er losgeld wordt betaald – zorgt voor een slechte reputatie van cryptocurrencies. Voorstanders van deze digitale munten wijzen liever op beroemde beleggers als Tesla-oprichter Elon Musk, Dallas Mavericks-eigenaar Mark Cuban, quarterback Tom Brady of actrice Maisie Williams (Arya in Game of Thrones). Maar recente ransomware-aanvallen, en de centrale rol van cryptocurrencies in het mogelijk maken ervan, zijn een ramp op het gebied van de public relations.
Die aanvallen omvatten het platleggen van de Colonial Pipeline vorige maand, waardoor de benzineprijzen aan de Amerikaanse oostkust stegen totdat het bedrijf de hackers 5 miljoen dollar in bitcoin betaalde, en, nog recenter, een aanval op JBS, 's werelds grootste vleesproducent. Dergelijke gebeurtenissen benadrukken wat voor sommigen van ons al lang een punt van zorg is: moeilijk traceerbare anonieme cryptocurrencies bieden mogelijkheden voor belastingontduiking, misdaad en terrorisme, die bankbiljetten in grote coupures in vergelijking daarmee onschuldig doen lijken. Hoewel prominente pleitbezorgers van cryptocurrencies politieke connecties hebben en hun basis hebben gedemocratiseerd, kunnen de toezichthouders niet eeuwig op hun handen blijven zitten.
De opvatting dat cryptocurrencies slechts een onschuldige opslagplaats van waarde zijn, is verbijsterend naïef. Zeker, hun transactiekosten kunnen aanzienlijk genoeg zijn om de meeste gewone detailhandel te ontmoedigen. Maar voor wie strenge kapitaalcontroles probeert te vermijden (bijvoorbeeld in China of Argentinië), illegale winsten probeert wit te wassen (misschien uit de drugshandel) of Amerikaanse financiële sancties probeert te omzeilen (tegen landen, bedrijven, individuen of terroristische groeperingen), kan crypto nog steeds een ideale optie zijn.
Per slot van rekening heeft de Amerikaanse overheid decennialang haar ogen gesloten voor de rol die haar biljetten van honderd dollar spelen bij het faciliteren van wapenaankopen en mensenhandel, om nog maar te zwijgen van het ondermijnen van het vermogen van regeringen van arme landen om belastinginkomsten te innen of de binnenlandse vrede te handhaven. Hoewel bitcoin en andere cryptovarianten de dollar nog lang niet voorbijgestreefd zijn in het faciliteren van de mondiale ondergrondse economie, zijn ze zeker in opmars.
Nu zelfs Amerikaanse financiële topfirma's proberen crypto-opties aan te bieden aan hun klanten, kun je je afvragen waarin deze mensen eigenlijk beleggen. In tegenspraak met wat vaak wordt beweerd, namelijk dat cryptocurrencies weinig nut hebben bij transacties en dat er geen onderliggende business is, is er wel degelijk een winstmodel: afgezien van het feit dat cryptocurrencies een dystopie naderbij brengen, bieden ze een manier om te beleggen in de wereldwijde ondergrondse economie.
Als overheden uiteindelijk hun toezicht op cryptotransacties drastisch zullen moeten opvoeren, waarom zijn dan de prijzen van cryptocurrencies in het algemeen, en de prijs van bitcoin in het bijzonder, zozeer gestegen (zij het met een opvallende volatiliteit)? Een deel van het antwoord, zoals de economische theorie ons vertelt, is dat er met een nulrente enorme en duurzame zeepbellen kunnen ontstaan in intrinsiek waardeloze activa. Bovendien beweren cryptobeleggers soms dat de sector zó groot is geworden, en zó veel institutionele beleggers heeft aangetrokken, dat politici hem nooit zullen durven reguleren.
Back to Health: Making Up for Lost Time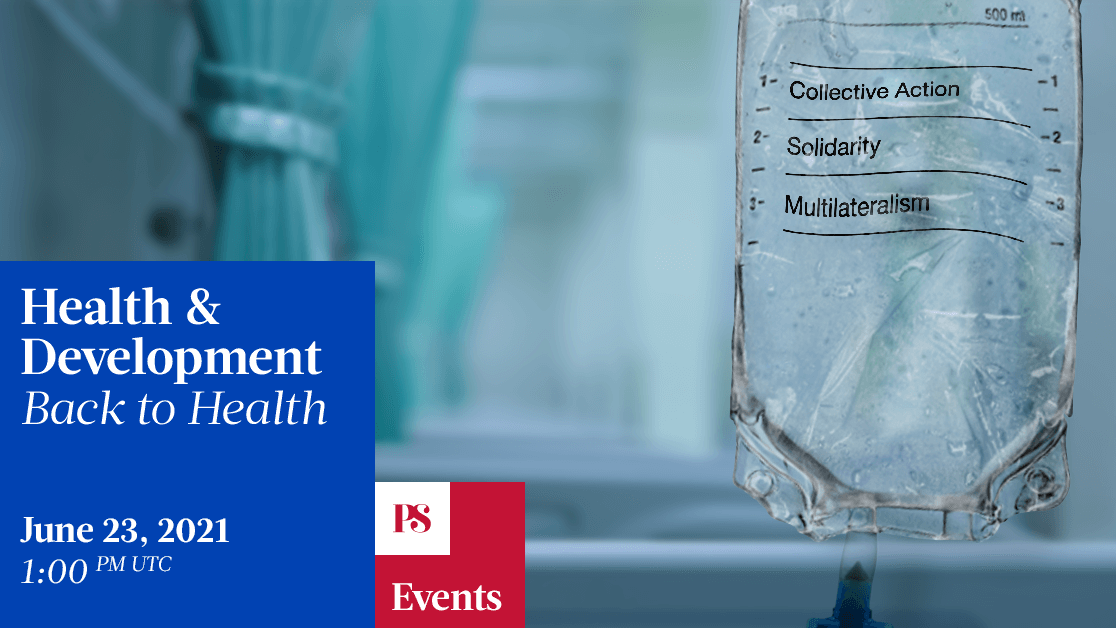 Back to Health: Making Up for Lost Time
The COVID-19 crisis has laid bare systemic inequities that will have to be addressed if we are ever going to build more sustainable, resilient, and inclusive societies. Join us on June 23, 2021, for our latest live virtual event, Back to Health: Making Up for Lost Time, where leading experts will examine the immediate legacy of the pandemic and explore solutions for bringing all communities and societies back to health.
Misschien hebben ze gelijk. Hoe langer het duurt voordat de toezichthouders in actie komen, des te moeilijker het zal zijn om particuliere digitale munten onder controle te krijgen. De Chinese en Zuid-Koreaanse regeringen zijn onlangs begonnen met het agressief aanpakken van cryptocurrencies, hoewel het nog niet duidelijk is hoe vastberaden ze zullen zijn. In de Verenigde Staten is de lobby van de financiële industrie relatief succesvol geweest in het tegenhouden van zinvol toezicht op digitale activa, getuige de recente terugkeer naar de VS van Facebooks digitale valuta-project als gevolg van het wereldwijde toezicht, op instigatie van de Zwitserse autoriteiten.
Het is waar dat de regering van de Amerikaanse president Joe Biden nu in ieder geval het melden van transacties in cryptocurrencies van ruim 10.000 dollar verplicht wil stellen, als onderdeel van haar inspanningen om een groter deel van de verschuldigde belastingen te innen. Maar uiteindelijk zal het verminderen van de potentiële liquiditeit van moeilijk traceerbare cryptocurrencies een hoge mate van internationale coördinatie vereisen, althans in de geavanceerde economieën.
Dat is een van de redenen waarom een cryptocurrency als bitcoin zijn hoge waarde van ongeveer 37.000 dollar eind mei kan rechtvaardigen (hoewel de koers net zo veranderlijk is als het weer). Als bitcoin een investering is in de transactietechnologie die ten grondslag ligt aan de mondiale ondergrondse economie, en als het vele decennia duurt voordat zelfs geavanceerde economieën de munt kunnen beteugelen, dan kan er in de tussentijd veel geld verdiend worden met transacties. We hoeven immers niet van een bedrijf te verwachten dat het eeuwig actief zal blijven – denk aan fossiele brandstoffen – om vandaag de dag een aanzienlijke waarde te kunnen hebben.
Natuurlijk zal er altijd een markt zijn voor cryptocurrencies in door oorlog verscheurde landen of pariastaten, hoewel hun waardering veel lager zou zijn als het geld niet in rijke landen zou kunnen worden witgewassen. En misschien zijn er technologieën om de anonimiteit tegen te gaan en zo het belangrijkste bezwaar tegen cryptocurrencies weg te nemen, al is het vermoeden gerechtvaardigd dat dit ook hun belangrijkste verkoopargument zou ondermijnen.
Niemand spreekt zich uit tegen de blockchain-technologie die aan de basis ligt van cryptocurrencies en enorme mogelijkheden biedt om ons leven te verbeteren, bijvoorbeeld door een betrouwbaar, fraudebestendig netwerk op te zetten voor het monitoren van de uitstoot van kooldioxide. En hoewel de werking van het bitcoin-systeem zelf een enorm energieverbruik vergt, zijn er nu milieuvriendelijker technologieën, waaronder die op basis van ʻproof of stake.'
Helaas voor degenen die hun spaargeld in cryptocurrencies hebben gestoken, kunnen ransomware-aanvallen die steeds meer bedrijven en particulieren treffen, het keerpunt blijken te zijn waarop de toezichthouders eindelijk ruggengraat ontwikkelen en ingrijpen. Velen van ons kennen mensen van wie kleine, worstelende bedrijven zijn getroffen door dergelijke afpersing. Hoewel overheden misschien betere instrumenten hebben om cryptocurrencies op te sporen dan ze laten blijken, zijn ze in een wapenwedloop verwikkeld met degenen die een ideaal middel hebben gevonden om misdaad te laten lonen. De toezichthouders moeten wakker worden voordat het te laat is.
Vertaling: Menno Grootveld