Schwindet Wladimir Putins Kontrolle?
MOSKAU – Im Jahr 1984, kurz vor Michail Gorbatschows Aufstieg an die Macht, herrschte in Moskau das Gefühl, die Sowjetunion sei versteinert und Veränderung unmöglich. Dann veränderte sich alles und das Ausmaß der Transformation, die sich unter der Oberfläche abgespielt hatte, kam zutage. Heute ist Moskau von einer ähnlichen Stimmung erfüllt. Wladimir Putins Regime erscheint stabil, sogar unverwundbar. Aber ebenso wie damals zeigen sich bei näherer Betrachtung etliche Schwachstellen.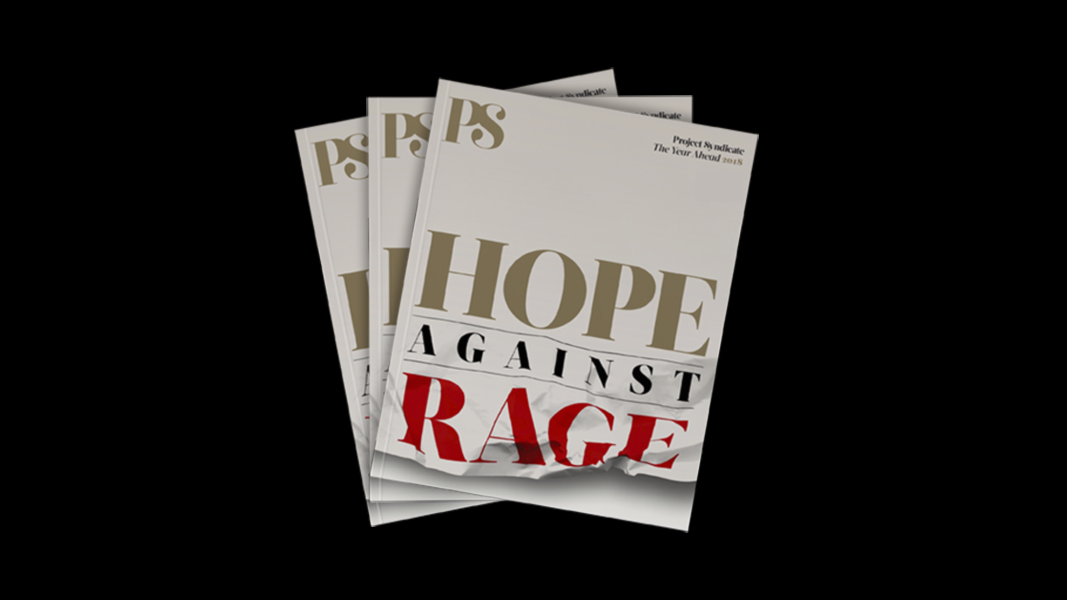 The Year Ahead 2018
The world's leading thinkers and policymakers examine what's come apart in the past year, and anticipate what will define the year ahead.
Russland hat sich in den letzten Jahrzehnten in vielerlei Hinsicht rückläufig entwickelt. In den 1990er Jahren präsentierte sich Russland als ungezwungenes Land, wo praktisch alles erlaubt war. In Moskau erschienen 20 Tageszeitungen verschiedenster Ausrichtungen, von liberal bis stalinistisch. Heute wird die russische Zivilgesellschaft konsequent unterdrückt und Fernsehen in Moskau bedeutet, die Wahl zwischen 20 vom Kreml kontrollierten Kanälen zu haben. 
Im Jahr 1991 zerschlug Boris Jelzin, als eine seiner ersten Amtshandlungen als Präsident, den alten KGB in mehrere Behörden, reduzierte die Mitarbeiterzahl um die Hälfte und kürzte das Budget drastisch. Heute hat der Nachfolger des KGB, der Föderale Dienst für Sicherheit der Russischen Föderation (FSB) die totale Kontrolle über den russischen Sicherheitsapparat erlangt, unter anderem durch die Inhaftierung hochrangiger Generäle anderer Strafverfolgungsbehörden. Das Ergebnis ist ein einziger Sicherheitsdienst, der mächtiger ist als je eine derartige Behörde seit Stalin – und der als unabhängig vom Kreml betrachtet wird.
Auch auf der wirtschaftlichen Front hat sich Russland rückwärts entwickelt. Im Jahr 2003 war der Privatsektor Russlands für 70 Prozent des russischen BIPs verantwortlich. Heute sorgt der staatliche Sektor für den größten Teil der Produktion des Landes, wodurch kleine und mittlere Unternehmen vom Markt verdrängt werden und fünf staatliche Großbanken dominieren den Finanzmarkt.  
Putins Politik gegen Offshore-Aktivitäten bürdete den führenden Geschäftsleuten der 1990er Jahre außerdem derartig mühsame Kontrollen auf, dass die meisten ihre Vermögenswerte in Russland verkauften und anschließend nach London oder Monaco gingen. Dieser Trend beschleunigte sich durch fehlende echte Eigentumsrechte in Russland, ein Umstand, der es dem Kreml ermöglichte, die Wohlhabenden nach Belieben in die Schranken zu weisen, wobei man oftmals die gesetzestreuesten unter ihnen ins Visier nahm. Kein Wunder also, dass die Prognosen für das jährliche Wirtschaftswachstum nicht über 1,5-2 Prozent hinauskommen.  
Das Regime möchte dieses Muster ändern. Im Mai 2016 bat Putin drei Expertengruppen um Empfehlungen für ein wirtschaftliches Reformprogramm: eine liberale Gruppe unter der Führung des ehemaligen Finanzministers Alexej Kudrin; eine technokratische Gruppe unter Wirtschaftsminister Maxim Oreschkin; und den staatlichen Stolypin Club unter der Führung von Putins Ombudsmann für Privatwirtschaft, Boris Titow. Jede Gruppe lieferte tausende Seiten an Expertenberichten.
Allerdings wäre jede Veränderung in Richtung Rechtsstaatlichkeit mit dem kleptokratischen Charakter von Putins Regime unvereinbar, weswegen echte Reformen implizit nicht in Frage kommen. Das den drei Gruppen erteilte Mandat war also offenbar wenig mehr als eine Beschäftigungstherapie für Sozialwissenschaftler, eine Methode, um sie auch von der Opposition fernzuhalten.
Weit davon entfernt, Veränderungen ins Auge zu fassen, wird sich Putin bei der Präsidentenwahl nächstes Jahr um eine vierte Amtszeit bewerben – und in Anbetracht der Tatsache, dass der Kreml die Medien und Gerichte kontrolliert, wird er die Wahl mit Sicherheit gewinnen. Aber um seinen Sieg glaubwürdig erscheinen zu lassen, muss Putin die entmutigte russische Bevölkerung zu den Wahlurnen bringen. Man munkelt, dass Sergej Kirijenko, erster stellvertretender Stabschef im Kreml, eine Wahlbeteiligung von 70 Prozent anstrebt, wobei wiederum 70 Prozent dieser Stimmen an Putin gehen sollen.
Das wird nicht einfach zu bewerkstelligen sein. An den Wahlen zur Staatsduma im September 2016 beteiligten sich lediglich 47,8 Prozent der registrierten Wähler. Bei den Lokalwahlen im letzten Monat machten sich noch weniger Menschen die Mühe, zu wählen. Die Wahlbeteiligung in Wladiwostok lag bei nur 13 Prozent.
Wenn sich die Wähler an den Präsidentenwahlen im nächsten Jahr beteiligen sollen, müssen sie glauben, dass ein echter Wandel möglich ist. Putin braucht einen glaubwürdigen Konkurrenten und nicht die ewig gleichen alten Kandidaten mit Verbindungen zum Kreml – wie den Kommunisten Gennadi Sjuganow, den nationalistischen Clown Wladimir Schirinowski und den angeblichen Liberalen Grigori Jawlinski. Xenia Sobtschak, prominente Persönlichkeit des gesellschaftlichen Lebens, die ihre Kandidatur nach einem Treffen mit Putin bekanntgab, könnte dem Wahlkampf etwas Leben einhauchen. Doch um eine hohe Wahlbeteiligung sicherzustellen, besteht nur eine echte Option: die Kandidatur des Antikorruptionsaktivisten und lautstarken Kreml-Kritikers Alexej Nawalni.
Im September 2013, als Nawalni für das Bürgermeisteramt in Moskau kandidierte, errang er 27 Prozent der Stimmen. Doch das unabhängige Meinungsforschungsinstitut Levada Center rechnet damit, dass Nawalni, trotz der starken Unterstützung in Moskau heute nicht mehr Stimmen erreichen könnte.  
Angesichts dessen wollen einige Kreml-Berater Nawalni als Kandidat zulassen, ihn aber von Auftritten im nationalen Fernsehen fernhalten. Und offenbar zieht der Kreml genau das in Betracht, denn man hat Nawalni gestattet, in 100 Städten Wahlkampfveranstaltungen mit bis zu 10.000 Teilnehmern abzuhalten.
Andere in Putins innerem Zirkel würden es allerdings vorziehen, Nawalni zum vierten Mal in diesem Jahr zu inhaftieren – keine Überraschung angesichts seiner nachgewiesenen Fähigkeit, die Autorität des Kremls zu untergraben. Letzten März beispielsweise produzierte Nawalni eine 50-minütige Dokumentation über Korruption, in der enthüllt wurde, dass Ministerpräsident Dmitri Medwedew 1,3 Milliarden Dollar Schmiergeld dazu verwendete, sechs Paläste und zwei Weingüter zu kaufen. Der Film, den etwa 25 Millionen Menschen auf YouTube sahen, hat Medwedews politische Karriere effektiv zerstört.
Nun muss Putin über die Nachfolge Medwedews nachdenken. In der Vergangenheit hat er in dieser Position üblicherweise einen loyalen Niemand installiert und dafür verfügt er über zahlreiche mögliche Kandidaten wie den bemerkenswert ineffizienten Gazprom-Chef Alexej Miller. Die Frage ist, ob der nächste Ministerpräsident enger mit Putin oder dem FSB verbündet ist.  
Die Vereinigten Staaten könnten in diesem Drama eine unerwartete Rolle spielen. Das kürzlich verabschiedete Gesetz Countering America's Adversaries Through Sanctions Act, in dem innerhalb von 180 Tagen ein Bericht über russische "Oligarchen und halbstaatliche Einrichtungen" gefordert wird, bietet den Vereinigten Staaten die einmalige Chance, vor dem Präsidentschaftswahlkampf Einfluss auf den Kreml zu nehmen.  
Viele der Reichen Russlands sind aus Angst vor dem FSB bereits aus dem Land geflohen. Nun steht Russland möglicherweise vor der nächsten Ausreisewelle, da Nahestehende des Kremls fürchten, Putin könne sie nicht mehr beschützen. Putin hat möglicherweise eine weitere Amtszeit als Präsident bereits in der Tasche, aber ein Regime, das nicht einmal die Herrschenden zufriedenstellen kann, ist kaum nachhaltig.
Aus dem Englischen von Helga Klinger-Groier