Is Vladimir Poetin zijn grip aan het verliezen?
MOSKOU – In 1984, vlak voordat Michael Gorbatsjov aan de macht kwam, leefde in Moskou het gevoel dat de Sovjet-Unie volledig versteend was en er niets kon veranderen. En toen veranderde alles, wat de omvang van de transformatie die zich onder de oppervlakte had voltrokken blootlegde. Vandaag de dag is Moskou van een zelfde soort stemming doordrongen, waarbij het regime van president Vladimir Poetin stabiel lijkt, en zelfs onaantastbaar. Maar net zoals toen het geval was onthult nader onderzoek zwakke plekken in dit pantser.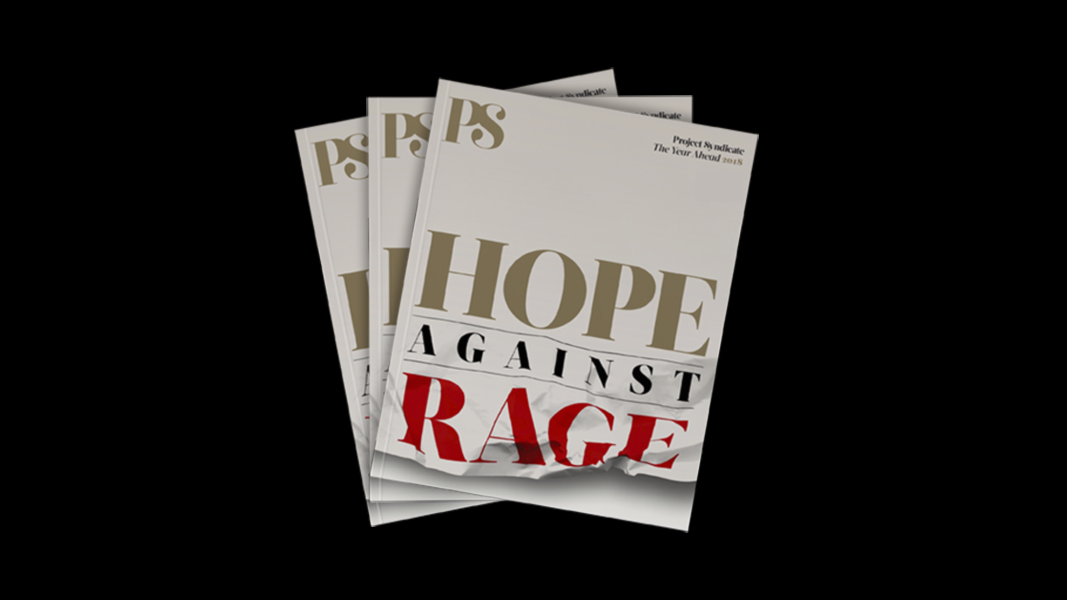 The Year Ahead 2018
The world's leading thinkers and policymakers examine what's come apart in the past year, and anticipate what will define the year ahead.
Rusland is de afgelopen tientallen jaren op veel gebieden achteruit gegaan. In de jaren negentig was Rusland een vrijplaats waar bijna alles was toegestaan. Moskou had twintig kranten, waarbij de visies verschilden van liberaal tot stalinistisch. Momenteel is de burgermaatschappij in Rusland ernstig verstikkend, en televisie kijken in Moskou bestaat uit twintig zenders die allemaal door het Kremlin gecontroleerd worden.
In 1991 deelde Boris Jeltsin in een van zijn eerste acties als president de oude KGB op in verschillende bureaus, halveerde de staf, en decimeerde het budget. Op dit moment echter heeft de opvolger van de KGB, de Federale Veiligheidsdienst FSB, volledige controle over het Russische veiligheidsapparaat verworven, inclusief door het arresteren van hoge generaals van andere bureaus voor wetshandhaving. Het resultaat is één enkele veiligheidsdienst die machtiger is dan op enig tijdstip sinds Stalin – en die wordt gezien als onafhankelijk van het Kremlin.
Ook op het economische front is Rusland achteruit gegaan. In 2003 was de private sector verantwoordelijk voor 70% van 's lands bbp. Nu is het de overheidssector die het grootste gedeelte van de productie van het land genereert en alle kleine en middelgrote ondernemingen wegdrukt, en de financiële markt wordt gedomineerd door vijf banken.
Bovendien heeft Poetins beleid van 'de-offshoring' zulke hinderlijke controles opgelegd aan de captains of industry van de jaren negentig dat de meesten hun bezittingen in Rusland hebben verkocht en naar Londen of Monaco zijn verhuisd. Deze trend is versneld door het ontbreken van enige echte eigendomsrechten in Rusland, wat het Kremlin in staat heeft gesteld om de Russische rijken naar willekeur af te romen, waar vaak zij die de wet het beste naleven worden getroffen. Het mag nog een klein wonder heten dat de vooruitzichten voor de jaarlijkse bbp-groei blijven steken op 1,5 – 2%.
Het regime wil dit patroon doorbreken. In mei 2016 vroeg Poetin drie expertgroepen om programma's voor economische hervorming op te stellen: een liberale groep geleid door voormalig minister van Financiën Aleksej Koedrin, een technocratische groep geleid door minister van Economische Zaken Maksim Oresjkin, en de meer statische Stolypin Club die wordt geleid door Poetins zakenombudsman Boris Titov. Elke groep heeft duizenden pagina's aan deskundigenrapporten ingediend.
Maar welke verschuiving richting het respecteren van de rechtsstaat dan ook zou onverenigbaar zijn met het kleptocratische karakter van Poetins regime, wat impliceert dat echte hervormingen niet aan de orde zijn. Het mandaat dat aan deze drie groepen gegeven is lijkt daarom weinig meer in te houden dan therapie voor sociale wetenschappers, een manier om ze bezig – en uit de oppositie – te houden.
In plaats van verandering te omhelzen zal Poetin in de presidentsverkiezingen van volgend jaar op zoek gaan naar een vierde termijn – een race die hij zeker gaat winnen, gegeven de controle van het Kremlin over de media en de rechtbanken. Maar om zijn overwinning geloofwaardig te maken behoeft Poetin dat het ontmoedigde Russische volk op komt dagen om te stemmen. Er zijn geruchten dat Sergei Kiriyenko, eerste vice chef-staf van het Kremlin, een opkomst van 70% tot doel heeft, waarbij 70% van de stemmen naar Poetin gaat.
Dit zal niet makkelijk worden. Bij de verkiezingen voor de Doema in september 2016 kwam slechts 47,8% van de geregistreerde stemmers opdagen. Bij de lokale verkiezingen afgelopen maand namen zelfs nog minder kiezers de moeite om deel te nemen, waarbij de opkomst in Vladivostok slechts 13% was.
Als men de stemmer bij de presidentsverkiezingen van volgend jaar op wil komen laten dagen zal deze moeten geloven dat echte verandering mogelijk is. Poetin heeft nodig dat er een geloofwaardige rivaal aan de race meedoet, en niet dezelfde oude aan het Kremlin verbonden kandidaten zoals de communist Gennadi Zjoeganov, de nationalistische gorilla Vladimir Zjirinovski, en de vermeende liberaal Grigory Yavlinsky. Televisiepresentatrice Ksenia Sobtsjak, die haar kandidatuur na een ontmoeting met Poetin aankondigde, is wellicht in staat om enig leven in de campagne te injecteren. Maar er is maar één echte optie om een grotere opkomst veilig te stellen: anti-corruptie activist en luidruchtige Kremlin-criticus Aleksej Navalny.
In september 2013 toen Navalny kandidaat was om burgemeester van Moskou te worden kreeg hij 27% van de stemmen. Maar de onafhankelijke opiniepeiler Levada Center denkt dat hij ondanks grote steun voor Navalny in Moskou nu niet meer stemmen zou krijgen.
Vanwege dit feit willen sommige adviseurs van het Kremlin Navalny laten meedoen, terwijl ze hem ondertussen weghouden van de nationale televisie. En het lijkt erop dat het Kremlin wellicht precies dat overweegt, omdat het Navalny heeft toegestaan om grote campagnebijeenkomsten te houden met tot 10.000 mensen in 100 steden.
Maar anderen in de kring rond Poetin zouden Navalny liever voor de vierde maal dit jaar willen opsluiten – geen verrassing gegeven zijn bewezen capaciteit om de autoriteit van het Kremlin te verstoren. Afgelopen maart bijvoorbeeld produceerde Navalny een documentaire van vijftig minuten over corruptie, waarin onthuld werd dat premier Dmitri Medvedev 1,3 miljard dollar smeergeld had gebruikt om zes paleizen en twee wijngaarden te verwerven. De film die op YouTube door ongeveer 25 miljoen mensen bekeken werd beëindigde effectief de politieke carrière van Medvedev.
Nu zal Poetin moeten overwegen wie Medvedev gaat opvolgen. In het verleden heeft hij gewoonlijk een loyale non-entiteit in die positie geïnstalleerd, en hij heeft vele mogelijke kandidaten, zoals de opmerkelijk ineffectieve Gazprom-voorzitter Aleksej Miller. De vraag is of de volgende premier dichter bij Poetin of de FSB zal staan.
De Verenigde Staten zullen wellicht een onverwachte rol in dit drama gaan spelen. De onlangs aangenomen Countering America's Adversaries Through Sanctions Act, die binnen 180 dagen een rapport over Russische 'oligarchen en bovenstatelijke entiteiten' vraagt, biedt de VS een unieke kans om het Kremlin voorafgaand aan de presidentsverkiezingen te beïnvloeden.
Veel Russische rijken zijn Rusland al ontvlucht in angst voor de FSB. Nu zal Rusland wellicht met een volgende golf vertrekken te maken krijgen, waarbij zij die dicht bij het Kremlin staan vrezen dat Poetin ze niet langer kan beschermen. Poetin is dan wel verzekerd van een volgende presidentstermijn, maar een regime dat zelfs zijn heersende klasse niet kan tevredenstellen is nauwelijks houdbaar.
Vertaling Melle Trap