Der Caudillo im Kreml
MOSKAU – Der russische Präsident Wladimir Putin hat die wahren Absichten seines Regimes gezeigt. Durch eine Verfassungsänderung, die ihm ermöglicht, bis 2036 im Amt zu bleiben, und durch Einbindung konservativer neuer Formulierungen hat er seine wackelige Maske demokratischer Legitimität fallen lassen. Doch während Putin versucht, seine Herrschaft festigen, sieht sein Regime schwächer aus denn je.
In der Stadt Chabarowsk gingen in den letzten Wochen Zehntausende von Demonstranten auf die Straße und skandierten "Tritt zurück, Putin!" Sie sind nicht allein. Auch wenn Putins Zustimmungsrate hoch erscheinen mag, ist sie nach russischem Standard niedrig. Tatsächlich ist seine Zustimmungsrate von 59-60% während der letzten Monate seine niedrigsteseit Oktober 1999, als er Ministerpräsident war. Und sie dürfte sich aus einem einfachen Grund kaum wesentlich verbessern: Putin bewährte Methoden, Unterstützung zu gewinnen, haben ihre Wirkung eingebüßt.
Die COVID-19-Pandemie hat Russland schwer getroffen, und zwar sowohl was die öffentliche Gesundheit als auch was die wirtschaftlichen Folgen angeht. Der steile Rückgang der Ölexporte – der wichtigsten Säule der russischen Wirtschaft – hat zu einem Einbruch bei den Haushaltseinnahmen geführt. Infolgedessen bröckelt die stillschweigende Übereinkunft des Kremls mit der Bevölkerung: Wir sorgen für eure Grundbedürfnisse, und ihr beschwert euch nicht.
Putins Regime versucht schon seit langem, die Aufmerksamkeit der Bevölkerung von den Problemen im Lande abzulenken, indem es seine außenpolitischen Erfolge und seinen unnachgiebigen Kampf gegen eine heimische "fünfte Kolonne" herausstreicht. Putins Annexion der Krim 2014 verkörperte beispielhaft seine lange wirksamsten Taktiken, um sich Unterstützung zu sichern: Fremdenfeindlichkeit, antiwestliche Hysterie und die Beschwörung einer glorreichen Vergangenheit. Seine Zustimmungsrate schoss auf mehr als 85% in die Höhe.
Jedoch ist für Putin der Eindruck breiter öffentlicher Unterstützung womöglich wichtiger als diese Unterstützung selbst. Der Volksentscheid vom 1. Juli über die Verfassungsänderungen bedeutete in der Praxis wenig. Die Änderungen waren schon Monate vorher durch die Duma (das nationale Parlament) und die Regionalparlamente ratifiziert worden.
Doch das Votum der Bevölkerung bot dem Kreml Gelegenheit, zu behaupten, dass fast 78% der russischen Bürger die Veränderungen befürworteten. Und er konnte auf die 21% verweisen, die laut den offiziellen Zahlen gegen die Änderungen gestimmt hatten, um die vielen Anschuldigungen – u. a. seitens der Europäischen Union – zu entkräften, dass die Abstimmung manipuliert war.
Subscribe to Project Syndicate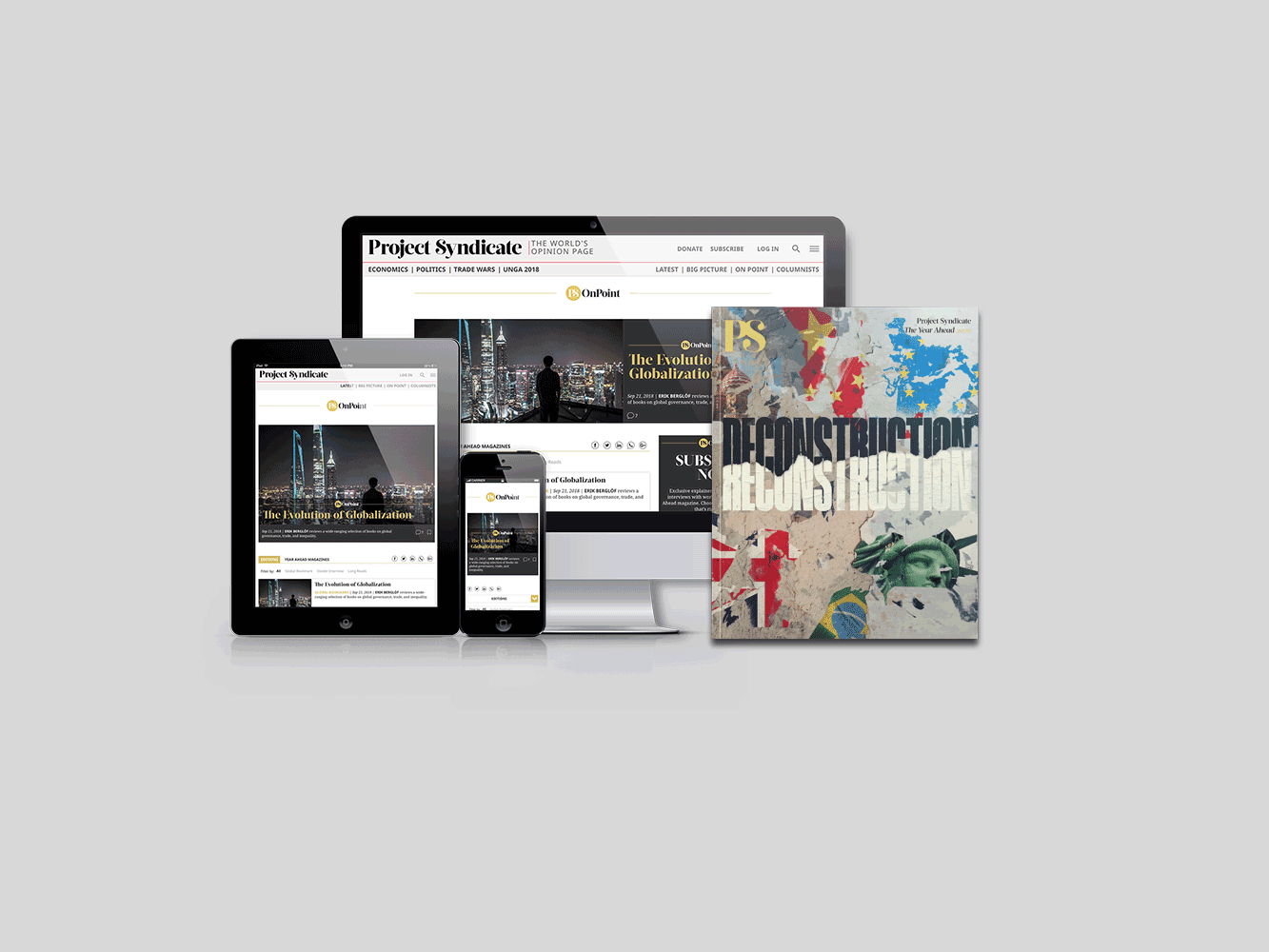 Subscribe to Project Syndicate
Enjoy unlimited access to the ideas and opinions of the world's leading thinkers, including weekly long reads, book reviews, and interviews; The Year Ahead annual print magazine; the complete PS archive; and more – all for less than $2 a week.
Die hohe Wahlbeteiligung stärkte diese Fassade. Doch dass sich so viele Menschen unter Zwang beteiligten – sie mussten häufig ihren Arbeitgebern melden, dass sie abgestimmt hatten –, könnte Putin bei den Regionalwahlen in diesem und im nächsten Jahr, in dem zudem nationale Wahlen stattfinden, letztlich schaden. Anders als bei einem Volksentscheid kann es dabei eine Protestwahl geben.
Eine weitere beliebte und vom Kreml häufig eingesetzte Taktik – die Entlassung, Verhaftung oder anderweitige Ausschaltung ideologischer Gegner – könnte ebenfalls nach hinten losgehen. Anfang Juli verhafteten die Behörden zwei Aktivisten – darunter Andrej Piwowarow den Geschäftsführer der Demokratiebewegung "Offenes Russland" des im Exil lebenden Oligarchen Michail Chodorkowski –, die sich gegen Putins Pläne zur Verlängerung seiner Herrschaft engagierten. Bei vier anderen wurden Hausdurchsuchungen durchgeführt.
Auch eine Anzahl von Journalisten wurden in den letzten Wochen ins Visier genommen, darunter Swetlana Prokopjewa (die eine Geldstrafe wegen angeblicher Anstiftung zum Terrorismus erhielt) und Iwan Safronow (der des Landesverrats angeklagt wurde). Bei Piotr Wersilow, dem Herausgeber der Nachrichten-Website Mediazona, die den Justizmissbrauch in Russland erfasst, wurden wiederholt Hausdurchsuchungen durchgeführt.
Der Historiker Juri Dmitrijew, dessen Arbeiten zur Aufdeckung der Verbrechen Stalins die Kreml-Hagiografie in Frage gestellt haben, erhielt eine Gefängnisstrafe wegen sexueller Gewalthandlungen an einer Minderjährigen. Und im vergangenen Monat wurde der gefeierte Theaterregisseur Kirill Serebrennikow im Rahmen von Bemühungen, gegen unabhängige Theater vorzugehen, wegen Veruntreuung verurteilt.
Dies sind bewährte, aber durchsichtige Taktiken. Und obwohl ein loyales Segment der Gesellschaft ihnen zustimmt, leisten andere – darunter auch ehemals loyale Gruppen – inzwischen Widerstand. Die Proteste in Chabarowsk wurden durch die plötzliche Verhaftung des beliebten Gouverneurs Sergei Furgal wegen angeblicher Beteiligung an zwei Morden in den Jahren 2004-05, während seiner Zeit als Geschäftsmann, ausgelöst.
Furgal ist kein Liberaler; er ist Mitglied der nationalistischen Liberaldemokratischen Partei, die zur "systemtragenden Opposition" in der Duma gehört. Doch er errang sein Amt 2018 durch einen Sieg über einen vom Kreml unterstützten Kandidaten. Durch seine Verhaftung wollte der Kreml vermutlich eine Botschaft an führende Regionalpolitiker aussenden, die versuchen könnten, aus dem Versagen der Nationalregierung während der COVID-19-Krise Kapital zu schlagen. Stattdessen trübte die Verhaftung ganz unmittelbar das Bild der nationalen Einheit, welches das Ergebnis des Volksentscheids eigentlich vermitteln sollte.
Natürlich geht von den Protesten in Chabarowsk allein keine Gefahr für Putins Herrschaft aus. Ihre Auswirkungen werden nur dann auf nationaler Ebene zu spüren sein, wenn sie auf andere Städte, insbesondere auf Moskau, übergreifen. Doch sollten sie dem Kreml trotzdem Sorgen machen. In Chabarowsk sind es nicht wie üblicherweise nur die Angehörigen der freien Berufe, die protestieren. Viele Demonstranten sind kaum als politisierte Intelligenz aus Moskau oder St. Petersburg zu betrachten. Sie sind Teil von Putins gesellschaftlicher Basis. Und sie setzen ein Beispiel für andere Regionen.
Doch Putins sklerotisches Regime hat kaum eine andere Wahl, als sich weiter auf dieselben Ansätze zu stützen. Die Linie zwischen jenen, die der Kreml unterstützt (die Millionen von Strafverfolgungs- und Sicherheitsbeamten, Verwaltungsmitarbeitern und anderen Staatsbediensteten, nicht zu reden von den loyalen Oligarchen) und jenen, die er nicht unterstützt (praktisch alle übrigen) wird zunehmend deutlicher.
Trotzdem gibt es derzeit keine klare politische oder gesellschaftliche Kraft, die die Erosion des Regimes beschleunigen wird. Wenn ein tödlicher Schlag kommen sollte, dann von unerwarteter Seite. Doch wie die Proteste in Chabarowsk gezeigt haben, liegt ein unerwartetes Aufwallen des Widerstands durchaus im Bereich des Möglichen.
Jedenfalls wird Putins Strategie zur Wahrung seiner Macht unter Einsatz aller dafür nötigen Mittel Russlands viele Probleme nicht lösen. Und es bleibt die Frage, was nach Putin mit dem System passiert.
Wir erleben derzeit ein weiteres Fortschreiten der "Francoisierung" des russischen politischen Regimes: Putin bereitet den Boden dafür, Staatsoberhaupt auf Lebenszeit zu werden, so wie es in Spanien Francisco Franco mit dem Amtsfolgegesetz von 1947 tat. Doch während Europa in der Nachkriegszeit wohlhabender wurde, verkümmerte Spanien unter Francos zunehmend tatterigem Regime mit jedem Jahrzehnt mehr. Putin scheint entschlossen, in Politik Wirtschaft und Gesellschaft dasselbe Maß an Schwerfälligkeit zu erreichen.
Doch Franco hatte zumindest einen Nachfolger vor Augen. Durch Wiederherstellung der Monarchie mit Francos Tod konnte König Juan Carlos den Thron besteigen. Putin jedoch führt Russland in eine Sackgasse. Schließlich kann er den Zaren nicht zurückbringen. Also hat er das Problem der Nachfolge einfach hinausgeschoben. Nach ihm die Sintflut.
Aus dem Englischen von Jan Doolan