Genetische modificatie en diefstal van zaden
AUSTIN, TEXAS – Vierhonderd jaar geleden gebruikte John Rolf tabakszaden die verdonkeremaand waren uit West-Indië om de eerste winstgevende export van Virginia te ontwikkelen, en ondermijnde daarmee de tabakshandel door de Caribische koloniën van Spanje. Meer dan tweehonderd jaar later nam een andere Engelsman, Henry Wickham, zaden van een rubberboom mee van Brazilië naar Azië – via dat illustere koloniale instituut de  Royal Botanic Gardens in Londen – en legde daarmee de basis voor het uiteindelijke ter ziele gaan van de rubber-hausse in het Amazonebekken.
In een tijd van ongereguleerde export van planten was alles wat nodig was om levens en zelfs hele economieën te beschadigen een koffer vol zaden. Dankzij de ontwikkelingen in de genetica, zal hier eerdaags wellicht nog minder voor nodig zijn.
Zeker, er zijn de afgelopen tientallen jaren grote vorderingen gemaakt in de regulering van het opzettelijke internationale vervoer van genetisch materiaal van dieren, planten, en andere levende zaken. Vooral de Conventie inzake Biologische Diversiteit van de Verenigde Naties uit 1992 heeft geholpen om de rechten van de verstrekkers van genetische hulpmiddelen – zoals (idealiter) de boeren en oorspronkelijke bewoners die waardevolle genen hebben beschermd en verzorgd – veilig te stellen door het verankeren van nationale soevereiniteit over biodiversiteit.
Alhoewel sommige mensen er toch in slagen om de regels te ontlopen verzekeren met veel moeite ontwikkelde wettelijke systemen ervoor dat dit verre van makkelijk is. De meerderheid van de internationale uitwisselingen van zaden, planten, dieren, microben, en andere biologische goederen wordt begeleid door de vereiste vergunningen, inclusief een overeenkomst voor materiaaloverdracht.
Maar wat als je helemaal geen materiaal meer hoeft op te sturen? Wat als alles wat nodig is om de verlangde zaden te bemachtigen een simpele email is? Wat als wetenschappers met slechts genen-sequenties het geschikte genetische materiaal kunnen 'animeren'? Het is helder dat zulke door internet gefaciliteerde uitwisselingen van biodiversiteit veel moeilijker te reguleren zouden zijn. En nu gene sequencing sneller en goedkoper wordt dan ooit tevoren en de technieken voor genetische modificatie snel vooruit gaan kunnen zulke uitwisselingen sneller mogelijk worden dan je denkt.
In feite kunnen genen, zelfs hele organismes zich al virtueel bewegen – zacht en biologisch aan beide uiteinden van de lijn, maar niet meer dan een serie enen en nullen terwijl ze onderweg zijn. Het kleine virus dat griep veroorzaakt is een belangrijk voorbeeld van de huidige staat van de techniek.
Introductory Offer: Save 30% on PS Digital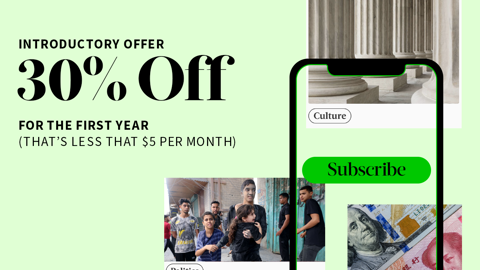 Introductory Offer: Save 30% on PS Digital
Subscribe now to gain greater access to Project Syndicate – including every commentary and our entire On Point suite of subscriber-exclusive content – starting at less than $5 per month.
Als er vandaag de dag een nieuwe griepvariant opduikt in Azië nemen wetenschappers een keeluitstrijkje, isoleren het virus, en draaien de genetische sequentie van de variant uit. Wanneer ze vervolgens de sequentie van die variant op het internet publiceren, kunnen Amerikaanse en Europese laboratoria in staat zijn om het nieuwe virus sneller en makkelijker uit de gedownloade data te synthetiseren dan wanneer ze op een koerier zouden wachten om een fysiek monster af te leveren. Het virus kan zich elektronisch sneller verspreiden dan het in de natuur doet.
Gecompliceerdere virussen en bepaalde bacteriën liggen nu ook binnen het bereik van dit soort technieken, alhoewel het volledig synthetiseren van een hoger organisme met een complexer genoom, zoals mais, nog vele jaren verwijderd is. Maar dat maakt misschien niet uit, nu nieuwe genetische modificatie technologieën zoals CRISPR-Cas9 wetenschappers in staat stellen om gecompliceerde nieuwe organismen in elkaar te zetten, met gebruik van genen-sequentie informatie uit organismes waar ze fysieke toegang toe hebben.
Zo kunnen de cruciale eigenschappen van een droogteresistente maissoort uit een Zapotec gemeenschap in Oaxaca, Mexico bijvoorbeeld gereproduceerd worden door de genen van een andere maissoort aan te passen. Er is geen enkele nieuwe vooruitgang in de technologie nodig om deze mogelijkheid te ontsluiten.
Benodigd zijn de genetische sequenties van duizenden soorten mais. Deze data fungeren als een soort landkaart en pool aan hulpmiddelen, en stellen wetenschappers in staat om op een computerscherm sequenties te vergelijken en pertinente variaties te identificeren. De geselecteerde aanpassingen kunnen dan tot de ouders gemaakt worden van, laten we zeggen, een nieuwe Monsanto of DuPont Pioneer mais-hybride.
Het beheren van de toegang tot grote genetische databases wordt dus van cruciaal belang om een virtuele versie van de diefstal uitgevoerd door Rolfe en Wickham te voorkomen. En in een onomwonden e-mail die is vrijgegeven onder de US Freedom of Information Act noemt een van de top maiswetenschappers van het ministerie van Landbouw van de VS Edward Buckler dit soort beheer 'de grote vraag van onze tijd' op gebied van de kweek van gewassen.
Wanneer landbouwbiotechnologie bedrijven zoals Monsanto en DuPont Pioneer – om andere bedrijven die met genetische hulpmiddelen werken, waaronder farmaceutische bedrijven en synthetische biologie startups nog geheel buiten beschouwing te laten – vrije toegang hebben tot dit soort databases zullen de verstrekkers van de verlangde genen zeer waarschijnlijk buiten de boot vallen. Dit zijn tenslotte volledig kapitalistische ondernemingen, die weinig financiële stimuli kennen om aan de kleine man te denken.
In dit geval zou 'de kleine man' Afrikaanse sorghum telers kunnen betekenen, beoefenaars van traditionele geneeskunst, bosbewoners, of andere traditionele gemeenschappen – de mensen die de biodiversiteit gecreëerd en in stand gehouden hebben, maar nooit de hubris of hebzucht hebben gekend om genen als bezit of gepatenteerde uitvindingen te claimen. Het enige dat hoeft te gebeuren is dat iemand sequenties van hun creaties maakt en de data in open databases deelt.
Toch is open toegang de mode van de dag in het delen van onderzoeksdata. De GenBank van de Amerikaanse overheid bijvoorbeeld kent niet eens een bepaling die misbruik verbied. Dit moet veranderen. Tenslotte faciliteren dit soort vrijblijvende databases niet alleen delen, ze maken diefstal mogelijk.
De vraag hoe toegang tot sequentiedata te reguleren komt nu naar voren in internationale discussies, waaronder bij de Wereldgezondheidsorganisatie en de Voedsel- en Landbouworganisatie. De Conferentie der Partijen bij het Verdrag inzake Biologische Diversiteit, het belangrijkste verdrag dat toegang tot biodiversiteit reguleert, is wellicht het belangrijkste forum voor dit soort discussies. De volgende bijeenkomst (COP13) zal begin december plaatsvinden in Cancún in Mexico.
Deelnemers aan COP13 moeten zich concentreren op de noodzaak de rechten van de verstrekkers van hulpbronnen te beschermen. Tot dit doel zouden ze een zorgvuldige beoordeling van bestaand beleid moeten maken en de nodige veranderingen moeten ontwerpen – voordat de synthetische biologie gaat voorlopen op wettelijke systemen en ze machteloos laat.
Er moeten afspraken gemaakt worden om de toegang tot genetische sequenties zo te beheren dat deze een eerlijke en billijke verdeling van de winsten van het gebruik ervan zal garanderen. Anders zullen tientallen jaren werk om de natuurbescherming te bevorderen en piraterij te voorkomen ondermijnd worden, wat de biodiversiteitsconventie in gevaar brengt – en wat deze beschermt.
Vertaling Melle Trap