Se prémunir d'une tempête en 2019
BRUXELLES – Quelles mesures prendre pour que cette année soit sereine aux plans économique, financier et politique ? Réponse : il faudra parer à un certain nombre de menaces à la stabilité.
Premièrement, le guerre commerciale entre la Chine et les États-Unis devra être mise en veilleuse. En novembre et décembre derniers, les marchés financiers ont réagi positivement à chaque annonce d'une entente négociée et négativement à chaque signe d'un renouvellement des hostilités – et pour de bonnes raisons : les tarifs douaniers qui déstabilisent les échanges commerciaux et les chaînes d'approvisionnement sont préjudiciables à la croissance mondiale. Et comme nous le savons, ce qui se passe sur les marchés financiers ne reste pas cantonné à ces marchés, mais a de profondes répercussions sur la confiance des consommateurs et le climat des affaires.
Deuxièmement, l'économie américaine devra enregistrer une croissance de 2 pour cent au moins, la prévision consensuelle intégrée dans les attentes des investisseurs. Si la croissance est nettement moindre – que ce soit parce que le coup de fouet  de la réforme fiscale de décembre 2017 s'est dissipé, que la Réserve fédérale (Fed) bride cette croissance ou pour toute autre raison – les marchés financiers ne manqueront pas de chuter, avec des conséquences négatives aux plans de la confiance et de la stabilité.
Troisièmement, la Chine devra éviter une aggravation marquée de ses problèmes financiers. Gérer avec succès un endettement des entreprises correspond à 160 pour cent du PIB n'implique pas seulement de restructurer sélectivement des créances douteuses, mais également d'augmenter le dénominateur du ratio dette totale/PIB. Compte tenu des faibles investissements dans les infrastructures et du recul de l'industrie manufacturière, il est peu probable que la Chine atteigne l'objectif officiel d'une croissance de 6 pour cent en 2019. Dans ce cas de figure, le ralentissement de la croissance et les problèmes de dettes croissants s'alimenteront l'un l'autre, tirant vers le bas les performances économiques de la Chine et d'une grande partie des pays émergents.
Quatrièmement, lors des élections européennes en mai prochain, les électeurs devront faire barrage à une victoire d'une majorité nationaliste de droite hostile à l'intégration européenne. L'Europe doit aller de l'avant pour éviter un retour en arrière, l'existence de la monnaie unique ne lui laissant pas le choix. Pour l'instant, aller de l'avant implique d'instituer un système européen de garantie des dépôts, d'adopter au moins un budget modeste pour la zone euro et d'augmenter les contributions affectées au dispositif de recours de la zone euro, le Mécanisme européen de stabilité (MES). Mais si les aléas de la monnaie unique au cours de la dernière décennie nous ont appris quelque chose, c'est bien que de telles mesures ne peuvent être imposées aux citoyens européens par les élites. Une intégration durable nécessite un vaste soutien public. Et ce soutien doit se manifester par les urnes.
Ces conjonctures positives sont loin d'être garanties, mais si certaines d'entre elles se concrétisent, cela accroîtra la probabilité que d'autres se réalisent. Par exemple, si le président américain Donald Trump met fin à la guerre commerciale avec la Chine, les perspectives de croissance de ces deux pays s'amélioreront. Cette évolution contribuera à un environnement externe plus favorable pour l'Europe, qui verra à son tour une embellie de ses prévisions de croissance et un renforcement des perspectives électorales des principaux partis et de leurs candidats.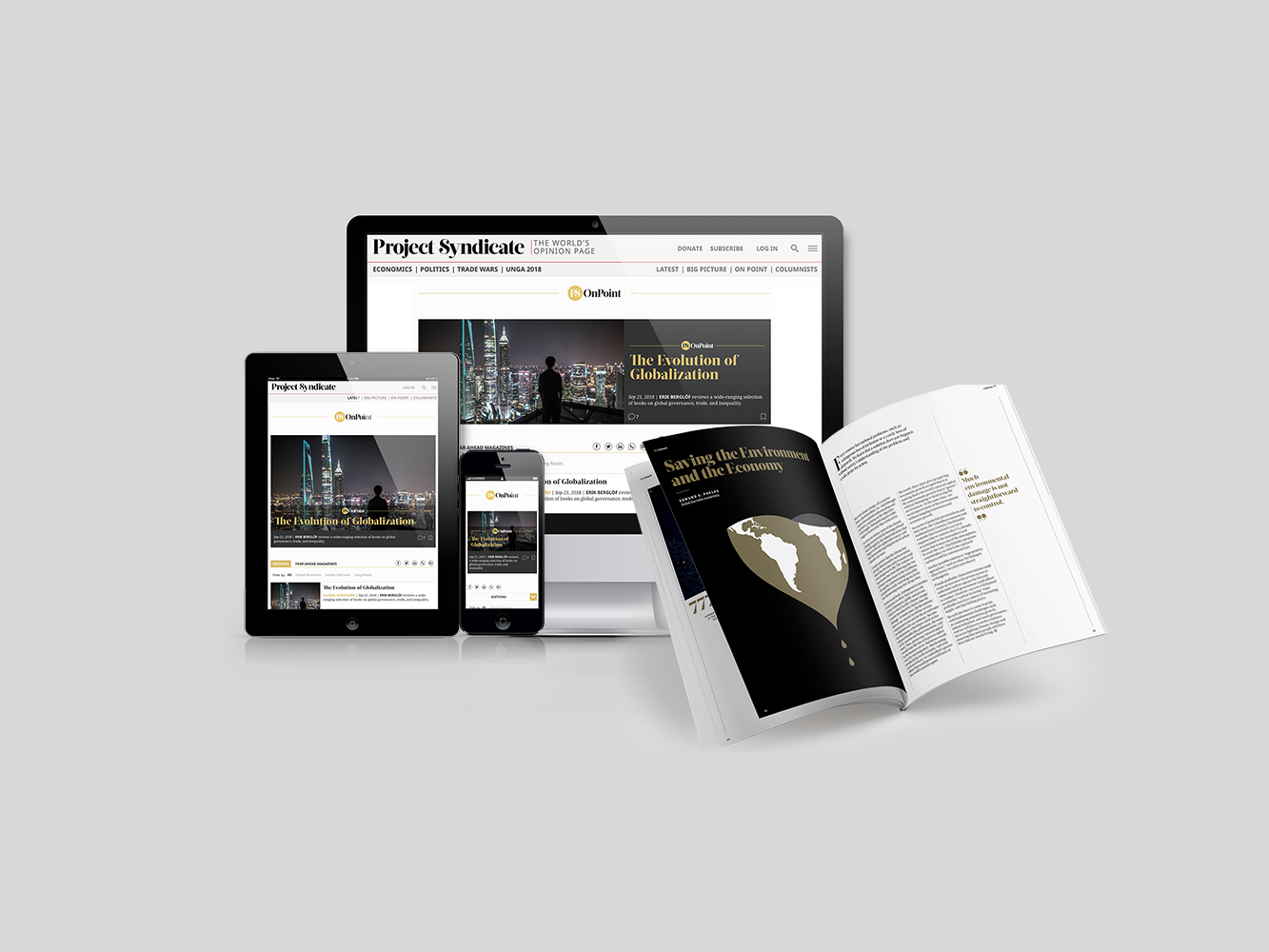 Subscribe now
For a limited time only, get unlimited access to On Point, The Big Picture, and the PS Archive, plus our annual magazine, for less than $2 a week.
Inversement, une conjoncture négative sur l'un de ses front affaiblira les autres. Une  croissance décevante aux États-Unis, par exemple, incitera Trump à chercher un bouc émissaire. Si ce n'est pas le président de la Fed Jerome Powell et son équipe, ce sera probablement le président chinois Xi Jinping. Dans ce cas, la guerre commerciale sera relancée et la croissance et la stabilité financière de la Chine en subiront les conséquences. Cette combinaison de difficultés économiques américaines et chinoises provoquera à son tour un ralentissement de la croissance dans d'autres parties du monde, attisant la réaction populiste contre l'establishment politique en Europe et ailleurs.
De même, si le choc négatif est un ralentissement de la croissance en Chine, Beijing réagira, presque certainement, en dévaluant le yuan, une tactique qui ne manquera pas de générer de nouveaux différends commerciaux, avec des conséquences préjudiciables partout dans le monde.
Une dernière condition préalable pour une année sereine est que l'enquête du procureur spécial américain Robert Mueller sur l'éventuelle collusion entre le gouvernement russe et les proches de Trump n'aboutisse qu'à des résultats limités. Cette observation peut sembler étonnante. Si la personnalité imprévisible du président américain, ses tweets intempestifs et ses politiques contreproductives sont une telle menace pour la stabilité, alors sûrement le moyen le plus direct d'éliminer ce danger serait une mise en accusation dévastatrice par Mueller et son équipe, conduisant la Chambre des représentants à mettre en œuvre un processus « d'impeachment », ou de destitution, du président américain.
Mais si le rapport final de Mueller implique les enfants de Trump – Donald Trump, Jr., Eric Trump, et Ivanka Trump et son mari, Jared Kushner – ou Trump lui-même, il réagira violemment, comme à chaque fois qu'il est en difficulté. Ses cibles probables ne seront pas seulement Mueller et la majorité démocrate à la Chambre des représentants, mais également la Fed, la Chine, le Mexique et les pays d'Amérique centrale et d'Europe, à mesure qu'il créera des diversions économiques pour détourner l'attention de ses délits politiques. Cette tactique perturbera fortement les marchés financiers et érodera la confiance des investisseurs. Et il n'y aura pas de fin en vue de cette tempête, compte tenu de la faible probabilité que le Sénat, contrôlé par les républicains, vote en faveur d'une destitution de Trump.
Au lieu de tenter de destituer Trump, les démocrates devraient réfléchir à la manière de battre Trump à la prochaine élection présidentielle, en établissant un programme et en choisissant un candidat. Dans l'intervalle, nous ne pouvons que croiser les doigts et espérer que tout ira pour le mieux. Il reste un long chemin à parcourir jusqu'en novembre 2020.
Barry Eichengreen est professeur d'économie à l'université de Californie à Berkeley. Son dernier ouvrage est The Populist Temptation: Economic Grievance and Political Reaction in the Modern Era (La tentation populiste : griefs économiques et réactions politiques dans l'histoire moderne – ndlt)