Die Vorbereitung einen auf Präsidenten Trump
LONDON – Amerikas Freunde und Verbündete, die voller Erstaunen auf einen mehr als wahrscheinlichen Wettkampf zwischen Hillary Clinton und Donald Trump bei den US-Präsidentschaftswahlen im November warten, müssen mehr tun, als nur die Hände zu ringen. Sie müssen das Beste hoffen, sich aber auch auf das Schlimmste vorbereiten.
Der entscheidende Punkt der Wahl von 2016 ist nicht nur, dass als Kandidat der Republikaner wahrscheinlich ein Reality-TV-Star und Immobilienmagnat antreten wird, der noch nie zuvor in irgendein Amt gewählt wurde. Sondern es ist auch der enorme Unterschied, den ein Sieg Trumps gegenüber dem Sieg Clintons für den Rest der Welt bedeuten würde.
Bei allen US-Präsidentschaftswahlen der Neuzeit hatten Amerikas Freunde und Verbündete ihre privaten Präferenzen. Aber noch nie zuvor waren die Kandidaten der Demokraten und Republikaner so verschieden. Zwischen Reagan und Carter, Clinton und Bush, Bush und Gore oder Obama und McCain gab es keine unüberbrückbare Kluft. Zwischen Trump und Clinton ist dies aber der Fall.
Für den Rest der Welt steht Clinton für Kontinuität und Trump für dramatische Veränderungen. Wie dramatisch letztere sein würden, ist noch nicht bekannt, aber auf die normale Annahme, dass sich die Kandidaten während der Vorwahlen an den Hauptunterstützern ihrer Partei orientieren und bei der eigentlichen Wahl dann eher an der politischen Mitte, können wir uns im Fall von Trump nicht verlassen. Seine Kandidatur entspricht nicht der Norm.
Und deshalb ist es sinnvoll, sich vorzubereiten. In seiner Rede zur Außenpolitik vor dem Zentrum für Nationale Interessen in Washington am 27. April bestätigte Trump noch einmal, dass das Zentralthema seiner Regierung "Amerika zuerst" sein werde. Er werde multilaterale Handelsabkommen und Institutionen ablehnen, eine viel härtere Linie gegen illegale Einwanderung vertreten und einen neuen Ansatz gegenüber Verteidungs- und Sicherheitsallianzen verfolgen.
In dieser Rede meinte er auch, er wolle die Vereinigten Staaten "auf berechenbare Weise unberechenbar" machen, erklärte aber ebenfalls, er werde seine zentralen Standpunkte nicht aufgeben. Die Verbündeten müssten mehr für ihre Verteidigung zahlen. Und wenn sie gegenüber den USA über einen dauerhaft hohen bilateralen Handelsüberschuss verfügen, müssten sie sich auf strenge Maßnahmen einstellen. Regionale Abkommen wie das Nordamerikanische Freihandelsabkommen (NAFTA) zwischen den USA, Mexiko und Kanada seien eine "völlige Katastrophe", mit der sich Amerika die Hände gebunden habe. Also ist damit zu rechnen, dass sie beendet würden.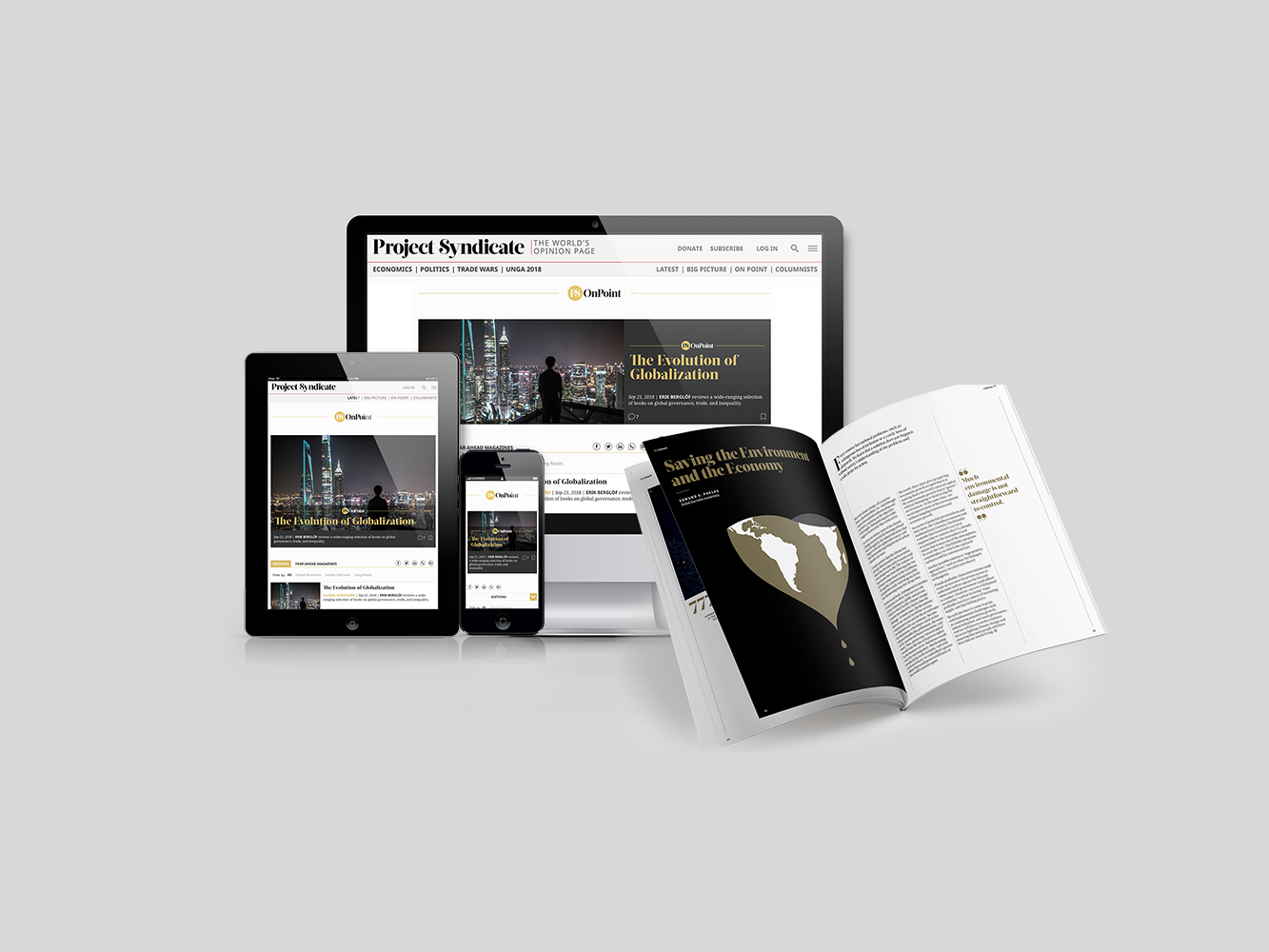 Subscribe now
For a limited time only, get unlimited access to On Point, The Big Picture, and the PS Archive, plus our annual magazine, for less than $2 a week.
Wie also können sich die Freunde und Verbündeten auf Trump als Präsidenten vorbereiten? Natürlich auf diskrete Weise. Aber der Verfasser des Bestsellers The Art of the Deal würde sicherlich zustimmen, dass sorgfältige Vorbereitung für ein gutes Geschäft entscheidend ist. Sollte Trump dies nach einem möglichen Wahlgewinn bemerken, würde er seine Gegner wahrscheinlich dafür bewundern, wenn auch nur insgeheim.
Zur Vorbereitung auf das Schlimmste können die Freunde und Verbündeten auf zwei Arten handeln: Erstens sollten sie sich stärker machen, um einem rücksichtslosen Gegner besser entgegentreten zu können. Zweitens könnten sie – in Erwartung eines Bruchs alter Partnerschaften und der liberalen internationalen Ordnung seit 1940 getreu dem Motto "Amerika zuerst" – ihre Allianzen und Freundschaften untereinander verbessern.
Ein schwaches Japan und ein zerstrittener Haufen von 28 Ländern der Europäischen Union wäre für einen Präsidenten Trump ein verlockendes Angriffsziel. Ein Japan, das die von Ministerpräsident Shinzo Abe oft versprochene wachstumsfördernde Liberalisierungsstrategie in den nächsten zwölf Monaten wirklich umsetzt, wäre in einer viel stärkeren Position. Und dies träfe auch auf die europäischen Staaten zu, wenn sie es nur schaffen könnten, ihre Sparversessenheit abzulegen und statt dessen Wachstum und Arbeitsmärkte durch öffentliche Investitionsprogramme zu fördern.
Solche Maßnahmen, die sowieso nötig sind, würden es auch erleichtern, mit der Bildung stärkerer Bündnisse zu beginnen – die von entscheidender Bedeutung sein könnten.
Sollte eine Trump-Regierung aus dem NAFTA-Abkommen ausscheren, müssten Kanada und Mexiko gemeinsame Sache machen. Und sollte sie die Transpazifische Partnerschaft (TPP) aufkündigen, die zwischen der Obama-Regierung und zwölf asiatisch-pazifischen Volkswirtschaften ausgehandelt wurde, müssten diese Länder, vielleicht unter japanischer oder australischer Führung, die Zusammenarbeit allein fortführen. (Auch Clinton hat sich gegen die TPP ausgesprochen, aber vermutlich aus rein taktischen Gründen, wovon man bei Trump nicht ausgehen sollte.)
Ähnliches gilt für Europa: Um bei Handels- oder Sicherheitsthemen nicht von Trump herumgeschubst zu werden, müssen die Mitglieder der EU und der NATO zusammenhalten. Dies könnte bedeuten, mehr für ihre eigene Verteidigung auszugeben – eine Forderung Trumps, die nicht unvernünftig ist. Außerdem ist genug Einheit nötig, damit sich ein amerikanischer Tyrann keine einzelnen Länder aus dem Kuchen herauspicken kann.
Aber die europäische Solidarität ist dank der Migrantenkrise und der wirtschaftlichen Folgen der Finanzkrise von 2008 in Auflösung begriffen. Am 23. Juni könnten die britischen Wähler die Lage noch dadurch verschlimmern, dass sie sich in einer Volksabstimmung für den Austritt ihres Landes aus der EU entscheiden. Um sich und die EU zum Schutz gegen Trump zu stärken, sollten sie lieber für einen Verbleib stimmen.
Auch Asien ist nicht gerade für seine Solidarität bekannt. Um seine Rivalitäten auszugleichen, war der Kontinent oft vom Einfluss der Amerikaner abhängig. Japan beispielsweise hat enge Verbindungen mit südostasiatischen Ländern, aber keine formalen Sicherheitsbeziehungen zu ihnen. Sowohl Japan als auch sein nächster Nachbar Südkorea haben Sicherheitsabkommen mit den USA abgeschlossen, stehen sich aber gegenseitig feindlich gegenüber.
Angesichts der Möglichkeit von Handelskriegen, Währungskriegen und der Aufkündigung lang bestehender Sicherheitsabkommen innerhalb der nächsten neun bis zwölf Monate ist es Zeit, alte Feindschaften und Brüche durch regionale Solidarität zu ersetzen. Amerikas Freunde und Verbündete müssen sich auf ein weniger freundliches Amerika vorbereiten.
Aus dem Englischen von Harald Eckhoff