Leyes de la memoria y mentiras del nacionalismo
ATLANTA – Una controvertida ley promulgada hace poco por el gobernante Partido de la Ley y la Justicia (PiS) en Polonia ha atraído un enorme nivel de atención en todo el mundo por su criminalización de expresiones como "campos de exterminio polacos". Pero la ley se propone mucho más que ser un medio de que la gente cuide sus palabras.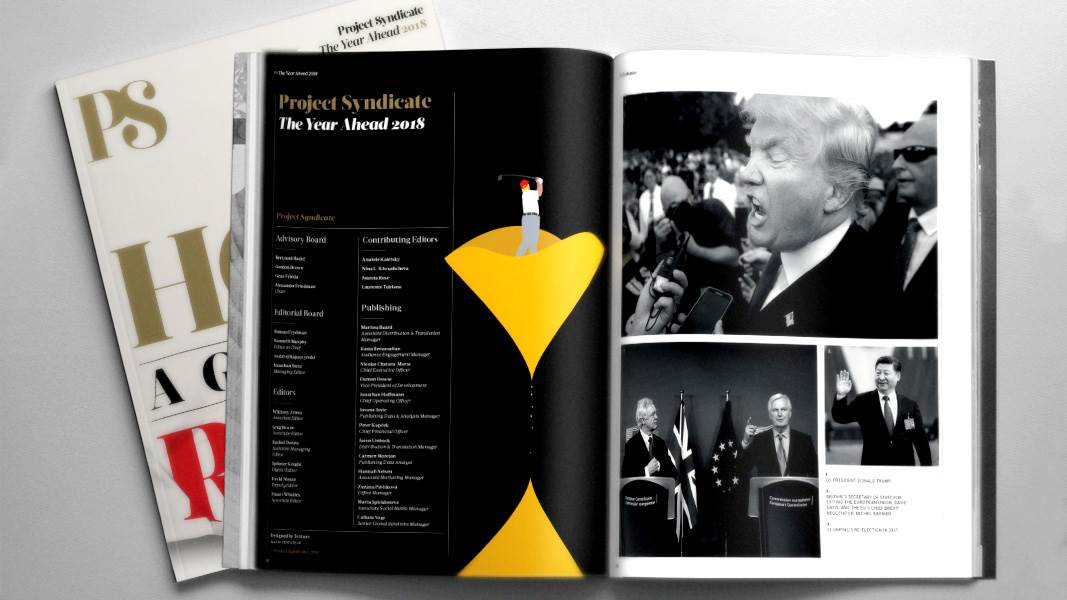 The Year Ahead 2018
The world's leading thinkers and policymakers examine what's come apart in the past year, and anticipate what will define the year ahead.
La ley señala que cabe enfrentar una multa o hasta tres años de prisión por adscribir "públicamente y de manera contraria a los hechos" al pueblo o al gobierno polaco "responsabilidad única o conjunta por los crímenes nazis" u "otras ofensas" que constituyan crímenes contra la paz, la humanidad o de guerra.
Es cierto que los "crímenes nazis" fueron cometidos por los nazis y no se debería culpar a los polacos por ellos. De manera similar, si bien los campos de exterminio nazis se ubicaron en Polonia, no fueron polacos de ninguna manera. Pero es la mención de "otras ofensas" lo que debería preocuparnos.
La verdad es que en muchos lugares de Europa Central, la llegada de las tropas alemanas en la Segunda Guerra Mundial dio pie a un estallido inmediato de antisemitismo homicida. Muchos judíos fueron asesinados por sus vecinos o las fuerzas policiales, y solo algunas veces a raíz de órdenes alemanas. Si bien el nazismo sirvió de catalizador de esos asesinatos (que incluyeron pogromos en toda la Europa controlada por los alemanes, particularmente en el este), ¿debería culparse solo a los nazis por ellos?
El gobierno del PiS en Polonia no es el primero en introducir "leyes de la memoria" que apuntan a reformular narrativas históricas mediante la criminalización de ciertas afirmaciones sobre el pasado. Existen en cerca de 30 países europeos, así como en Israel, Rusia, Ruanda y Turquía.
Las leyes que criminalizan la negación del Holocausto u otros crímenes contra la humanidad –el tipo más común de ley de la memoria- se introdujeron por primera vez en los años 80 y 90 en las democracias europeas implicadas en ellos, como Austria, Francia y Alemania. Sea aconsejable o no usar la ley penal de esa manera, no hay dudas sobre la intención de quienes la impulsaron: proteger la memoria de las víctimas y reconocer una responsabilidad en común y un arrepentimiento por las fechorías del pasado.
De forma parecida, algunos países del Este europeo han prohibido la negación del Holocausto, pero introduciendo leyes de la memoria con el objetivo opuesto: blanquear las narrativas nacionales al pasar la responsabilidad de atrocidades históricas enteramente a terceros, ya sea la Alemania de Hitler o la Unión Soviética de Stalin. Polonia introdujo una de estas leyes en 1998, y ya existían normas similares en la República Checa, Hungría, Letonia y Lituania.
Al obnubilar el papel que las poblaciones locales desempeñaron en los crímenes nazis o comunistas, tales leyes ayudan a desarrollar narrativas nacionalistas que pueden ser muy útiles para los políticos a la búsqueda del apoyo popular. El PiS es uno de los partidos que han amasado un apoyo electoral importante gracias a la explotación de tragedias pasadas con fines políticos.
Hay casos más extremos que el polaco. En Rusia, una ley de 2014 prohíbe toda crítica a la política de Stalin durante la Segunda Guerra Mundial. En Turquía, una ley de 2005 prohíbe calificar de genocidio al llamado a la exterminación de los armenios bajo el Imperio Otomano. Son leyes que difieren de manera fundamental de las leyes de la memoria en Europa Occidental, porque protegen activamente la memoria de los perpetradores, más que la de las víctimas, de crímenes protegidos por el estado.
Por supuesto, Turquía, y especialmente Rusia, difícilmente se puedan llamar una democracia, y ninguno de ellos es miembro de la Unión Europea. Pero Polonia lo es, y su gobierno también está protegiendo activamente la memoria de los perpetradores de crímenes contra la humanidad, aunque fueron ciudadanos individuales, no autoridades del estado actuando a nombre de su gobierno.
Ni siquiera esta es la primera vez que el PiS intenta introducir una ley así. En 2008, propuso una ley que penalizaba las "calumnias contra la nación polaca", y abarcaba acusaciones sobre la participación de polacos en crímenes nazis y comunistas. El Tribunal Constitucional del país invalidó esa ley sobre bases procedurales.
Las leyes de la memoria surgieron en Europa Occidental como una manera de promover la verdad, la paz y la reconciliación, pero al intentar evitar futuras tragedias, estos países pueden haber sentado un peligroso precedente. Hoy las leyes de la memoria se han convertido en uno de los instrumentos preferidos de los populistas nacionalistas que intentan consolidar su propio poder, e incitar a un nacionalismo extremadamente xenofóbico que alguna vez fue terreno fértil para el Holocausto.
Traducido del inglés por David Meléndez Tormen