هل تستطيع الباكستان ركوب موجة التقنية
سان خوسيه ،كاليفورنيا – في الماضي كان اكتشاف الموارد الطبيعة مثل الذهب أو الهيدروكربونات هو الذي يحرك اكثر اقتصادات العالم دينامية وأما اليوم فهي التقنية والابتكار والريادة ونحن نعلم الان ان شركة تقنية ناشئه لشخص او شخصين وبدون اصول ماديه يمكن ان تصبح شركة قيمتها عدة مليارات من الدولارات وتكون بمثابة نقطة تحول لصناعات برمتها في لحظة عين تقريبا.
ان الثورة التي تحركها التقنية يمكن ان تعطي الدول النامية فرصة كبيرة لتسريع تحديث اقتصاداتها فعلى سبيل المثال فإن الباكستان والتي يوجد فيها 130 مليون من الشباب واقتصاد تقليدي بشكل عام وغيرها من الدول النامية يمكنها ان تستلهم من التجربة الصينية والتي قبل عقدين فقط كان لديها صناعة تقنية ناشئة صغيرة ولكنها اليوم تضم تسعة من افضل 20 شركة رقمية على مستوى العالم.
لقد كانت تجربتي الاولى مع الدينامية التقنية الصينية عندما انتقلت وبدافع من ثقافة الشركات الناشئة على الانترنت في اواخر التسعينات الى وادي السيلكون حيث اسست ي بلانيت كابيتال وهي شركة لرأس المال الاستثماري .لقد كنت جديدا في ذلك المجال ولم اكن اعرف ما الذي يمكن توقعه وفي سنة 2000 التقيت بروبن لي وهو من رواد الاعمال الصينيين في العشرينات من عمره حيث كان يسعى للحصول على تمويل لشركته الجديده بايدو علما انه طبقا لمعايير الاستثمار التقليدية فإن فرص بايدو بالنجاح كانت معدومة فالشركة لم يكن لها سجل حافل بالنجاحات بالاضافة الى وجود تمويل محدود وفريق لا يتمتع بالخبرة ومع ذلك كان هدفهم هو تحدي محركات البحث العملاقة جوجل وياهو.
لكني تعلمت سريعا انه في عالم الانترنت الجديد فإن هذه العقبات تعتبر عادية جدا وانه يمكن تجاوزها من خلال رواد اعمال متحمسين واصحاب رؤية ولديهم احلام وافكار كبيرة ونتيجة لذلك قامت شركتي بالمضي قدما والاستثمار في رؤية روبن وخلال خمس سنوات من ذلك الاجتماع تحولت بايدو من مجرد فكرة لتصبح قائدة صناعة محركات البحث على الانترنت في الصين بحيث تخلفت جوجل وياهو كثيرا عنها واليوم هي واحدة من اكبر ثلاث شركات صينية في مجال الانترت بحيث شكلت ثلاثي مع علي بابا وتينسينت واليوم روبن نفسه هو الان لاري بايج او بيل جيتس الصين حيث تقدر ثروته باكثر من 10 مليارات دولار امريكي.
ان قصة بايدو تتشابه مع العديد من قصص النجاح التقنية الاخرى ومثل علي بابا وابل وجوجل وفايسبوك فإن المحرك وراء الشركة هم المؤسسون الشباب وليس ملوك المال والاعمال الاكبر سنا . لقد اعتمدت بايدو في البدايه على رأس المال الاستثماري من اجل تمويل اسهم رأس المال من اجل تجنب الدين المصرفي التقليدي الذي كان يمكن ان يكون بمثابة قبلة الموت بالنسبة لشركة ناشئة ومثل نظيراتها الامريكيات فإن بايدو شكلت تحدي جذري ومزعج لزعماء السوق المسيطرين واخيرا فلقد اظهرت بايدو ان الافكار الجيدة يمكن ان تنمو برتم سريع جدا بحيث ترتفع حصتها بالسوق من صفر الى زعامة السوق خلال خمس سنوات.
منذ ذلك الحين فإن رتم الابتكار التقني قد تسارع بشكل اكبر مع تطور ثورة الحوسبة والإنترنت لتصبح ثورة جديدة يحركها الذكاء الاصطناعي وتقنية النانو والتقنية البيولوجيه والتقنيات الفيزيائية السيبرانية وهنا ايضا توجد فرص كبيرة بالنسبة لرواد الاعمال الذين يتمتعون بالبصيرة والرؤية علما ان القادة العالميين في هذا الخصوص هما الولايات المتحدة الامريكية والصين حيث تستمر الصين في تطورها الرائع مؤخرا في المجال التقني .
Subscribe now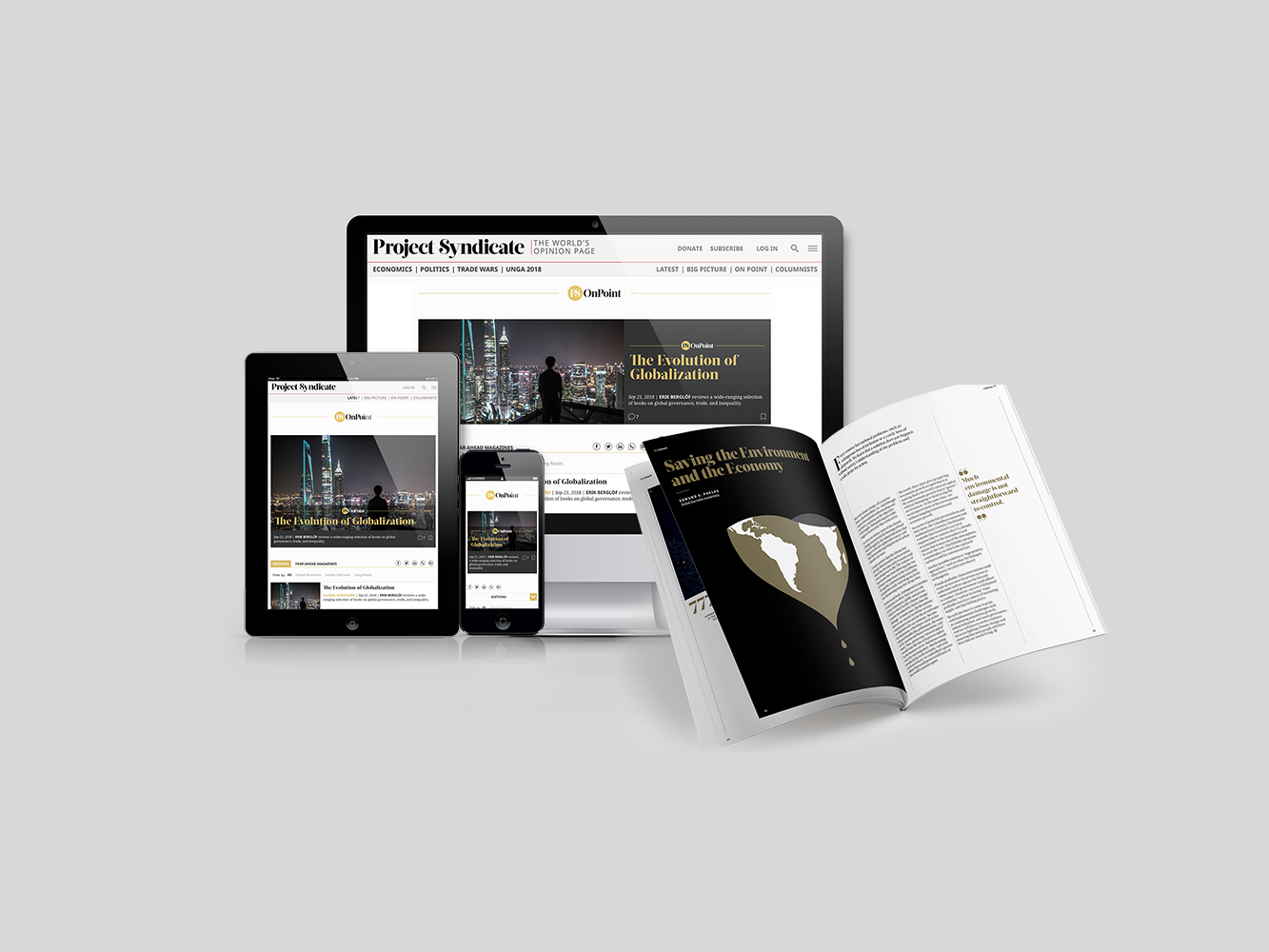 Subscribe now
Get unlimited access to OnPoint, the Big Picture, and the entire PS archive of more than 14,000 commentaries, plus our annual magazine, for less than $2 a week.
اذن ما هي الاولويات التي يجب على الدول النامية مثل الباكستان تبنيها علما ان الباكستان اليوم هي مثل ما كانت عليه الصين اقتصاديا قبل 25 سنة ؟
ان الاقتصاد الباكستاني حاليا يركز على قطاعات الصناعات التقليدية والزراعه والنسيج والاسمده والاسمنت مما يتركها عالقة في مكان ما بين الثورتين الصناعيتين الاولى والثانية. ان اجمالي القيمة السوقية لجميع الشركات المسجلة في سوق الاسهم الباكستاني وعددها 559 هي حوالي 60 مليار دولار امريكي اي ما يعادل شركة واحدة من اكبر مائة شركة تقنية.
من اجل كسر دائرة الفقر يتوجب على الباكستان ان تخلق الظروف التي تمكنها من المشاركة العريضه في الثورة التقنية وفقط من خلال الاصلاح الجذري يمكن للبلاد ان تتقدم سريعا من اجل الانضمام الى الثورة الصناعية الرابعة التي يحركها الذكاء الصناعي حاليا ومن اجل تحقيق ذلك يجب على الباكستان ان تقر بإن شبابها هم اكثر مواردها قيمة وعليه يتوجب عليها تعليمهم وتمكينهم والاستفادة من نجاحهم وخاصة في مجال العلم والتقنيه واذا نجحوا فإن الباكستان ستنجح.
ان الأخبار الطيبه بالنسبة للباكستان والبلدان الاخرى في نفس الوضع هي ان الشركات التقنية الناشئه تتطلب موارد اقل بكثير من الشركات الصناعية التقليدية كبيرة الحجم وبينما تتطلب تلك الشركات الصناعية عادة مئات الملايين من الدولارات على شكل رأسمال ومصنع والالات وقروض بنكيه فإن الشركات التقنية تحتاج فقط لفريق صغير من الاشخاص الاذكياء واجهزة الحاسوب وتمويل متواضع بالاضافة الى الارشاد والنصح . ان رواد الاعمال الباكستانيين الشباب هم في وضع جيد يشبه وضع نظرائهم الصينين قبل عقدين من الزمان فهم يحتاجون لافكار عظيمة وتشجيعهم على تطوير تلك الافكار .
بالطبع فإن توفير رأس المال الاستثماري ضروري وعليه يتوجب على الباكستان تأسيس صندوق وطني لرأس المال الاستثماري من اجل الترويج لريادة الاعمال التقنية وبالاضافة الى ذلك فإن صعود الصين والتي تلعب دورا قياديا في المجال الاقتصادي والتقني سيعطي الباكستان فرصة نادرة للتعلم من جارتها والتعاون معها في مجالات التعليم والعلوم والتقنية كما يتوجب على الباكستان الاستفادة من علاقاتها التاريخية مع الجامعات الامريكية والبريطانية في تلك المجالات .
إن التقنية والابتكار وريادة الاعمال هي العناصر الرئيسية للنجاح الاقتصادي في القرن الحادي والعشرين كما رأينا بالنسبة للولايات المتحدة الامريكية والصين. تتمتع الباكستان بإمكانات هائلة غير مستغلة في تلك المجالات والتي يجب تحقيقها الان علما ان الفائدة ستكون كبيرة جدا وهي باكستان اكثر ديناميكية واكثر قدرة على حل العديد من مشاكلها الاخرى.