El monstruo talibán de Pakistán
NUEVA DELHI – Al difunto director de la poderosa Agencia de Inteligencia Inter-Servicios (ISI) de Pakistán, el teniente general Hamid Gul, le gustaba hacer alarde de que cuando se escribiera la historia de Afganistán, quedaría registrado que la ISI, con la ayuda de Estados Unidos, derrotó a la Unión Soviética. Y luego, agregaba disimuladamente, los historiadores dirían que la ISI, con la ayuda de Estados Unidos, derrotó a Estados Unidos.
El alarde de Gul no era el tipo de bravata vacía por las que se conoce a los militares cuando cuelgan el uniforme y recuerdan su pasado como algo más glorioso de lo que podrían garantizar los detalles. Tenía razón al decir que fue la táctica de la ISI de apadrinar a militantes y terroristas –ampliamente armados, provistos y financiados por Estados Unidos- contra el Ejército Rojo en Afganistán lo que obligó al Kremlin a retirarse de manera ignominiosa.
Posteriormente, utilizando la misma estrategia y en un principio gran parte del mismo personal y métodos, Pakistán creó y patrocinó un grupo muyaidín que se hacía llamar los talibán, o "estudiantes" del Islam, que rápidamente pasó a controlar el poder en Afganistán y lo gobernó como una subsidiaria de propiedad absoluta de la ISI. Las cosas eran prometedoras para Gul y su gente hasta que Osama bin Laden, un ex combatiente muyaidín que gozaba de la hospitalidad del nuevo "Emirato Islámico" de los talibán, ordenó el 11 de septiembre de 2001 los atentados terroristas contra Estados Unidos desde su escondite afgano.
La respuesta furibunda de Estados Unidos resultó en el derrocamiento de los talibán y en el exilio de Bin Laden, bajo protección de la ISI, para refugiarse en un reducto militar paquistaní. La ISI tuvo inclusive menos de qué pavonearse cuando Estados Unidos rastreó a Bin Laden hasta un complejo seguro en Abbottabad y fuerzas especiales lo asesinaron allí en 2011.
Pero mientras a Estados Unidos le preocupaba quedar entrampado interminablemente en Afganistán, y la ISI ayudaba a sus clientes talibán a rearmarse, reorganizarse y reanudar sus operaciones contra el régimen respaldado por Estados Unidos en Kabul, los vientos cambiaron a favor de la ISI. El presidente Joe Biden ha anunciado que las fuerzas estadounidenses se retirarán por completo de Afganistán el 11 de septiembre, en el vigésimo aniversario de los atentados del 11 de septiembre. La fecha que durante mucho tiempo simbolizó la determinación de Estados Unidos de atacar en la raíz de los atentados terroristas contra su territorio ahora simboliza su falta de voluntad de continuar.
Más allá de los acuerdos de sucesión para guardar las apariencias que Estados Unidos pueda implementar para enmascarar su capitulación, su retiro de Afganistán, cuando no se alcanzó ninguno de sus objetivos de largo plazo, es una derrota. Dado que los talibán son más poderosos que nunca y que están decididos a recuperar el poder en Kabul, el único ganador externo será la ISI. Como previó Gul, habrá derrotado a Estados Unidos con la ayuda de Estados Unidos. Pakistán ahora ha recibido asistencia militar norteamericana por dos décadas, por un total estimado de 11.000 millones de dólares.
Back to Health: Making Up for Lost Time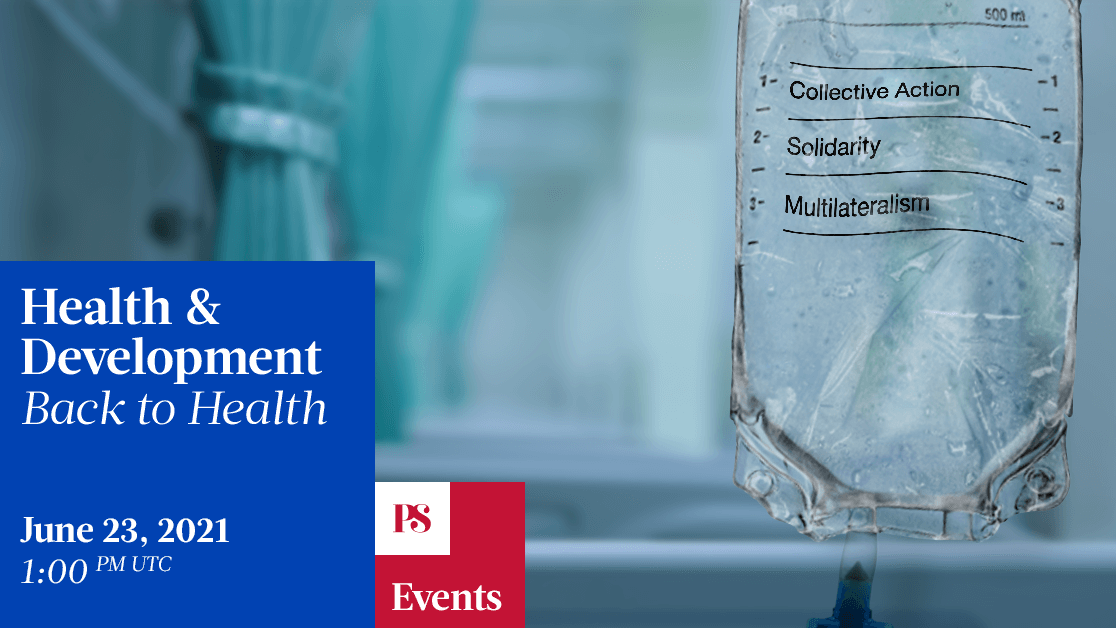 Back to Health: Making Up for Lost Time
The COVID-19 crisis has laid bare systemic inequities that will have to be addressed if we are ever going to build more sustainable, resilient, and inclusive societies. Join us on June 23, 2021, for our latest live virtual event, Back to Health: Making Up for Lost Time, where leading experts will examine the immediate legacy of the pandemic and explore solutions for bringing all communities and societies back to health.
La ISI ha estado desde hace mucho tiempo obsesionada con la idea de que controlar a Afganistán le daría a Pakistán la "profundidad estratégica" necesaria para desafiar a su principal adversario, la India. Un régimen talibán (o inclusive un gobierno de coalición dominado por los talibán) en Kabul es la mejor garantía de eso. Las facciones talibán admiran tanto a sus benefactores paquistaníes que, como observó ácidamente el presidente afgano, Ashraf Ghani, sus organismos de toma de decisiones –Quetta Shura, Miramshah Shura y Peshawar Shura- fueron bautizados así por las ciudades paquistaníes donde están basados.
Pero los sucesores de Gul harían bien en bajarle el tono a sus celebraciones. Primero, el retiro estadounidense de Afganistán elimina una fuerza vital de influencia para Pakistán en Washington. Tal vez no sean buenas noticias para Pakistán que los norteamericanos lo necesiten menos.
Por otra parte, como bien sabe la ISI, el problema de crear y patrocinar a grupos militantes es que no siempre se los puede seguir teniendo bajo control. La lección de Frankenstein de Mary Shelley –que las criaturas a las que les damos vida pueden desarrollar mentes y necesidades propias- también se ha puesto en evidencia en otras partes, sobre todo en el papel de Israel a la hora de fortalecer a Hamas como un rival para la Organización para la Liberación Palestina.
Lo mismo ha sucedido en Pakistán, donde el período de cooperación hosca entre las autoridades paquistaníes y Estados Unidos durante la persecución norteamericana posterior al 11 de septiembre en Afganistán engendró la rebelión de los "talibán paquistaníes". Mientras los talibán afganos necesitaban refugio paquistaní, casas seguras de la ISI, financiamiento y armas para montar la insurgencia que ha llevado a Estados Unidos al punto del retiro, los talibán paquistaníes han atacado a sus viejos padrinos por una lealtad insuficiente con el Islam militante.

La ISI sin duda espera, una vez que las fuerzas estadounidenses se hayan ido y que los talibán afganos estén atrincherados de manera segura en Kabul, poder persuadir a los talibán paquistaníes de perdonar y olvidar las transgresiones previas de la agencia. Si eso sucede, tienden a pensar, se restablecerá la paz, la ISI controlará Afganistán y los muyaidines paquistaníes dejarán de atacar las instalaciones y convoyes militares de Pakistán, y se sumarán a la ISI para intensificar los ataques contra el "enemigo real", la India.
Pero hay otro escenario alternativo que puede resultar una pesadilla para la ISI. Los grupos militantes paquistaníes, envalentonados por el éxito de sus camaradas en Afganistán, tal vez ya no sean presa de las dádivas militares. Por el contrario, podrían lanzar ataques terroristas con el objetivo de imitar en Pakistán lo que los talibán han logrado en Afganistán. Si Afganistán se puede gobernar como un emirato islámico, pueden preguntarse, ¿por qué no podemos hacer lo mismo en Pakistán? ¿Por qué bailamos con la melodía de la ISI cuando podemos tener la propia?
En un escenario semejante, el momento triunfal emocionante de la ISI el 11 de septiembre de este año podría parecer cada vez más hueco, cuando las víboras que ha alimentado ataquen en su propio seno. Es verdad, los talibán paquistaníes –sin un patrocinador estatal propio- tienen menos posibilidades de éxito que sus contrapartes afganos. Pero de todos modos podrían causar un daño considerable, agudizando en el proceso el desencanto del pueblo paquistaní con el dominio militar de su país.
Si esto sucediera, necesitaremos ampliar el relato de Gul y decir que la ISI, en tanto agente del ejército paquistaní, ayudó a "derrotarse", o al menos desacreditarse, a sí misma.