Como mudar a mentalidade das pessoas em relação à ciência
PARIS – Em algumas questões, a maioria dos cientistas concorda, mas grandes segmentos da sociedade civil não estão convencidos, resultando em faltas de consenso. Infelizmente, muitas das lacunas mais importantes estão atualmente relacionadas com a sustentabilidade.
Por exemplo, existe um consenso científico de longa data sobre a realidade das alterações climáticas e o que as causa. No entanto, há dez anos, apenas metade dos estado-unidenses acreditava que a atividade humana causava o aquecimento global (e um terço ainda duvida). Da mesma forma, a esmagadora maioria dos cientistas, juntamente com grupos de especialistas, concorda que os alimentos geneticamente modificados são seguros para comer e podem desempenhar um papel importante para ajudar a alimentar o mundo enquanto reduzem as emissões de dióxido de carbono. Mas na maioria dos países, um grande número de cidadãos pensa que os alimentos geneticamente modificados prejudicam tanto os consumidores como o ambiente.
Além disso, a maioria dos especialistas – incluindo o Painel Intergovernamental sobre as Alterações Climáticas das Nações Unidas – acredita que a energia nuclear deveria desempenhar um papel na redução das emissões globais de gases com efeito de estufa. Mas em muitos países, uma grande percentagem da população considera a energia nuclear perigosa e até poluente.
Estas faltas de consenso são preocupantes não apenas porque conduzem a ações individuais socialmente caras que geram grandes quantidades de CO2, mas também porque a opinião pública influencia as políticas. A Alemanha encerrou cerca de metade da sua capacidade de energia nuclear em resposta à pressão pública, após o acidente de Fukushima Daiichi em 2011 no Japão. Mas essa decisão resultou indiretamente em milhares de mortes devido à poluição do ar, uma vez que a produção de centrais alimentadas a carvão substituiu a produção nuclear desaparecida.
No entanto, na maioria dos casos, as pessoas aceitam de bom grado o consenso científico, presumindo que estão cientes disso: poucos contestam que a água é H2O ou que a luz consiste em fotões, por exemplo.
Para perceber o porquê de existirem faltas de consenso em alguns domínios e como podemos superá-las, precisamos de ter em consideração a psicologia da comunicação ou como decidimos no que acreditar e em quem confiar.
Subscribe to Project Syndicate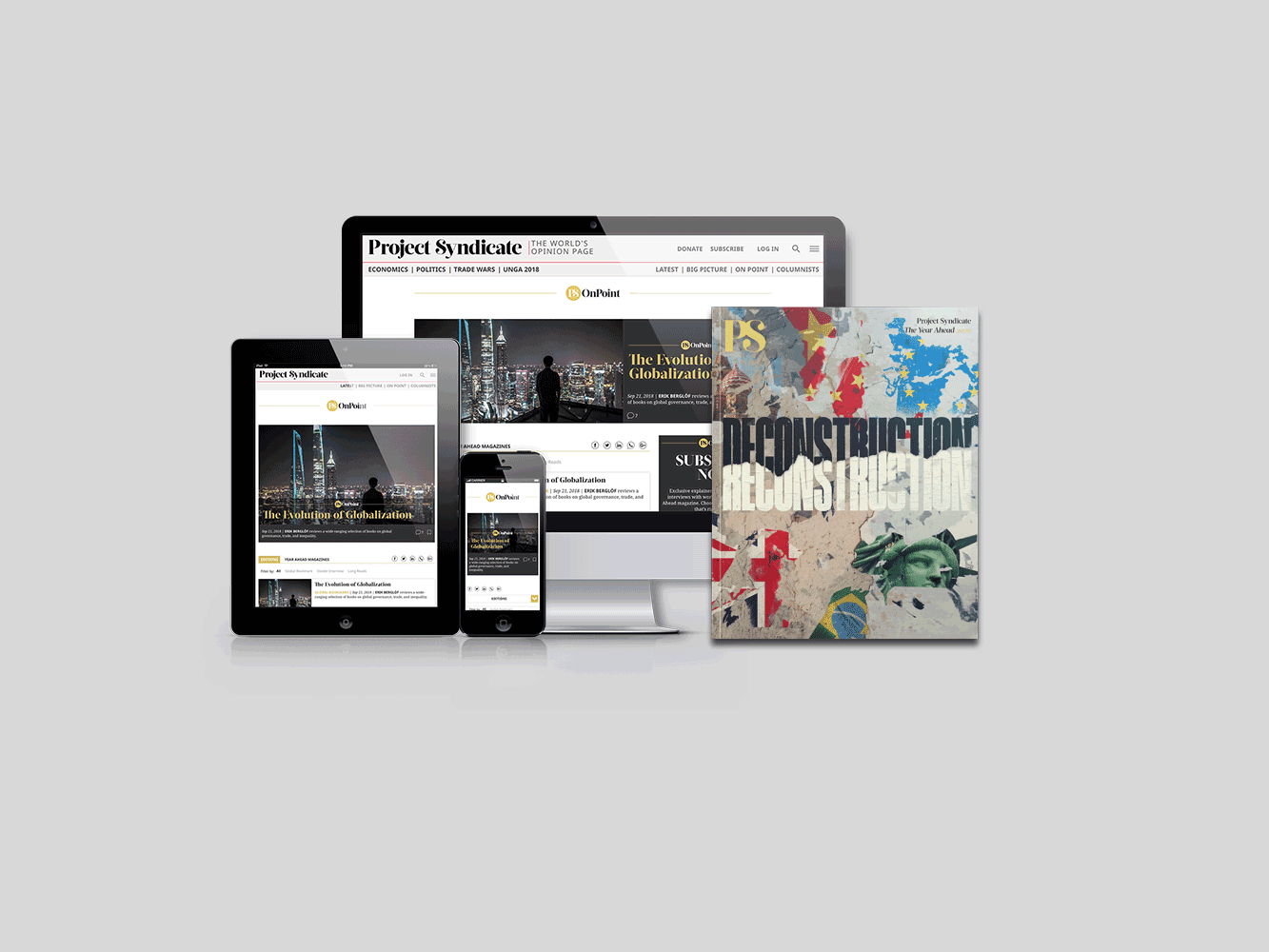 Subscribe to Project Syndicate
Enjoy unlimited access to the ideas and opinions of the world's leading thinkers, including weekly long reads, book reviews, and interviews; The Year Ahead annual print magazine; the complete PS archive; and more – all for less than $2 a week.
Quando avaliamos uma mensagem, primeiro comparamos o seu conteúdo com a nossa opinião já existente: se houver um conflito de opiniões, temos tendência a rejeitar a mensagem. No caso de informações científicas, as pessoas não podem confiar na sua experiência pessoal, mas ainda assim têm intuições. Infelizmente, a maioria das teorias científicas é contraintuitiva: as minhas intuições dizem-me que o Sol gira em torno da Terra, que é plana, por exemplo. Da mesma forma, muitos acham intuitivamente implausível que humanos frágeis possam afetar o clima da Terra, tenham uma reação instintivamente negativa a alimentos que foram modificados de maneiras "não naturais" e tenham um medo adquirido da energia nuclear, provavelmente por causa da sua ligação com as armas nucleares.
Não surpreende, portanto, que muitos resultados científicos nestes campos cheguem lentamente à sociedade civil – principalmente se os grupos de interesse beneficiarem da contradição entre os resultados obtidos e a intuição das pessoas para aumentar a resistência organizada.
Mas rejeitar mensagens que não se encaixam nas nossas intuições é apenas uma reação inicial, que pode ser ultrapassada com as condições apropriadas. Para começar, as pessoas prestam atenção a uma panóplia de pistas para decidirem o quanto devem confiar na fonte de qualquer mensagem e, felizmente, ainda confiam nos cientistas. Como resultado, quando as pessoas são informadas de que existe um consenso científico num determinado domínio, elas tendem a ajustar as suas opiniões na direção do consenso.
Ainda assim, porquê não aceitar simplesmente o consenso? Como é que os elementos da sociedade civil podem acreditar que têm mais probabilidade de estarem certos sobre uma questão científica do que milhares de especialistas que passaram a vida a estudá-la?
Infelizmente, todos nós temos tendência a acreditar que percebemos as coisas melhor do que realmente percebemos. Muitas pessoas podem pensar que sabem como funciona a descarga do autoclismo, mas quando lhes é pedido que expliquem o mecanismo, a maioria percebe que o seu conhecimento é realmente bastante limitado. No entanto, mesmo que poucos de nós afirmem saber exatamente como um reator nuclear funciona, ou como os alimentos geneticamente modificados são produzidos, ainda assim temos tendência a sobrestimar o nosso discernimento e, consequentemente, a minimizar a lacuna de conhecimento que existe entre nós e os cientistas. Quando as pessoas aprendem sobre mecanismos – tais como o modo de funcionamento das alterações climáticas e o que é a tecnologia de modificação genética – o seu respeito pelo consenso científico aumenta.
Mas a melhor maneira de mudar a mentalidade das pessoas é através de uma argumentação respeitosa.  Quando os opositores dos alimentos geneticamente modificados são informados de que os cientistas pensam que esses alimentos são perfeitamente seguros para consumo, eles irão provavelmente questionar a credibilidade dessas informações, perguntando, por exemplo, quantos estudos foram feitos sobre o assunto ou se os cientistas envolvidos têm conflitos de interesse. Enquanto estas perguntas não forem respondidas, os críticos dos alimentos geneticamente modificados não mudarão muito as suas opiniões.
Durante um festival científico de 2018, em França, os investigadores Sacha Altay e Camille Lakhlifi tentaram retransmitir o consenso científico sobre alimentos geneticamente modificados a pequenos grupos. Em debates com duração de meia hora, abordaram muitos contra-argumentos e criaram mudanças substanciais nas opiniões, com a perspetiva dos participantes sobre os alimentos geneticamente modificados a passar, em média, da oposição para um apoio cauteloso.
Um consenso científico recém-formado não obtém aceitação automática e imediata entre a sociedade civil. Isto não significa que as pessoas sejam irremediavelmente teimosas, mas sim que precisam de boas razões para mudarem as suas opiniões. Cientistas, educadores e outras figuras públicas têm de comunicar o consenso, explicar os mecanismos básicos envolvidos e conversar com as pessoas, de forma paciente e conhecedora, e abordar as suas restantes dúvidas. Não podemos esperar conseguir superar as faltas de consenso se desistirmos do discurso fundamentado.