De door data aangestuurde stad
SAN JOSÉ – Wat zie jij als je naar je telefoon of tablet kijkt? Pixels? Afbeeldingen? Digitale afleiding? Ik zie data.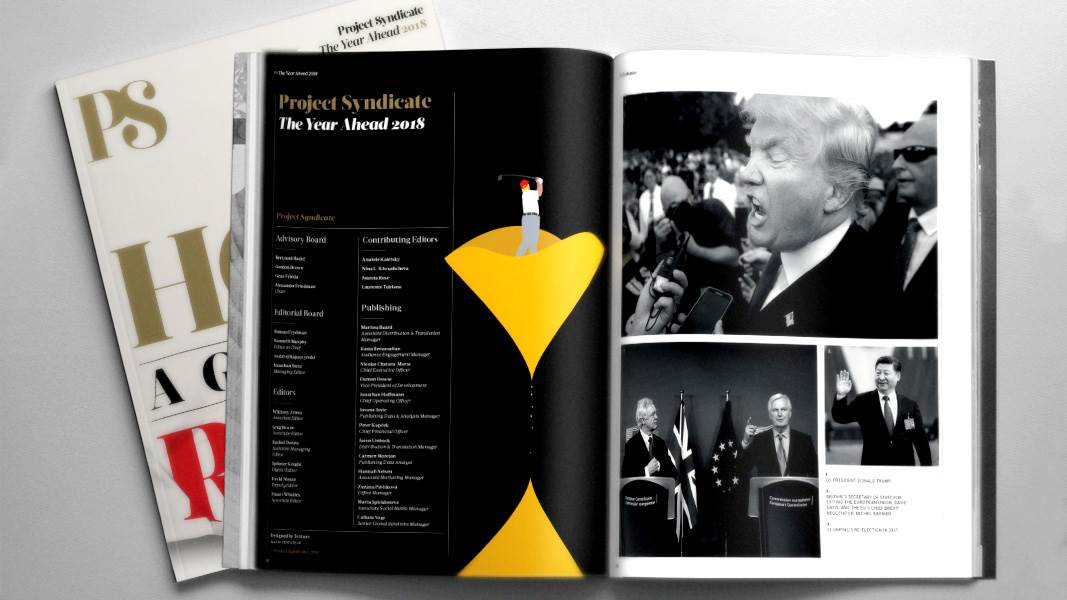 The Year Ahead 2018
The world's leading thinkers and policymakers examine what's come apart in the past year, and anticipate what will define the year ahead.
Elke dag weer genereren we enorme hoeveelheden informatie, een binair spoor van broodkruimels dat een plattegrond van onze interesses, gewoonten, en interacties vormt. Voor de mensen onder ons die in het vak stadsplanning beoefenen representeren deze afzonderlijke datasets een goudmijn aan mogelijkheden. Wanneer goed in stelling gebracht kan door gebruikers gegenereerde data planners helpen steden te bouwen die meer op de echte behoeften van mensen zijn afgestemd.
Er is slechts een probleem: de wereld verzuipt zowat in data. Om gebruik te kunnen maken van alle informatie die mensen onvrijwillig produceren moeten planners de manier verbeteren waarop data worden opgevangen, geanalyseerd, en gedeeld tussen de publieke en private sector. Als we hierin slagen zou een aantal van de grootste obstakels waar de wereld nu mee te maken heeft – van armoede tot klimaatverandering – een stuk beheersbaarder kunnen worden.
Een van de meest significante innovaties die inmiddels door de planningsbureaus van deze wereld wordt omarmd is het concept van 'open data'; informatie die door iedereen gebruikt kan worden om welk aspect van het openbare leven dan ook te verbeteren. In een open data omgeving worden datasets uit het transport, onderwijs, de zorg, en talloze andere gemeentelijke sectoren toegankelijk gemaakt om huidige diensten te kunnen optimaliseren of nieuwe te creëren. Zo verzamelt het Franse La Base Adresse Nationale bijvoorbeeld locatie-informatie om de ruimtelijke analyse en responstijd van hulpdiensten te verbeteren, terwijl het Urban Data Platform van de Europese Unie het delen van data door de hele EU faciliteert.
Wanneer overheden, universiteiten, onderzoekscentra, en innovatiehubs samenwerken om informatie te delen worden ze tot ware partners in het proces van stadsplanning. Het gebruik van open data kan ook de transparantie bevorderen en het vertrouwen in de besluitvorming en beleid van de overheid vergroten.
Zeker, er moeten nog veel uitdagingen overkomen worden voordat overheden de datasluizen kunnen openzetten: wettelijke kaders moeten de individuele anonimiteit waarborgen, er moeten dataprotocollen toegepast worden die er voor zorgen dat groepen die afgesneden zijn van technologie niet uitgesloten worden, en er zijn betrouwbare platforms nodig die het delen van data tussen bureaus en gemeenten zonder gevaar op sabotage mogelijk maken.
Maar wanneer deze hordes eenmaal genomen zijn zullen de mogelijkheden voor een betere planning vrijwel eindeloos worden. Brokken digitaal detail lichten uit hoe mensen zich bewegen en hoe ze interacteren met de gebouwde omgeving. Wanneer gecombineerd met data uit overheidsbronnen – zoals informatie over luchtkwaliteit, verkeersstromen, misdaad, en gezondheidsstatistieken – kan door gebruikers gegenereerde informatie leiden tot duurzamere steden. Door bijvoorbeeld in kaart te brengen hoe en wanneer mensen reizen kunnen planners erachter komen waar meer geïnvesteerd moet worden in schonere wijzen van transport – zoals fietsdeelsystemen of oplaadstations voor elektrische voertuigen.
De interactie tussen transport- en klimaatgerelateerde kwesties is een van de meest veelbelovende terreinen voor het testen van open data toepassingen. Momenteel woont ongeveer de helft van de wereldbevolking in steden, maar deze zijn verantwoordelijk voor plusminus 75% van de wereldwijde CO₂-uitstoot, wat grotendeel aan transport te wijten is. In grote delen van de wereld hebben ontwikkelingsstrategieën uit de 20e eeuw uitgestrekte op auto's gerichte steden gecreëerd, maar de steeds snellere urbanisatie heeft deze benadering onhoudbaar gemaakt.
Met zulke uitdagingen geconfronteerd zijn open data een cruciaal gereedschap in het herdefiniëren van het stadsplanningsproces geworden. Daarom gebruikt mijn regering deze om inzicht te verkrijgen hoe sectoren als het transport – zowel als de landbouw, energie, en andere – strategieën om de klimaatverandering te verzachten beïnvloeden. Het National Climate Change Metrics System van Costa Rica dat momenteel ontwikkeld wordt is voorzien als een open source data tool die informatie van nationale instituties zal integreren in één enkel portal.
Het doel is om de besluitvorming te verbeteren en het vermogen van het land om zijn klimaatdoelen te monitoren en te bereiken te vergroten. Uiteindelijk zal het systeem gebruikt worden om de Costa Ricanen te betrekken bij duurzaamheidsprogramma's, terwijl de broncode gedeeld zal worden met andere ontwikkelingslanden.
Een wereld van echt open data zal tijd kosten om op te bouwen; mensen zullen zich eerst comfortabel moeten gaan voelen met het idee van gebruikersgegenereerde informatie die vrij circuleert. Maar regeringen hebben het belang van open data in het oplossen van cruciale planningsuitdagingen al ingezien. Het klimaatveranderingsportal van Costa Rica is nog maar een voorbeeld van hoe een betere toegang tot informatie stadsplanning kan stroomlijnen.
Dus denk de volgende keer dat je je smartphone pakt eens een moment over het volle potentieel van wat je vasthoudt. Je hebt een duurzamer toekomst voor iedereen in de hand.
Vertaling Melle Trap