Petrolio: il ritorno dell'incertezza
CALGARY – Con la crescita economica globale in aumento quasi dappertutto, i produttori di petrolio stanno sperando sempre più che la recente ripresa dei prezzi continui. Ma se tali aspettative dovessero essere soddisfatte, non solo i produttori dovranno controllare ciò che è in loro potere (mantenendo la disciplina di produzione), ma anche ciò che è al di fuori del loro controllo (la produzione di scisto e il valore del dollaro) dovrà funzionare a loro favore.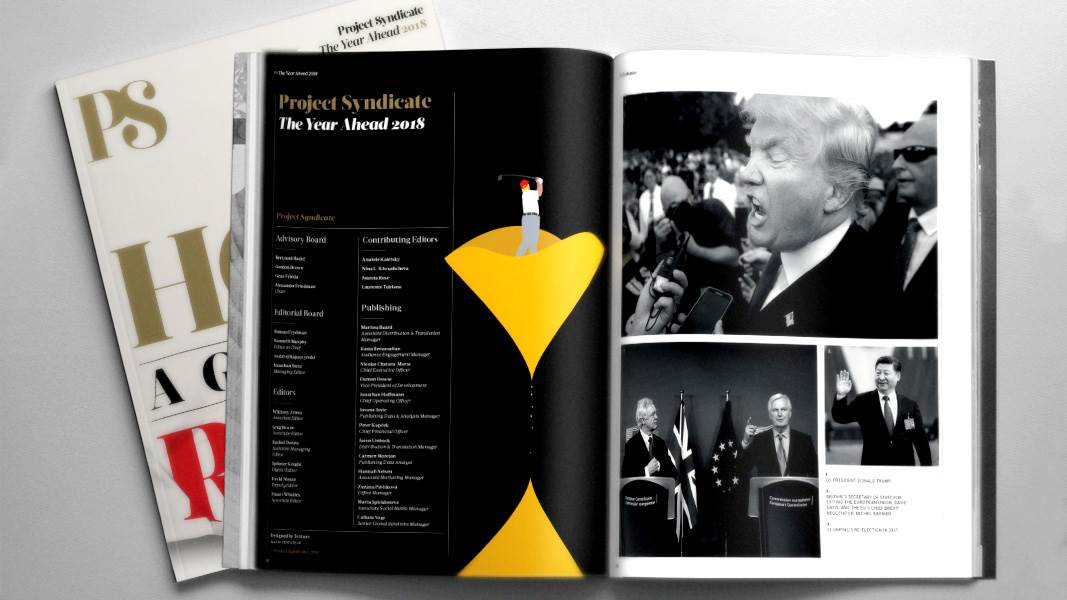 The Year Ahead 2018
The world's leading thinkers and policymakers examine what's come apart in the past year, and anticipate what will define the year ahead.
Poco più di tre anni fa, il petrolio (WTI) scambiava sopra i 100 dollari al barile. All'inizio del 2016, tuttavia, i prezzi erano scesi a circa 30 dollari al barile, a causa di una combinazione di domanda debole, offerta alternativa (in particolare petrolio di scisto e gas dagli Stati Uniti) e un nuovo paradigma di produzione OPEC in base al quale il cartello, guidato dall'Arabia Saudita, ha smesso di agire come "swing producer".
A seguito del conseguente crollo delle entrate delle esportazioni e delle entrate di bilancio, l'OPEC ha adottato un nuovo approccio, basato su un accordo di produzione modernizzato con due caratteristiche principali: maggiore flessibilità per i paesi che affrontano condizioni interne particolarmente complesse (come la Libia) e l'inclusione di produttori non appartenenti all'OPEC, in particolare la Russia. Insieme, i paesi OPEC e non OPEC hanno stabilito un limite dal quale i prezzi del petrolio potrebbero aumentare. Con la ripresa della crescita globale e l'emergere di incertezze geopolitiche (che potrebbero limitare la produzione in alcuni paesi produttori di petrolio), i prezzi del petrolio sono rimbalzati a oltre 60 dollari al barile.
L'attuale fase di crescita globale è particolarmente favorevole per il prezzo del petrolio (e di altre materie prime), dal momento che è sincronizzata, reale e, sempre più, auto-rinforzante. È alimentata dalla ripresa simultanea nelle economie di importanza sistemica dell'Europa, del Giappone, degli Stati Uniti e del mondo emergente. Ed è basata su guadagni duraturi nell'attività economica, piuttosto che solo sull'ingegneria finanziaria.
Considerati questi aspetti, la ripresa della crescita globale attuale sta iniziando a generare un circolo virtuoso tra consumi, investimenti e commercio. E quella dinamica potrebbe raccogliere ancora più slancio, soprattutto se le recenti misure a favore della crescita negli Stati Uniti e la guarigione endogena in Europa sono sostenute da riforme strutturali, da una gestione della domanda più equilibrata e da un migliore coordinamento delle politiche internazionali.
In effetti, i rischi al ribasso per i prezzi del petrolio si sono spostati dal lato della domanda al lato dell'offerta. I prezzi del petrolio più alti tendono a erodere la disciplina di produzione nell'OPEC, in particolare da parte di membri (come la Nigeria e il Venezuela) che si sono affrettati a ottenere maggiori introiti per mitigare le difficili condizioni di bilancio, a spese dei loro pari (come l'Arabia Saudita e gli Emirati Arabi Uniti). Questa tendenza rende più difficile il coordinamento con i produttori non OPEC. Aggiungiamo a ciò l'aumento della produzione da fonti alternative (lo scisto) che i prezzi più elevati hanno incoraggiato e gli effetti benefici della domanda sono compensati, se non annullati.
Tuttavia, con alcune modifiche minori all'attuale accordo, i membri dell'OPEC dovrebbero essere in grado di mantenere la loro disciplina di produzione collettiva, supponendo che ne sussista la volontà. Potrebbero trovare più difficile continuare a tenere a freno i paesi non OPEC. Ma, con trattative ponderate che includono conoscenze provenienti dalla teoria dei giochi, anche questo è possibile.
Quando si tratta dei fattori sui quali i produttori di petrolio hanno meno controllo, le prospettive sono meno ottimistiche. Il deprezzamento del dollaro Usa - che è sceso del 10%, in termini ponderati su base commerciale, nel 2017 - ha contribuito a far salire i prezzi del petrolio, ma è probabile che subisca una battuta d'arresto e, in parte, un'inversione. Evitare questo risultato richiederebbe all'Europa e al Giappone di continuare a sovraperformare le aspettative del mercato, sia generali che, più importanti, relative agli Stati Uniti. Inoltre, la Banca centrale europea e la Banca del Giappone avrebbero bisogno di rafforzare la politica monetaria, compresa l'accelerazione dell'allentamento di acquisto di asset su larga scala, più rapidamente di quanto i mercati si aspettino.
Infine, c'è la sfida posta dalla maggiore produzione di scisto. E il fatto è che i produttori tradizionali di petrolio possono fare ben poco per contrastare la probabile risposta dei produttori di scisto ai prezzi più alti.
Detto questo, i produttori di petrolio dovrebbero essere in grado di trattare i recenti guadagni del prezzo del petrolio come una mannaia temporanea, non permanente o addirittura - a meno che non vi sia un notevole shock geopolitico - una tendenza che probabilmente si intensificherà nel prossimo anno. Ciò significa che i produttori dovrebbero resistere alla tentazione di utilizzare le maggiori entrate per nuove spese ricorrenti. E dovrebbero agire rapidamente per rafforzare la loro disciplina collettiva al fine di minimizzare il rischio di un tutti contro tutti che vanifica i meritati guadagni degli ultimi anni.