Das unsichere Comeback des Öls
CALGARY – Nun, da die Weltwirtschaft praktisch überall an Fahrt aufnimmt, keimt auch bei den Ölproduzenten zunehmend die Hoffnung, dass die jüngste Erholung der Ölpreise weiter anhält. Wenn sich diese Hoffnungen allerdings erfüllen sollen, werden die Produzenten nicht nur Dinge kontrollieren müssen, die in ihrem Einflussbereich liegen (durch Aufrechterhaltung der Produktionsdisziplin). Auch andere Faktoren (etwa die Produktion von Schieferöl und der Dollarkurs) werden sich in ihrem Sinne entwickeln müssen.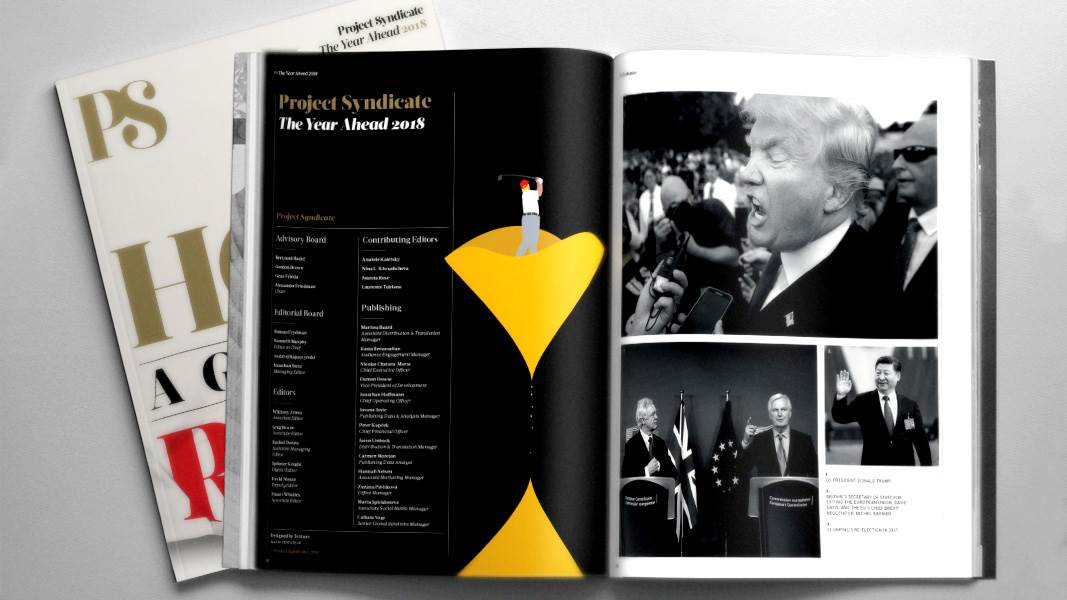 The Year Ahead 2018
The world's leading thinkers and policymakers examine what's come apart in the past year, and anticipate what will define the year ahead.
Vor nur etwas mehr als drei Jahren wurde Öl (die Sorte WTI) um über 100 US-Dollar pro Fass gehandelt. Anfang 2016 jedoch stürzte der Preis auf ungefähr 30 Dollar pro Fass ab. Dies aufgrund einer Kombination aus schleppender Nachfrage, alternativem Angebot (insbesondere Schieferöl und Schiefergas aus den Vereinigten Staaten) und eines neuen Produktionsparadigmas der OPEC, im Rahmen dessen sich das Kartell unter Führung Saudi Arabiens als "Swing-Produzent" zurückzog.
Im Gefolge des anschließenden Einbruchs der Exporterlöse und der Haushaltseinnahmen bediente sich die OPEC eines neuen Ansatzes auf Grundlage eines modernisierten Produktionsabkommens, das zwei Hauptmerkmale aufwies: größere Flexibilität für Länder mit besonders komplexen Bedingungen im Staatsinneren (wie etwa Libyen) und die Einbeziehung von Nicht-OPEC-Staaten, vor allem Russlands. Gemeinsam führten OPEC- und Nicht-OPEC-Länder einen Mindestpreis ein, von dem aus sich der Ölpreis nach oben entwickeln konnte. Nun, da das globale Wachstum anzieht und geopolitische Unsicherheiten entstehen (die die Förderleistung in einigen ölproduzierenden Ländern beschränken könnten) sind die Ölpreise wieder auf 60 Dollar pro Fass angestiegen.
Die derzeit zu verzeichnende globale Wachstumsphase ist für den Preis von Öl (und anderer Rohstoffe) besonders vorteilhaft, weil sie synchron, real und zunehmend selbstverstärkend verläuft. Angetrieben wird sie durch die gleichzeitige Erholung in den systemisch bedeutsamen Volkswirtschaften Europa, Japan, den USA und in den Schwellenländern. Und ihre Grundlage bilden dauerhafte Anstiege im Bereich wirtschaftlicher Aktivitäten und nicht nur finanztechnische Operationen.
In Anbetracht dieser Merkmale beginnt der Wachstumsschub von heute einen positiven Kreislauf von Verbrauch, Investitionen und Handel in Gang zu setzen. Diese Dynamik könnte noch weiter an Fahrt aufnehmen, wenn die jüngsten wachstumsfreundlichen Maßnahmen in den USA und die endogene Genesung in Europa von Strukturreformen, einem ausgewogeneren Nachfragemanagement und verbesserter politischer Koordination auf internationaler Ebene gestützt werden.
Tatsächlich haben sich die Abwärtsrisiken für Ölpreise von der Nachfrageseite auf die Angebotsseite verschoben. Höhere Ölpreise untergraben tendenziell die Produktionsdisziplin in der OPEC, insbesondere durch Mitglieder (wie Nigeria und Venezuela), die in der Vergangenheit auf höhere Einnahmen zur Linderung schwieriger Haushaltsbedingungen drängten und zwar auf Kosten anderer Mitgliedsländer (wie Saudi Arabien und die Vereinigten Arabischen Emirate). Diese Tendenzen erschweren die Koordination mit Nicht-OPEC-Staaten. Berücksichtigt man noch die aufgrund der höheren Preise wachsende Produktion aus alternativen Quellen (am folgenreichsten aus Schiefer) sind die vorteilhaften Nachfrageeffekte damit aufgewogen, wenn nicht gar überlagert.
Doch mit einigen geringfügigen Änderungen der aktuellen Vereinbarung sollten die OPEC-Mitglieder in der Lage sein, ihre kollektive Produktionsdisziplin zu bewahren - unter der Voraussetzung, der Wille dazu besteht. Es wird möglicherweise schwieriger, Nicht-OPEC-Länder im Zaum zu halten, aber mit wohl überlegten Verhandlungen, die auch Erkenntnisse der Spieltheorie berücksichtigen, ist auch das möglich.
Im Hinblick auf die Faktoren, die sich in geringerem Ausmaß unter der Kontrolle der Ölproduzenten befinden, präsentieren sich die Aussichten weniger hoffnungsvoll. Die Abwertung des US-Dollars – der im Jahr 2017 handelsgewichtet 10 Prozent verlor – hat zu einem Anstieg des Ölpreises beigetragen, aber diese Entwicklung wird wahrscheinlich zum Stillstand kommen und sich anschließend teilweise umkehren. Um das zu vermeiden, werden Europa und Japan die Markterwartung weiterhin sowohl insgesamt als auch – noch wichtiger – gegenüber den USA zu übertreffen haben. Außerdem müssten die Europäische Zentralbank und die Bank of Japan rascher als von den Märkten erwartet ihre Geldpolitik straffen – einschließlich einer beschleunigten Drosselung ihrer umfangreichen Wertpapierkäufe.
Schließlich besteht noch die Herausforderung durch die steigende Ölproduktion aus Schiefergestein. Faktum ist, dass die traditionellen Ölproduzenten wenig tun können, um der wahrscheinlichen Reaktion der Schieferöl-Produzenten auf höhere Preise entgegenzuwirken.
Angesichts dessen wären die Ölproduzenten gut beraten, die jüngsten Anstiege des Ölpreises als zeitweiligen Geldsegen und nicht als dauerhafte Angelegenheit oder gar als Trend zu betrachten, der sich in diesem Jahr noch verstärken dürfte – es sei denn, es kommt zu einem erheblichen geopolitischen Schock. Das heißt, die Produzenten sollten der Versuchung widerstehen, ihre höheren Einnahmen für neue wiederkehrende Ausgaben zu verwenden. Und sie sollten rasch agieren, um ihre kollektive Disziplin wieder zu stärken und damit die Gefahr einer chaotischen Situation zu minimieren, die die hart erarbeiteten Gewinne der letzten Jahre zunichte macht.
Aus dem Englischen von Helga Klinger-Groier