Kernenergie is niet het antwoord
PARIJS – Terwijl de inval van Rusland in Oekraïne de gevaarlijke afhankelijkheid van Europa van fossiele brandstoffen aan het licht heeft gebracht, benadrukken steeds frequentere en intensere klimaatgebeurtenissen de dood en vernietiging die door de afhankelijkheid van fossiele brandstoffen zijn teweeggebracht. Het is begrijpelijk dat de politieke en publieke druk om de uitstoot van broeikasgassen te verminderen, af te stappen van onzekere opties voor de primaire energievoorziening en nieuwe, betrouwbare, veilige en betaalbare energiebronnen te ontwikkelen, ongekend hoog is. Maar in plaats van overhaast te werk te gaan, moeten we zorgvuldig overwegen welke opties het meest realistisch zijn en hoe ze in de echte wereld kunnen worden ingezet en functioneren.
Neem kernenergie. Nu veel landen en bedrijven deze optie een tweede (of zelfs een derde) blik gunnen, biedt het World Nuclear Industry Status Report (WNISR) van 2022 waardevolle inzichten in hoe de sector ervoor staat.
De afgelopen twaalf maanden zullen misschien de geschiedenis ingaan als een keerpunt voor de energiesector in het algemeen, maar dat zal niet te danken zijn aan de nucleaire industrie. Het aandeel van kernenergie in de wereldwijde commerciële bruto elektriciteitsproductie is in 2021 gedaald naar 9,8 procent, de eerste daling tot onder de tien procent in vier decennia; dit is niet veel meer dan de helft van de piek van 17,5 procent uit 1996. Ondertussen zijn wind- en zonne-energie in 2021 goed voor 10,2 procent van de bruto elektriciteitsopwekking, waarmee ze kernenergie voor het eerst overtreffen.
Deze uiteenlopende trajecten zijn duidelijk zichtbaar in elke indicator op het gebied van de investeringen, inzet en productie. Volgens het Internationaal Agentschap voor Kernenergie (IAEA) piekten de operationele reactoren in 2018, zowel qua aantal (449) als qua totale capaciteit (396,5 gigawatt). Het IAEA meldt dat eind 2021 wereldwijd 437 reactoren ʻin bedrijf' waren, inclusief 23 reactoren die al minstens negen jaar geen stroom meer hebben opgewekt en dat misschien ook nooit meer zullen doen.
In 2018, toen het geïnstalleerde nucleaire vermogen een piek bereikte van nog geen 400 GW, steeg de zonne- en windcapaciteit tot boven de 1.000 GW, op weg naar 1.660 GW tegen eind 2021. In slechts drie jaar tijd hebben zonne- en windenergie twee derde méér capaciteit toegevoegd dan wat kernenergie op haar laatste piek vertegenwoordigde. Ook al produceren kerncentrales gewoonlijk meer elektriciteit per eenheid geïnstalleerd vermogen dan wind- en zonne-energie, het verschil tussen deze cijfers is duizelingwekkend.
In 2021 bereikten de totale investeringen in niet-hydro hernieuwbare energie een recordbedrag van 366 miljard dollar, waardoor 257 GW aan de elektriciteitsnetten werd toegevoegd, terwijl de operationele nucleaire capaciteit met 0,4 GW afnam. Dat jaar werden slechts zes nieuwe reactoren op het net aangesloten, waarvan de helft in China. Vervolgens werden in de eerste helft van 2022 vijf nieuwe reactoren online gebracht, waarvan er twee in China stonden. Maar hoewel China de meeste reactoren in aanbouw heeft (21, medio 2022), bouwt het land ze niet in het buitenland.
Subscribe to PS Digital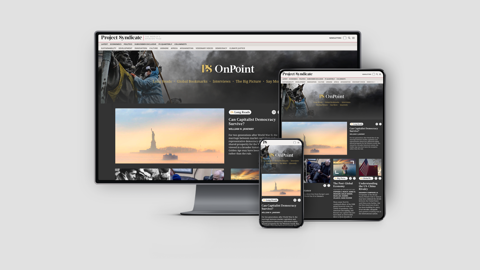 Subscribe to PS Digital
Access every new PS commentary, our entire On Point suite of subscriber-exclusive content – including Longer Reads, Insider Interviews, Big Picture/Big Question, and Say More – and the full PS archive.

Tot voor kort was die rol in handen van Rusland, dat de internationale markt domineert met twintig eenheden in aanbouw, waarvan zeventien in zeven landen, vanaf medio 2022. Sancties en mogelijke andere geopolitieke ontwikkelingen hebben veel van deze projecten op losse schroeven gezet; een Fins consortium heeft de bouw van een installatie naar Russisch ontwerp al geannuleerd.
Slechts 33 landen exploiteren momenteel kerncentrales, en slechts drie landen – Bangladesh, Egypte en Turkije – bouwen voor het eerst kernreactoren (alle in partnerschap met de Russische nucleaire industrie). Zesentwintig van de 53 bouwprojecten in de wereld hebben diverse vertragingen opgelopen; minstens veertien daarvan hebben het afgelopen jaar grotere vertragingen gemeld, en twee nieuwe vertragingen.
Voor het eerst beoordeelt de WNISR ook de risico's van kernenergie en oorlog. Er zijn grote internationale zorgen over de Oekraïense kerncentrale van Zaporizhzhia, die sinds 4 maart 2022 door Russische troepen wordt bezet. Door herhaalde beschietingen in en rond het gebied is de centrale vaak de externe stroom kwijtgeraakt, wat heeft geleid tot waarschuwingen van het IAEA dat de situatie ʻonhoudbaar' is. De exploitatie van een nucleaire faciliteit vereist gemotiveerd, uitgerust en bekwaam personeel; maar het Oekraïense personeel van Zaporizhia staat onder zware druk.
De belangrijkste uitdaging is nu om de reactorkern en het bassin voor verbruikte splijtstof continu te blijven koelen, zelfs nadat de reactor is stilgelegd. Als de warmte van het restverval niet kan worden afgevoerd, kan dit binnen enkele uren leiden tot een kernsmelting of binnen enkele dagen of weken tot een brand in de verbruikte splijtstof, waarbij mogelijk veel radioactiviteit vrijkomt.
Nu de wereldleiders op COP27 bijeenzijn om de agenda voor het koolstofvrij maken van de aarde te bespreken, moeten zij zich concentreren op de technologieën die snel en universeel kunnen worden ingezet om fossiele brandstoffen te vervangen. Zoals uit opeenvolgende edities van de WNISR is gebleken, is kernenergie te traag en te duur om te kunnen concurreren met energie-efficiëntiemaatregelen en hernieuwbare energie.
Vertaling: Menno Grootveld