La bataille pour la maison du Père Noël
STOCKHOLM – Il y a quelques années, un ministre canadien a déclaré fièrement que le Père Noël était un citoyen canadien. Après tout, son domicile et son usine de jouets sont au pôle Nord, qui selon l'interprétation du ministre, appartient au Canada.
Bien que le Père Noël n'ait pas commenté l'affaire, il est maintenant clair qu'il a pu choisir plusieurs passeports pour son voyage autour du monde du 24 décembre. En 2007, un mini sous-marin sur fonds privés a planté un drapeau russe directement en dessous de son domicile présumé. Et il y a deux semaines, le Danemark, qui a la souveraineté sur le Groenland, a fait valoir sa propre revendication territoriale, concernant elle aussi le pôle Nord.
En déposant sa revendication devant la Commission des Nations Unies sur les limites du plateau continental, le Danemark a rejoint le « grand jeu » de notre époque : le concours pour un contrôle économique sur une grande partie de l'Arctique. Et la revendication du Danemark est énorme. Elle brigue non seulement la souveraineté sur tout entre le Groenland et le pôle Nord. Mais elle étend également sa prétention sur près de 900 000 kilomètres carrés, jusqu'aux limites existantes de la zone économique de la Russie, de l'autre côté du pôle : une zone qui représente 20 fois la taille du Danemark.
Une manière d'évaluer les revendications des pays sur le territoire arctique repose sur le statut de la dorsale de Lomonosov, une vaste formation qui s'élève du fond de la mer et s'étend sur 1 800 km depuis le Groenland jusqu'au plateau continental de Sibérie orientale. Tout le monde convient qu'il s'agit bien d'une dorsale. La question clé est de savoir s'il s'agit d'une extension du plateau du Groenland ou d'une extension du plateau de Sibérie orientale.
Le Danemark, en collaboration avec le gouvernement du Groenland, penche maintenant en faveur de la première hypothèse, en lui donnant le droit d'étendre sa zone économique à travers une vaste zone au sommet du monde. Bien que rien ne soit encore divulgué sur la revendication russe, qui sera publiée au printemps, il ne fait aucun doute qu'elle fera valoir le contraire.
Et qu'en est-il de la revendication des Canadiens ? Cela reste à voir, mais il y a eu des rapports selon lesquels le Premier ministre Stephen Harper serait mécontent du manque d'ardeur des scientifiques canadiens à défendre cette affaire pour leur pays.
Subscribe to Project Syndicate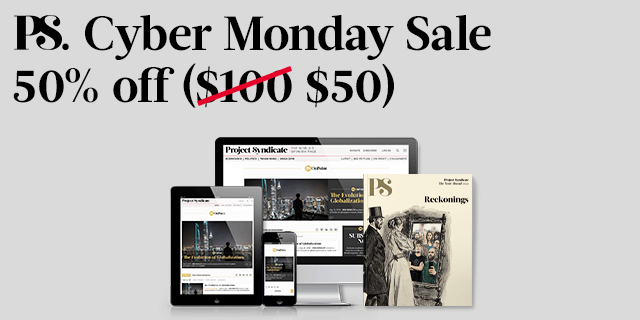 Subscribe to Project Syndicate
Enjoy unlimited access to the ideas and opinions of the world's leading thinkers, including weekly long reads, book reviews, topical collections, and interviews; The Year Ahead annual print magazine; the complete PS archive; and more – for less than $5 a month.
Néanmoins malgré tout le battage sur une « course à l'Arctique » et l'atmosphère plutôt glaciale entre les concurrents, il y a peu de raisons de craindre un conflit. Selon les termes de la Déclaration Ilulissat, tous les pays riverains de l'océan Arctique s'engagent à résoudre leurs revendications pacifiquement et sur la base de la Convention des Nations Unies sur le droit de la mer. Selon la procédure établie, une commission de l'ONU va d'abord juger si les revendications sont valides. Si elles se chevauchent, ce qui est hautement probable, des négociations bilatérales auront lieu.
Ces entretiens, pour le dire en termes mesurés, risquent de prendre un certain temps. La Norvège et la Russie ont négocié sur une délimitation territoriale beaucoup plus limitée pendant quatre décennies.
Le Danemark et la Russie ont consacré d'importantes ressources à l'exploration de la dorsale de Lomonosov. Le Danemark a loué les services de brise-glaces suédois pour plusieurs expéditions et la Russie a déployé des sous-marins spéciaux pour obtenir des échantillons de la dorsale du lit de l'océan.
La région de l'Arctique a toujours été stratégiquement vitale pour la Russie : elle représente environ 85% de la production de gaz naturel de la Russie, basée principalement dans l'Ouest de la Sibérie. Le Kremlin a mis en place un nouvel état-major militaire en Arctique, occupé à rouvrir les bases aériennes et les stations radars le long de son littoral arctique.
Mais tous les itinéraires sont très longs depuis ces nouvelles bases russes. Et en plus de ces grandes distances, la rudesse du climat est très forte. Un responsable militaire canadien,  interrogé sur ce qu'il ferait si les soldats étrangers attaquaient le Grand Nord de son pays, a répondu calmement qu'il enverrait une expédition pour les sauver. Bien que la Russie ait espéré une augmentation rapide du transport maritime le long de la route maritime du Nord, le trafic commercial de cette année a chuté de 77%.
Bien sûr, les enjeux sont trop élevés pour que le Canada, le Danemark et la Russie ne permettent que l'éloignement de la région et son environnement hostile influencent la façon dont ils font résolument valoir leurs revendications. Des limites comme celles-ci sont fixées une bonne fois pour toutes et personne ne sait quelles découvertes, technologies et opportunités l'avenir nous réserve.
Mais pour le moment, ni le Père Noël ni personne d'autre n'a de raison de s'inquiéter. La nature de la dorsale Lomonosov sera débattue durant les années à venir, tandis que ses pensées (et les nôtres) sont susceptibles de se concentrer sur des questions plus immédiates.