De Pyongyang a Pyeongchang
MADRID – "Lo más importante no es ganar, sino participar". Esta recurrente frase —que pertenece ya al patrimonio popular— se atribuye a Pierre de Coubertin, el fundador de los Juegos Olímpicos modernos. Con motivo de las olimpiadas de invierno que acogerá la ciudad surcoreana de Pyeongchang dentro de unos días, la frase ha adquirido una renovada vigencia: las dos Coreas han aparcado sus diferencias y han acordado que una delegación norcoreana participe en los Juegos.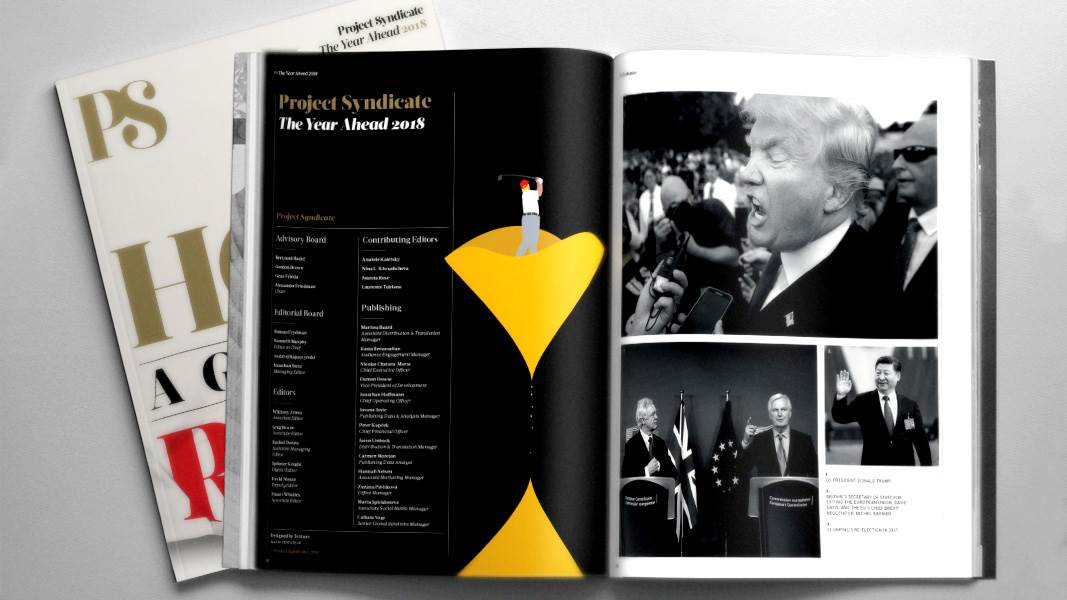 The Year Ahead 2018
The world's leading thinkers and policymakers examine what's come apart in the past year, and anticipate what will define the year ahead.
Separar política y deporte no solo es imposible, sino que tal vez no sea siquiera deseable. Entre los objetivos del olimpismo figura el de poner el deporte al servicio de la paz y de la dignidad humana. Y es que no cabe duda de que el deporte puede desempeñar un papel políticamente constructivo a escala global. Recordemos, por ejemplo, el breve viaje que realizó un jugador estadounidense en el autobús del equipo chino durante los mundiales de ping-pong de Japón en 1971. Este célebre encuentro fue origen de la llamada "diplomacia del ping-pong", que dio pie al acercamiento entre la China de Mao y los Estados Unidos de Nixon, uno de los episodios más inesperados y trascendentales de la Guerra Fría.
En 1991, de nuevo en unos mundiales de ping-pong albergados por Japón, las dos Coreas formaron un equipo conjunto que, contra todo pronóstico, terminó ganando el oro en la competición femenina. El compañerismo que desarrollaron las jugadoras del Norte y las del Sur les permitió imponerse en la final al temible combinado chino, ante el júbilo de unos coreanos que por un instante se olvidaron de sus divisiones.
Poco antes, los JJ.OO. de Seúl '88 también se habían apuntado un tanto en el terreno político. En 1987, un movimiento popular logró que el régimen militar de Chun Doo-hwan aceptase la celebración de elecciones democráticas en Corea del Sur. Sin las olimpiadas que estaban previstas para el año siguiente —y la consiguiente presión internacional a la que se vio sometido el régimen— es posible que esta transición no se hubiese producido, al menos en los mismos términos y con la misma rapidez. Este desenlace resulta todavía más llamativo dado que Chun Doo-hwan había concebido la candidatura olímpica como una oportunidad para mejorar su imagen doméstica y exterior.
Pero Seúl '88 tuvo también una faceta negativa. Corea del Norte se sintió agraviada por el respaldo que recibió la candidatura del Sur y, al no conseguir pactar una fórmula para compartir la olimpiadas, procedió a boicotearlas. En el mismo año 1987 en el que se desmoronó la dictadura de Chun Doo Hwan, un avión de Korean Air sufrió un atentado atribuido a Pyongyang, que al parecer pretendía alterar las inminentes elecciones en Corea del Sur y disuadir a otros países de participar en las olimpiadas.
Finalmente, los Juegos tuvieron el efecto opuesto: la apertura definitiva de Corea del Sur y el aislamiento de Corea del Norte. Este aislamiento, acentuado tras el final de la Guerra Fría, incitó a Pyongyang a avanzar por la senda del armamento nuclear. Por desgracia, el triunfo conjunto en los mundiales de ping-pong del '91 —al que nos referíamos con anterioridad— no consiguió revertir el creciente distanciamiento entre las dos Coreas, quedándose en una mera anécdota.
El boicot norcoreano a Seúl '88 no fue ni mucho menos insólito. Los JJ.OO. tienen una historia conflictiva plagada de boicots y, paradójicamente, han servido incluso de plataforma para promover valores absolutamente contrarios al espíritu olímpico, como hizo Adolf Hitler en Berlín '36. George Orwell afirmó que el deporte "es la guerra sin los tiros" y "está ligado al auge del nacionalismo, es decir, al lunático hábito moderno de identificarse con unidades de poder más grandes y verlo todo en términos de prestigio competitivo". Aunque hayamos puesto en valor las virtudes del deporte en su vertiente sociopolítica, es evidente que Orwell no iba tan desencaminado.
Los vínculos entre deporte y nacionalismo quedaron patentes en Pekín '08. Al accidentado relevo de la antorcha olímpica —marcado en varios países por protestas en defensa del Tíbet y de los derechos humanos— se sumó el incuestionable éxito organizativo y la victoria de China en el medallero, en un cóctel que contribuyó a despertar el orgullo chino. Hoy en día, este orgullo es uno de los principales activos del responsable político de aquellos Juegos, que no fue otro que Xi Jinping. Por otra parte, las olimpiadas de invierno de Sochi '14 sirvieron para insuflar oxígeno al renqueante liderazgo de Vladimir Putin, que puso en marcha la intervención militar en Crimea tres días antes de la ceremonia de clausura. A la luz de este historial, merecerán especial atención los JJ.OO. —esta vez de invierno— que se celebrarán en Pekín en 2022, coincidiendo con el final del segundo mandato de Xi.
En la turbulenta península coreana, con dos países que todavía se encuentran formalmente en guerra, existía un riesgo de que los JJ.OO. de Pyeongchang '18 tuviesen también un efecto inflamatorio. El precedente de Seúl '88 no era precisamente halagüeño. Tampoco lo era el de los mundiales de fútbol del 2002 en Corea del Sur y Japón, en el que la formidable actuación de los futbolistas surcoreanos se vio empañada por una batalla naval entre las dos Coreas. En la actual coyuntura, Corea del Sur temía que Kim Jong-un aprovechase las olimpiadas para llevar a cabo uno de sus alardes armamentísticos.
No obstante, la actitud conciliadora del nuevo presidente surcoreano Moon Jae-in obtuvo una respuesta positiva en el discurso de año nuevo de Kim. La incipiente distensión —incluyendo tanto el aplazamiento de los ejercicios militares coordinados de Estados Unidos y Corea del Sur como la participación del Norte en los JJ.OO.— debe ser bienvenida y apoyada a nivel internacional, por mucho que algunos consideren que Kim alberga motivaciones más tácticas que estratégicas. El riesgo de percances durante los Juegos se ha visto aún más reducido después de que las dos Coreas hayan acordado formar un equipo conjunto de hockey femenino, e incluso desfilar bajo una sola bandera. 
Es cierto que este desfile conjunto se produjo ya tres veces en la pasada década sin que el gesto tuviese mayor recorrido, lo cual nos aconseja prudencia, y más aún al estar tratando con Kim. Sin embargo, no conviene caer en el pesimismo. El desafío nuclear de Corea del Norte no podrá gestionarse sin recurrir a negociaciones, y puede que la vía que ha abierto Pyegonchang '18, justo 30 años después de las controvertidas olimpiadas de Seúl, sea la mejor de las oportunidades. Esperemos pues que el viaje de la delegación norcoreana de Pyongyang a Pyeongchang sea políticamente fructífero, y que "los Juegos de la paz" —tal y como los viene llamando Moon— se recuerden más por los beneficios de esta sonada participación que por el orden final del medallero.