От Пхенчана к миру?
СЕУЛ – После двух лет нарастающей напряженности на Корейском полуострове, передышка, пусть и краткосрочная, которую обещают принести предстоящие Зимние Олимпийские игры в южнокорейском городе Пхенчхан, более чем приветствуется. Однако, принимая во внимание мнение некоторых военных экспертов, предполагающих, что на сегодняшний день вероятность войны превышает 50%, самоуспокоение недопустимо.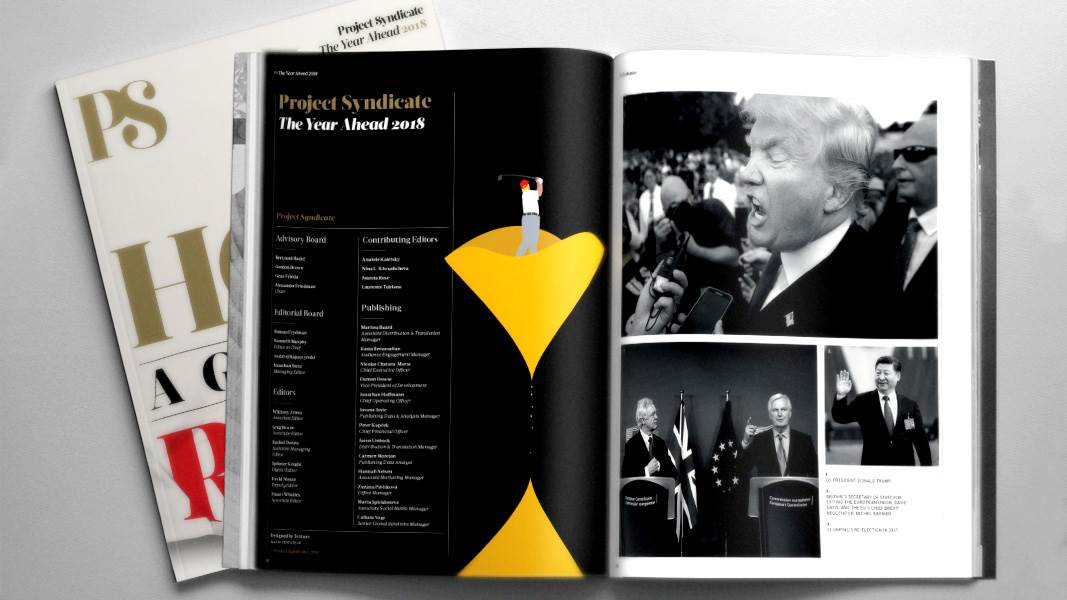 The Year Ahead 2018
The world's leading thinkers and policymakers examine what's come apart in the past year, and anticipate what will define the year ahead.
После лет ускоренных ракетных разработок, которые завершились успешными испытаниями межконтинентальных баллистических ракет и, предположительно, водородной бомбы в прошлом году, ядерная программа Северной Кореи стала прямой угрозой не только для ее соседей, но и для Соединенных Штатов. Реакция администрации Президента США Дональда Трампа, которая включала беспрецедентное бряцание оружием в Twitter, только усилила напряженность.
Тем не менее, 1 января, прежде чем согласиться принять участие в Олимпийских играх, северокорейский лидер Ким Чен Юн призвал к улучшению отношений с Югом. Как объяснить внезапное протягивание Кимом оливковой ветви Южной Корее?
С момента прихода к власти в 2011 году, Ким был привержен политике под названием "линия параллельного развития" (byungjin), в которой особое значение придается параллельным целям: экономическому развитию и эффективной программе ядерного вооружения. По всей видимости, достигнув одной из этих целей, Ким переключил свое внимание на обеспечение новых экономических возможностей для подвергшейся санкциям экономики Северной Кореи. Например, санкции, введенные в сентябре 2017 года на текстиль, уголь и другой экспорт, как говорят, сократили экспорт Северной Кореи на 90%. По данным центрального банка Южной Кореи, в 2016 году экономика Северной Кореи выросла на 3,9%, но, возможно, сократилась в 2017 году.
Теперь, Ким по-видимому решил, что его самая большая надежда на стимулирование экономики Северной Кореи, без торможения прогресса своей ядерной программы, заключается в ослаблении международной коалиции, обеспечивающей соблюдение санкций. Его кампания начинается с Южной Кореи, где он пытается использовать этнический национализм, чтобы вбить клин между этой страной и ее союзником США и, возможно, даже убедить ее полностью отказаться от альянса. В более долгосрочной перспективе Ким, похоже, надеется, что ему удастся убедить международное сообщество в том, что возможно сосуществовать с ядерной Северной Кореей, как это сделал Пакистан.
Но вряд ли Южную Корею можно так легко одурачить. С момента своей инаугурации в мае прошлого года, Президент Мун Чжэ Ин знал, что ему необходимо найти способ снизить экзистенциальную угрозу ядерной войны. Поэтому он решил рассматривать Зимние Олимпийские игры как возможность не только разрядить напряженность на Корейском полуострове, но и стимулировать момент к диалогу по денуклеаризации.
Хотя нельзя исключать возможность вовлечения южнокорейцев в ловушку Северной Кореи, большинство корейцев, в том числе и молодежь, уже натерпелись от провокаций Севера и крайне маловероятно, что они соблазнятся пропагандистским наступлением Кима. В прошлом месяце Мун ясно дал понять, что без денуклеаризации ни о каком улучшении отношений Юга с Северной Кореей не может быть и речи. Действительно, его усилия по открытию диалога с Севером, похоже, вызваны холодным дипломатическим реализмом, а не наивным идеализмом.
Что касается США, то их участие во внутрикорейском диалоге отражает смесь скептицизма и ожиданий. Трамп выразил поддержку этим усилиям, но американцы по-прежнему обеспокоены любой потенциальной напряженностью в альянсе их страны с Южной Кореей.
Больший риск заключается в том, что некоторые политики США продолжают рассматривать возможность нанесения "прямого" удара по Северу – решение, которое могло бы стоить сотни тысяч жизней. В конце концов, нет никаких гарантий, что Северная Корея сможет распознать, является ли это одноразовым ударом или объявлением войны. И даже если бы Север смог бы понять намерения администрации Трампа, совершенно непонятно, как бы он ответил.
Чтобы помочь предотвратить этот исход, когда Ким отказывается обсуждать денуклеаризацию со своими "братьями" с Юга (на которых, по его утверждению, не нацелены ракеты), Мун теперь должен понять, как построить внутрикорейский диалог, чтобы обеспечить переговоры между Северной Кореей и США. Поэтому, спокойная встреча между высшими должностными лицами двух стран – вице-президентом США Майком Пенсом и президентом Президиума Верховного Народного Собрания Северной Кореи Ким Ен-намом, и оба они, как ожидается, прибудут в Пхенчхан – является возможной.
Но, в конечном счете, это Трамп должен воспользоваться возможностью, чтобы начать переговоры. Дело в том, что, несмотря на их важное значение, санкции сами по себе не могут обеспечить желаемый результат США или его союзникам. Переговоры необходимы, только для того, чтобы попытаться выяснить истинные намерения Севера: является ли его ядерная программа наступательным или оборонительным проектом? Для этого, администрации Трампа будет необходимо выйти за пределы "максимального давления", обещанного ее политикой по отношению к Северной Корее, и приступить к "вовлечению", которое она также признает, что будет необходимым условием для выработки решения.