De aanstaande confrontatie met Noord-Korea
KIEV – Stel je voor dat het 2020 is. De directeur van de CIA vraagt een urgent gesprek met de Amerikaanse president aan. De reden: Noord-Korea is erin geslaagd een kernbom te maken die klein genoeg is om in de kop van een intercontinentale ballistische raket te passen, die in staat is de Verenigde Staten te bereiken. Het nieuws lekt al snel uit. Bijeenkomsten op hoog niveau worden niet alleen in Washington, maar ook in Seoul, Tokio, Beijing en Moskou gehouden.
Dit scenario kan vandaag de dag nog onwerkelijk lijken, maar is meer politieke wetenschap dan science fiction. Noord-Korea heeft zojuist zijn vijfde (en klaarblijkelijk succesvolle) test uitgevoerd met een nucleair explosief, een paar dagen na een proef met diverse ballistische raketten. Als een grootschalige interventie uitblijft, is het slechts een kwestie van tijd dat Noord-Korea zijn kernwapenarsenaal (dat nu wordt geschat op 8 tot 12 bommen) zal uitbreiden en erachter komt hoe het zijn wapens zó klein kan maken dat ze kunnen worden gedragen door raketten met een steeds groter bereik en een steeds grotere nauwkeurigheid.
Het is moeilijk de risico's te overschatten als Noord-Korea, 's werelds meest gemilitariseerde en gesloten samenleving, deze drempel overschrijdt. Een Noord-Korea met het vermogen de Verenigde Staten te bedreigen kan tot de conclusie komen dat het weinig te vrezen heeft van het Amerikaanse leger, een oordeel dat het land ertoe zou kunnen brengen een conventionele, niet-nucleaire aanval te lanceren op Zuid-Korea. Zelfs als zo'n oorlog zou eindigen in een nederlaag voor Noord-Korea zou hij in ieder opzicht buitengewoon kostbaar zijn.
Toch zou Noord-Korea geen oorlog hoeven beginnen om ervoor te zorgen dat zijn vooruitgang op het gebied van de kernwapen- en rakettechnologie werkelijke impact heeft. Als Zuid-Korea of Japan ooit tot de conclusie zouden komen dat Noord-Korea in de positie zou verkeren om Amerikaanse inmenging in een oorlog op het schiereiland te verhinderen, zouden ze het vertrouwen verliezen in de Amerikaanse veiligheidsgaranties, wat de mogelijkheid in het leven zou roepen dat ze hun eigen kernwapens gaan ontwikkelen. Een dergelijk besluit zou China alarmeren en het toneel rijp maken voor een regionale crisis of zelfs een regionale oorlog in een deel van de wereld waar de bevolkingsdichtheid, rijkdom en militaire macht het grootst zijn.
Er is ook nog een ander risico. Een krap bij kas zittend Nord-Korea kan in de verleiding komen kernwapens te verkopen aan de hoogste bieder, of dat nu een terreurgroepering is, of een of ander land dat tot de conclusie is gekomen dat het eveneens het ultieme wapen nodig heeft. Per definitie verhoogt nucleaire proliferatie de kansen van verdere nucleaire proliferatie – alsmede die van het feitelijke gebruik van kernwapens.
De Verenigde Staten hebben opties, maar geen daarvan is bijzonder aantrekkelijk. Wat onderhandelingen aangaat is er weinig of geen reden om er vertrouwen in te hebben dat Noord-Korea iets zal opgeven waarvan het denkt dat het zijn beste overlevingskans is. In feite heeft het land onderhandelingen dikwijls gebruikt om tijd te kopen voor verdere progressie op het gebied van zijn nucleaire en rakettechnologie.
Subscribe to Project Syndicate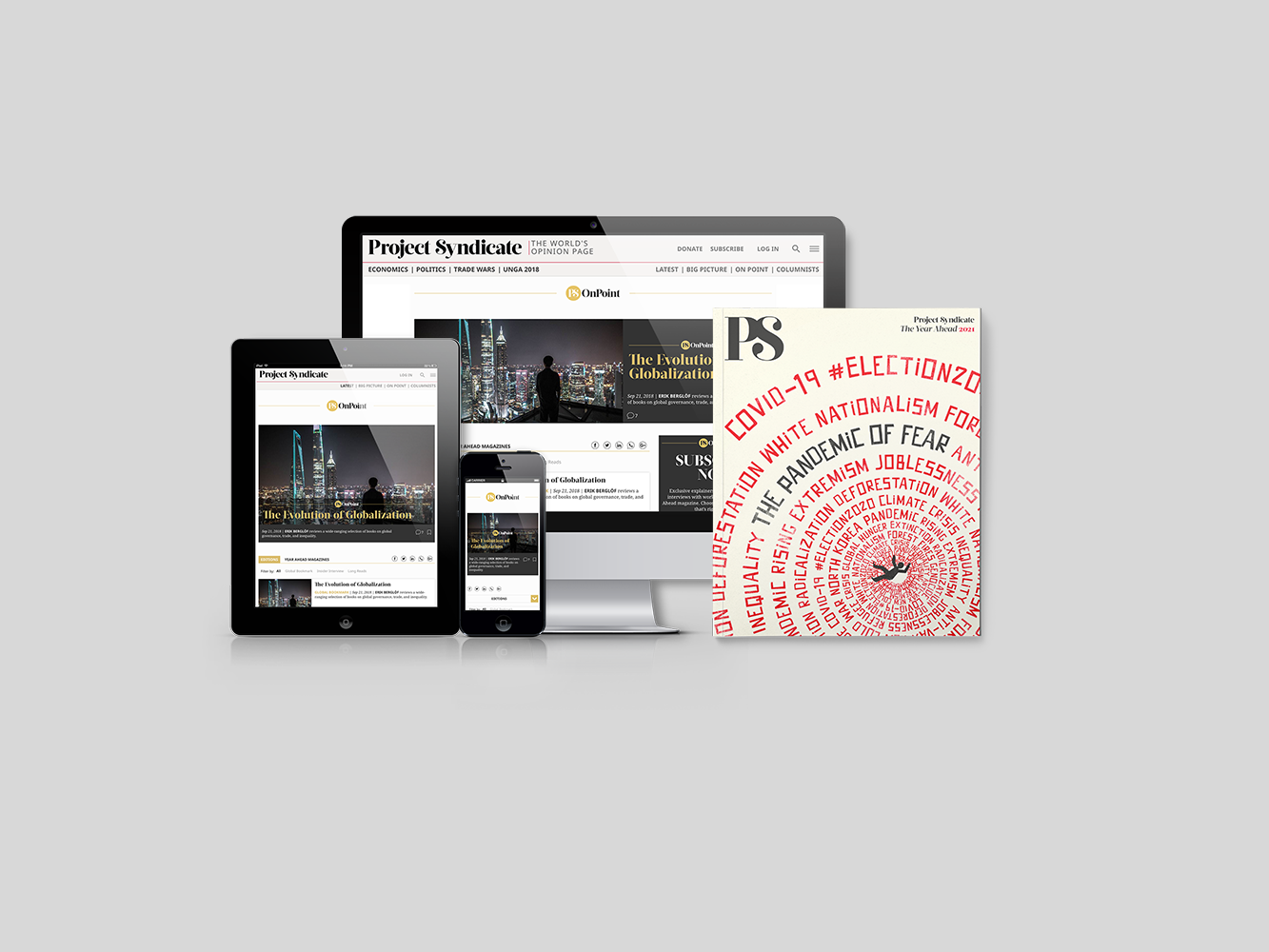 Subscribe to Project Syndicate
Enjoy unlimited access to the ideas and opinions of the world's leading thinkers, including weekly long reads, book reviews, topical collections, and interviews; The Year Ahead annual print magazine; the complete PS archive; and more – for less than $9 a month.
Een andere optie is te blijven doorgaan met een versie van het huidige beleid van uitgebreide sancties. Het probleem is dat de sancties niet krachtig genoeg zullen zijn om Noord-Korea te dwingen zijn kernwapen- en raketprogramma's op te geven. Dat komt deels omdat China, uit angst voor grote vluchtelingenstromen en een verenigd Korea in Amerika's strategische achtertuin als Noord-Korea omvalt, zeer waarschijnlijk zal blijven garanderen dat het land de brandstof en het voedsel krijgt dat het nodig heeft.
Als gevolg daarvan zou het verstandiger kunnen zijn zich op de diplomatie met China te richten. De Verenigde Staten moeten, na zorgvuldige consultatie van Zuid-Korea en Japan, met Chinese functionarissen om de tafel gaan zitten om te bespreken hoe een verenigd Korea eruit zou moeten zien, zodat aan een paar Chinese zorgen tegemoet kan worden gekomen. Een verenigd Korea zou bijvoorbeeld niet-nucleair kunnen zijn, en de Amerikaanse strijdkrachten die op het schiereiland zouden achterblijven zouden kunnen worden gereduceerd en dieper in het zuiden kunnen worden gelegerd.
Het is uiteraard mogelijk of zelfs waarschijnlijk dat dergelijke garanties niet zouden leiden tot een betekenisvolle vermindering van de Chinese steun voor Noord-Korea. In dat geval zouden de VS nog drie andere opties hebben. Eén daarvan zou zijn te leren leven met een Noord-Korea dat raketten bezit die kernwapens naar Amerikaanse bodem kunnen brengen. Het beleid zou er één van verdediging (door de inzet van extra anti-raketwapens) en afschrikking moeten zijn, waarbij Noord-Korea begrijpt dat ieder gebruik of iedere verspreiding van kernwapens tot het einde van het regime en mogelijke nucleaire vergelding zou kunnen leiden. Ook cyberwapens kunnen worden ingezet om de voortgang van het Noord-Koreaanse kernwapenprogramma te hinderen.
De tweede optie zou een conventionele militaire aanval zijn, die zich richt op de Noord-Koreaanse nucleaire en raketinstallaties. Het gevaar is dat zo'n aanval misschien niet al zijn doelstellingen zal weten te bereiken en een conventionele militaire aanval op Zuid-Korea zou uitlokken (waar bijna 30.000 Amerikaanse soldaten zijn gelegerd), of zelfs een kernaanval van het Noorden. Het behoeft geen betoog dat Japan en Zuid-Korea bereid zouden moeten zijn iedere Amerikaanse militaire reactie te steunen voordat die zou kunnen worden ondernomen.
De derde optie zou zijn louter een conventionele aanval te lanceren als uit militaire inlichtingen zou blijken dat Noord-Korea zijn raketten op scherp heeft gezet en ze klaar heeft gemaakt voor onmiddellijk gebruik. Dit zou een klassieke preventieve aanval zijn. Het gevaar is in dit geval dat de  inlichtingen misschien niet voldoende duidelijk zijn – of niet vroeg genoeg komen.
Wat ons weer terugbrengt bij die mogelijke dag in 2020. Ook al is nog veel onduidelijk, we kunnen ervan uitgaan dat wie ook de Amerikaanse presidentsverkiezingen in november wint voor een noodlottige beslissing met betrekking tot Noord-Korea zal komen te staan.
Vertaling: Menno Grootveld