Nigérie: dluhy nebo demokracie?
CAMBRIDGE: Vždy, když se chudé a hluboce zadlužené země pokoušejí vybojovat své zápasy o cestu od diktatury k demokracii, mohou hrát postoje a činy bohatých zemí zcela rozhodující roli. Pokud totiž budou bohaté země dál trvat na splacení dlužných částek a zachování úsporných opatření, je jen pravděpodobné, že se jim podaří zničit sociální stabilitu těchto zemí, jenž je tolik třeba, aby nová demokracie mohla zapustit kořeny.
Lakota, krátkozrakost a všeobecný nezájem bohatých zemí, by nicméně neměl být nikdy brán na lehkou váhu. Je to přece jen několik týdnů, co evropské země – a rovněž MMF – odmítly prosby zástupců nové nigérijské demokracie o snížení dlužných částek. Opak byl pravdou, když jim bylo řečeno, že by Nigérie napříště měla spíše zlepšit svoji dluhovou službu a stáhnout všechny požadavky na snížení dluhů. Francouzská vláda, coby pořadatel Věřitelského výboru vlád (tzv. Pařížského klubu), za tuto neslýchaně hloupou politiku sice nese největší díl zodpovědnosti, nicméně mnoho dalších vlád i mezinárodních organizací se na této hanbě podílí.
Možná bychom si pomysleli, že se Francie, Spojené království, Spojené státy i MMF více poučily z události nedávné historie. Před sedmi roky byla Nigérie na nejisté a velmi riskantní cestě k demokratizaci země. Prozatímní vláda se tehdy plně věnovala dohledu nad přechodným obdobím před všeobecnými volbami z počátku roku 1994. Nicméně, koncem roku 1993 si MMF a Světová banka vynutily, aby Nigérie omezila subvence na domácí ropné produkty, coby součást restriktivních kroků, na kterých trvali její věřitelé.
Načasování nemohlo být věru horší. Omezení subvencí pohonných hmot způsobilo nepokoje a široce rozšířený bojkot úsilí přechodné vlády. Trvalo to dalších šest dlouhých let pod násilnickou vojenskou nadvládou, než Nigérie dosáhla další šance získat demokracii.
V minulém roce oslavila Nigérie pozoruhodný únik z tenat diktatury. Po brutální a hyper-zkorumpované vojenské vládě generála Sani Abacha - jenž byl náhle raněn mrtvicí – nečekaně souhlasily vojenské kruhy s dalšími celonárodními volbami. Volby vynesly k moci mimořádnou osobnost Oluseguna Obasanja, osobnost sjednocující celý národ, který tak získal bezúhonný demokratický mandát a který je právem mezinárodně uznávaným a respektovaným Nigérijcem. Byl to president Obasanjo, jenž stojíce v čele armády na konci sedmdesátých let úspěšně vedl předchozí přechod země k demokracii.
Ovšem úkoly, kterým musí nyní nový stát čelit, jsou strašlivé. Země je stále strašlivě zbídačena, etnicky rozdělena, a po létech vojensky řízené korupce a drancování nutně zkolabovaly všechny její sociální služby. Spirála epidemie AIDS by nakonec mohla zaplavit celou společnost. Už nyní se kvůli AIDS snížila očekávaná délka života ze zhruba 58 na pouhých 54 let.
Subscribe to PS Digital Now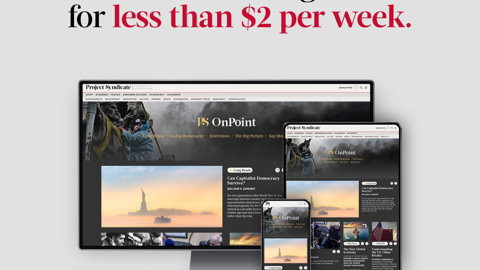 Subscribe to PS Digital Now
Access every new PS commentary, our entire On Point suite of subscriber-exclusive content – including Longer Reads, Insider Interviews, Big Picture/Big Question, and Say More – and the full PS archive.
Západní národy cynicky tvrdí, že je Nigérie bohatá země, a tak by se měla držet splátek své dluhové služby. Jestliže tomu věří, jsou nenapravitelně pošetilí. I přesto, že je Nigérie významným producentem ropy, okolo 2 miliónů barelů denně, vzhledem k obrovské populaci 120-ti miliónů obyvatel dosahuje příjem z této ropy na jednoho Nigérijce pouhých 100 – 150 amerických dolarů ročně. A protože ropa tvoří okolo 90% exportu země, je tento příjem z ropy tím jediným, z čeho musejí Nigérijci v soukolí světové ekonomiky přežít.
Výsledkem pak je průměrný příjem na osobu (kde je započítaný příjem z ropy i dalších ne-ropných oblastí ekonomiky) okolo 300 dolarů na osobu a rok, čímž se Nigérie stává jedou z nejchudších zemí světa. Sociální podmínky jsou vzhledem k takové chudobě zoufalé. Obrovská nemocnost, nízká délka života, nezměrná podvýživa a nízká míra docházky do školy.
Je možné, že se nyní bude historie opakovat. Zasvěcenci vyjednávání o snížení dluhů prozrazují, že Nigérie byla dotlačena ke zvýšení svých plateb dluhové služby. Věřitelé odmítají nigérijské volání po snížení dluhů a místo toho Nigérii nabízejí falešné řešení v podobě "restrukturalizace dluhů". Což znamená, že by Nigérie sice mohla některé platby odložit, nicméně bude muset za takové odložení zaplatit plné tržní úrokové míry, a navíc se očekává, že by nakonec přece jen zaplatila své dluhy v plné výši. Předpokládá se, že Nigérie bude s těmito podmínkami souhlasit, kvůli tomu, aby získala nové, nevysoké půjčky z MMF, jež samotné budou poskytnuty za běžných tržních podmínek.
Pokud se budeme chovat tímto způsobem, lze jen stěží uvěřit všem těm frázím, které se proudem valí z Washingtonu, Londýna, Paříže a Berlína, o novém závazku pomoci Africe, o závazku bojovat s chudobou v těch nejchudších zemích. Buď zde dochází k naprostému přerušení vazeb mezi politickými vůdci se všemi jejich frázemi a jejich bankéři a ministry financí, anebo jde jen o pouhou cynickou hru bohatých zemí, užívajících si štědrosti konjunktury bohatství a prosperity, zatímco tak málo dělají pro celý zbytek světa. Můj vlastní odhad je ten, že konservativní ministři financí bohatých zemí, a stejně tak odborníci MMF, jsou prostě jen slepí a neschopní dohlédnout všech politických důsledků vlastních činů.