Jak vymýtit obchod s dětskou prací
NOVÉ DILLÍ – Když se v říjnu 1997 sešli v Oslu globální lídři, aby určili strategii eliminace dětské práce, přivezli jsme si obrovské ambice a hluboký závazek ke změně. Zlepšováním spolupráce a plánování jsme usilovali o ochranu dětí před vykořisťováním a rozvoj "nové strategie k odstranění dětské práce na národní, regionální a mezinárodní úrovni".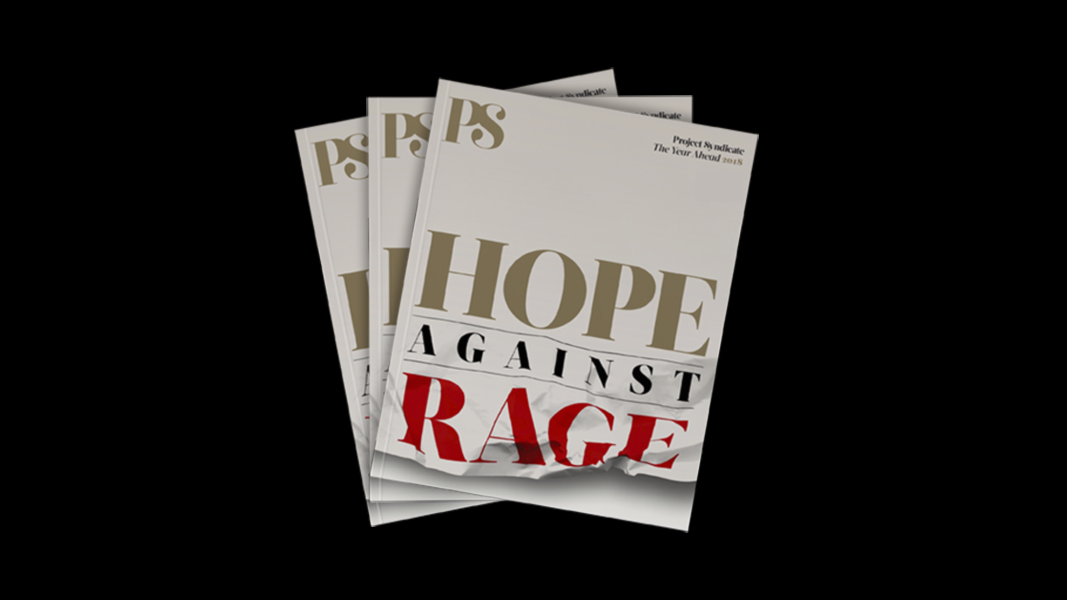 The Year Ahead 2018
The world's leading thinkers and policymakers examine what's come apart in the past year, and anticipate what will define the year ahead.
Dnes, 20 let poté, je načase se ptát: jak se nám to daří?
Žalostně. Od onoho prvního setkání svět nesnížil počet dětí zapojených do pracovních sil ani na polovinu. Během posledních pěti let se mezinárodnímu společenství podařilo snížit počet zaměstnaných dětí jen o 16 milionů, což je nejpomalejší tempo snižování za desítky let. Ze 152 milionů dětí, které dnes pracují, zhruba 73 miliony vykonávají pracovní činnosti považované za rizikové. Přitom i "bezpečná" dětská práce postihuje fyzickou a fyziologickou pohodu obětí dlouho do dospělosti.
Ještě horší je, že nejmenšího pokroku svět podle nejnovějších údajů Mezinárodní organizace práce dosáhl v ochraně dvou nejohroženějších skupin v populaci: dětí ve věku od pěti do 11 let a mladých dívek.
Problém nespočívá v tom, že bychom se nijak nepoučili z našich čtyř celosvětových setkání (poslední, konané v Buenos Aires, se završilo tento měsíc). Problém tkví v tom, že jsme selhali a selháváme v dodržování svých vlastních rad.
I ve chvíli, kdy spolu hovoříme, znepokojující globální vývoj přidává k dětské práci a obchodování s dětmi zlověstný obrat. Současné století mělo být érou posilování práv těch, kdo jsou nejvíc na okraji. Místo toho jsme svědky nejzvrácenějšího druhu globalizace, při níž se děti stávají mnohočetnými oběťmi.
Poněvadž obchodníci s lidmi dokážou snadno kořistit vprostřed chaosu, obzvlášť zranitelné jsou děti v oblastech konfliktu. Sýrie už léta přitahuje pozornost kvůli děsivému násilí, jemuž jsou vystaveny děti. Globální vzestup organizovaných gangů však znamená, že ohrožené jsou také děti v Asii, Africe, Latinské Americe a Evropě. K zastavení tohoto trendu jsou nezbytné bezodkladné a koordinované investice do vzdělávání a bezpečnosti všude tam, kde jsou děti v ohrožení – v oblastech konfliktu, uprchlických táborech a místech postižených přírodními katastrofami.
Často si lámu hlavu, jak jsme se do tohoto stavu dostali. Během posledních 37 let jsme s kolegy v Indii vysvobodili z nucených prací víc než 87 000 dětí. Zachránili jsme dívky, které byly zneužívány tak, že ztratily schopnost mluvit. Nedávno jsme vysvobodili děti z oděvní továrny v Novém Dillí, kde byly víc než tři roky nuceny sedět a pracovat 20 hodin denně v suterénu bez ventilace. Když byly převezeny do Mukti ášram, našeho přestupního rehabilitačního centra, mnohé nedokázaly chodit, dokonce ani zvednout zrak ke slunci.
Jsme na své úspěchy hrdí. Lidská podlost je ale pramenem přetrvávajícího žalu.
Jak můžeme s tímto utrpením jednou provždy skoncovat? Globální zasedání jako to, které právě skončilo, mají jistě svou úlohu. Jen mluvit ale nestačí. Vážné problémy, s nimiž se lidstvo potýká, se řeší pouze tehdy, když se dotčené subjekty stanou plnohodnotnými účastníky.
Poučné jsou úspěchy v oblasti veřejného zdraví. Bývaly například doby, kdy nemoci jako dětská obrna a neštovice ničily miliony. Díky koordinovanému úsilí lékařů, dobrovolníků, světových institucí, místních vlád a občanské společnosti se tyto nemoci podařilo zkrotit. K potlačení dětské práce je teď potřebná podobná spolupráce.
Začít je třeba zaměřením pozornosti na odvětví, kde se dětská práce vyskytuje, například zemědělství. Kromě pevných právních rámců je nezbytné zavést robustní mechanismy zodpovědnosti s cílem zaručit, že se dětská práce nebude používat v dodavatelských řetězcích. Zjistil jsem, že za vhodných pobídek se podniky a spotřebitelé mohou stát partnery v potírání dětské práce.
Příklad takové spolupráce se objevil v odvětví výroby koberců v jižní Asii, kde byly děti nemilosrdně zneužívány. Ve snaze prosadit změnu jsme uvedli do pohybu hnutí provádějící osvětu mezi spotřebiteli na Západě, abychom vlastníky továren na koberce přiměli chovat se zodpovědně. To vedlo k vytvoření značky GoodWeave, která potvrzuje, že na výrobě produktu se nepodílelo žádné dítě. Od vzniku značky před více než 20 lety dětské práce ve výrobě koberců v regionu strmě ubylo, ze zhruba milionu na asi 200 000.
Takové programy jsou prospěšné, ale nejdůležitější změny musí přinést mezinárodní úsilí pod vedením Organizace spojených národů. K přetnutí začarovaného kruhu dětské práce, negramotnosti a chudoby bude zapotřebí, aby mezivládní agentury spojily síly nad každým z Cílů udržitelného rozvoje, které přímo ovlivňují děti. Patří k nim Cíl 8, eliminovat nucené práce, moderní otroctví, obchod s lidmi a dětskou práci, Cíl 4, zajistit vzdělávání pro všechny, Cíl 3, poskytovat všeobecný přístup ke zdravotní péči a Cíl 16, zastavit všechny formy násilí páchaného na dětech.
Abychom uspěli, generální tajemník OSN António Guterres musí nasměrovat víc prostředků na zlepšování života dětí. Jeho prvním krokem by mělo být svolání schůzky s šéfy agentur OSN a mezinárodních organizací a se světovými lídry, za účelem sestavení agendy pro společné a soustředěné úsilí na ochranu mladých lidí po celém světě.
Jedině politická vůle dokáže v posledku udělat čáru přes rozpočet chmurným kalkulacím s dětskou prací. Nemůžeme budovat mírovější, udržitelnější svět, aniž bychom zajistili svobodu, bezpečnost a vzdělávání všem dětem. Život zaplněný prací okrádá děti o všechny tři.
Když přemýšlím o cestě vpřed, neustále se mi vybavuje dívka, kterou jsem viděl v Brazílii. Krvácela z drobných rukou, děsivě poraněných od trhání pomerančů. Položila mi jednoduchou otázku, na niž jsem nedokázal odpovědět: "Jak si svět může vychutnávat šťávu z těchto pomerančů, když při jejich sběru musí děti jako já prolévat krev?"
Právě to je také otázka, kterou si musíme položit všichni.
Z angličtiny přeložil David Daduč