Una nueva Gran Coalición para Alemania… y Europa
NUEVA YORK – Los amigos de Alemania y Europa han respirado con alivio ante la buena disposición de democratacristianos y socialdemócratas (SPD) alemanes de negociar una nueva versión de su gobierno de gran coalición. El mundo necesita una Alemania fuerte y decidida en una Unión Europea dinámica. Una gran coalición que trabaje junto con el Presidente francés Emmanuel Macron lo haría posible.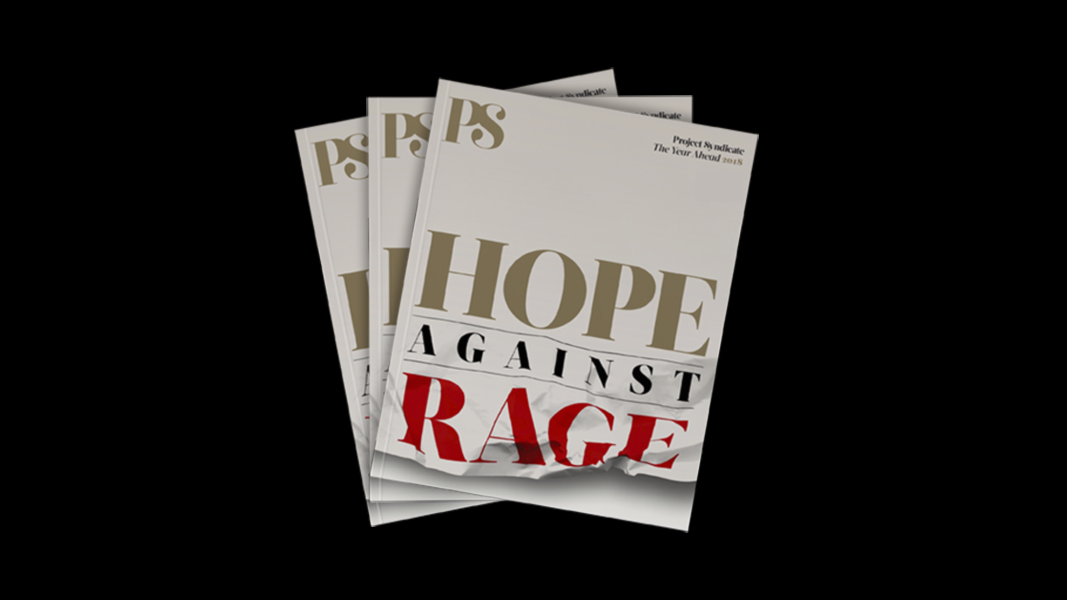 The Year Ahead 2018
The world's leading thinkers and policymakers examine what's come apart in the past year, and anticipate what will define the year ahead.
Puede que haya sido sincera, e incluso estratégicamente sensata, la decisión inicial del SPD de pasarse a la oposición tras sus malos resultados en las elecciones de septiembre. Pero no es oportuna. Casi en todos los países, la diplomacia se encuentra fracturada.
Los Estados Unidos están aquejados de un presidente sicológicamente inestable, un gabinete plutocrático y mayoría republicana en el Congreso. Europa está sumida en múltiples crisis económicas, sociales, políticas e institucionales. En contraste, China es dinámica y con la mirada dirigida hacia el exterior, lo que da buenas razones para que la UE asuma un liderazgo vigoroso y se involucre en relaciones de colaboración constructivas con ella en iniciativas clave (como una infraestructura sostenible que cruce Eurasia).
En resumen, son tiempos de importancia crítica para que Alemania y Europa aporten visión, estabilidad y liderazgo mundial. Y ese imperativo se extiende al Partido Democratacristiano (CDU) de la Canciller Ángela Merkel, su partido hermano bávaro, la Unión Social Cristiana (CSU) y el SPD.
Pero la CDU/CSU y el SPD deben hacer más que extender el gobierno anterior, que era demasiado localista en cuanto a perspectivas y temperamento. El mundo y Europa necesitan una Alemania abierta que ofrezca un mayor nivel de innovación institucional y financiera, de modo que Europa pueda ser una verdadera contraparte a EE.UU. y China en los asuntos exteriores. Digo esto como alguien que cree firmemente en el compromiso y el arte de gobernar de Europa cuando se trata de un desarrollo sostenible, en lo que es un requisito básico de nuestro tiempo.
El crecimiento económico socialmente inclusivo y ambientalmente sostenible es una idea muy europea que hoy se abraza globalmente en la Agenda 2030 de las Naciones Unidas y sus 17 Objetivos de Desarrollo Sostenible, así como en el acuerdo climático de París 2015. La experiencia de Europa con la socialdemocracia y la democracia cristiana hizo posible esta visión global. Pero hoy que su agenda que se ha adoptado en todo el mundo, el liderazgo de Europa en su cumplimiento se ha vuelto esencial.
Un gobierno de gran coalición en Alemania debe ayudar a que Europa asuma una posición de liderazgo. El Presidente francés Emmanuel Macron ha ofrecido algunas ideas importantes: un ministro de finanzas europeas; eurobonos para financiar un nuevo programa de inversiones europeas; más énfasis en innovación; un impuesto a las transacciones financieras para financiar un aumento en la ayuda a África, donde Europa tiene un interés estratégico en el desarrollo de largo plazo; y una armonización tributaria en términos más generales, antes de que los Estados Unidos active una carrera global descendente sobre la tributación de las corporaciones y los ricos.
Contrariamente a los alemanes que se oponen a esas ideas, un ministro de finanzas europeas y los eurobonos no tienen por qué llevar al despilfarro fiscal, ni deberían hacerlo, sino a un renacimiento de un crecimiento ecológico impulsado por las inversiones en Europa. China ha propuesto la Iniciativa de la Nueva Ruta de la Seda para construir una infraestructura ecológica que comunique el sudeste y el centro de Asia con Europa. Es tiempo de que Europa ofrezca una visión de similar osadía, estableciendo una relación de colaboración con China para renovar la infraestructura de Eurasia que haga posible un futuro con bajas emisiones de carbono.
Si Europa juega bien sus cartas, florecería su excelencia científica y técnica (y la de China). Si no, en el futuro estaremos todos conduciendo vehículos eléctricos chinos cargados con celdas fotovoltaicas chinas, y la industria automotriz de Alemania pasará a ser una nota al pie de página de la historia.
Además, un ministro de finanzas europeo pondría fin a la agonía autoinfligida de Europa tras la crisis financiera de 2008. Aunque sea difícil de creer, la crisis griega continúa todavía a una escala de Gran Depresión, a diez años de su inicio.
Esto ocurre porque Europa ha sido incapaz de solucionar, ni Alemania ha estado dispuesta a hacerlo, el caos financiero (incluidas las impagables deudas de Grecia) de una manera justa y abierta (similar al Acuerdo de Londres sobre las Deudas Externas Alemanas, firmado en 1953, como los amigos de esta nación le han recordado una y otra vez). Si Alemania no ayuda a liderar en este asunto, Europa como un todo enfrentará una prolongada crisis con graves repercusiones sociales, económicas y políticas.
En tres semanas, Macron convocará a los líderes mundiales para celebrar en París el segundo aniversario del acuerdo climático. Sin duda, se debe reconocer a Francia en este respecto, pero también a Alemania. Durante la Presidente del G20 de Alemania, Merkel mantuvo a 19 de los 20 miembros del G20 firmemente comprometidos con el acuerdo de París, a pesar de los ignominiosos intentos del Presidente estadounidense Donald Trump de arruinarlo.
Sí, la corrupción de la política estadounidense (especialmente el financiamiento de las campañas electorales por la industria del petróleo y el gas) amenazó el consenso global sobre el cambio climático. Pero Alemania se mantuvo firme. La nueva coalición también debería asegurase de que la Energiewende ("transición energética") del país cumpla los objetivos para 2020 fijados por los gobiernos anteriores. Estos compromisos importantes y alcanzables no deberían ser moneda de cambio en las negociaciones para formar la coalición.
Una alianza CDU/CSU-SPD, colaborando con Francia y el resto de Europa, podría y debería hacer mucho más sobre el cambio climático. Es de la mayor importancia que Europa llegue a un plan energético integral para descarbonizarse totalmente para 2050. Para ello se necesitará una red eléctrica inteligente libre de emisiones de carbono que se extienda por el continente y aproveche la energía eólica y solar no solo del sur de Europa, sino también del norte de África y el Mediterráneo oriental. Una vez más, los eurobonos, la colaboración verde con China y la unidad dentro de Europa podrían marcar la diferencia.
Una alianza así permitiría una nueva política exterior para Europa que promueva la paz y el desarrollo sostenible, apoyada por nuevos acuerdos de seguridad que no dependan tanto de los Estados Unidos. Europa, tan atractiva para cientos de millones de potenciales migrantes económicos, podría, debería y, creo, tendría que recuperar el control de sus fronteras, lo que les permitiría reforzar y aplicar límites necesarios a la inmigración.
Parecen estar claros los términos políticos de un nuevo gobierno de gran coalición. El SPD debería esperar cargos de liderazgo ministerial económico y financiero mientras la CDU/CSU mantiene la cancillería. Sería una verdadera coalición. No una que entierre al SPD políticamente o le niegue los medios de impulsar una agenda de desarrollo sostenible, que abarque a toda la UE, y sea inclusiva y realmente ecológica.
Con Merkel y el líder del SPD Martin Schulz al mando, el gobierno alemán estaría en manos excelentes, responsables y experimentadas. Los amigos y admiradores de Alemania, y todos los partidarios de un desarrollo global sostenible, esperan este importante paso.
Traducido del inglés por David Meléndez Tormen