Eine neue Große Koalition für Deutschland – und Europa
NEW YORK – Die neue Bereitschaft von CDU und SPD, Gespräche über eine Neuauflage der Großen Koalition aufzunehmen, ist von Freunden Deutschlands und Europas überall auf der Welt mit einem Seufzer der Erleichterung aufgenommen worden. Die Welt braucht ein starkes, weltoffenes Deutschland in einer dynamischen Europäischen Union. Eine neue Große Koalition, die mit der Regierung des französischen Staatspräsidenten Emmanuel Macron zusammenarbeiten würde, würde dies möglich machen.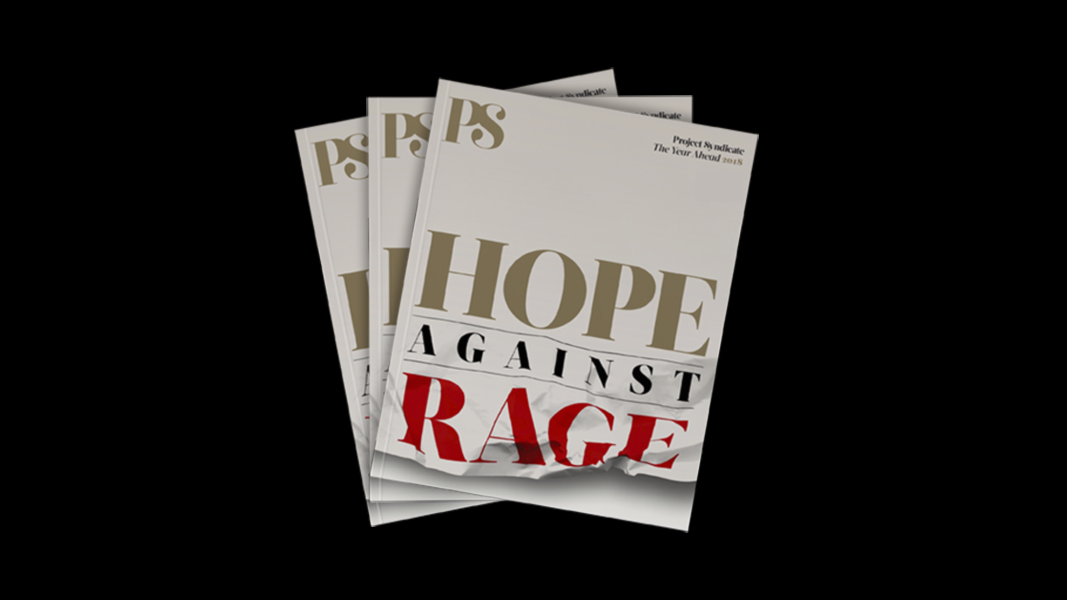 The Year Ahead 2018
The world's leading thinkers and policymakers examine what's come apart in the past year, and anticipate what will define the year ahead.
Die ursprüngliche Entscheidung der SPD, nach ihrem schwachen Abschneiden bei der Bundestagswahl im September in die Opposition zu gehen, war möglicherweise ernst gemeint und sogar strategisch vernünftig. Aber sie ist nicht zeitgerecht. Nahezu überall liegt die Diplomatie in Trümmern.
Die USA haben es mit einem psychologisch instabilen Präsidenten, einem Kabinett aus Plutokraten und einer Republikanischen Kongressmehrheit zu tun. Europa macht derzeit multiple wirtschaftliche, gesellschaftliche, politische und institutionelle Krisen durch. China dagegen ist dynamisch und blickt nach außen – und bietet der EU einen guten Grund, energisch eine Führungsrolle zu übernehmen und bei wichtigen Initiativen (wie einer nachhaltigen Infrastruktur in Eurasien) in konstruktive Partnerschaften mit China einzutreten.
Kurz gesagt: Dies ist eine kritische Zeit, in der Deutschland und Europa Visionskraft, Stabilität und globale Führung gewährleisten müssen. Dies ist eine zwingende Notwendigkeit, die sich auf Bundeskanzlerin Angela Merkels CDU, ihre bayrische Schwesterpartei CSU und die SPD erstreckt.
Doch müssen CDU/CSU und SPD mehr tun, als lediglich die bestehende Regierung fortführen, die von ihrer Ausrichtung und von ihrem Temperament her zu kleinräumig ausgerichtet war. Die Welt und Europa brauchen ein weltoffenes Deutschland, das für mehr institutionelle und finanzielle Innovation sorgt, damit Europa in internationalen Fragen ein echtes Gegenstück zu den USA und zu China sein kann. Ich sage dies als jemand, der in der Frage nachhaltiger Entwicklung – der Kernanforderung unserer Zeit – fest an Europas Engagement und richtungsweisende Staatskunst glaubt.
Gesellschaftlich inklusives und ökologisch nachhaltiges Wachstum ist eine sehr europäische Idee, die inzwischen in der Agenda 2030 und den 17 Zielen für nachhaltige Entwicklung der Vereinten Nationen sowie im Pariser Klimaabkommen von 2015 ihren globalen Niederschlag gefunden hat. Europas Erfahrung mit der Sozialdemokratie und der christlichen Demokratie hat diese globale Vision möglich gemacht. Doch nun, da diese Agenda weltweit übernommen wurde, ist eine Führungsrolle Europas zu ihrer Erfüllung unverzichtbar.
Eine Große Koalition in Deutschland muss helfen, Europa so aufzustellen, dass es eine derartige Führungsrolle übernehmen kann. Der französische Präsident Emmanuel Macron hat diesbezüglich einige wichtige Vorschläge gemacht: einen europäischen Finanzminister, Eurobonds zur Finanzierung eines neuen europäischen Investitionsprogramms, eine stärkere Schwerpunktsetzung im Bereich der Innovation, eine Steuer auf Finanztransaktionen, um mehr Hilfe für Afrika zu finanzieren, an dessen langfristiger Entwicklung Europa ein strategisches Interesse hat, und eine allgemeine Steuerharmonisierung, bevor die USA bei der Besteuerung der Konzerne und der Reichen einen Abwärtswettlauf auslösen.
Im Gegensatz zu den Vorstellungen der Deutschen, die derartige Ideen ablehnen, würden und sollten ein europäischer Finanzminister und Eurobonds nicht zu haushaltpolitischen Exzessen führen, sondern vielmehr zu neuerlichem investitionsorientierten grünen Wachstum in Europa. China hat die Initiative der "Neuen Seidenstraße" auf den Weg gebracht, um eine grüne Infrastruktur aufzubauen, die Südost- und Zentralasien mit Europa verbindet. Für Europa ist der Zeitpunkt gekommen, dieselbe kühne Vision anzubieten und eine Partnerschaft mit China einzugehen, um Eurasiens Infrastruktur für eine kohlenstoffarme Zukunft fit zu machen.
Wenn Europa seine Karten richtig ausspielt, werden Europas (und Chinas) wissenschaftliches und technisches Know-how von einer derartigen Vision profitieren. Wenn nicht, werden wir in Zukunft alle chinesische Elektrofahrzeuge fahren, die von chinesischen Photovoltaikzellen angetrieben werden, während Deutschlands Autoindustrie zu einer Fußnote der Geschichte wird.
Ein europäischer Finanzminister würde darüber hinaus endlich Europas selbst verschuldete Probleme im Gefolge der Finanzkrise von 2008 beenden. So unglaublich dies ist: Die Griechenlandkrise dauert zehn Jahre seit Ausbruch der Krise noch immer an, und zwar in einem Umfang, der an die Große Depression erinnert.
Der Grund hierfür ist, dass Europa nicht in der Lage und Deutschland nicht willens war, das Finanzchaos (inklusive der unbezahlbaren griechischen Schulden) auf faire, zukunftsgerichtete Weise (vergleichbar dem Londoner Abkommen über die deutschen Auslandsschulden von 1953, wie Deutschlands Freunde das Land wiederholt erinnert haben) zu beheben. Falls Deutschland in dieser Frage keine Führungsrolle übernimmt, wird sich Europa insgesamt einer lang andauernden Krise mit schweren gesellschaftlichen, wirtschaftlichen und politischen Folgen gegenübersehen. 
In drei Wochen wird Macron Staatsoberhäupter aus aller Welt in Paris zum zweiten Jahrestag des Klimaabkommens begrüßen. Frankreich sollte dort eindeutig den ihm zustehenden Applaus entgegennehmen, doch dasselbe gilt für Deutschland. Im Rahmen der deutschen G20-Präsidentschaft sorgte Merkel dafür, dass trotz des beschämenden Versuchs von US-Präsident Donald Trump, das Pariser Abkommen zu zerstören, 19 der 20G20-Mitglieder daran festhielten.
Zwar bedrohte die Korruption der US-Politik (insbesondere die Wahlkampffinanzierung durch die Öl- und Gasindustrie) den globalen Konsens zum Klimawandel. Doch Deutschland hielt stand. Die neue Koalition sollte auch gewährleisten, dass die deutsche Energiewende die von früheren Regierungen aufgestellten Ziele für 2020 erfüllt. Diese wichtigen, umsetzbaren Zusagen dürfen nicht zur Verhandlungsmasse in Koalitionsgesprächen werden.
Ein Bündnis aus CDU/CSU und SPD, das mit Frankreich und dem übrigen Europa zusammenarbeitet, könnte und sollte in der Frage des Klimawandels sehr viel mehr tun. Insbesondere braucht Europa einen umfassenden Energieplan zur vollständigen Dekarbonisierung bis 2050. Dies erfordert ein kohlenstofffreies intelligentes Stromnetz, das sich über den gesamten Kontinent erstreckt und Windkraft und Sonnenenergie nicht nur in Südeuropa, sondern auch in Nordafrika und dem östlichen Mittelmeer anzapft. Auch hierbei könnten Eurobonds, eine Umweltpartnerschaft mit China und Einigkeit innerhalb Europas den Unterschied machen.
Ein derartiges Bündnis würde zudem eine neue europäische Außenpolitik ermöglichen, die für Frieden und nachhaltige Entwicklung eintritt und durch ein neues Sicherheitssystem gestützt wird, das sich weniger stark als bisher auf die USA stützt. Als Anziehungspunkt für hunderte von Millionen potenzieller Wirtschaftsflüchtlinge könnte und sollte Europa die Kontrolle über seine Grenzen zurückerlangen (und würde dies meiner Meinung nach auch). Dies würde es ihm erlauben, die notwendigen Einwanderungsbeschränkungen zu verstärken und durchzusetzen.
Die politischen Bedingungen einer neuen Großen Koalition sind, so scheint es, klar. Die SPD sollte die Ministerien für Wirtschaft und Finanzen übernehmen, während CDU/CSU das Kanzleramt behalten. Dies wäre eine echte Koalition, und nicht eine, die die SPD politisch beerdigen oder ihr die Mittel nehmen würden, eine umweltfreundliche, inklusive, EU-weite nachhaltige Entwicklungsagenda voranzutreiben.
Mit Merkel und dem SPD-Vorsitzenden Martin Schulz am Steuer wäre die Bundesregierung in exzellenten, verantwortlichen und erfahrenen Händen. Deutschlands Freunde und Bewunderer und alle Befürworter einer nachhaltigen globalen Entwicklung hoffen auf diesen Durchbruch. 
Aus dem Englischen von Jan Doolan