Nová velká koalice pro Německo – a Evropu
NEW YORK – Přátelé Německa a Evropy na celém světě si úlevně oddechli nad čerstvě nalezenou ochotou německých křesťanských demokratů a sociálních demokratů (SPD) vést jednání o repríze jejich vlády velké koalice. Svět potřebuje silné a progresivní Německo v živé Evropské unii. Nová velká koalice působící po boku vlády francouzského prezidenta Emmanuela Macrona by to umožnila.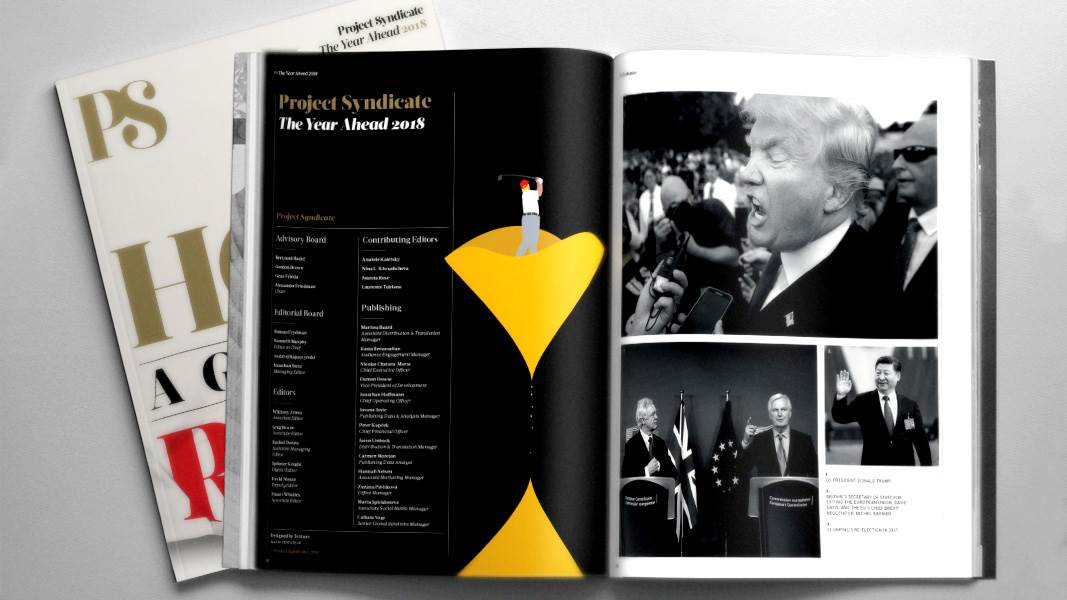 The Year Ahead 2018
The world's leading thinkers and policymakers examine what's come apart in the past year, and anticipate what will define the year ahead.
Počáteční rozhodnutí SPD jít po skrovném zářijovém volebním výsledku do opozice mohlo být upřímné, a dokonce strategicky rozumné. Není k tomu ale příhodná doba. Diplomacie téměř na celém světě je roztříštěná.
Spojené státy se potýkají s psychicky nestabilním prezidentem, plutokratickým kabinetem a republikánskou většinou v Kongresu. Evropou zmítají křeče četných ekonomických, sociálních, politických a institucionálních krizí. Naproti tomu Čína je dynamická, se zraky upřenými do světa – což dává EU dobrý důvod rázně se ujmout vůdčí úlohy a vstupovat s Čínou do konstruktivních partnerství nad stěžejními snahami (například udržitelnou infrastrukturou napříč Eurasií).
Stručně řečeno, nadešla zlomová doba, kdy by Německo a Evropa měly nabídnout vizi, stabilitu a globální vedení. A tento naléhavý požadavek dopadá na Křesťanskodemokratickou unii (CDU) kancléřky Angely Merkelové, její sesterskou Křesťanskosociální unii (CSU) a SPD.
Je ale zapotřebí, aby CDU/CSU a SPD víc než jen prodloužily svou předchozí vládu, který byla svými postoji a povahou příliš provinční. Svět a Evropa potřebují do sebe neuzavřené Německo, který nabízí víc institucionálních a finančních inovací, aby Evropa mohla být v globálních záležitostech skutečným protějškem USA a Číny. To říkám jako člověk pevně přesvědčený o odhodlání a průkopnickém státnictví Evropy, co se týče udržitelného rozvoje, stěžejního požadavku naší doby.
Sociálně inkluzivní a ekologicky udržitelný hospodářský růst je hluboce evropská myšlenka, dnes už celosvětově pojatá do Agendy OSN do roku 2030 a jejích 17 Cílů udržitelného rozvoje, jakož i do pařížské klimatické dohody z roku 2015. Tuto globální vizi přitom umožnily evropské zkušenosti se sociální a křesťanskou demokracií. Teď, když už si evropskou agendu osvojil celý svět, získala ovšem zásadní význam vůdčí úloha Evropy při jejím naplňování.
Vláda velké koalice v Německu musí pomoci posunout Evropu do postavení lídra. Francouzský prezident Emmanuel Macron nabídl několik důležitých nápadů: evropského ministra financí, eurobondy k financování nového evropského investičního programu, větší důraz na inovace, daň z finančních transakcí k financování posílené pomoci Africe, kde má Evropa strategický zájem na dlouhodobém rozvoji, a obecnější daňovou harmonizaci, než USA v oblasti zdanění korporací a bohatých rozpoutají globální dostihy z kopce.
Oproti názoru Němců, kteří se staví proti takovým úvahám, by funkce evropského ministra financí ani dluhopisy eurozóny nevedly a neměly vést k fiskální rozmařilosti, ale spíš k oživení investicemi taženého zeleného růstu v Evropě. Čína předložila iniciativu Jeden pás, jedna stezka s cílem vybudovat zelenou infrastrukturu spojující jihovýchodní a střední Asii s Evropou. Nadešla chvíle, kdy by Evropa měla předložit stejně smělou vizi a uzavřít s Čínou partnerství na modernizaci euroasijské infrastruktury pro nízkouhlíkovou budoucnost.
Bude-li Evropa se svými kartami správně hrát, bude pod takovou vizí vzkvétat evropská (a čínská) vědecká a technická znamenitost. Neučiní-li tak, budeme jednou všichni jezdit čínskými elektromobily nabíjenými z čínských fotovoltaických článků, zatímco německý automobilový průmysl vejde do dějepisu jako pouhá poznámka pod čarou.
Evropský ministr financí by navíc konečně zastavil agónii, již si Evropa po finanční krizi roku 2008 sama působí. Těžko uvěřit, ale řecká krize dodnes přetrvává, v měřítku Velké hospodářské krize, deset let po propuknutí krize.
Je to tím, že Evropa doposud nebyla schopná a Německo ochotné dát do pořádku finanční šlamastyku (včetně nesplatitelných řeckých dluhů) spravedlivým a do budoucna hledícím způsobem (tak jako londýnská dohoda z roku 1953 o externích dluzích Německa, jak přátelé Německa zemi opakovaně připomněli). Jestliže Německo nepomůže dodat do této oblasti vůdčí sílu, bude Evropa jako celek čelit vleklé krizi s těžkými sociálními, hospodářskými a politickými důsledky.
Za tři týdny se Macron v Paříži sejde se světovými lídry k druhému výročí klimatické dohody. Aplaus by tu měla rozhodně sklidit Francie, ale i Německo. Merkelová během německého předsednictví G20 dokázala u 19 z 20 členů skupiny udržet pevnou věrnost pařížské dohodě, navzdory hanebnému pokusu amerického prezidenta Donalda Trumpa ji rozvrátit.
Ano, prohnilost americké politiky (zejména financování kampaní ropným a plynařským průmyslem) ohrozila globální konsenzus ohledně změny klimatu. Německo ale odolalo. Nová koalice by také měla zajistit, že německý Energiewende ("obrat v energetice") splní cíle, jež k roku 2020 stanovily předchozí vlády. Při koaličních vyjednáváních by se o těchto dosažitelných a důležitých závazcích nemělo smlouvat.
Koalice CDU/CSU-SPD spolupracující s Francií a zbytkem Evropy by v oblasti změny klimatu mohla a měla udělat mnohem víc. Evropa především potřebuje komplexní energetický plán směřující k plné dekarbonizaci do roku 2050. To bude vyžadovat bezuhlíkovou inteligentní rozvodnou síť, která pokryje kontinent a napojí se na větrnou a solární energii nejen z jihu Evropy, ale i ze severní Afriky a východního Středomoří. K pokroku by opět mohly podstatně přispět eurobondy, zelené partnerství s Čínou a jednota uvnitř Evropy.
Taková koalice by také Evropě umožnila novou zahraniční politiku, která se bude zasazovat o mír a udržitelný rozvoj, opřena o nová bezpečnostní uspořádání, která nebudou tak silně záviset na USA. Evropa, magnet pro stamiliony zájemců o ekonomickou migraci, by mohla, měla a věřím, že i dokázala, opět získat kontrolu nad svými hranicemi, což by jí umožnilo zpevnit nezbytné migrační limity a vymáhat je.
Politické podmínky vlády nové velké koalice jsou, zdálo by se, jasné. SPD by měla sáhnout po ministerském řízení hospodářské a finanční politiky, zatímco CDU/CSU by si měla ponechat kancléřství. To by byla skutečná koalice, ne spojení, které by mohlo SPD politicky pohřbít nebo jí upřít nástroje k prosazování skutečně zeleného a inkluzivního celoevropského programu udržitelného rozvoje.
V čele s Merkelovou a předsedou SPD Martinem Schulzem by se německá vláda dostala do vynikajících, zodpovědných a zkušených rukou. Přátelé a obdivovatelé Německa a všichni příznivci celosvětového udržitelného rozvoje v takový průlom doufají.
Z angličtiny přeložil David Daduč