Een nieuw malariavaccin vraagt om een nieuwe aanpak
ABUJA – Een nieuw malariavaccin dat nu wordt beproefd in het ten zuiden van de Sahara gelegen deel van Afrika, waar 90% van de malariagevallen zich voordoet, kan een groot verschil maken voor de mondiale gezondheidszorg. Maar als het nieuwe vaccin zijn potentieel wil waarmaken, zullen de ministeries van volksgezondheid ook een paar belangrijke veranderingen moeten doorvoeren..
Ieder jaar doodt malaria wereldwijd een miljoen mensen, van wie het merendeel nog geen vijf jaar oud is. De economische lasten van de ziekte voor Afrika – de behandelingskosten, het arbeidsverzuim, het gemiste onderwijs, het productiviteitsverlies en het verlies aan investeringen en toerisme – zullen jaarlijks binnenkort naar schatting $12 mrd bedragen.
Het nieuwe RTS,S/AS01 (RTS,S) vaccin, in 32 jaar tijd ontwikkeld door GlaxoSmithKline voor  ruim $700 mln, zou daar grondig verandering in kunnen brengen. Bij klinische tests onder kinderen van 5 tot 17 maanden, die vier doses kregen, voorkwam het vaccin ongeveer vier op de tien (39%) malariagevallen in de vier jaar na toediening, en ongeveer drie op de tien (29%) gevallen van ernstige malaria, met een aanzienlijke vermindering van de ziekenhuisopnames. De noodzaak van bloedtransfusies in ernstige gevallen werd met 29% verminderd.
RTS,S, het eerste vaccin dat gedeeltelijke bescherming biedt tegen malaria bij jonge kinderen, wordt nu via routinematige inentingsprogramma's beschikbaar gesteld in speciaal geselecteerde gebieden in Ghana, Kenia en Malawi. Maar terwijl naar verwachting 360.000 kinderen ieder jaar met RTS,S ingeënt zullen worden, kennen deze programma's – en de gezondheidszorgsystemen waarbinnen zij functioneren – ernstige tekortkomingen.
Eén tekortkoming doet zich voor op het gebied van de opslag en de aflevering van de vaccins. De kracht van een vaccindosis hangt af van de vraag of het onderdeel is blijven uitmaken van een goed-functionerende "koude keten" – een systeem voor de opslag en het transport van vaccins bij aanbevolen temperaturen – vanaf het moment van de productie tot het moment van het gebruik. Om aan het doel van kindervaccinaties te voldoen moeten de koude ketens die naar kinderen overal ter wereld leiden – ook in afgelegen gebieden – veiliggesteld en waar nodig versterkt worden.
Dit betekent dat er geïnvesteerd moet worden in betrouwbare apparatuur voor vaccinopslag en -transport, adequaat onderhoud van die apparatuur, personeel om de distributie van vaccins te managen, en een effectieve controle van het hele systeem. Het betekent ook het investeren in infrastructuur (zoals wegen) en, waar conflicten en onzekerheid de kosten van dergelijke investeringen opdrijven, in innovatieve afleveringsmethoden.
Subscribe now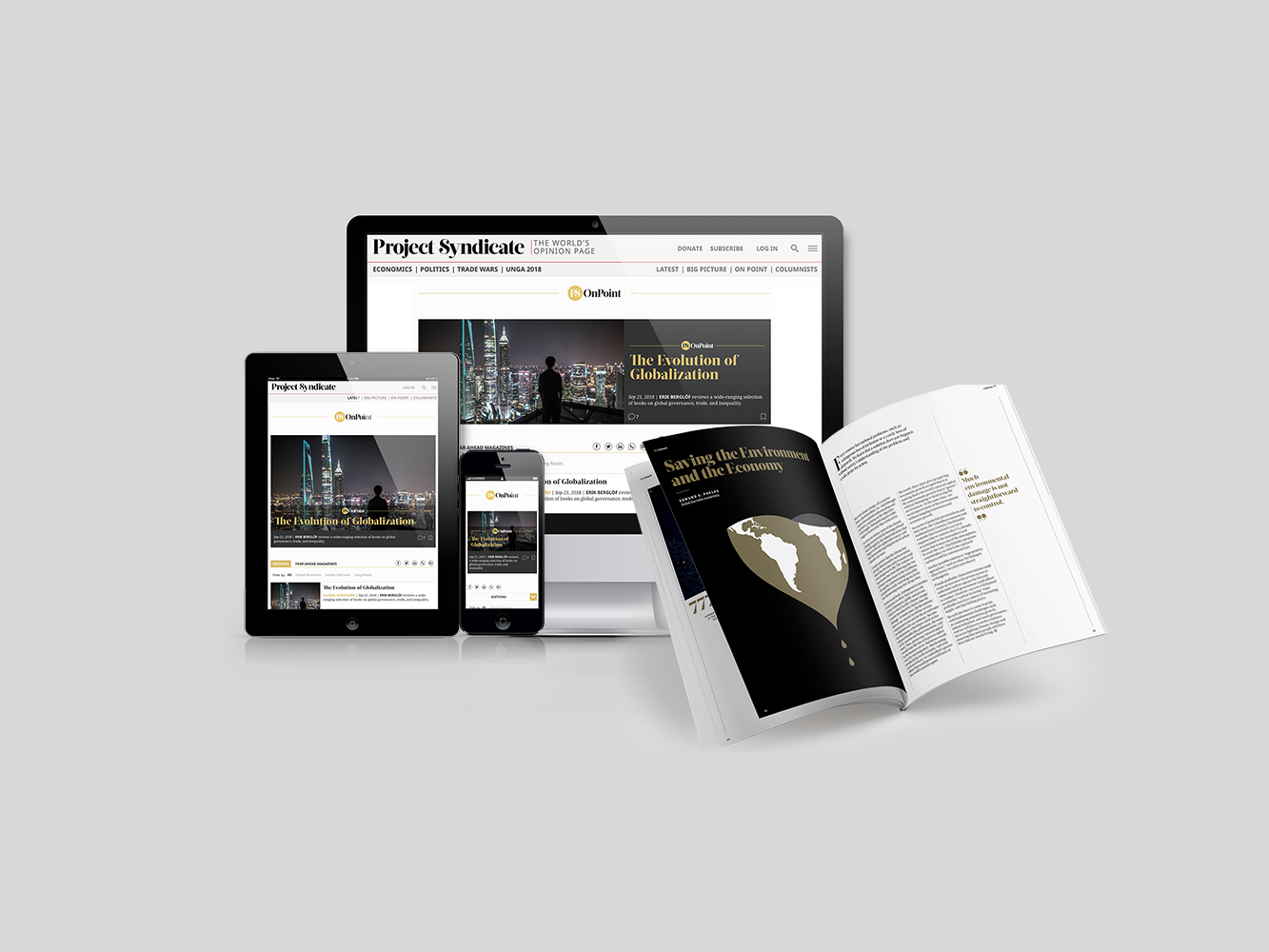 Subscribe now
Get unlimited access to OnPoint, the Big Picture, and the entire PS archive of more than 14,000 commentaries, plus our annual magazine, for less than $2 a week.
Zipline, een Rwandees techbedrijf, heeft proefgedraaid met het gebruik van drones om bloed, vaccinaties, medicijnen en andere essentiële gezondheidszorggoederen af te leveren. Het bedrijf, dat tot nu toe 13 miljoen mensen toegang heeft geboden tot urgente behandelingen, heeft onlangs  zijn actieradius uitgebreid naar Ghana. Een andere op technologie gebaseerde methode die zou moeten worden overwogen is het gebruik van mobiele telefoons voor het voorraadbeheer van vaccins en het voorkomen van tekorten bij faciliteiten voor de eerstelijnsgezondheidszorg.
Nog een andere noodzaak voor landen in Azië en Afrika is de vermindering van hun afhankelijkheid van Gavi, de vaccinatie-alliantie, voor de financiering van inentingsprogramma's. Sinds 2001 heeft Gavi $893 mln uitgekeerd aan Pakistan, $565 mln aan Nigeria, en $222 mln aan Afghanistan, om drie voorbeelden te noemen.
In plaats van afhankelijk te blijven van externe donoren – en de gevolgen te riskeren van donormoeheid – moeten landen de controle over hun vaccinatieprogramma's in eigen hand nemen. Eén manier om dat te doen is het introduceren van publiek gefinancierde universele ziektekostendekking.
Zoals het er nu voor staat, ontberen miljoenen mensen in Azië en Afrika toegang tot adequate, betaalbare en betrouwbare gezondheidszorg. Velen zien zich gedwongen levensreddende gezondheidsinterventies aan zich voorbij te laten gaan, omdat ze zich de astronomische kosten niet kunnen veroorloven.
Overeenkomstig de Duurzame Ontwikkelingsdoelstellingen van de Verenigde Naties moeten landen eraan werken om dit te veranderen, door de ziektekostendekking – inclusief de bescherming tegen financiële risico's en de toegang tot cruciale gezondheidszorgdiensten, medicijnen en vaccins – voor iedereen te verzekeren. In plaats van verticale gezondheidszorgprogramma's voort te zetten die zich richten op specifieke ziekten, moeten de internationale partners dit proces ondersteunen in de landen waar zij werken.
Zelfs als landen aan al deze voorwaarden voldoen, is het RTS,S vaccin uiteraard slechts gedeeltelijk effectief. Andere bewezen methoden voor het voorkomen van malaria – zoals duurzame, met insecticiden bewerkte netten, speciale therapieën voor zwangere vrouwen, goede sanitaire voorzieningen en de toepassing van achterblijvende insecticiden – moeten gesteund en verbeterd worden. Duurzame netten die worden gedistribueerd om bescherming te bieden tegen malaria worden nu nog vaak hergebruikt als visnetten in Kenia, als gordijnen in Madagascar, en als vogelnetten op zaaibedden in Nigeria.
Inentingscampagnes behoren tot de meest kosteneffectieve volksgezondheidsinterventies. Dat geldt ook voor het RTS,S-vaccin, vooral omdat het kan worden toegepast via bestaande vaccinatieprogramma's. Maar de aflevering ervan blijft in sommige gebieden een uitdaging. Als leiders er niet in slagen die uitdaging aan te gaan, zullen waarschijnlijk nog eens miljoenen kinderen hun vijfde verjaardag niet halen.
Vertaling: Menno Grootveld