A Metamorfose da Política de Crescimento
CAMBRIDGE – A política do desenvolvimento há muito se divide entre dois tipos de abordagens. Uma abordagem visa diretamente as pessoas pobres e busca aliviar a pobreza de famílias individualmente – por meio de apoio à renda, intervenções de saúde e educação e maior acesso ao crédito. A outra abordagem enfoca o aumento das oportunidades econômicas e o da produtividade geral – por meio de políticas macroeconômicas e comerciais em toda a economia ou reformas legais e regulatórias. Chamemos a primeira política de social e a segunda política de crescimento.
Geralmente, esses dois tipos de políticas são complementares. O crescimento agregado nem sempre pode ajudar a todos, especialmente os pobres. Consequentemente, os programas de combate à pobreza serão necessários mesmo quando a política de crescimento estiver fazendo seu trabalho de maneira adequada. Ocasionalmente, porém, as políticas sociais e de crescimento têm sido vistas como substitutas.
Por exemplo, o aumento do uso da experimentação de políticas aleatórias permitiu que analistas desenvolvessem evidências causais sobre políticas sociais – como doações em dinheiro ou intervenções em educação e saúde – de maneiras que raramente são possíveis com políticas macroeconômicas ou que abrangem toda a economia. Isso, por sua vez, levou muitos acadêmicos e profissionais a diminuir a importância prática da política de crescimento em relação à política social.
Isso é um erro, porque os verdadeiros determinantes da pobreza podem estar a alguma distância das famílias e comunidades pobres. O desenvolvimento econômico requer empregos produtivos não-agrícolas. O aumento das oportunidades de emprego nas cidades e o incentivo à migração do campo para as áreas urbanas podem aumentar a renda de maneira mais eficaz do que ajudar as pessoas a se tornarem melhores agricultores ou fornecer-lhes subsídios em dinheiro.
De fato, historicamente. a industrialização tem sido essencial para reduzir a pobreza É verdade que os benefícios do crescimento econômico impulsionado pela industrialização muitas vezes demoram para aparecer. Durante a Revolução Industrial da Grã-Bretanha, as condições de vida dos trabalhadores urbanos melhoraram muito lentamente, se é que melhoraram, por quase um século, até que o surgimento dos sindicatos e outras mudanças institucionais corrigiram o desequilíbrio de poder com os empregadores. Mas a experiência mais recente com a industrialização rápida e voltada para a exportação nos tigres do Leste Asiático e na China comprimiu esse processo e produziu milagres de redução da pobreza ao lado de milagres de crescimento.
Há fortes indícios de que estamos entrando em uma nova era em que a industrialização não será mais tão potente na disseminação dos benefícios dos ganhos de produtividade em toda a economia. As tendências globais em inovação reduziram de modo significativo o potencial das indústrias manufatureiras de absorver trabalhadores com baixa qualificação. A participação da mão-de-obra no valor agregado caiu rapidamente nesses ramos, especialmente para esses trabalhadores.
Subscribe to Project Syndicate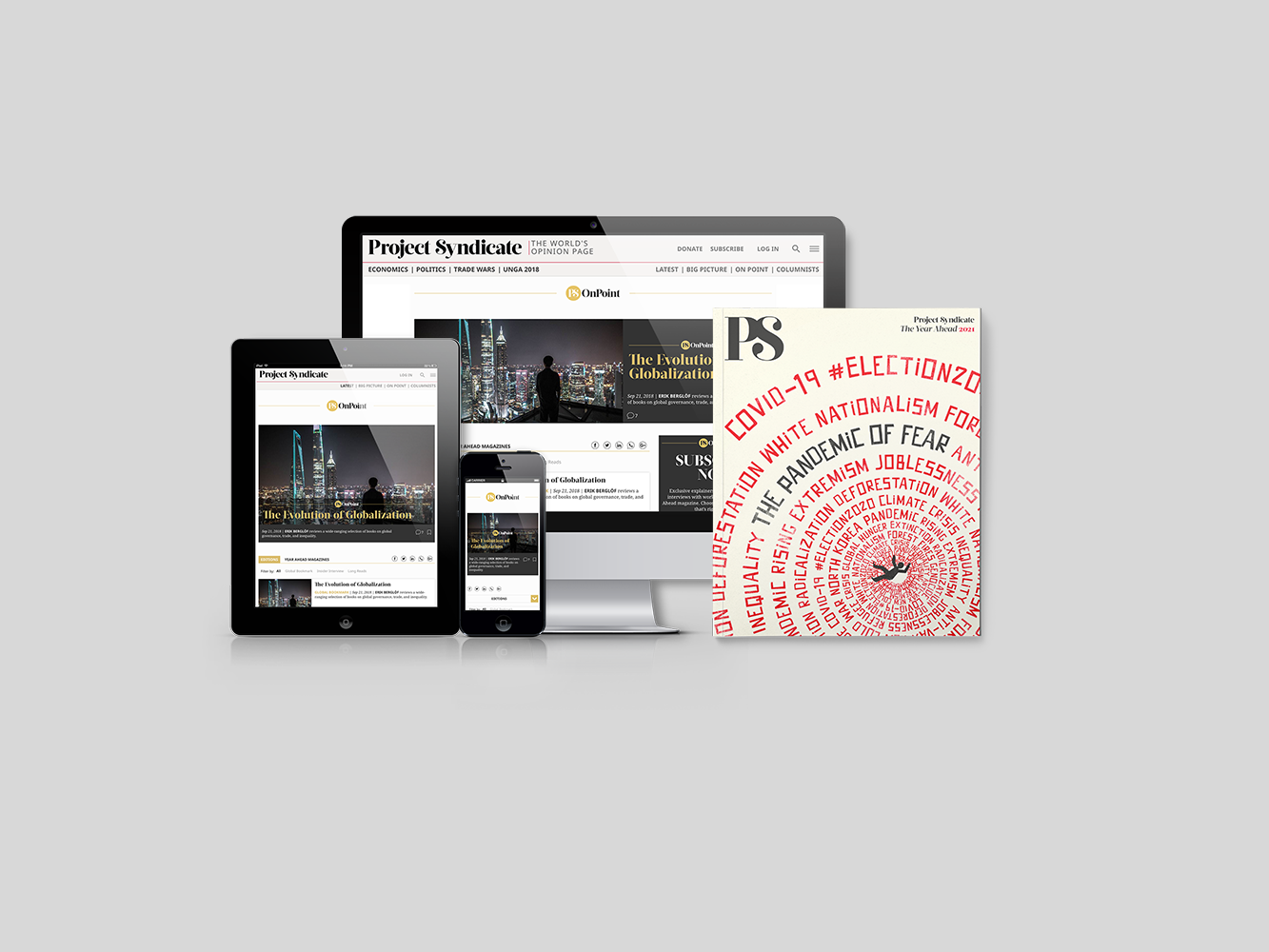 Subscribe to Project Syndicate
Enjoy unlimited access to the ideas and opinions of the world's leading thinkers, including weekly long reads, book reviews, topical collections, and interviews; The Year Ahead annual print magazine; the complete PS archive; and more – for less than $9 a month.
E, embora a globalização tenha acelerado a transferência da manufatura das economias avançadas para as economias em desenvolvimento, as cadeias globais de valor revelaram-se, na melhor das hipóteses, um veículo fraco para a criação de bons empregos, porque são uma  correia de transmissão para tecnologias intensivas em capital e habilidades, e porque seu modelo de negócios é baseado em insumos importados e falta de integração com a economia local. As indústrias manufatureiras globalmente competitivas nas economias em desenvolvimento operam cada vez mais como enclaves, semelhantes às indústrias extrativas voltadas para a exportação, altamente intensivas em capital. Elas podem estimular as exportações e aumentar a renda de um segmento restrito da economia, mas não atingem a maioria dos trabalhadores, especialmente os menos escolarizados.
Este modelo de crescimento fica aquém não apenas em termos de equidade ou redução da pobreza; também falha em promover maior crescimento porque as atividades de alta produtividade não podem envolver uma parcela crescente da economia. Assim como as economias ricas em recursos raramente crescem por muito tempo (fora dos booms dos termos de troca), o modelo industrialização não é mais capaz de gerar um crescimento econômico rápido e sustentado.
Como, então, deveria ser o atual modelo de crescimento? Como sempre, investimentos em capital humano, infraestrutura e melhores instituições continuam sendo indispensáveis ​​para ganhos econômicos de longo prazo. Esses são os fundamentos da convergência econômica nos  países ricos. Mas uma estratégia de crescimento que seja digna desse nome deveria aumentar a produtividade da força de trabalho existente, não da força de trabalho que pode surgir no futuro graças a esses investimentos.
Os países em desenvolvimento mantêm um potencial significativo para aumentar a produtividade agrícola e diversificar as colheitas tradicionais para comerciais ou de exportação. Mas mesmo com uma agricultura mais produtiva – e de fato como resultado dela – os jovens trabalhadores continuarão a deixar o campo e migrar para as áreas urbanas. Eles serão empregados não em fábricas, mas em microempresas informais em serviços de baixa produtividade com poucas perspectivas de expansão.
Portanto, as políticas de crescimento para a próxima geração terão que direcionar esses serviços e encontrar maneiras de aumentar sua produtividade. A realidade é que poucas empresas informais crescerão e se tornarão "campeãs nacionais". Mas, ao oferecer uma gama de serviços públicos –  ajuda com tecnologia, planos de negócios, regulamentações e treinamento para habilidades específicas – os governos podem desbloquear o potencial de crescimento dos melhores empreendedores entre eles. A prestação desses serviços pode estar condicionada ao monitoramento do governo e a metas brandas de emprego. Isso permitiria uma auto seleção positiva, com apenas as microempresas com maiores capacidades optando por se inscrever para obter assistência governamental.
Tradicionalmente, as políticas industriais ao estilo do Leste Asiático visam os fabricantes maiores e mais produtivos com maior probabilidade de se tornarem exportadores. As futuras "políticas industriais" terão de se concentrar principalmente em pequenas prestadoras de serviços, muitas das quais provavelmente não serão exportadoras. Essa nova geração de políticas industriais voltadas para segmentos de baixa produtividade pode melhorar os meios de subsistência da pobreza urbana e aumentar a produtividade nos setores da economia que absorvem mão de obra.
Uma implicação é que a política social e a política de crescimento se sobreporão cada vez mais. A melhor política social – que possibilita a redução sustentável da pobreza e maior segurança econômica – é criar empregos melhores e mais produtivos para os trabalhadores que estão na base da distribuição de habilidades. Em outras palavras, a política social deve se concentrar nas empresas tanto quanto nas famílias. E o novo contexto global e tecnológico implica que o crescimento econômico agora só é possível com o aumento da produtividade em empresas informais menores que empregam a maior parte das classes média-baixa e pobres. A política de desenvolvimento finalmente poderá tornar-se unificada.
Tradução de Anna Maria Dalle Luche, Brazil