El dilema de Bibi Netanyahu
JERUSALÉN – El 13 de febrero, tras una investigación iniciada en 2016, la policía israelí recomendó que se alcen cargos contra el primer ministro Binyamin Netanyahu por soborno, fraude e incumplimiento de los deberes de funcionario público. Ahora todos los ojos están puestos en el fiscal general Avichai Mandelblit, que debe decidir si acusará formalmente a un hombre que se ha vuelto casi sinónimo de la política israelí moderna.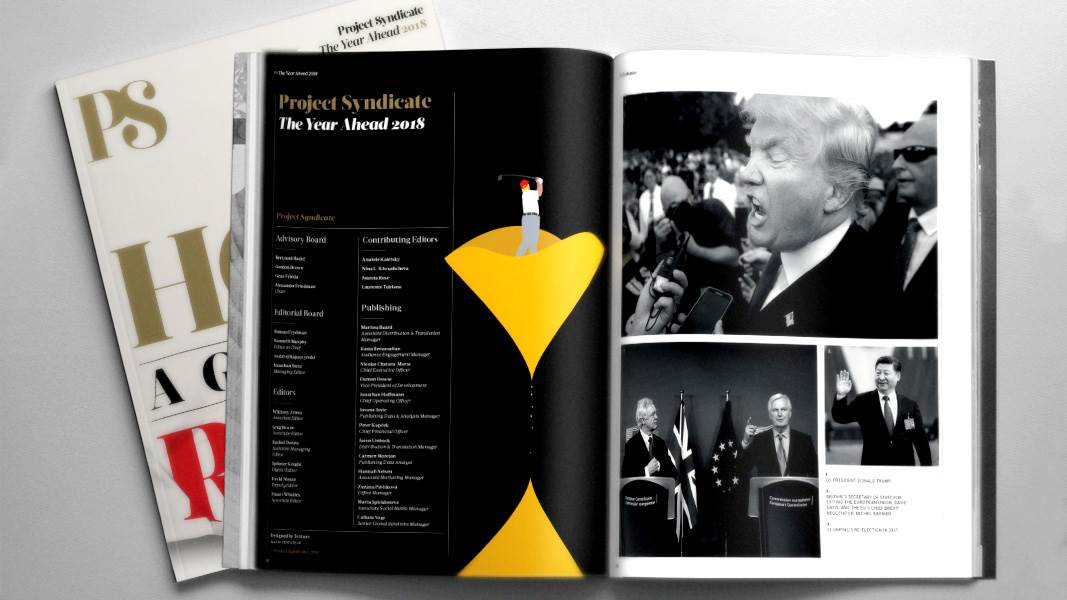 The Year Ahead 2018
The world's leading thinkers and policymakers examine what's come apart in the past year, and anticipate what will define the year ahead.
Si el gobierno actual sobrevive hasta mediados de 2019, Netanyahu se convertirá en el gobernante israelí con más tiempo de permanencia en el cargo. Pero por el momento no es seguro que vaya a durar tanto.
Tras su segunda asunción como primer ministro en marzo de 2009 (ya había ocupado el puesto entre junio de 1996 y julio de 1999), Netanyahu consiguió un crecimiento económico inédito y una serie de hazañas diplomáticas. Pero su gobierno también se caracterizó por una política extremadamente divisiva y la posibilidad creciente de una guerra en Siria, el Líbano y Gaza. La prevalencia de uno u otro aspecto dependerá de cómo se resuelva la difícil situación política en que se encuentra Netanyahu.
Las investigaciones que la policía acaba de concluir (con nombres en código "Caso 1000" y "Caso 2000") no son los únicos problemas legales que enfrenta Netanyahu: se están examinando también otras acusaciones de corrupción. La onda expansiva de estos escándalos (que incluyen acusaciones de haber aceptado unos 300 000 dólares en regalos a lo largo de diez años) puede arrasar la (ya de por sí frágil) dinámica de la política israelí, con un gobierno de coalición que incluye a rivales de Netanyahu con mucha influencia sobre él y su partido, el Likud.
Aunque los miembros del gobierno de Netanyahu no quieren sellar el destino de su líder antes de tiempo, no dejan de observar atentamente hacia dónde soplan los vientos políticos. A ninguno de sus ministros le conviene que se celebren nuevas elecciones, pero tampoco quieren irse a pique con un barco que se hunde.
A modo de ejemplo sirven los dilemas que enfrentan Moshe Kahlon (ministro de finanzas) y Naftali Bennett (ministro de educación). Ambos poseen un grado de influencia que podrían perder con la formación de una nueva Knesset (parlamento). Así que, mientras la crisis envuelve a Netanyahu, los miembros de su gobierno procuran sumar logros que los hagan atractivos al electorado por mérito propio.
Conforme esta tragedia política en cámara lenta se acelera, Netanyahu está reuniendo a la tropa para defender su inocencia y disuadir a enemigos que quieran adelantar su caída. Pero sus ministros están obligados a distanciarse de cualquier percepción de conducta ilícita (especialmente si los pedidos de renuncia se intensifican), como condición para poder hacer realidad sus propias aspiraciones políticas futuras.
El peligro de esta difícil situación es que puede volver a Netanyahu más receptivo a las demandas de las facciones más ambiciosas de la coalición. Fortalece a los halcones que propugnan una respuesta más vigorosa a la agresión que Irán patrocina en las Alturas del Golán y a los que insisten en que se construyan más asentamientos judíos en Cisjordania. Y los factores de poder ultraortodoxos también presionarán a Netanyahu para que no dé lugar a expresiones liberales del judaísmo en Israel.
Cualquiera de estos grupos puede instigar una revuelta y obligar a sus representantes en la Knesset a provocar la caída del gobierno de Netanyahu. Con tanta presión, el costo de la supervivencia política de Netanyahu puede ser muy elevado.
A complicar la situación contribuye (no sin cierta ironía) la relación de Netanyahu con el presidente estadounidense Donald Trump. Hasta hace poco, el gobierno israelí se sentía invencible en Estados Unidos, alentado por decisiones de la administración Trump como reconocer a Jerusalén como capital de Israel y trasladar allí su embajada, así como por su oposición declarada al acuerdo de 2015 sobre el programa nuclear de Irán.
Pero esa seguridad comienza a desaparecer. Este mes hubo una señal de que tal vez Israel cruzó una línea roja del gobierno de Trump, cuando un vocero de la Casa Blanca desmintió afirmaciones sobre presuntas conversaciones entre funcionarios de Estados Unidos y sus pares israelíes respecto de un plan de anexión de asentamientos en Cisjordania. Si esta reprimenda es efectivamente prueba de un desacuerdo creciente, cualquier endurecimiento de la política israelí puede tensar todavía más la relación del país con Estados Unidos.
Netanyahu no es un novato en política, y entiende perfectamente el dilema que tiene delante. Si renuncia a los principios y se rinde a las demandas agresivas de la coalición, pondrá en duda su lealtad al cargo que ocupa y al país que gobierna. Pero resistirse a la tentación de ceder puede ser su ruina. Nunca antes hubo tanto en juego, ni para Netanyahu ni para el estado que, por el momento, sigue liderando.
Traducción: Esteban Flamini