Bibis faustischer Pakt
JERUSALEM – Nach Ermittlungen, die im Jahr 2016 begannen, empfahl die israelische Polizei am 13. Februar, Anklage gegen Ministerpräsident Benjamin Netanjahu wegen Bestechung, Betrug und Untreue zu erheben. Nun liegt das Augenmerk auf Generalstaatsanwalt Avichai Mandelblit, der entscheiden muss, ob eine formelle Anklageschrift gegen einen Mann eingebracht wird, der gewissermaßen zum Synonym für die moderne israelische Politik geworden ist.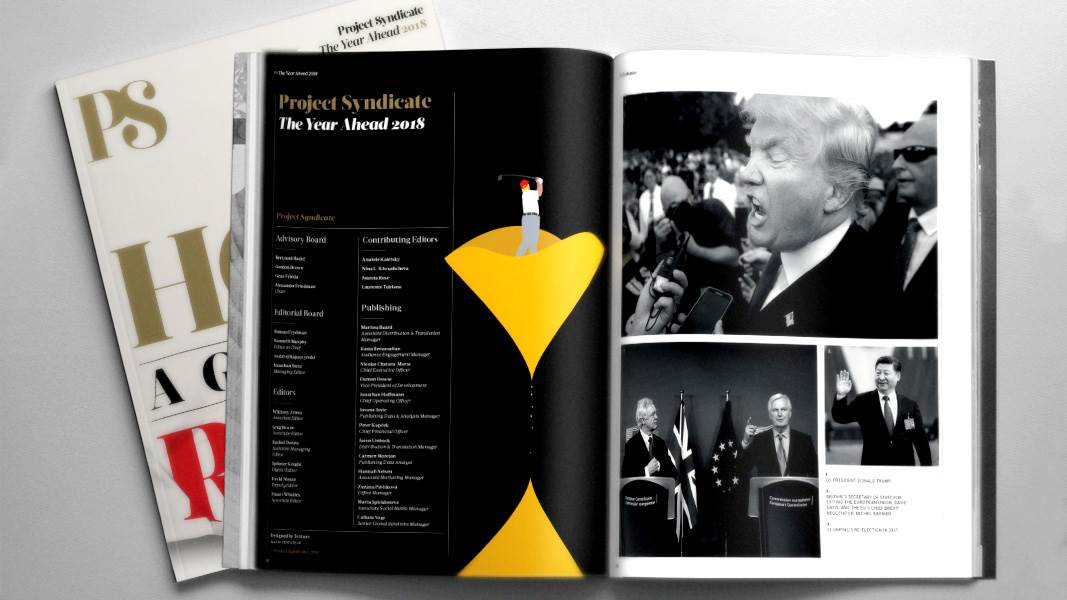 The Year Ahead 2018
The world's leading thinkers and policymakers examine what's come apart in the past year, and anticipate what will define the year ahead.
Wenn die derzeitige israelische Regierung bis zum Sommer 2019 überlebt, wird Netanjahu Israels dienstältester Spitzenpolitiker sein. Momentan ist es allerdings keineswegs sicher, dass er bis dahin im Amt bleibt.
Seit Netanjahus Rückkehr als Ministerpräsident im März 2009 – er hatte dieses Amt erstmals von Juni 1996 bis Juli 1999 inne – verzeichnete Israel ein beispielloses Wirtschaftswachstum und eine Reihe diplomatischer Erfolge. Gleichzeitig wurde die extreme Spaltung zu einem Merkmal seiner Amtszeit und das Säbelrasseln möglicher Kriege in Syrien, im Libanon und in Gaza unüberhörbar. Wie sich Netanjahus politische Zwangslage auflöst, wird darüber entscheiden, welches Narrativ die Oberhand behält. 
Allerdings sind die gerade eben abgeschlossenen Untersuchungen – mit den Kodenamen "Fall 1000" und "Fall 2000" – nicht die einzigen Herausforderungen Netanjahus auf rechtlicher Ebene; weitere Korruptionsermittlungen laufen noch.  Der Welleneffekt dieser Skandale – zu denen auch Anschuldigungen gehören, wonach er im Laufe eines Jahrzehnts Geschenke im Wert von etwa 300.000 Dollar annahm -  könnte eine ohnehin fragile politische Dynamik in Israel erschüttern, wo Rivalen in der Koalition Netanjahus enorme Macht über ihn und seine Likud-Fraktion haben.
Mitglieder der Regierung Netanjahu sind vorsichtig, wenn es darum geht, verfrüht über das Schicksal ihres Chefs zu entscheiden. Aber sie beobachten auch genau, woher der politische Wind weht. Zwar ist kein Minister besonders an Neuwahlen interessiert, aber mit einem sinkenden Schiff untergehen will auch niemand.
Aufschlussreich sind in dieser Hinsicht die Zwickmühlen, in denen Finanzminister Mosche Kachlon und Bildungsminister Naftali Bennett stecken. Beide verfügen über ein gewisses Maß an Einfluss, der in einer neuen Knesset nicht garantiert wäre. Während sich also die Krise um Netanjahu entfaltet, konzentrieren sich seine Regierungsmitglieder darauf, genügend Leistung zu erbringen, um die Wählerschaft mit ihren eigenen Verdiensten anzusprechen.
Nun, da diese politische Tragödie in Zeitlupe an Fahrt aufnimmt, versammelt Netanjahu seine Truppen, um seine Unschuld zu verteidigen und Feinde abzuschrecken, seinen politischen Untergang zu beschleunigen. Allerdings wird es für seine Kabinettskollegen von entscheidender Bedeutung sein, sich von wahrgenommenen Fehlverhalten zu distanzieren, wenn sie ihre eigenen langfristigen politischen Ambitionen verwirklichen wollen, insbesondere, wenn die Rücktrittsforderungen lauter werden.
Die Gefahr dieser Zwickmühle besteht darin, dass Netanjahu für die Forderungen der stärker ambitionierten Fraktionen in seiner Koalition empfänglicher werden könnte. Beispielsweise würden die Falken, die für eine engagiertere Reaktion auf die vom Iran gesponserte Aggression auf den Golanhöhen eintreten, ebenso ermutigt werden wie diejenigen, die auf den verstärkten Bau jüdischer Siedlungen im Westjordanland bestehen. Auch die ultraorthodoxen Strippenzieher würden Netanjahu unter Druck setzen, den liberalen Äußerungen des Judentums in Israel keinen Platz zu bieten.
Jede dieser Gruppen könnte eine Revolte anzetteln und ihre Vertreter in der Knesset zwingen, Netanjahus Regierung zu Fall zu bringen. Unter derartigem Druck könnten sich die Kosten für Netanjahus politisches Überleben als überaus hoch erweisen.
Verkompliziert wird all das – ironischerweise – durch Netanjahus Beziehung zu US-Präsident Donald Trump. Die israelische Regierung fühlt sich in den Vereinigten Staaten unschlagbar  – auch unterstützt durch die Entscheidung der Trump-Administration, Jerusalem als Israels Hauptstadt anzuerkennen und die amerikanische Botschaft dorthin zu verlegen sowie auch durch ihre offene Feindseligkeit gegenüber dem Atomabkommen mit dem Iran aus dem Jahr 2015.
Dieses Vertrauen schwindet mittlerweile allerdings. Die rote Linie der Trump-Administration wurde offenbar diesen Monat überschritten, als ein Sprecher des Weißen Hauses eine seltene Rüge an die Adresse Netanjahus richtete, in der man Berichte zurückwies, wonach offizielle Vertreter der USA mit ihren israelischen Amtskollegen Pläne für eine Annexion des Westjordanlandes diskutiert hätten. Sollte diese Schelte wachsende Uneinigkeit bedeuten, könnte jede Tendenz zur Unnachgiebigkeit in Israel die Beziehungen des Landes mit den Vereinigten Staaten noch stärker belasten.
Netanjahu ist kein politischer Neuling; er weiß genau, in welchem Dilemma er steckt.  Wenn er sich gegen seine Prinzipien entscheidet und den aggressiven Forderungen seiner Koalition nachgibt, beschädigt er die Loyalität, die er seinem Amt und dem von ihm regierten Land schuldet. Wenn er allerdings der Versuchung nachzugeben widersteht, könnte das sehr wohl seinen Untergang bedeuten. Es stand nie mehr auf dem Spiel – weder für Netanjahu noch für den Staat, dem er – momentan noch - vorsteht.
Aus dem Englischen von Helga Klinger-Groier