Le Marché faustien de Bibi
JÉRUSALEM – Le 13 février, au terme d'une enquête commencée en 2016, la police israélienne a recommandé la mise en examen du Premier ministre, Benyamin Nétanyahou, pour corruption, fraude et abus de confiance. Toute l'attention est aujourd'hui tournée vers le procureur général Avichaï Mandelblit, à qui il revient de décider s'il doit effectivement inculper un homme dont le nom est à peu près devenu le synonyme de la politique israélienne contemporaine.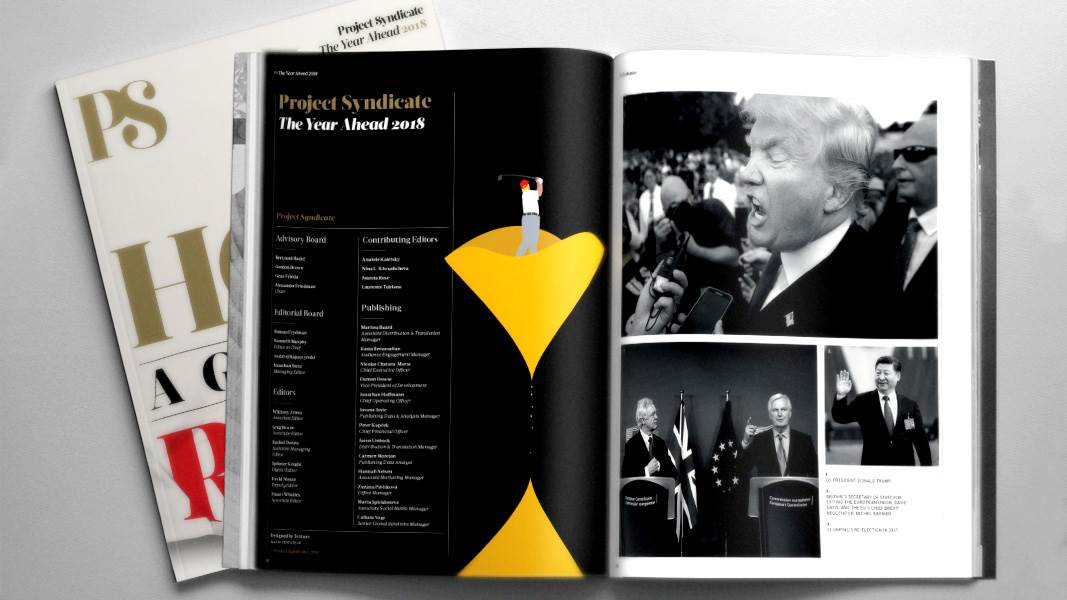 The Year Ahead 2018
The world's leading thinkers and policymakers examine what's come apart in the past year, and anticipate what will define the year ahead.
Si le gouvernement actuel survit jusqu'à l'été 2019, Nétanyahou deviendra le chef du gouvernement israélien demeuré le plus longtemps au pouvoir. Mais rien n'est moins certain aujourd'hui.
Depuis son retour à la fonction de Premier ministre, en mars 2009 – fonction qu'il avait déjà occupée une première fois de juin 1996 à juillet 1999 –, Nétanyahou s'est assuré une croissance économique sans précédent et une série d'exploits diplomatiques. Parallèlement, les divisions, de plus en plus extrêmes, sont devenues la marque de son mandat, et les rumeurs d'une guerre probable en Syrie, au Liban ou à Gaza, sont aujourd'hui assourdissants. La façon dont évoluera la situation délicate de Nétanyahou décidera de la tournure des événements et du récit qui prévaudra.
Les investigations de la police, qui viennent de se clore – sous les noms de code « Dossier 1 000 » et « Dossier 2 000 » – ne sont pas les seuls ennuis judiciaires auxquels Nétanyahou est confronté ; d'autres enquêtes pour corruption sont en cours. Le triple effet de ces scandales – il se dit qu'en dix ans, il aurait accepté des cadeaux pour une valeur de 300 000 dollars – pourrait avoir raison d'un équilibre des forces politiques déjà fragile en Israël, où les rivaux au sein de la coalition menée par Nétanyahou tiennent là un formidable moyen de pression sur lui-même et sur la faction du Likoud qu'il dirige.
Les membres du gouvernement se garderont de décider prématurément du sort de leur chef. Mais ils surveillent aussi très attentivement la direction d'où vont souffler les vents politiques. Aucun de ces ministres n'est particulièrement intéressé par de nouvelles élections, mais pas un ne souhaite sombrer avec le navire.
Les dilemmes qui se posent à Moshe Kahlon, le ministre des Finances, ou à Naftali Bennett, celui de l'Éducation, sont instructifs. Chacun d'eux jouit aujourd'hui d'un degré d'influence qu'une nouvelle Knesset (le Parlement d'Israël) ne leur accorderait peut-être pas. Ainsi à mesure que la crise enveloppe Nétanyahou, les membres de son gouvernement s'attachent-ils à s'attribuer suffisamment de réussites pour pouvoir s'en réclamer auprès de l'électorat.
Tandis que cette tragédie, jouée précédemment au ralenti, s'accélère, Nétanyahou rameute ses troupes pour défendre son innocence et dissuader ses adversaires de hâter sa démission. Mais il sera essentiel pour ses ministres de montrer qu'ils n'ont rien à se reprocher s'ils veulent à long terme conserver quelque ambition, surtout si les appels à la démission se font plus pressants.
Le danger de cette situation délicate, c'est qu'elle peut pousser Nétanyahou à succomber aux demandes des factions les plus ambitieuses de sa coalition. Ainsi des faucons qui plaident pour une réponse plus vigoureuse à l'agression commanditée par les Iraniens sur les hauteurs du Golan, mais aussi de ceux qui voudraient multiplier la construction de colonies juives en Cisjordanie. Quant aux puissants ultra-orthodoxes, ils feront pression sur Nétanyahou pour qu'Israël ne tolère pas d'expressions libérales du judaïsme.
N'importe lequel de ces groupes peut fomenter la révolte et contraindre ses représentants à la Knesset à censurer le gouvernement. Face à ces pressions, le coût de la survie politique du Premier ministre pourrait être exorbitant.
De façon paradoxale, les relations de Nétanyahou avec le président des États-Unis Donald Trump compliquent encore un peu les choses. Le gouvernement israélien s'est senti invincible aux États-Unis – soutenu par la décision de l'administration Trump de reconnaître Jérusalem comme capitale de l'État d'Israël et d'y transférer son ambassade, ainsi que par l'hostilité manifeste des Américains envers l'accord de 2015 avec l'Iran sur le nucléaire.
Mais aujourd'hui cette confiance semble se détériorer. L'administration Trump a décidé apparemment que certaines bornes avaient été dépassées et un porte-parole de la Maison-Blanche est allé jusqu'à faire des reproches à Nétanyahou, démentant des rumeurs selon lesquelles des responsables américains auraient étudié un plan d'annexion de la Cisjordanie avec leurs homologues israéliens. Si cette remontrance traduit un désaccord naissant, tout basculement vers une ligne dure pourrait tendre encore les relations avec les États-Unis.
Nétanyahou n'est pas un néophyte en politique ; il sait exactement à quelle sorte de dilemmes il fait face. S'il va contre ses principes et se rend aux exigences agressives de sa coalition, il exposera son allégeance à la fonction qu'il occupe et au pays qu'il gouverne. Mais s'il résiste à la tentation de donner des gages, il pourrait signer sa propre chute. Les enjeux n'ont jamais été aussi élevés, tant pour Nétanyahou que pour l'État qu'il continue, jusqu'à présent, de gouverner.
Traduction François Boisivon