صفقة سافلة لرئيس الوزراء الإسرائيلي
القدس –في 13 فبراير / شباط، وبعد التحقيق الذي بدأ في عام 2016، أوصت الشرطة الإسرائيلية بتوجيه الاتهام إلى رئيس الوزراء بنيامين نتانياهو بسبب الفساد والاحتيال وخيانة الأمانة. كل الأضواء الآن مسلطة على النائب العام أفيتشا ماندلبليت، الذي يجب أن يقرر ما إذا كان سيوجه اتهامات رسمية ضد شخص تحول فعلا إلى مرادف للسياسة الإسرائيلية الحديثة.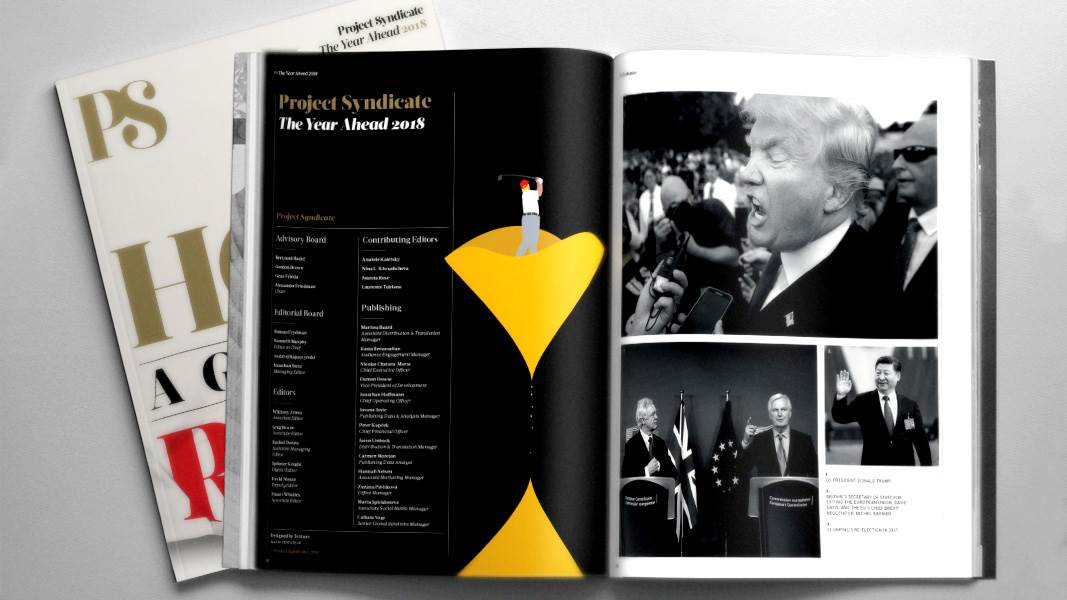 The Year Ahead 2018
The world's leading thinkers and policymakers examine what's come apart in the past year, and anticipate what will define the year ahead.
وإذا استمرت الحكومة الحالية حتى صيف عام 2019، سيصبح نتنياهو رئيسا لإسرائيل. ولكن الآن ليس من الواضح ما إذا كان سينجح في ذلك أم لا.
ومنذ توليه منصب رئيس للوزراء في آذار / مارس 2009 - فقد شغل هذا المنصب منذ حزيران / يونيو 1996 حتى تموز / يوليو 1999 - شهدت إسرائيل تحت قيادته نموا اقتصاديا غير مسبوق وفاز بسلسلة من الانتصارات الدبلوماسية. وفي الوقت نفسه، أصبحت الانقسامات، المتطرفة على نحو متزايد، السمة المميزة لولايته، وأصبحت الآن الشائعات عن حرب محتملة في سوريا أو لبنان أو غزة صامتة. إن الطريقة التي سيتطور بها وضع نتنياهو الحساس ستقرر دور الأحداث والتبعات التي ستسود.
إن تحقيقات الشرطة التي انتهت لتوها -تحت اسم "القضية 1000" و "القضية 2000" - ليست التحديات القانونية الوحيدة التي يواجهها نتنياهو؛ ولا تزال التحقيقات الأخرى بشأن الفساد مستمرة. إن التأثير المتداعي لهذه الفضائح - التي تتضمن ادعاءات بقبول هدايا قيمتها الإجمالية 300.000 دولار لمدة عشر سنوات - يمكن أن يحدث خللا في الديناميكية السياسية الهشة بالفعل في إسرائيل، حيث كان لدى المنافسين داخل تحالف نتنياهو تأثير كبير عليه وعلى حزبه الليكود.
وسيحرص أعضاء الحكومة على عدم اتخاذ قرار مسبق بشأن مصير زعيمهم. لكنهم يراقبون عن كثب الاتجاه الذي ستهب منه الرياح السياسية. لا يهتم وزراؤه بشكل خاص بإجراء انتخابات جديدة، ولكن لا أحد منهم يرغب في الغرق مع السفينة.
إن المعضلات التي تواجه موشيه كاهلون وزير المالية، ونفتالي بينيت وزير التعليم، واضحة للغاية. ولكل لها حاليا تأثير معين، والتي لن تكون مضمونة في التكوين الجديد للكنيست (البرلمان). ونتيجة لذلك، مع تعمق الأزمة حول نتنياهو، ركز أعضاء حكومته على إظهار الإنجازات الشخصية لتصبح جذابة للناخبين على حساب مزاياهم الخاصة.
وبما أن المأساة السياسية البطيئة تتسارع، سيبدأ نتنياهو في حشد المؤيدين لحماية براءته الخاصة ومنع أي عدو من التعجيل بانهياره. وسيجبر زملاؤه في مجلس الوزراء على الابتعاد عن صخب الجرائم لكي يتمكنوا من تحقيق طموحاتهم السياسية الطويلة الأجل، خاصة إذا بدأت الدعوة إلى الاستقالة تتصاعد.
ويكمن خطر هذا الوضع الصعب في أن يصبح نتنياهو قادرا على تلبية مطالب الفصائل الأكثر طموحا في تحالفه. على سبيل المثال، سيشجع الصقور الذين يطالبون برد فعل قوي على العدوان الذي تنظمه إيران على مرتفعات الجولان، وكذلك أولئك الذين يصرون على توسيع بناء المستوطنات اليهودية في الضفة الغربية. كما أن جماعات الضغط الأرثوذكسية المتطرفة ستضغط أيضا على نتنياهو بعدم التطرق للقضايا الليبرالية اليهودية في إسرائيل.
ويمكن لأي من هذه الجماعات إثارة التمرد وإجبار ممثليها في الكنيست على فرض رقابة على الحكومة.وفي مواجهة هذه الضغوط، يمكن أن تكون تكلفة بقاء رئيس الوزراء السياسي باهظة.
ومن المفارقات أن علاقات نتنياهو بالرئيس الأمريكي دونالد ترامب تجعل الأمور أكثر صعوبة. لقد شعرت الحكومة الإسرائيلية أنها لا تقهر في الولايات المتحدة -  بدعم من قرار إدارة ترامب بالاعتراف بالقدس عاصمة لإسرائيل ونقل سفارتها هناك، فضلا عن عدائها الصريح لاتفاق إيران النووي لعام 2015.
ولكن يبدو أن هذه الثقة تعرف تراجعا ملحوظا. ومن الواضح انه قد تم تجاوز الخط الأحمر لإدارة ترامب هذا الشهر، عندما انتقد الناطق باسم البيت الأبيض ناتانياهو، ونفى الشائعات بأن المسؤولين الأمريكيين قد ناقشوا خطة ضم الضفة الغربية مع نظرائهم الإسرائيليين. إذا كان هذا الانتقاد يشير حقا إلى خلاف متزايد، فإن أي تحول نحو تشديد مسار إسرائيل سيزيد من تعقيد علاقات البلاد مع الولايات المتحدة.
إن نتنياهو ليس مبتدئا في السياسة، فهو يعرف بالضبط نوع المعضلة التي يواجهها. إذا كان سيتعارض مع مبادئه وسيستسلم لمطالب تحالفه العدوانية، فإنه سيكون غير جدير بالمنصب الذي يشغله والبلد الذي يحكمه. وإذا كان سيقف أمام إغراء الحل التوفيقي، فهذا يعني نهاية حكمه. الرهانات خطيرة جدا أكثر من أي وقت مضى- لا بالنسبة لنتنياهو ولا  بالنسبة للدولة - التي لا يزال يقودها حتى الآن.