Het sprookje dat CO2-neutraal heet
BERLIJN – De emissies uit het verbranden van kolen, olie en gas warmen de planeet op zo'n snel tempo op dat steeds wisselvalliger en gevaarlijker klimaatomstandigheden vrijwel onvermijdelijk lijken. Het is overduidelijk dat we de uitstoot snel moeten verminderen en ondertussen alternatieve energiebronnen moeten ontwikkelen die ons in staat stellen fossiele brandstoffen in de grond te laten zitten.
Deze opdracht klinkt nogal als een open deur. Toch is klimaatverandering de laatste decennia onderwerp geweest van zo veel politieke indolentie, valse informatie en wensdenken dat we nog steeds naar ineffectieve of onmogelijke oplossingen kijken, in plaats van naar actie om het probleem bij de wortel aan te pakken. Vaak zijn deze 'oplossingen' gestoeld op non-existente of riskante nieuwe technologieën.
Deze benadering is zeer aantrekkelijk, omdat deze noch business as usual noch de orthodoxe sociale economie bedreigt. Maar klimaatmodellen die afhankelijk zijn van ongrijpbare technologieën verzwakken het imperatief om de diepe structurele veranderingen door te voeren die nodig zijn om een klimaatcatastrofe te voorkomen.
De meest recente 'oplossing' die naar voren komt zijn 'net-zero emissions' die afhankelijk zijn van z.g. 'carbon capture and storage' (CCS). Alhoewel deze technologie nog heel wat tekortkomingen heeft deed voorzitter van het Intergovernmental Panel on Climate Change (IPCC) Rajendar Pachauri vorige maand de zeer problematische uitspraak dat: 'het met CCS volledig mogelijk is om op grote schaal fossiele brandstoffen te blijven gebruiken'.
Het moet wel gezegd worden dat het nieuwste assessment report van het IPCC de noodzaak onderstreept van het drastisch terugbrengen van de uitstoot van CO2 om te voorkomen dat we het kleine – en nog steeds riskante - koolstofbudget van de wereld overschrijden. Maar om te draaien van duidelijk omschreven doelen als 'geen uitstoot', totale decarbonisatie' en '100% hernieuwbare energie' naar het veel vagere doel van CO2-neutraliteit is een gevaarlijke stellingname.
Het idee van net-zero impliceert namelijk dat de wereld kan doorgaan met het produceren van uitstoot zolang er een manier is om er van af te komen. Dus in plaats van stante pede een radicaal traject voor uitstootvermindering te gaan volgen kunnen we doorgaan met het uitstoten van enorme hoeveelheden CO2 – en zelfs nieuwe kolencentrales bouwen – terwijl we beweren dat we klimaatactie ondernemen door het 'steunen' van de ontwikkeling van CCS-technologie. Het is blijkbaar irrelevant dat die technologie misschien niet zal werken, en enorme praktische uitdagingen en het gevaar van toekomstige lekkages met zich meebrengt, wat enorme gevolgen voor het milieu en de maatschappij zou hebben.
Subscribe to Project Syndicate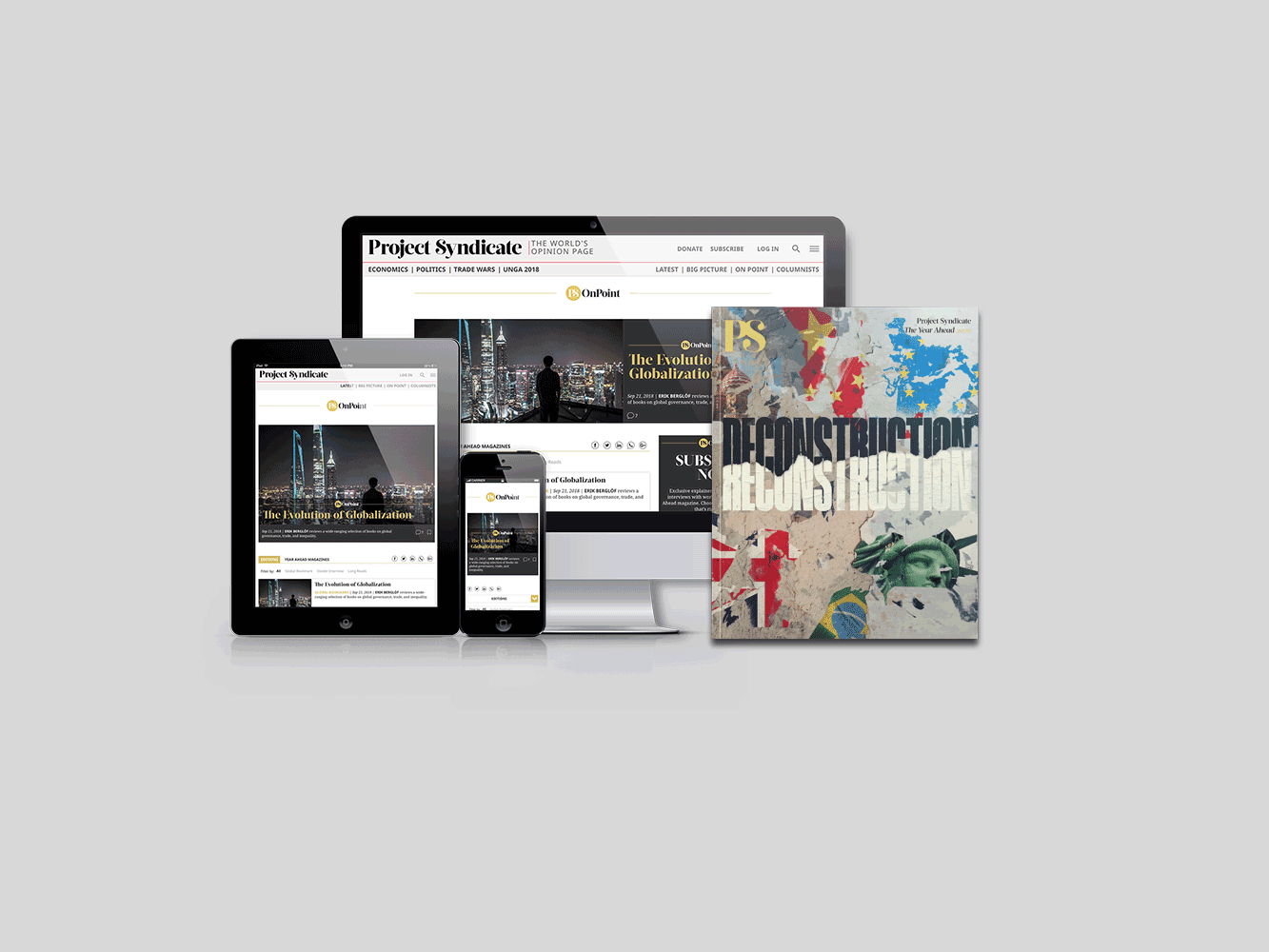 Subscribe to Project Syndicate
Enjoy unlimited access to the ideas and opinions of the world's leading thinkers, including weekly long reads, book reviews, and interviews; The Year Ahead annual print magazine; the complete PS archive; and more – all for less than $2 a week.
Bio-Energie met Carbon Capture and Storage (BECCS) is het uithangbord van de nieuwe 'overshoot' benadering van klimaatneutraliteit. BECCS houdt het planten van een grote hoeveelheid gras en bomen in, het verbranden van de biomassa om elektriciteit op te wekken, het afvangen van de CO2 die vrijkomt die dan in ondergrondse geologische reservoirs gepompt wordt.
BECCS zou enorme gevolgen voor de ontwikkeling hebben en landroof op grote schaal uitlokken, waarschijnlijk van armen. Dit is niet een of ander vergezocht scenario; de groeiende vraag naar biobrandstof spoort in ontwikkelingslanden al vele jaren verwoestende onteigeningen aan.
En er is nog veel meer land nodig om een substantiële hoeveelheid CO2-emissies teniet te doen. Er zou zelfs zo'n geschatte 218-990 miljoen hectare naar switchgrass (Vingergras) over moeten gaan om met gebruik van BECCS een miljard ton koolstof te verwerken. Dat is 14 tot 65 maal de hoeveelheid land die de Verenigde Staten gebruikt om mais voor ethanol te verbouwen.
De uitstoot van lachgas uit de ruime hoeveelheid mest die nodig zou zijn om het switchgrass te verbouwen zou genoeg kunnen zijn om de klimaatverandering te verergeren. Dan is er nog de CO2-uitstoot door de productie van kunstmest; het weghalen van bomen, struiken en gras van honderden miljoenen hectares land, waarbij grote reservoirs opgeslagen koolstof vrijkomen; en het transport en het verwerken van het gras.
Zelfs nog problematischer is de onthulling dat CCS en BECCS het meest waarschijnlijk gebruikt zullen gaan worden voor 'verbeterde oliewinning', waarbij samengeperste CO2 in oude oliebronnen gepompt wordt voor opslag, waarmee een financiële stimulans wordt gecreëerd om meer olie uit bronnen te peuren. Het ministerie van energie van de VS schat in dat dit soort methoden 67 miljard rendabele vaten olie zouden kunnen opleveren (drie maal de bewezen Amerikaanse oliereserves). Gegeven het geld dat er op het spel staat zou verbeterde oliewinning zelfs een van de motieven achter CCS kunnen zijn.
Hoe het ook zij, geen enkele vorm van CCS brengt het doel van een structurele verschuiving naar volledige ontkoling dichterbij, wat is wat sociale bewegingen, academici, de gewone man en zelfs een aantal politici steeds vaker eisen. Ze zijn bereid om de ongemakken die tijdens de transitie zullen ontstaan te accepteren; ze zullen de uitdaging van het opbouwen van een economie met nul-uitstoot zelfs zien als een kans om hun maatschappijen en gemeenschappen te vernieuwen en verbeteren. Op deze missie is er geen ruimte voor gevaarlijke, ongrijpbare en te-mooi-om-waar-te-zijn technologieën.
Een helder begrip van de klimaatcrisis breidt de reikwijdte van potentiele oplossingen aanzienlijk uit. Zo zou duurzame energie bijvoorbeeld door het verbieden van nieuwe kolencentrales en het verschuiven van subsidies naar de financiering van hernieuwbare energie door teruglevertarieven naar miljarden mensen wereldwijd gebracht kunnen worden, terwijl de afhankelijkheid van fossiele brandstoffen wordt verminderd.
Terwijl dit soort innovatieve en praktische oplossingen worden tegengehouden opgeschaald te worden, worden er ondertussen miljarden dollars in subsidies gepompt die de status quo in stand houden. De enige manier om het systeem te hervormen en om echte vooruitgang te boeken richting het in de hand houden van klimaatverandering is er aan te werken fossiele brandstoffen compleet uit te bannen. Vage doelen gebaseerd op schimmige technologie gaan echt niet werken.
Lili Fuhris is hoofd van de afdeling Ecologie en Duurzame Ontwikkeling bij de Hendrik Boll Stichting in Berlijn. Niclas Hällström is directeur van het What Next Forum in Uppsala.