La Realpolitik olympique de Moon Jae-in
SÉOUL – Le Président sud-coréen Moon Jae-in a bien démarré cette nouvelle année. Non seulement il a fait négocier un accord pour faire venir la Corée du Nord aux Jeux olympiques d'hiver à Pyeongchang ; mais il a également convaincu le président des États-Unis Donald Trump que cela était en fait une idée de Trump.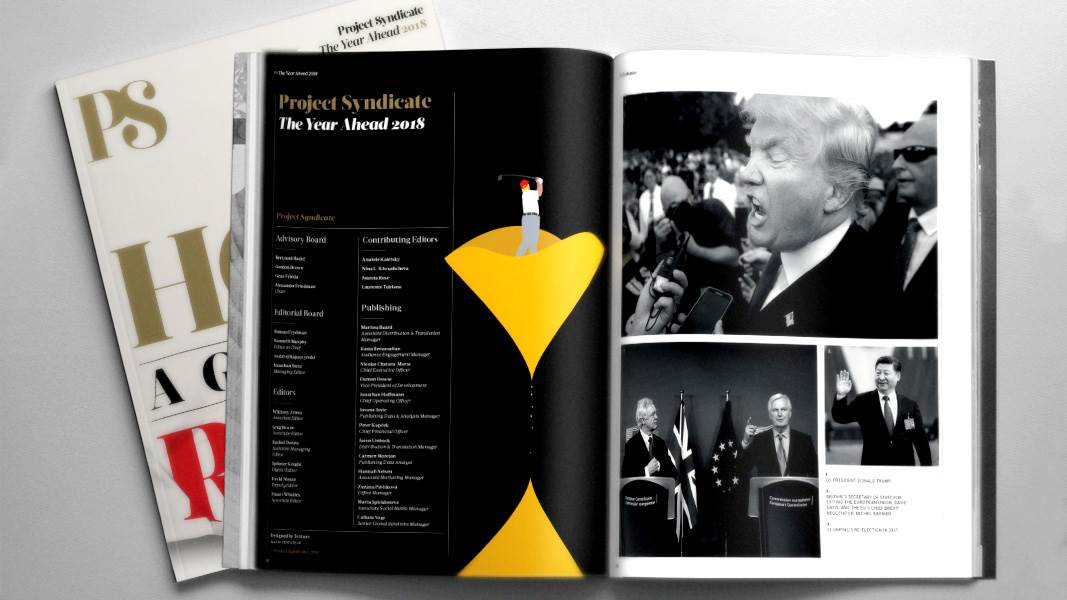 The Year Ahead 2018
The world's leading thinkers and policymakers examine what's come apart in the past year, and anticipate what will define the year ahead.
Avec son coup olympique, Moon a géré la menace nord-coréenne sur les Jeux et a évité toute réaction violente de la part des États-Unis. Pourtant l'accord conclu entre la Corée du Nord et du Sud dans le village frontière de Panmunjom ce mois-ci a peu de chances de conduire à des pourparlers sur le désarmement nucléaire.
En revanche, une fois les Jeux terminés, le Nord va probablement utiliser l'ouverture diplomatique actuelle pour procéder à des sondages dans d'autres domaines indépendants de son programme nucléaire, ce qui, à son tour, soulèvera un ensemble de questions familières difficiles pour les relations entre les États-Unis et la Corée du Sud.
Après tout, le leader nord-coréen Kim Jong-un n'était certainement pas motivé par une véritable résolution du Nouvel An quand il a appelé à améliorer les relations avec la Corée du Sud le 1er janvier. Au contraire, sa manœuvre était conforme à la politique de longue date du Nord visant à affaiblir l'alliance américano-sud-coréenne.
En tendant le bras vers le Sud, Kim veut démontrer que le Nord peut vivre en paix avec ses voisins, tout en conservant un arsenal nucléaire. Plus généralement, Kim cherche à normaliser le statut du Nord en tant que puissance nucléaire en devenir auto-proclamée aux yeux du monde.
La réalisation de ces objectifs, comme Kim l'espère, va créer un fossé entre les États-Unis et la Corée du Sud. Il sait que les cotes d'approbation de Trump en Corée du Sud sont bien inférieures à ses cotes déjà abyssales aux États-Unis : il exploite donc ce fait pour faciliter son objectif de normalisation nucléaire. Bien sûr, le Nord est toujours à la recherche d'occasions de se libérer des sanctions.
Moon, pour sa part, a bien géré « l'offensive de paix » de Kim. Les athlètes olympiques et les pom-pom girls de Corée du Nord seront sans aucun doute accueillis avec enthousiasme quand ils arriveront en train dans le Sud et la foule poussera des cris d'approbation lorsque les athlètes des deux pays entreront dans le stade sous la même bannière.
Certes, les Nord-Coréens penseront qu'ils ont été invités à participer aux Jeux non pas en dépit de leur programme nucléaire, mais à cause de lui. De leur point de vue, la Corée du Sud semble avoir développé un nouveau respect - ou une nouvelle peur - à l'encontre de ce que devient le Nord. Et la participation aux Jeux Olympiques suggère que l'isolement international est un fait temporaire de la vie, une étape sur le chemin vers un statut nucléaire pleinement reconnu. Ils pourraient penser que, bientôt, d'autres pays feront la queue pour offrir au Nord un siège à la table des négociations diplomatiques.
Mais Moon a clairement fait savoir que son gouvernement ne serait pas séduit par l'esprit olympique. Si les dirigeants nord-coréens s'attendent à ce que la participation aux Jeux conduise à la reconnaissance du statut nucléaire de leur pays, ils risquent d'attendre longtemps. L'objectif du Sud est d'accueillir des Jeux Olympiques réussis, après une année où de nombreux pays se sont demandé s'il était sûr d'envoyer une délégation. Une fois les Jeux terminés, le Nord fera face à un long hiver d'opprobre et d'isolement.
Cela signifie que le Nord aurait tort de supposer que le Sud lui demandera de rouvrir le complexe industriel de Kaesong, l'un des efforts de coopération Nord-Sud les plus ambitieux de l'ère de détente 2003-2009. Moon n'a montré aucun intérêt pour de tels gestes. Il comprend que les concessions unilatérales n'amélioreront pas la position de la Corée du Sud vis-à-vis des autres puissances régionales et mondiales en réaction au comportement nord-coréen.
Comme les Saoudiens et d'autres avant lui, Moon sait qu'on ne gagne le cœur de Trump qu'en passant par son ego. Mais il doit également gérer le front plus large des pays qui participent à des sanctions historiquement fortes contre un État odieux. À cet égard, la première grande épreuve de Moon aura lieu immédiatement après les Jeux olympiques, lorsque le Commandement des forces conjointes de la Corée du Sud et des États-Unis décidera de ses plans pour de futurs exercices militaires.
Bien entendu, la Corée du Nord s'opposera à de tels exercices, comme elle le fait toujours. Mais la Chine et la Russie elles aussi pourraient accuser les États-Unis d'inverser le dégel olympique. Même dans ce cas, une alliance militaire sans exercices est comme un orchestre sans instruments. Il y a de grandes chances que Moon ait compris cela, tout comme il se rend compte que l'importance de la relation de son pays avec les États-Unis, malgré ses casse-têtes et ses complexités, éclipse celle de tous ses autres partenariats dans le monde.
En fin de compte, un gouvernement progressiste sud-coréen tel que celui de Moon doit toujours démontrer au public qu'ils peut gérer et sauvegarder les relations américaines. Jusqu'à présent, c'est ce que Moon a réussi à faire.