La desaceleración de la India con Modi
NUEVA DELHI – Hasta hace poco, los indios estaban acostumbrados a dar el crecimiento económico por sentado. Tras una década con un promedio anual superior al 9%, la economía de la India capeó la recesión mundial posterior a 2008 y mantuvo un impresionante 7% hasta 2014‑15. El ritmo de crecimiento del país parecía imparable.
Y entonces llegó el gobierno del primer ministro Narendra Modi, con su mayor error de política económica, la desmonetización, que retiró de circulación el 86% del dinero de la India de un día para el otro (con el objetivo, según Modi, de sacar a la luz patrimonios no declarados). La economía todavía no se recuperó. Se perdieron millones de empleos, y cientos de miles de pequeñas empresas y microempresas (que empleaban a entre 2 y 7 trabajadores y dependían del flujo de efectivo diario para seguir andando) se vinieron a pique. Lo único que se logró fue que Modi, que valora las apariencias más que los resultados reales, transmitiera imagen de audacia y determinación.
Si la desmonetización fue una mala idea mal implementada, después vino una buena idea mal implementada: un impuesto nacional sobre bienes y servicios. En vez de un gravamen general sencillo con una única alícuota (como el aplicado en todos los países donde el concepto funcionó bien), el gobierno presentó un sistema de varios tramos. A pesar de tener cinco alícuotas diferentes, más un impuesto a los bienes suntuarios, la implementación apresurada y torpe del gobierno mantuvo una serie de exenciones clave (entre ellas el alcohol y la gasolina) y sigue confundiendo a todos los contribuyentes alcanzados. Ambas iniciativas pusieron freno al crecimiento económico, con pronósticos que hablan de una desaceleración al 5% para este año fiscal.
Las malas noticias abundan: el desempleo está en un nivel del 8,4% (el máximo en 45 años) y en aumento; los padecimientos del sector agrícola han provocado un récord de suicidios de agricultores (por eso ahora el gobierno se niega a publicar las cifras); y se redujeron las manufacturas, las exportaciones y el índice de producción industrial. La producción de los ocho sectores industriales más importantes de la India (carbón, petróleo crudo, gas natural, productos del petróleo refinados, fertilizantes, acero, cemento y electricidad) disminuyó un 0,5% en agosto.
En tanto, los bancos de la India soportan una enorme carga de préstamos morosos, con deudas que superan los 150 000 millones de dólares, mientras una institución financiera tras otra queda bajo la lupa de reguladores y autoridades policiales. El crédito se contrajo, por el temor de los bancos a acumular más préstamos morosos, y eso redujo a un mínimo la inversión. Como el mercado inmobiliario residencial está frenado por la disminución de la demanda de viviendas nuevas, muchos constructores tienen problemas para devolver préstamos a los bancos, lo que agrava la crisis. Con consumidores sin recursos, bancos que no quieren dar crédito e inversores temerosos de endeudarse, no está claro de dónde saldrá el muy necesario empujón al crecimiento económico.
Las ventas de autos se derrumbaron un 32% en agosto, la mayor caída anual en dos décadas, que continuó por undécimo mes consecutivo en septiembre, cuando las ventas disminuyeron un 23,7%, y se mantuvo en octubre, cuando lo normal es que tres festividades hinduistas una detrás de la otra alienten a los consumidores a gastar. A esto siguió una importante oleada de despidos en el sector automotor; Ford anunció cierres de fábricas, y se calcula que hay un millón de puestos de trabajo en riesgo.
Subscribe now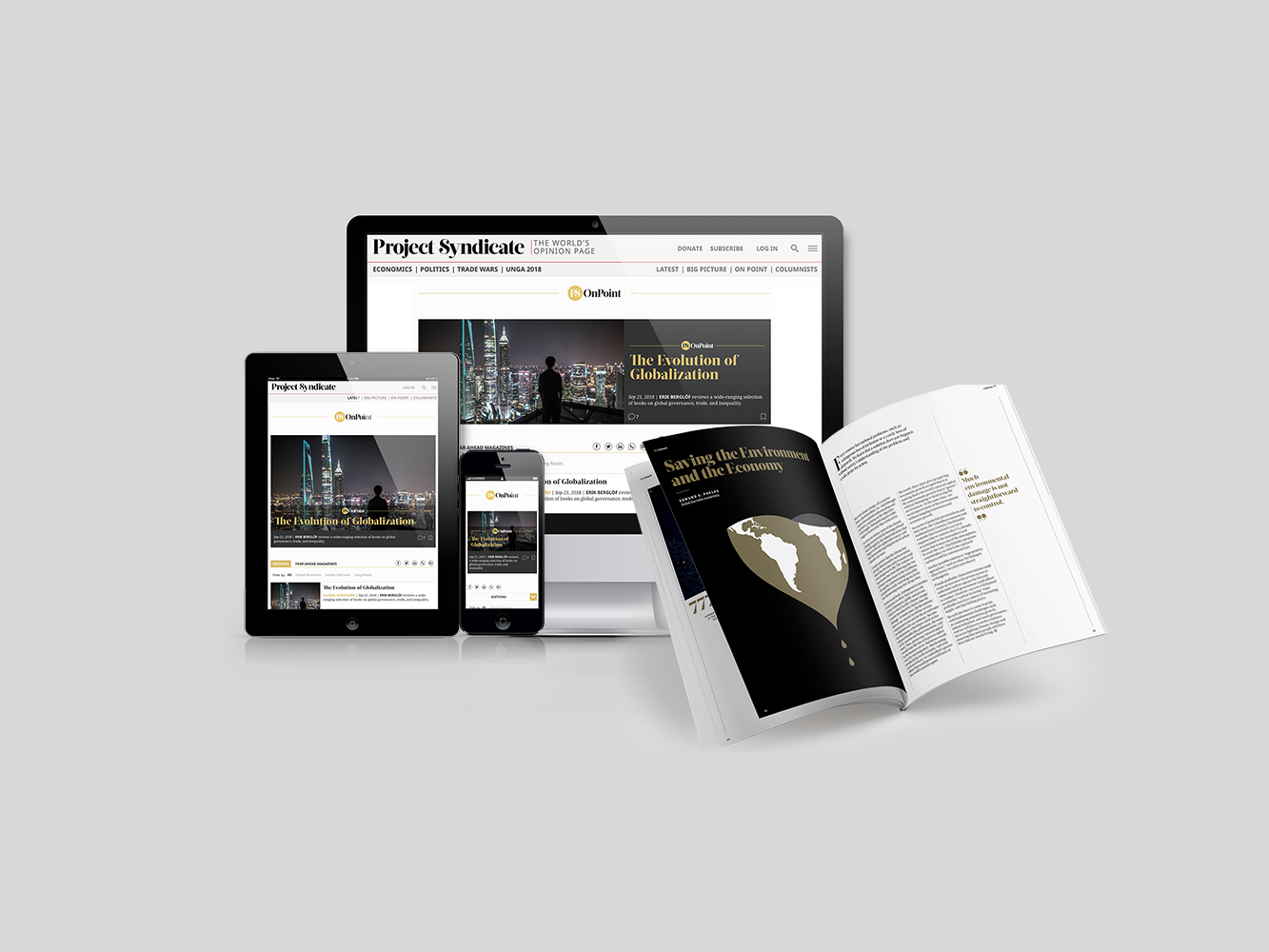 Subscribe now
Subscribe today and get unlimited access to OnPoint, the Big Picture, the PS archive of more than 14,000 commentaries, and our annual magazine, for less than $2 a week.
Lo mismo que con otros problemas económicos, estos hechos son atribuibles ante todo a decisiones políticas de los gobiernos central y de los estados de la India. El encarecimiento de los autos se debe no sólo a los impuestos a los bienes suntuarios que alcanzan a los modelos más caros y a los efectos de normas de seguridad y sobre emisiones más estrictas, sino también a subas del impuesto a las ventas de autos en nueve estados. Y la gran morosidad lleva a que bancos y empresas financieras restrinjan el otorgamiento de préstamos para la compra de autos, de los que dependen los concesionarios. El sector automotor es prueba de hasta qué punto la desaceleración económica de la India es resultado de ineptitud política.
La caída de la actividad económica se ve en todas partes y afecta la vida diaria de la gente común. A los indios nos encanta acompañar nuestra omnipresente taza de té con galletas, pero incluso la venta de este producto se redujo un 8%, lo que motivó a la popular fabricante Parle a anunciar el despido de miles de trabajadores. Y el grado de la desaceleración india se confirma por el famoso "índice del calzoncillo", propuesto por Alan Greenspan, expresidente de la Reserva Federal de los Estados Unidos. Greenspan postuló que una disminución de la venta de ropa interior masculina es un indicador muy preciso de restricciones al consumo; y hay datos que señalan una reducción del 50% de la venta de estos productos en Tirupur, capital de la industria del vestido en el estado meridional de Tamil Nadu.
El reciente encarecimiento del petróleo agravó los problemas de la India en el corto plazo. A más largo plazo, los avances en robotización e inteligencia artificial también actúan como freno al crecimiento, porque vuelven a muchos países occidentales menos dependientes de la exportación de habilidades indias en áreas como la programación, la transcripción de informes médicos y la subcontratación de servicios telefónicos. Y la desvalorización récord de la rupia respecto del dólar ha encarecido importaciones esenciales.
No ayudó que en medio de todo esto, el presidente estadounidense Donald Trump haya convertido a la India en blanco de su creciente belicosidad hacia los socios comerciales de Estados Unidos. La camaradería que mostraron Trump y Modi hace poco en Houston no se trasladó a una resolución de las cuestiones por las que Estados Unidos se viene quejando.
A la par que esto sucedía, el gobierno pareció desorientado. Su proyecto de presupuesto generó desesperación en la comunidad empresarial, y un aumento inesperado de impuestos a las inversiones extranjeras llevó a muchos inversores a vender sus tenencias de activos indios y marcharse. Luego (cuando ya era evidente la repercusión negativa de estas medidas) el gobierno dio marcha atrás con los aumentos de impuestos y anunció incentivos para las empresas.
Tras la contundente reelección de Modi en mayo, con una mayoría todavía más grande para su partido, muchos economistas esperaban que tomara medidas audaces para eliminar los muchos obstáculos que desalientan a los inversores indios y extranjeros. Pero no las hubo, ni tampoco medidas de estímulo a corto plazo. Viejos problemas como el estancamiento del sector agrícola, la rigidez de la legislación laboral y unos costos de la tierra impagables no tienen sencillamente ningún lugar en la agenda del gobierno.
Como la desaceleración económica deja la recaudación impositiva muy por debajo de las proyecciones, la presión sobre los funcionarios del área para que atrapen a los evasores creció, y se han lanzado investigaciones invasivas que algunos han denunciado como "terrorismo impositivo". Muchos millonarios indios han comenzado a votar con los pies; el año pasado emigraron 5000, y es probable que este año la cantidad sea mucho mayor.
La conclusión es ineludible: el milagro económico de la India está en pausa. Y que nadie se haga esperanzas de que el gobierno de Modi lo reactive.
Traducción: Esteban Flamini