Zneužívání argumentu o nečinnosti
SAN JOSÉ, KOSTARIKA – Jeden často opakovaný argument obhajující aktivní postup proti klimatickým změnám zní sice přesvědčivě, ale ukazuje se jako téměř podvodný. Je založen na porovnání nákladů na akci s náklady na nečinnost a používají ho téměř všichni významní světoví politici.
Například předseda Evropské komise José Manuel Barroso použil tento argument, když počátkem letošního roku předkládal návrh postupu Evropské unie v boji proti klimatickým změnám. EU slíbila snížit emise CO2 do roku 2020 o 20%, přičemž náklady sama komise odhaduje asi na 0,5% HDP neboli zhruba 60 miliard eur ročně. To je zjevně horentní částka – představuje nejméně padesátiprocentní zvýšení celkových nákladů EU – a pravděpodobně bude ještě mnohem vyšší (komise již dříve uvedla, že náklady zřejmě dvakrát převýší její současný odhad).
Barrosova pointa však zněla tak, že "tyto náklady jsou nízké v porovnání s vysokou cenou za nečinnost". Barroso výslovně předpověděl, že cena za nicnedělání "by se dokonce mohla přiblížit 20% HDP". (Pomiňme, že tento odhad nákladů je pravděpodobně značně přehnaný – většina modelů ukazuje přibližně tříprocentní škody.)
Tak, a je to tady. Politici by samozřejmě měli být ochotni vynaložit 0,5% HDP, aby se vyhnuli nákladům ve výši 20% HDP. Zní to navýsost rozumně – než si ovšem uvědomíte, že Barroso porovnává dvě naprosto odlišné věci.
Náklady ve výši 0,5% HDP budou snižovat emise zcela nepatrně (bude-li každý člen EU až do konce století skutečně plnit své závazky, globální emise se sníží asi o 4%). Zvýšení teploty očekávané do konce století se tím zmírní o pouhých pět setin stupně Celsia (devět setin stupně Fahrenheita). Nesmírně ambiciózní program EU tedy globální oteplování nejen nezastaví, ale ani významně neovlivní.
Pokud se Barroso jinými slovy obává nákladů ve výši 20% HDP v roce 2100, pak platba 0,5% HDP každý rok až do konce století tyto náklady prakticky vůbec nezmění. Na konci století stejně budeme muset zaplatit, jenže v tomto případě navíc v předchozích 90 letech sami sebe ochudíme.
Introductory Offer: Save 30% on PS Digital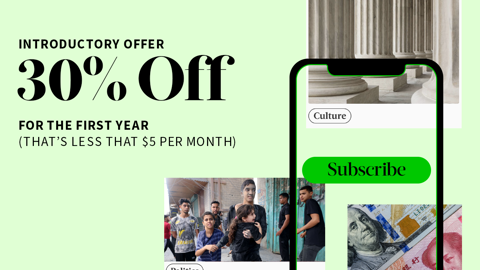 Introductory Offer: Save 30% on PS Digital
Subscribe now to gain greater access to Project Syndicate – including every commentary and our entire On Point suite of subscriber-exclusive content – starting at less than $5 per month.
Tyto eskamotérské kejkle fungují, poněvadž předpokládáme, že akce eliminuje všechny důsledky nečinnosti, zatímco ve skutečnosti samozřejmě nic takového neplatí. Ještě daleko zřetelněji to vyjde najevo na příkladu mnohem menší akce, než jakou předpokládá Barroso.
Řekněme například, že se EU rozhodne instalovat ve svém bruselském sídle Berlaymont větrnou turbínu osázenou diamanty, která ušetří jednu tunu CO2 ročně. Náklady budou činit miliardu dolarů, avšak EU tvrdí, že turbína je neuvěřitelně levná, pokud ji porovnáme s náklady na nečinnost v otázce klimatických změn, které půjdou do bilionů. Mělo by být zřejmé, že větrná turbína za miliardu dolarů nezabrání bilionovým škodám způsobeným klimatickými změnami, které budeme muset tak jako tak do konce století zaplatit.
Argument EU je jako říkat muži s gangrénou v noze, že je pro něj výhodné zaplatit 50 000 dolarů za aspirin, protože tato cena je nižší než náklady na nečinnost, která ho bude stát nohu. Aspirin však samozřejmě tomuto výsledku nezabrání. Argument o nečinnosti je tak ve skutečnosti strašlivě neohleduplný, protože nás nutí doporučovat aspirin a ztrácet ze zřetele chytřejší opatření, která by mohla nohu opravdu zachránit.
Stejně tak je neohleduplné zaměřovat se na okamžité neefektivní snižování hladiny CO2 kvůli nákladům ve vzdálené budoucnosti, jimž se ve skutečnosti stejně nevyhneme. Brání nám to koncentrovat se na dlouhodobé strategie, jako jsou investice do energetického výzkumu a vývoje, které by problém klimatických změn skutečně vyřešily, a to s mnohem nižšími náklady.
Kdyby byl Barroso jediný, snad bychom mohl nechat jeho tvrzení bez povšimnutí, avšak stejný argument znovu a znovu používají i jiní vlivní politici. Německá kancléřka Angela Merkelová tvrdí, že snižování CO2 má "z ekonomického hlediska smysl", protože "ekonomické důsledky nečinnosti budou pro nás všechny dramatické". Australský premiér Kevin Rudd souhlasí, že "náklady na nečinnost budou daleko vyšší než náklady na akci". Naprosto totožný názor vyslovil i generální tajemník Organizace spojených národů Pan Ki-mun. Ve Spojených státech používají John McCain i Barack Obama náklady na nečinnost jako stěžejní důvod, proč podpořit snižování uhlíkových emisí.
Senátorka za Kalifornii Diane Feinsteinová tvrdí, že bychom měli snížit uhlíkové emise, protože sněhová pokrývka v pohoří Sierra Nevada, která je zásobárnou pitné vody pro velkou část Kalifornie, se kvůli globálnímu oteplování zmenší do roku 2050 o 40%. Senátorka už nám však neříká, že i podstatné snížení emisí – při značných nákladech – bude mít na tání sněhu do roku 2050 neměřitelný efekt. Možná bychom tedy raději měli investovat do vodních nádrží.
Podobně když se politici čílí, že do roku 2050 přijdeme o značnou část populace ledních medvědů, používají to jako argument pro snižování uhlíkových emisí, ale zapomínají nám sdělit, že snížení emisí nebude mít na populaci ledních medvědů žádný měřitelný efekt. Možná bychom raději měli nechat naživu 300 ledních medvědů, které každoročně ulovíme.
Argument o nečinnosti nás nutí utrácet obrovské prostředky za politická řešení, která s klimatickými změnami prakticky nic neudělají, a odčerpávat tak prostředky receptům, jež by skutečně mohly něco změnit.
Nikdy bychom neuposlechli rady praktického lékaře, který by nám na gangrénu doporučil extrémně drahý a neúčinný aspirin, protože náklady na aspirin jsou nižší než náklady spojené se ztrátou nohy. Proč bychom tedy měli stejně klamavé argumenty tolerovat v debatách o nejnákladnějším politickém rozhodnutí v dějinách lidstva?