Pour une meilleure politique migratoire
MILAN – La mondialisation et l'interdépendance économique reposent sur quatre piliers : le commerce, l'investissement, les migrations et le flux d'information (qu'il s'agisse de données ou de la connaissance). Mais seuls deux d'entre eux (le commerce et l'investissement) reposent sur un cadre solide, étayé par des consensus nationaux et des accords internationaux. Or ce cadre fait défaut aux deux autres piliers (les migrations et l'information), alors qu'ils en ont un besoin impérieux.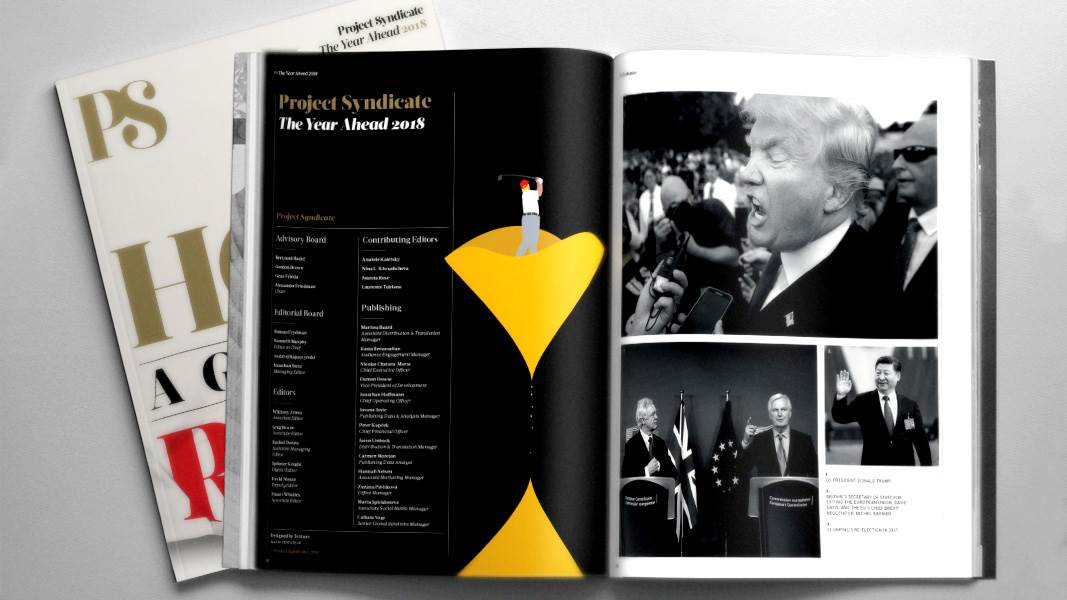 The Year Ahead 2018
The world's leading thinkers and policymakers examine what's come apart in the past year, and anticipate what will define the year ahead.
Information et migrations constituent des défis pressants. Mais les migrations sont sans doute la première urgence à laquelle il faut répondre, car du fait de l'intensification des flux migratoires, le cadre actuel est dépassé. C'est pourquoi des mesures sont prises au niveau international pour développer un nouveau cadre de gestion de ces flux.
En septembre 2016, l'ONU a lancé un processus de deux ans destiné à développer et à présenter un Pacte mondial pour les migrations avant fin 2018. "Ce ne sera pas un traité formel", a déclaréAntónio Guterres, le secrétaire général de l'organisation, "et il n'imposera pas des obligations contraignantes aux Etats". Par contre, a-t-il souligné, "c'est une occasion sans précédent pour les dirigeants politiques de démonter les mythes pernicieux entourant les migrants et d'élaborer une vision commune sur la manière de faire pour que les migrations se déroulent au mieux dans l'intérêt de tous".
Mais tout le monde n'apprécie pas cette stratégie. En décembre, les USA se sont retirés du Pacte mondial. Selon Nikki Haley, l'ambassadrice des USA à l'ONU, la stratégie que propose le Pacte "n'est tout simplement pas compatible avec la souveraineté des USA". Les Américains, les Américains seuls, "décideront comment contrôler au mieux nos frontières et qui sera autorisé à entrer dans notre pays".
Les Européens, eux, ne peuvent faire cela. Même si l'Union européenne se retirait du Pacte mondial, ses membres resteraient confrontés à la liberté de circulation à l'intérieur du marché unique (quelles que soient les différences au niveau du langage ou de la reconnaissance des diplômes), une exigence fondamentale de l'adhésion à l'UE. La contradiction apparente entre cette règle et la souveraineté nationale a joué un rôle fondamental lors du vote du Brexit.
Les dispositions relatives à la mobilité de la main d'œuvre n'ont pas été prises pour faciliter les migrations en elles-mêmes, mais plutôt pour stimuler l'économie de l'UE en encourageant l'intégration, en élargissant le marché du travail et en renforçant les mécanismes d'ajustement économique. Mais si les migrants légaux peuvent s'établir n'importe où dans l'UE, il faudra sans doute créer un processus commun clair pour décider du type de migration et du nombre de migrants autorisés à s'établir dans l'Union.
Actuellement il existe des quotas par pays au sein de l'UE. Certains, comme l'Italie, les ont largement dépassés et les réfugiés désespérés continuent d'affluer chez eux, tandis que d'autres, comme la Hongrie, se ferment totalement aux réfugiés. Quoi qu'il en soit, un quota constitue une mesure trop radicale pour caractériser la capacité d'absorption d'un pays. La composition de l'immigration et la probable destination finale des migrants ont aussi leur importance.
Considérons l'immigration du point de vue économique. Le nombre de travailleurs des pays à faible revenu désirant migrer vers les pays à haut revenu ou les pays dynamiques à revenu moyen dépasse sûrement la capacité d'accueil de ces derniers. Et si les exigences de certains pays d'accueil peuvent être assimilés à un prix (par exemple une exigence en matière de revenus, de provision bancaire ou d'investissement), aucun pays, que je sache, ne laisse le "prix" être le seul élément pour équilibrer l'offre et la demande.
Il y a une bonne raison à cela : utiliser l'argent comme principal critère de citoyenneté est en contradiction avec les valeurs de pratiquement toutes les sociétés. C'est pourquoi l'immigration est dans une certaine mesure rationnée et basée sur une combinaison de temps passé à attendre, de liens familiaux, d'éducation et de compétences, et parfois même de loterie.
L'excès de la demande pose un défi et un problème éthique quand il s'agit de réfugiés et que leur nombre augmente soudainement en raison de facteurs qui vont de désastres naturels aux guerres civiles. En particulier, si l'offre ne peut répondre à l'inflation de la demande, les migrations illégales et souvent à haut risque tendent à augmenter.
Pour cela, ainsi que pour d'autres raisons, l'ONU a raison de souligner tout l'intérêt de développer la coopération internationale en matière de migration. Elle a aussi raison de défendre les mesures qui pourraient restreindre la demande au cours du temps en améliorant les conditions de vie dans les principaux pays d'origine des migrants. Ces mesures nécessitent une coopération internationale et des investissements internationaux en faveur du développement, du maintien de la paix, de l'aide humanitaire et de la gestion des migrations.
Mais l'application de règles communes pour ce type de coopération a ses limites. De quelque manière que l'on juge la position des USA sur le Pacte mondial, le principe de la souveraineté nationale reste le point crucial de toute politique migratoire réaliste.
Le meilleur moyen de parvenir à une coopération internationale efficace serait d'encourager fortement les différents pays à développer une politique migratoire cohérente et flexible qui inclut l'admission annuelle d'une gamme équilibrée de migrants. Pour cela les Etats doivent entreprendre une évaluation multidimensionnelle des coûts et avantages économiques (ce qui inclut leur budget) et sociaux des migrations, ainsi que de leur impact en terme de distribution des richesses au niveau national. Si ces éléments font défaut, les mouvements politiques anti-immigrés et les tempêtes qu'ils sont susceptibles de déclancher continueront à freiner la coopération internationale.
Point crucial, chaque pays devra concevoir sa propre politique migratoire en fonction de ses caractéristiques. Il s'agit notamment de sa situation démographique et financière, de sa politique sociale et de la distribution des richesses, de l'accès aux services publiques, de la mobilité sociale, de son passé en matière d'immigration clandestine, de sa composition ethnique et des valeurs qui définissent son identité. Il n'existe en aucun cas une solution unique applicable à tous les pays.
Le problème du volume excessif de la demande ne peut être entièrement éliminé. Même si un large éventail de pays adoptait une politique migratoire cohérente, il est très improbable que l'offre d'accueil dans son ensemble parvienne à répondre à la demande. Le seul moyen d'y parvenir serait d'accroître le prix de l'admission ou d'augmenter le nombre de places d'accueil en faisant fi des souverainetés nationales – deux solutions inapplicables politiquement.
Il est possible de gérer bien mieux l'offre dans les pays de destination, sans violer leur souveraineté nationale. La coopération internationale reposerait alors sur des bases beaucoup plus solides pour réduire les souffrances humaines et les violations des droits fondamentaux, gérer les migrations économiques, protéger les réfugiés et finalement réduire l'excès de la demande en soutenant le développement et la croissance dans les pays d'origine.
Traduit de l'anglais par Patrice Horovitz